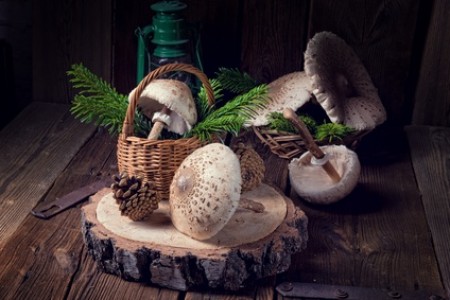 Klobouk bedly může mít až 40 cm.
Připravili jsme pro vás třetí díl z našeho velkého houbového seriálu, ve kterém si představujeme nejoblíbenější české houby. Houbaření je česká specialita, kromě nás houby v lese ve velké míře sbírají už jen Slováci, Poláci a Ukrajinci. A jednou z nejoblíbenějších a nejchutnějších hub, kterou najdete nejen u nás, ale i u sousedů, je právě bedla vysoká. 
Bedla a její taxonomie
Bedla vysoká je stopkovýtrusná houba, která je vhodná pro sběr i konzumaci. Poznáme ji podle vysoké třeně a velkého klobouku, který může dosahovat až 40 cm. Pokrytý je velkými hnědými šupinami a uprostřed má charakteristický hnědý důlek. 
Nejčastěji se sbírá bedla vysoká (jedlá), která roste ve světlých lesích. Sbírat se může také bedla červenající, odborníci ale v posledních letech k této houbě zvedají varovný prst. Údajně se totiž vyvinul nový poddruh bedly červenající, který může lidem se slabším žaludkem způsobit žaludeční problémy. Pokud chcete bedly červenající přesto sbírat, doporučuje se, nehledat ji na místech mimo les (na zahradách, v parcích), kde se mohou vyskytovat právě zmíněné poddruhy. 
V lese můžete narazit i na jedovaté druhy bedel, jako je bedla zahradní nebo bedla kaštanová. Druhou zmíněnou houbu si ale s jedlou bedlou určitě nespletete. Jednak má jen několik centimetrů a jednak se bedle nepodobá, společný mají jen název. 
| | |
| --- | --- |
| Říše: | Houby (Fungi) |
| Oddělení: | Houby stopkovýtrusné (Basidiomycota) |
| Pododdělení: | (Agaricomycotina) |
| Třída: | stopkovýtrusé (Basidiomycetes) |
| Řád: | lupenotvaré (Agaricales) |
| Čeleď: | pečárkovité (Agaricaceae) |
| Rod: | bedla (Macrolepiota) |
Je bedla zdravá, nebo jen chutná?
Zdravotními účinky se sice bedla vysoká nevyrovná jiným léčivým houbám, jako jsou hlíva ústřičná, shitake nebo penízovka. Přesto ale může nabídnout mnoho prospěšného. Její největší předností je výtečná chuť, kromě toho obsahuje flavonoidy, které si vyznačují silnými antioxidačními účinky. Někteří odborníci dále uvádějí, že v bedle najdeme kyselinu listovou, minerální látky nebo dokonce betakaroten. Její konzumace je tedy rozhodně prospěšná. 
Přestože patří bedla vysoká mezi dietní houby a na váze vám tak rozhodně nepřidá, její strávení může být pro mnoho lidí oříšek. Bedlu bychom proto neměli konzumovat pozdě v noci nebo ji zapíjet pivem. Mohli bychom mít těžký žaludek nebo si dokonce vyvolat větší nevolnost. 
Kam na houby aneb kde se skrývá bedla vysoká?
Bedla vysoká se nejčastěji ukrývá ve světlých smrkových a jehličnatých lesech, případně ve smíšených. Abyste byli při lovu bedel úspěšní, hledejte ji v prosvětlených částech lesů, to znamená na okrajích, mýtinách nebo pasekách. Bedly obvykle rostou ve větších skupinách zhruba po třech až sedmi kusech a to často na místech, kde byste jiné houby nehledali. Na bedly se můžete vypravit od července do října, výjimečně rostou i v listopadu v závislosti na počasí. 
Kam na houby je jeden z našich dřívějších článků. Přečtěte si ho!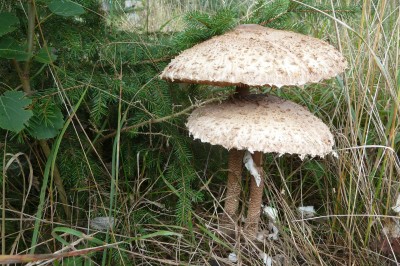 Bedla vysoká roste ve světlých částech lesa.
Bedla vysoká a její úprava
Bedla vysoká je známá jako velmi chutná houba, která může v syrové podobě chutí připomínat lískové oříšky. Bedla se dá zpracovávat dušením, smažením i pečením. Obvykle se konzumují jen klobouky. Bedla vysoká se nejčastěji obaluje v trojobalu a smaží jako řízek, plní mletým masem, případně houbaři doporučují jí jen zasypat solí a kmínem a lehce opražit na pánvi. 
Třeně jsou tuhé a jakoby gumové, a pro běžnou konzumaci se proto nehodí. Můžete je ale usušit, rozemlít a používat jako houbové koření do polévek, omáček nebo na placky. 
A pokud vás zajímají i další houby, podívejte se do našeho přehledného ATLASU HUB. 
Bedla recepty 3x jinak
Udělat řízky z bedel nebo je jen tak opražit na pánvi, zvládne každý. My jsme pro vás proto připravili 3 různé recepty na úpravu bedel. Těšit se můžete na plněné bedly, pikantní houbovou omáčku z bedel, která je skvělá k masu i k těstovinám nebo na houbové karbanátky z bedel, které doporučujeme podávat s kaší.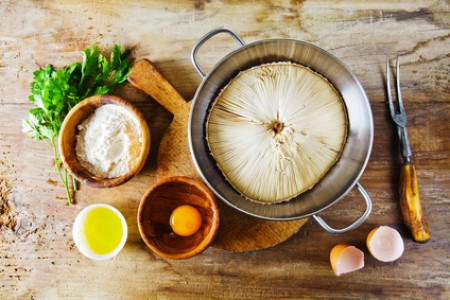 Bedla je nejlepší se solí a s kmínem.
Plněné bedly
Ingredience
větší bedla
strouhaný sýr
vejce
pažitka
lžíce mouky
jarní cibulka
strouhanka
Plněné bedly - recept:
Z bedly si odstraňte nožičku, aby vám uvnitř houby vznikla mistička pro náplň. Nakrájejte si cibuli, přidejte k ní vejce, strouhaný sýr i pažitku. Osolte a opepřete a náplň vmačkejte do houby. Bedlu obalte v trojobalu, případně jen lehce poprašte moukou. Smažte na oleji a dejte pozor, ať vám náplň z bedly nevyteče. 
Pikantní houbová omáčka z bedel
Ingredience
6 bedel
150 ml tučné smetany 
kousek másla
kapka oleje
lžíce mouky
2 šalotky
1 KL ostré papriky
Pikantní houbová omáčka z bedel - recept:
Šalotku si nakrájejte najemno a dejte smažit na máslo s kapkou oleje. Poté přidejte mouku, vytvořte si jíšku a poté vmíchejte papriku. Do ní ihned vlijte smetanu a rozmíchejte případné žmolky. Nechte chvíli povařit a pikantní houbová omáčka z bedel je na světě. 
Houbové karbanátky
Ingredience
bedly
cibule
vejce
strouhanka
majoránka
česnek
sůl, pepř
kmín
slunečnicový olej
Houbové karbanátky - recept:
Na pánvi si opražte najemno nastrouhanou cibuli, přidejte pokrájenou bedlu a smažte do změknutí. Poté ještě bedly na pánvi osolte, opepřete, okmínujte a nechte chvíli vychladnout. Poté opraženou bedlu smíchejte s vejcem, strouhankou a špetkou majoránky, aby vznikla tužší konzistence. Tvarujte karbanátky, které obalujte ve strouhance a smažte ve vrstvě oleje, případně jen pečte v troubě, 15 minut na 180 stupňů. 
VELKÝ HOUBOVÝ SERIÁL
Podívejte si i na další houby, které vyšly v našem velkém houbovém seriálu. 
Máte rádi bedly? A jak je upravujete? Podělte se s námi o tom v komentáři.