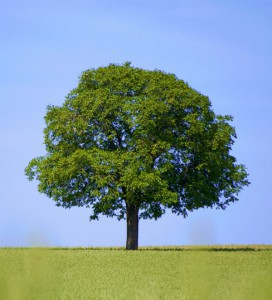 Podzim je obdobím sklizně ořechů, proto se jim v tomto článku budeme věnovat. Vlašské ořechy jsou chutné a zdravé plody stromu Ořešáku královského.
Ořešák královský (Juglans regia)
Tento krásný, mohutný strom je ozdobou každé zahrady a označení "královský" je mu plně souzené i díky jeho četným léčivým účinkům na zdraví. Tento strom je původem z Indie, odkud ho do Evropy dopravil Karel Veliký. V Římě byl ořešák zasvěcený Bohu Jupiterovi a nazývali ho tam "Jupiterův žalud". Vlašské ořech se staly symbolem plodnosti a byly považovány za "Božské jídlo".  Ořešák dorůstá výšky až 45 m a patří mezi nejpěstovanější dřeviny na světě. Listy mají fungicidní a baktericidní účinky a odpuzují hmyz, proto dříve bylo doporučováno sázet ořešáky do blízkosti hnojišť. Vlašské ořechy, plody ořešáku, jsou velmi výživné a chutné. Ještě nezralé se používají k výrobě léčivých směsí a nápojů. K léčebným účelům se používají také listy a oplodí.
Sběr vlašských ořechů
Ořech kvete v květnu, ještě před vypučením listů. Sbírají se čerstvé listy v červnu, zelené ořechy do 24. června, když jsou ještě nezralé a dají se lehce propíchnout, zelené ořechové slupky (oplodí) se sbírají v létě, krátce před dozráním ořechů, ještě dříve než zčernají. Zralé vlašské ořechy se sbírají v září.
Vlašské ořechy a jejich skladování
Nevyloupané ořechy se uskladňují na suchém a chladném místě, vydrží tak i pár let. Vyloupaná jádra se musí hermeticky uzavřít v nejlépe skleněné nádobě, protože přejímají pachy jiných potravin.
Vlašské ořechy - co obsahují
Vlašské ořechy jsou ceněny nejen pro svoji chuť, ale také pro vysoký obsah důležitých látek, potřebných pro naše tělo. Obsahují více než 70% tuků, 18 % proteinů a 3 % sacharidů. Tuky obsahují velké množství různých nenasycených mastných kyselin, zejména kyselinu linolovou a linoleovou, dále kyselinu kávovou a kyselinu neo-chlorogenovou. Dále obsahují flavonoidy, terpeny, chinony, třísloviny, taniny, vitaminy a provitaminy jako B-karoten (provitamin A), vitamin B3, B5, B6, vitamin C a E. Ze stopových prvků je to draslík, fosfor a hořčík.
Kvůli svému nízkému obsahu cukrů se ořechy hodí také pro diabetiky a pro svou výživnou hodnotu jsou ceněné i vegetariány. Pravidelná konzumace vlašských ořechů pozitivně působí na různé negativní psychické stavy, jako je deprese, stres, podrážděnost, úzkost apod. Je to výborná potrava pro náš mozek, což dokazuje také vzhled jejich jádra, které se právě mozku podobá. Vlašské ořechy také pomáhají odstraňovat únavu a předcházet vzniku srdečních onemocnění.
Využití ořešáku v lidovém léčitelství
Vnitřní užití:
Léčivá síla ořešáku se projevuje při vnitřním i vnějším užívání. Připravují se z něj nápoje, odvary a výluhy, čaje i obklady. Čaj z listů silně čistí krev a je tak výborným prostředkem na různé kožní problémy. Má blahodárný vliv na žaludek a střeva, zlepšuje trávení, má odhleňovací účinky. Užívá se při nechutenství a zácpě a také při žloutence a cukrovce. Odvary z ořešáku mírně snižují krevní tlak. Ořešák má antiseptické účinky, proto se také používá ke kloktání a výplachům ústní dutiny, je účinný i proti kašli.
Vnější použití:
Zevně se používají zejména obklady nebo omývání výluhem ze spařených listů, které vytahují hnis z otevřených ran a vředů a hojí otoky. Ořešák je tedy účinný na akné a hnisavé vyrážky. Koupel s výluhem z listů snižuje nadměrné pocení (i nohou) a je účinná při křivici, zánětech nehtů na rukou a nohou, výtoku a také při tbc krčních uzlin. Silný výluh z listí přidaný do koupele léčí uzlovité omrzliny. Je možné ho použít i při silném vypadávání vlasů, tehdy výluhem masírujeme pokožku hlavy. Je také výborným prostředkem proti vším ve vlasech, které se někdy objevují. Známý je i ořechový olej na vlasy, který vlasům dodává lesk a oživuje tmavou barvu vlasů.
Přísada do koupelí a na umývání
100 g listů ořešáku na plnou koupel, pro omytí jedna vrchovatá čajová lžička na 1/4 litru vody. Pro silnější výluh dáme dvojnásobné množství listů.
RECEPTY Z VLAŠSKÝCH OŘECHŮ
20 ks zelených nezralých vlašských ořechů rozkrájíme na čtvrtky a nasypeme do láhve se širokým hrdlem. Zalijeme 1 litrem režné vodky tak, aby byla asi 5 cm nad ořechy. Dobře uzavřenou láhev postavíme na 2 až 4 týdny na slunné, teplé místo. Pak scedíme do lahví. Podle potřeby užíváme jednu kávovou lžičku. Tato pálenka pročišťuje žaludek, játra a krev, odstraňuje slabost žaludku a hnilobné procesy ve střevech. Kromě toho je vynikajícím prostředkem proti husté krvi.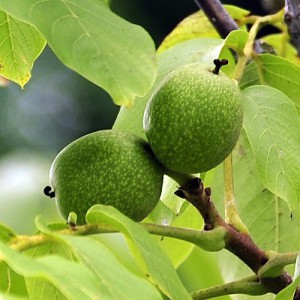 Nasbíráme nezralé zelené ořechy a nakrájíme je na kousky. Přidáme podle chuti hřebíček, vanilku, skořici a kousky oloupaného pomeranče. Směsí naplníme sklenice do dvou třetin a zalijeme po vrch bílým alkoholem. Postavíme na slunné místo a necháme tak 3-4 týdny. Občas sklenicí zatřeseme. Potom scedíme a nápoj osladíme medem. Slijeme do lahví. Užíváme 2x denně 0,5-1 dcl nalačno. Likér zlepšuje trávení a podporuje činnost jater.
Zelené ořechy s ještě měkkou skořápkou pokrájíme, smícháme s 300 g cukru, 3 ks hřebíčku a kouskem vanilky. Nasypeme do skleněných lahví a zalijeme rumem. Necháme stát v chladu až do změknutí. Potom scedíme a stočíme do lahví.
Do 1 l bílého vína namočíme 50 mladých nasekaných ořechových listů a necháme 2-3 týdny louhovat. Občas sklenicí zatřeseme. Poté směs scedíme a užíváme 1-2 stopky denně nalačno.
20 ks mladých zelených ořechů nakrájíme na kousíčky, přidáme hrst nasekaných mandlí a nasypeme do široké sklenice. Zalijeme bílým alkoholem tak, aby hladina alkoholu ořechy přesahovala o 3 - 5 cm. Postavíme na slunné místo a necháme 2-3 týdny louhovat. Poté scedíme a pijeme malou skleničku 1-2 x denně před hlavním jídlem.
2 hrnky nasekaných vlašských ořechů smícháme s 1 hrnkem medu, zakapeme 1 lžičkou citronové šťávy. Promícháme a užíváme denně jednu lžičku.
500 g vyloupaných ořechových jader, 200 g medu, 1 hrnek vody, 1 lžíce jablečného octa
Svaříme vodu, ocet a cukr a do toho dáme ořechy. Zamícháme a necháme zchladnout na 70 st.C. Poté vmícháme med a plníme do sklenic.
Vlašské ořechy v medu II.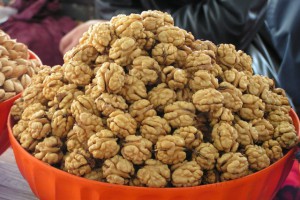 300 g jader vlaškých ořechů, 100 g tekutého včelího medu, 4 lžíce moučkového cukru, 4 lžíce slunečnicového nebo olivového oleje
Vyloupané ořechy spaříme vroucí vodou, ve které je chvíli necháme. Potom přilijeme studenou vodu a oloupeme kůžičku, která je hořká. Jádra dáme do mísy, zalijeme ohřátým medem a necháme stát do druhého dne. Poté dáme jádra na síto, aby med protekl. Ořechy obalíme v moučkovém cukru. Do rozehřátého oleje vkládáme ořechy a necháme mírně zkaramelizovat. Mlsáme buď hned teplé nebo je uskladníme ve sklenicích v chladu a temnu.
Jednu vrchovatou čajovou lžičku pokrájených listů spaříme v 1/4 litru vroucí vody, krátce vyluhujeme.
12 ořechů roztlučeme a skořápky z nich namočíme do 1/2 l vody. Necháme 12 hodin louhovat. Poté vodu i se skořápkami povaříme a nakonec scedíme. Tento čaj pijeme vlažný několikrát denně, můžeme ho přisladit medem. Čaj rozpouští hleny, účinek je znatelný po 2 dnech.
1 kg zelených vlašských ořechů, 1 kg cukru, 1 l vody, kůra z 1 citronu, 1 hrnek malin, asi 1,5 l lihoviny (dle chuti – jak kdo má rád silnou)
Ořechy nakrájíme na plátky a nasypeme do skleněné lahve se širokým hrdlem. Přidáme všechny ostatní suroviny a láhev uzavřeme. Postavíme na slunné místo a necháme louhovat 4-6 týdnů. Potom přecedíme a stočíme do lahví.
1 kg zelených ořechů, 800 g cukru, 1 l vody, hřebíček, celá skořice
Nezralé zelené ořechy propícháme a dáme do studené vody na 10 dní. Vodu denně měníme. Poté ořechy uvaříme v čisté vodě doměkka, scedíme a zalijeme cukerným roztokem. Odstavíme do druhého dne. Pak cukr slijeme, povaříme až zhoustne a opět nalijeme na ořechy. Třetí den vše opakujeme, ale ořechy již dáme do sklenic a cukerný roztok nalijeme na ně. Do každé sklenice přidáme hřebíček a skořici. Sterilujeme 20 minut při 90 st.C.
Zdraví prospěšné ingredience do receptů s ořechy
Součástí některých receptů s ořechy také cukr. Zdravou, chutnější, 100% čistou a přírodní nízkokalorickou variantou je palmový cukr. Vyrábí se zahuštěním palmové mízy a jeho chuť je podobná medu. Snadno si ho objednáte ZDE.
Do ořechových likérů a kompotů se přidává také skořice a my vám nabízíme toto koření v  BIO KVALITĚ! :-) Naše PRAVÁ skořice je mnohem aromatičtější, než jak ji znáte z běžných obchodů, ve kterých se většinou neprodává pravá skořice, ale její náhražka. Naší BIO skořice  je v sáčku velké množství – 100 g.  Cenově vás tedy vyjde ještě podstatně levněji a vaše domácí ingredience jsou zase o něco zdravější a chutnější. Skořice i cukry si objednáte pohodlně v našem eshopu.
Přejeme skvělou chuť a výtečné a dlouhé zdraví s naším kořením!