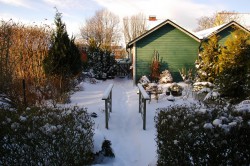 Jaro už se blíží, proto je třeba se na jeho příchod dobře připravit. Je nejvyšší čas připravit si osazovací plán, nakoupit semena a objednat mladé stromky a keře na výsadbu. Při sestavování plánu výsadby dbejte na vzájemnou snášenlivost jednotlivých rostlin. V tom vám pomůže naše tabulka "Vhodní sousedé".
Využijte sníh
Pokud je na zahradě sníh, využijeme jej jako budoucí zásobárnu vody pro stromy tím, že sníh přihrneme ke kmenům. Vodu potřebují také stálezelené dřeviny, nezapomínejte na jejich zálivku ve dnech, kdy nemrzne. Podle lunárního kalendářejsou pro to nejvhodnější dny, když Měsíc prochází znamením Raka nebo Ryb. V tyto dny zalévejte i pokojové rostliny.
Dva komposty ušetří práci
Můžete založit nový kompost. Pokud máte velkou zahradu, je vhodné mít komposty alespoň dva, na každé straně zahrady jeden, abyste nemuseli chodit s rostlinnými zbytky přes celou zahradu, ušetříte si tím čas i námahu. Kompost z loňského roku by se měl nyní převrstvit.
Vyneste muškáty na světlo
Nyní je vhodný čas na předjarní péči o zazimované muškáty a pelargonie. Vyneste je do teplejší místnosti na světlo a odstraňte jim suché a nahnilé části, zalijte je. Toto udělejte i s durmanem, ten ještě zařízněte. Oleandr můžete zmladit hlubším řezem. Prohlédněte a ošetřete i ostatní zazimované rostliny, části napadené plísní okamžitě odstraňte. Když Měsíc prochází "vzdušnými dny", je dobré vyvětrat v místnostech se zazimovanými rostlinami – pokud nemrzne. Můžete začít s přesazováním pokojových rostlin.
Nezapomínejte na zvířátka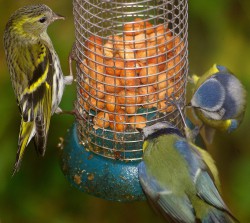 Do ptačích budek dosypte krmivo, případně ještě vyvěste nové krmítka. Stačí půlka kokosového ořechu se třemi provrtanými otvory na provázek pro zavěšení. Je dobré nalákat ptactvo na vaši zahradu, vaši péči vám oplatí tím, že budou v sezóně vyzobávat škůdce. Ochraňte budky před kočkami. Zkontrolujte zahradní jezírko, jestli je v něm větrací otvor pro ryby. Pokud zamrzl, udělejte nový.
Vysévejte zeleninu a letničky
Nyní již můžete vysévat do kelímků na parapet a pod sklo zeleninu a letničky, které pomalu vzcházejí. Jsou to petunie, begonie, pelargónie, dračík, hvozdík, šalvěj, verbena, nestařec. Dále vysazujte hledík, slaměnky, čínské karafiáty, slaměnky, afrikány, astry, macešky, sedmikrásky, prvosenky a jarní cibuloviny. Truhlíky přikryjte průsvitným papírem, aby v nich nevysychala půda. Do nepromrzlé půdu můžete vysadit tulipány. Ze zeleniny vysejte pod sklo papriku, lilek, celer, kerblík, květák, kapustu, brokolici, kedluben, pór cibuli, rajčata, mochyni, a různé druhy salátů k rychlení. Můžete vysít také semena trvalek.Vysejte semena muškátů a lichořeřišnice, pod sklo majoránku a jiné bylinky. Do studeného pařeniště vysejte ředkvičky, ředkev a mrkev k rychlení. Nechte předklíčit rané brambory při teplotě 12 – 14 st.C. Trvá 30-40 dní, než brambory naraší. Do teplého pařeniště vysejte kedlubny, pór a celer. Při vhodném počasí a spíše v jižních oblastech vysejte koncem měsíce přímo na záhon mrkev a petržel, cibuli, ředkvičky, řeřichu, špenát. Trvalky zasazené na podzim, které mráz vytáhl z půdy, přišlápněte, aby kořeny nezůstaly na vzduchu, totéž udělejte s česnekem. Sestřihněte loňské zbytky okrasných travin. Pokud chcete mít v kuchyni čerstvý zdroj vitamínů, vysejte na tácek s mokrou vatou řeřichu. Hodí se na chleba, do pomazánek i polévek a vyraší vám za pár dnů.
Péče o stromy a keře
Prohlédněte všechny ovocné stromy a odstraňte z nich mumifikované plody, které jsou semeništěm nemocí a škůdců. Nedávejte je z toho důvodu ani na kompost, je lepší je zničit. Při pěkném počasí můžete začít s roubováním peckovin. Je čas na řízkování listnatých keřů (břečťan, cesmína, ptačí zob) a balkonových květin, které přezimují na světle. Ochraňte stromy před ostrým zimním sluncem, aby se jejich kůra nepřehřívala a nezačala praskat. Natřete je vápnem nebo stačí z jižní strany opřít o kmeny prkno. Proveďte řez angreštu a rybízu, živých plotů a koncem měsíce také základní řez jabloní a hrušní. Mladým stromkům prořezávejte a prosvětlujte korunu tak, že odstraníte konkurenčí a křížící se větve. Řez udělejte vždy až za květním pupenem nebo plodným trnem. Nadměrně rostoucí odrůdy, které vytvořily druhé výhony, řežte až při rašení nebo i během tvorby květu. Zpomalí se tak jejich růst. Do připravených jam s kompostem vysázejte jabloně a hrušně. Koncem února proveďte řez vinné révy a bobulovin. K trvalkám přihrňte kompost. Vysazujte rybíz a ostatní ovocné dřeviny.
Příprava půdy
Pokud nemrzne, můžete již začít rýt záhony pro ranou výsadbu. Po zrytí je přikryjte na několik týdnů mulčem nebo černou folií, aby se půda prohřála. Mulč dodá půdě svým rozkladem potřebné živiny. Do pařeniště nastelte listí či koňský hnůj. Můžete založit nové teplé pařeniště.