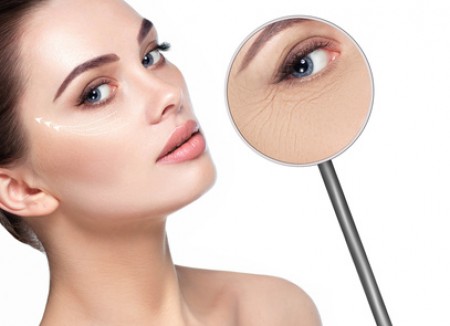 Jak na vrásky?
S vráskami bojuje každý z nás. Překvapivě stárnutí pleti netrápí jen ženy, ale i muže. Ačkoli s sebou stárnutí přináší řadu pozitiv, jako jsou zkušenosti, stabilita a jasnější cíle, vrásky k radostem přibývajícího věku nepatří. Naštěstí existují způsoby, kterými vrásky pod očima, na čele anebo u rtů účinně řešit. Poradíme, jak jim nejlépe předejít a jak na vrásky, které se už objevily.
Jak na vrásky? Pitný režim, kosmetika a doplňky stravy
Jeden zázračný krok, který by nás zbavil vrásek, bohužel neexistuje. Pro boj s vráskami je zapotřebí pozměnit životní styl. Stres, slunce a špatná životospráva naší pleti jen škodí. Pokud chceme zlepšit stav naší kůže a vyzrát na to, jak na vrásky, musíme začít uvnitř. Právě z živin, které našemu tělu dáváme, získává pokožka svou pružnost, sílu a vitalitu.
Pitný režim je základ
Voda naše tělo zbavuje škodlivých látek a celému organismu dodává hydrataci. Proto je při otázce, jak na vrásky, klíčová. Pokud málo pijeme, naše kůže je suchá a stárne rychleji. Za den vypijme minimálně dva litry.
Pozor na slunce
Sluneční paprsky jsou nejčastějším důvodem stárnutí pleti. Pokud chodíme na sluníčko bez krému s ochranným faktorem, přímo si o vrásky říkáme. A nenechme se zmást špatným počasím. Slunce vyzařuje vícero typů paprsků a ty, které pokožku poškozují, pronikají i přes mraky. Proto z domu nikdy nevycházejme bez ochrany kůže. Jak v létě, tak v zimě.
Přečtěte si také, jak se účinně chránit před sluncem!
Pořiďme si doplňky stravy
Celá řada živin zabraňuje vráskám a jejich nedostatek může naopak vrásky zhoršit. Živiny jsou při řešení problému, jak na vrásky, velmi důležité. Kolem třicítky se nám z pleti vytrácí kolagen, který je pro pružnost pokožky nezbytný. Stojí za to ho doplňovat. Nejúčinněji se v těle vstřebává společně s vitamínem C. Vitamíny A, C a E bojují proti stárnutí organismu celkově a pro mladistvou pleť je nezbytně potřebujeme. Z dalších vitamínů jsou prospěšné B3, B5, B9, B12, D a K.
Kvalitní krém proti vráskám je nejlepším pomocníkem
Stejně jako pleť potřebuje péči zevnitř, potřebuje ji i zvnějšku. Nejúčinnější krém na vrásky je právě ten nejkvalitnější. Jinak zbytečně vyhazujeme peníze. Výběr krému, který nám pomůže s tím, jak na vrásky, nepodceňujme. Abychom vzniku vrásek předcházeli, dostatečně ji hydratujme speciálními krémy.
Stres, kouření a alkohol zrychlují stárnutí
Ačkoli nám to současná doba příliš neusnadňuje, zkusme se vyhýbat stresovým situacím. Zlozvyky jako je kouření a pití alkoholu vyškrtněme úplně nebo je alespoň omezme.
Vrásky pod očima a na obličeji potřebují péči
Pokožka kolem očí je většinou suchá. Navíc k tomu i často namáhaná. To pak způsobuje rychlejší tvorbu vrásek než v jiných oblastech obličeje. Proto potřebuje oční okolí vyšší péči. Kvalitní oční krém proti vráskám zmírňuje ty stávající a zabraňuje vzniku dalších. Nanášejme ho na vyčištěnou pokožku jak ráno, tak večer.
Péče sice prospívá, v případě kosmetiky ale všeho moc škodí. Spíše používejme přípravků méně, zato ale kvalitních. Pečlivě si vyberme ten nejlepší krém proti vráskám a pravidelně ho používejme. Aplikací hodně přípravků pleť dráždíme a namáháme. Zejména to platí na vrásky pod očima. Když si odličujeme oční make-up, dělejme to směrem od vnější části oka směrem ke kořenu nosu. Pleť tolik nenamáháme a vrásky pod očima se nebudou tolik tvořit.
Nezapomínejme na noční krém proti vráskám. Přes noc se totiž pokožka čistí a obnovuje. Proto bychom jí měli pomáhat.
Pleti prospívají i masky, které jí dodají okamžitou výživu. Vždy ale pleťové masky doplňujme pravidelnou péčí. Bez toho by účinky masek přišly vniveč.
Co má nejúčinnější krém na vrásky obsahovat?
Nejlepší krém proti vráskám, který bude vyhovovat vaší pleti, by měl obsahovat hydratační složku, ochranu proti slunečnímu záření a také antioxidanty. Ale každá pleť je jiná a proto může mít speciální nároky. Pokud si stavem naší pleti nejsme jistí, můžeme se obrátit na dermatologa. Co by měl krém proti vráskám obsahovat?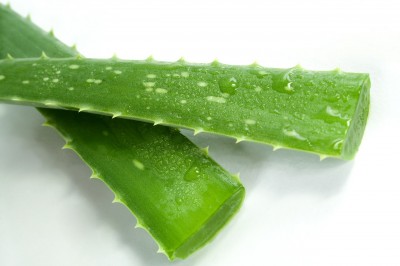 Aloe vera pomáhá proti vráskám
Antioxidační složka: Zbaví pokožku toxinů a jiných nebezpečných látek, které ji poškozují. Silným detoxikantem je aloe vera. Krém proti vráskám z této rostliny pokožce jen prospívá. Navíc aloe vera obsahuje skoro všechny látky, které by měl nejúčinnější krém na vrásky obsahovat.
Výtažky z hroznových jader: Mají antioxidační a antibakteriální vlastnosti. Pomáhají obnovovat pokožku a zabraňují dalšímu poškození. Obsahuje je například krém proti vráskám Vinoterapia Malasia Volcanica.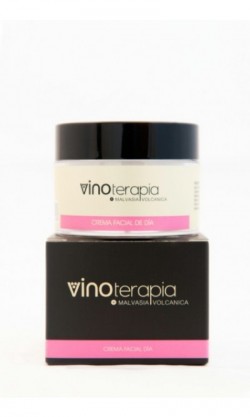 Krém proti vráskám vinoterapia s aloe vera a hroznovými jadérky
Koenzym Q10: Redukuje jemné vrásky a zároveň slouží jako ochrana před slunečním zářením.
Vitamín C: Je silný antioxidant, který pomáhá chránit kůži před sluncem. Často se na krém proti vráskám používá vitamín z rostlin.
Vitamín B3: Pomáhá pokožce, aby si udržela hydrataci. Tím podporuje elasticitu a zabraňuje poškozování.
Kyselina salicylová: Napomáhá odstraňovat odumřelou svrchní vrstvu pokožky a naopak podporuje tvorbu té nové.
Vitamín A: Zabraňuje stárnutí pokožky.