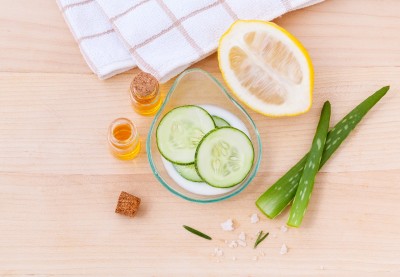 Účinná léčba akné - co pomáhá na akné?
Akné nestresuje jenom dospívající. Je problémem i dospělých. Průzkum ukázal, že většina dospělých by se radši potýkala s vráskami, než s akné. A není divu. Kromě toho, že se objevují nepříjemné jizvy po akné a bolestivá zanícení, akné hlavně snižuje naše sebevědomí. Ale můžeme s ním jednou provždy zatočit. Poradíme, co pomáhá na akné. Ať už je to akné na zádech, obličeji anebo jiných místech, můžeme s ním bojovat. Správná léčba akné totiž opravdu existuje.
Léčba akné? Pravidelná péče je základ
Někdy je akné pouhé podráždění pokožky, někdy dlouhodobý hormonální problém. Zkusme si všímat, kdy se akné objevuje. Pomůže nám to zjistit, jaká léčba akné je nejlepší právě pro nás. Bohužel, většinou pouhé čištění pokožky nezabírá. Proto je nejlepší zavést důkladnou a účinnou rutinu v péči o pleť.
Čistěme pokožku ráno a večer. Pokud nosíme make-up, sundejme ho hned, jak přijdeme domů. Léčba akné musí být pravidelná. Dobrým pomocníkem jsou antibakteriální přípravky.
Nepoužívejme agresivní kosmetiku, která pleť vysušuje. Úplně se vyhněme přípravkům obsahujícím alkohol.
Po přípravcích proti akné použijme jemný a hydratační krém, ideálně proti akné. Účinný je například krém z organické aloe vera. Je navíc i antibakteriální.
Jemný peeling nám pomůže zanešení pleti odstranit. Ale pozor, hrubý peeling naopak může pleť podráždit. Léčba akné se pak ztěžuje.
Pupínky nevymačkávejme. Můžou způsobit ošklivé jizvy po akné. Pokud si nemůžeme pomoc, důkladně ránu vydezinfikujme.
12 zaručených tipů, co pomáhá na akné
Není akné jako akné. Zatímco některým z nás se akné objeví příležitostně nebo se na tváři objeví pouze pár pupínků, jiní máme akné v podstatě pořád. Určitě jsme zjistili, že doporučení ostatních na naše akné málokdy platí. Je to proto, že existuje celá řada druhů akné. A proto je také léčba akné u každého jiná. Co platí pro všechny je, že léčba akné musí být celková. Jak zvnějšku, tak zevnitř. Co pomáhá na akné?
1. Změňme životní styl
Pravidlo, které slyšíme skoro pořád. Ale na akné opravdu platí. Dostatek spánku zajistí, že si pokožka přes noc odpočine a bude mít čas se vyčistit. Pokud kouříme, tělo si zaplavujeme škodlivými látkami, které se dostanou i do naší pleti. Zbavování se toxinů je v tom, co pomáhá na akné, klíčové. Dostatečná konzumace zeleniny a ovoce nám zase dodá spoustu vitamínů a minerálů, které pokožce dají vitalitu. Zkusme proto popřemýšlet, v čem by náš životní styl šel zlepšit. Pokožka to uvítá a léčba akné bude účinnější.
2. Pijme hodně vody
Voda tělo nejenom hydratuje. Pomáhá mu zbavovat se škodlivých látek, které nám zanáší pleť. Jako léčba akné je nezbytná, podporuje samočistící procesy organismu. Voda je proto jedním z nejdůležitějších kroků, co pomáhá na akné. Zkusme si hlídat pitný režim. Alespoň dva litry denně nám opravdu mohou pomoci.
3. Při boji s akné nezatěžujme tělo toxiny
Kouření, alkohol, sladkosti, průmyslově upravené potraviny, přepálené jídlo a další škodlivé látky způsobují výskyt akné. Pokud se nechceme svých sladkých neřestí zbavit úplně, alespoň je omezme. Léčba akné na zádech i obličeji bude hned snadnější.
4. Čistěme játra, pro léčbu akné je to nezbytné
Játra jsou orgánem, který naše tělo čistí od škodlivých látek. A tedy i klíčem k tomu, co pomáhá na akné. Pokud játra nefungují správně nebo jsou zahlcená toxiny, projeví se to i na naší pleti. Na trhu najdeme nejeden přípravek na čištění jater. Ideálně si vyberme opravdu účinný a organický, jako je například koncentrát z aloe vera.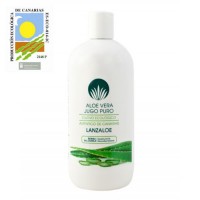 Aloe vera koncentrát čistí organismus a pomáhá při léčbě akné.
5. Pořiďme si doplňky stravy
Máme za to, že pokožku je třeba čistit zvenčí. Ale pravdou je, že musíme dbát i o organismus celkově. Vitamíny a minerály totiž můžou akné zničit úplně. Jejich nedostatek naopak může vznik akné zapříčinit. Proto by je naše léčba akné neměla opomíjet. Vitamín A ničí volné radikály, podporuje hormonální rovnováhu a působí protizánětlivě. Nedostatek vitamínu B5 se projevuje právě jako akné. Vitamín B6 nastolí rovnováhu hormonů, stejně jako vitamín B12. Biotin je pleti prospěšný celkově a vitamín E zabraňuje vzniku pupínků. Vitamín C navíc podporuje uzdravování jizev. Z minerálů je nám prospěšný selen a zinek.
6. Sluníčko pomáhá na akné na zádech i obličeji
Na akné je sluníčko náš nejlepší přítel. Sluneční paprsky se s akné můžou vypořádat rychle a účinně. Ať už máme akné na zádech nebo na pleti, zkusme postiženou oblast vystavovat slunci alespoň půl hodiny denně. Uvidíme, že slunce je zaručeným pomocníkem, co pomáhá na akné. Nezapomeňme na opalovací krém.
Pozor ale na zákeřné jarní sluníčko.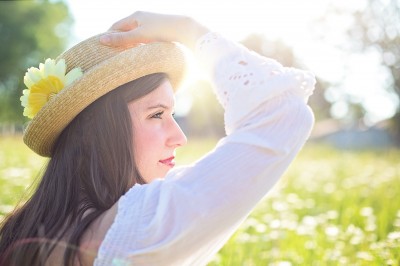 Jak se zbavit akné? Kromě speciální kosmetiky nezapomínejte také chodit na sluníčko.
7. Hlídejme si, co přijde do kontaktu s pletí
Některá kosmetika může pleť podráždit anebo ji zanést. Dobře pozorujme, jestli nám některé druhy kosmetiky, co máme doma, neškodí. Ale nejsou to jen make-up a krémy. Pokud si na pleť saháme špinavýma rukama, máme k tváři přitisklý telefon plný bakterií anebo se pohybujeme v zakouřeném prostředí, jen pleti škodíme. Léčba akné pak přijde vniveč.
8. Při léčbě akné vyzkoušejme aloe vera 
Aloe vera je silným přírodním detoxikantem. Navíc poskytuje tělu vitamíny, které léčba akné nezbytně vyžaduje. Nejenom, že zabraňuje jeho vzniku a pokožku čistí, ale díky aloe vera se rychle zahojí jizvy po akné. Ale pořiďme si přípravky z organického, za studena lisované aloe vera. Co pomáhá na akné, je například čistý Aloe Vera Gel.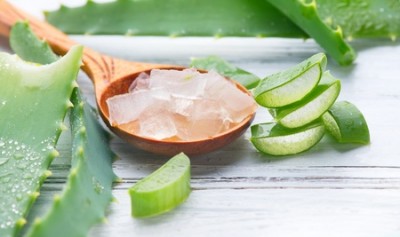 Aloe vera gel má antibakteriální účinky a pomáhá také léčit jizvy po akné.
9. Nebojme se poradit s dermatologem, co pomáhá na akné
Některé druhy akné sami nevyřešíme. Zejména pak hormonální akné. Dermatolog nám pomůže přesně určit, jaký druh akné máme. Podle toho se pak volí správná léčba akné. Navíc nám může předepsat krémy a léky, které na akné zaberou.
10. Zajišťujme pokožce hydrataci
Léčba akné někdy může spočívat v co největším vysušením pleti. Ale to je velká chyba. Pokud pleť jen vysušujeme a nedáváme ji potřebnou hydrataci, začne produkovat nadbytečný maz a bude podrážděná. Výsledkem je větší výskyt akné. Proto nezapomínejme na hydratační krémy.
11. Abychom se zbavili akné, vyhýbejme se stresu
Stres hraje v úspěšné léčbě akné velkou roli. Se stresem totiž automaticky přichází akné. V dnešní době se úplně vyhnout stresu nejde. Ale alespoň se o to můžeme pokusit v některých oblastech našeho života. Vnitřní klid je jedním z faktorů, co pomáhá na akné.
12. Při léčbě akné buďme vytrvalí
Často si už s akné nevíme rady. Vyzkoušíme vše a s malým úspěchem. Ale nepolevujme. Výsledky se někdy dostaví za několik týdnů, ne-li měsíců. Zkusme do našeho života zařadit co nejvíce změn, jak zvenku, tak zevnitř. Každý z nás je jiný, a proto nezoufejme. Na boj s akné nejsme sami.