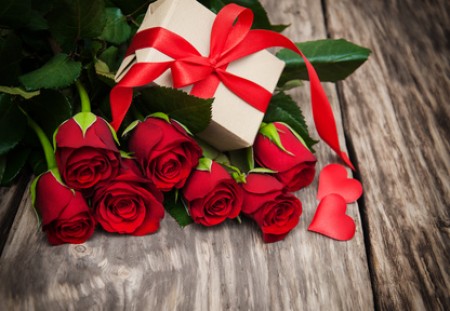 Svatý Valentýn jako svátek zamilovaných se v České republice začal šířit až po roce 1989.Svatý Valentýn, svátek všech zamilovaných. Tradičně se slaví 14. února zejména v anglicky mluvících zemích jako svátek lásky a vzájemné náklonnosti. V tento den si partneři na důkaz lásky dávají dárky, květiny či sladkosti, ale píší si také zamilované dopisy nebo vzkazy. Mnoho zamilovaných má tento den ráda a těší se, že obdarují své milované a projeví jim svou lásku. Někteří svátek svatého Valentýna naopak považují za komerční a z Ameriky importovaný svátek a nechápou, proč by jej měli oslavovat jako den lásky, když nijak nesouvisí s českou tradicí. Málokdo z nich ale ví, jak tento svátek doopravdy vznikl a kdo byl svatý Valentýn, patron mladých lidí a zejména jejich lásky.
Svatý Valentýn: kněz, biskup nebo někdo jiný?
Svátek svatého Valentýna souvisí se skutečnou postavou. Podle většiny historiků je jí svatý Valentýn, latinsky Valentinus, který žil ve starověkém Římě ve 3. století našeho letopočtu a zemřel mučednickou smrtí právě 14. února. Zde ale zároveň nastává problém. Existují totiž dvě osoby stejného jména, které žily v tutéž dobu a které mohou se svátkem souviset. Kdo byl svatý Valentýn? Pravděpodobně se jedná o římského kněze, anebo o biskupa v Interamně, dnešním městě Terni. Snahu ztotožnit svatého Valentýna s konkrétní postavou navíc komplikuje fakt, že toto jméno, které vychází ze slova valens a znamená zdravý nebo silný, bylo v závěru starověku velmi populární.
Valentýn pomáhal zamilovaným i přes zákaz císaře
O svatém Valentýnovi navíc existují dvě legendy, ve kterých se nejspíš prolínají životy obou dvou světců. Podle prvního příběhu byl kněz Valentýn popraven kvůli tomu, že neuposlechl rozkaz císaře Claudia II. Ten totiž svým vojákům zakazoval, aby se ženili, neboť se obával, že manželství bude muže rozptylovat od vojenských povinností a kvůli rodině nepotáhnou do případného boje. Proti zákazu bojoval kněz Valentýn tak, že mladé a zamilované páry tajně oddával. Navíc mužům radil, aby své ženy a rodiny neopouštěli a neválčili. Za to byl zatčen a pravděpodobně roku 269 popraven, a to právě 14. února.
Podle druhé, méně známé legendy, byl Valentýn obdařený léčitelskými schopnostmi. Dokázal údajně vrátit pomocí modlitby zrak slepé dívce. Zprávy o tom se brzy roznesly po celém Římě. Zatímco se křesťané ze zázraku radovali, pohany rozhněval a rozzlobený dav Valentýna odvlekl za město, kde byl popraven.
Pohanské kořeny svátku zamilovaných
Valentýn byl v raném středověku prohlášen za svatého. V 5. století pak papež Gelasius vyhlásil 14. únor jako svátek svatého Valentýna, čímž došlo k jeho propojení se svátkem Lupercalia. Ten připadal ve starověkém Římě právě na dny kolem 15. února. Pořádal se na počest Fauna, ochránce stád před vlky. Součástí rituálu bylo bičování půdy řemeny z kůže obětovaných zvířat, aby se zajistila její úroda. Šlehaly se také mladé ženy a dívky, aby byly plodné a měly zdravé děti.
Během oslav se mladí lidé také spojovali do párů podle losu. Dívky v předvečer svátku do nádoby vkládaly lístečky se svými jmény. Mladí muži poté losovali tu, která se stane jejich vyvolenou. Právě tento pohanský zvyk se spojil s oslavami mučednické smrti svatého Valentýna a dal vzniknout budoucímu svátku zamilovaných.
Svatý Valentýn jako patron lásky
Od raného středověku však muselo uplynout několik staletí, aby se svátek svatého Valentýna stal dnem zamilovaných tak, jak jej známe dnes. Poprvé byl 14. únor a Valentýnův svátek spojován s láskou až od 14. století. Zasloužil se o to anglický básník Geoffrey Chaucer ve své básni Ptačí sněm, kterou složil jako poctu k zasnoubení anglického krále Richarda II. s princeznou Annou Českou, dcerou Karla IV. Jde tak o první písemný doklad propojení romantické tematiky s kultem svatého Valentýna, který v básni vystupuje jako patron čisté a oddané lásky.
Ve středověku byl svátek svatého Valentýna velmi populární zejména v anglosaském prostředí. Dokonce existují milostné básně, které posílal francouzský vévoda Karel Orleánský manželce během svého uvěznění v londýnském Toweru. Tyto vzkazy jsou považovány za první historicky doložené valentýnky. Tradice svátku zamilovaných se pak nadále rozšiřovala.
Svatý Valentýn jako americký svátek
Dnešní podoba svátku zamilovaných má původ na počátku 20. století ve Spojených státech amerických. V roce 1907 se zde jeden výrobce papírových vánočních přáníček dostal do finančních potíží a hrozil mu krach. Hledal proto nový výrobek, kterým by mohl oslovit zákazníky a odvrátit svůj konec. Vzpomněl si na svátek svatého Valentýna a napadlo ho svátek zamilovaných obnovit, nebo spíše rozšířit. Tak se také stalo a za dva roky se obrat firmy tohoto výrobce díky valentýnským přáníčkům ztrojnásobil.
Svátek svatého Valentýna tak získal svou dnešní komerční podobu, kdy ze svátku mají radost nejen zamilovaní, ale také všichni obchodníci, kterým přináší tučné zisky. Nicméně svatý Valentýn si získal mezi lidmi oblibu a tradice svátku zamilovaného se postupně rozšiřuje do dalších zemí světa.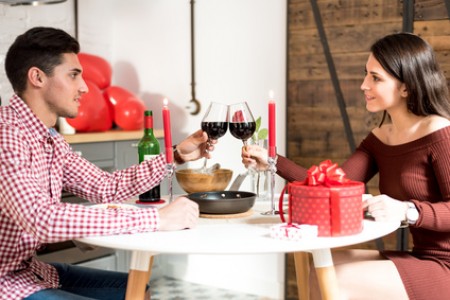 Svátek svatého Valentýna je dnem, kdy řada párů vyráží na romantické večeře nebo se alespoň navzájem obdarovává drobnými dárky.
Komerční svátek nebo evropská tradice?
Pravdu tak mají jak lidé, kteří svátek svatého Valentýna považují za americký komerční svátek, tak i ti, kdo tvrdí, že je to svátek původně evropský. Nakonec, se svátkem zamilovaných je spojováno mnoho tradic a většina z nich má právě ryze evropské kořeny. Zamilovaní muži například během svátku darují svým ženám květiny. Tento zvyk se odvozuje z legendy o Valentýnovi, který oddávané páry obdarovával nádhernými kyticemi z biskupské zahrady.
Na legendu o popraveném knězi či biskupovi odkazuje také zvyk posílání zamilovaných dopisů, valentýnek. Valentýn se totiž ve vězení podle některých zamiloval do žalářníkovy dcery a před popravou jí napsal dopis s vyznáním své lásky. Posílání milostných dopisů se pak stalo oblíbenou valentýnskou tradicí zejména ve středověké Anglii.
Se svátkem svatého Valentýna se váže ještě jeden zvyk. Říkávalo se, že si dívka vezme za muže toho, koho 14. února potká jako prvního. Proto se chlapci, kteří si na dívku mysleli, předháněli v tom, kdo jí jako první co nejdříve ráno na svátek zamilovaných přinese kytici.
Svatý Valentýn dnes
I když má svátek svatého Valentýna dost odpůrců, mnohem více je lidí, kteří si nenechají ujít možnost oslavit lásku a obdarovat svého partnera. Svatý Valentýn je dnes populární zejména v anglicky mluvících zemích, ale i v dalších částech Evropy i jinde na světě.
Svátek svatého Valentýna se slaví také v České republice, i když zde není tak oblíbený jako v Americe, Anglii či Itálii. Tradice svátku svatého Valentýna se u nás rozvinula po roce 1989 a postupně se rozšiřuje. A ačkoliv je jako lásky čas stále oblíbenější a populárnější první máj s tradicí líbání pod rozkvetlou třešní, zamilované páry si užívají také valentýnské oslavy.
A jak den svatého Valentýna oslavit? Tradiční je obdarovávání svých blízkých valentýkami, tedy zamilovanými přáníčky. Pánové také kupují svým partnerkám květiny, dávají se bonboniéry a jiné dárky či se pořádají romantické večeře nebo jiné způsoby oslavy svátku pro zamilované páry. Z podstaty svátku je jasné, že je spojován zejména s červenou a růžovou barvou a se symboly lásky v podobě srdce či růže.