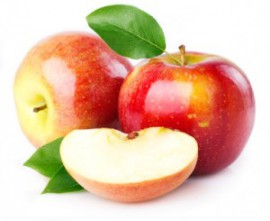 Jablka jsou plody pro střední Evropu velice typické. Vyrábějí se z nich mošty, džusy, marmelády, kompoty, čaje a další. Obsahují mnoho látek, které jsou prospěšné našemu organismu, mají pozitivní vliv na zvyšování odolnosti organismu, obsahují látky působící proti stresu. Chcete-li mít tohoto "domácího lékaře" po ruce během celého roku, pusťte se do zavařování jablek dle našich receptů.  

Čas dozrávání jablek, ovoce pro naše zahrady asi nejtypičtější, je právě v těchto dnech a dnech minulých.  Plody, které nestačíte zkonzumovat čerstvé nebo neuskladníte, můžete zavařit.
Je to postup velice vhodný pro uskladnění zásob na zimní období. Konzervování ovoce a zeleniny vždy patřilo k běžným znalostem a pracím hospodyně. Konzervovat se může ovoce, které nelze uchovat. Nesmí být zkažené, natlučené nebo nevzhledné. Vyplatí se všechny plody před zavařením důkladně prohlédnout a natlučené nebo jinak napadené plody vyřadit, protože i jen jeden zkažený plod může zbytečně pokazit celou várku.
Obavy, že k zavařování jablek a veškerého ovoce je zapotřebí mnoho cukru, není úplně oprávněná. Méně slazené kompoty jsou nejen zdravější, ale i chutnější. Ovoce ve vlastní šťávě nevyžaduje cukr vůbec. Pokud si práci dobře naplánujete, rozmyslíte si postup a připravíte všechny potřeby, pak nezabere ani mnoho času.
Kompoty
Kompot je ovoce zalité slabým cukerným roztokem. Krom zavařování jablek doporučujeme vyzkoušet si i zavařit kdoule, ovoce příbuzné jablku. Plody nezralé nebo přezrálé se pro přípravu kompotu nehodí. Jablka přebereme a důkladně omyjeme. Omyté ovoce zbavíme nejedlých částí (stopek, jádřinců, pecek), jablka také oloupeme (pokud však máte krásná jablka s červenou slupkou, loupat je nemusíte. Kompot pak vypadá velmi hezky.) a dělíme je do úhledných čtvrtek nebo osminek. Protože plody jako jsou jablka nebo i kdoule na vzduchu hnědnou, zaléváme je při přípravných pracích vodou s kyselinou citronovou, tím se hnědnutí ovoce předchází, zpomaluje jej. Jablko můžeme rovněž ihned po oloupání potřít citrónem a nakrájené čtvrtky rovněž pokapeme citrónovou šťávou.
Předváření a proslazování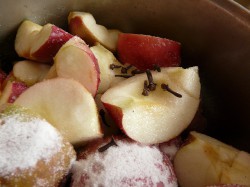 Jablka před plněním do sklenic předváříme do poloměkka. Ponoříme je ve spařovacím košíčku do vroucí vody nebo je do vroucí vody vhodíme a povaříme po dobu dvou až tří minut. Předváříme ve vodě s kyselinou citronovou nebo ve vodě čiré. Dobře předvařené ovoce je sklovité a pružné. Vodu, ve které jsme ovoce předvářeli, použijeme na cukerný roztok. Předvařená jablka vyjmeme z vodní lázně a na tácu necháme vychladnout.
Vychladlé či vlažné ovoce prosladíme – přelijeme cukerným roztokem. Ten připravíme z vody, ve které jsme ovoce předvářeli a přidáme na litr vody cca 200 - 300 g cukru. Dávku můžeme snížit až na 50 g. Pro přípravu cukerného roztoku používáme jemný krystalový cukr, který se ve vodě dobře rozpouští. Roztok krátce převaříme a sebereme pěnu, ovoce přeléváme teplým až horkým roztokem.
Výběr sklenic
Sklenice i víčka před upotřebením umyjeme v horké vodě se sodou, opláchneme v čité vodě a neotíráme. Sklenice naplníme horkou vodou, kterou posléze vylijeme krátce před plněním. Naplníme je volně jablky, která jsou již předvařená a proslazená a plníme ne až po okraj , ale přibližně jeden cm volný pod okrajem, naplněnou sklenici posléze zalijeme horkým cukerným roztokem.
Sterilace
Sterilace je povaření kompotu při teplotě 75 - 85°C, díky které se zničí škodlivé mikroorganismy.  Sterilujeme ve sterilačním nebo i obyčejném hrnci. Při vaření uniká teplý vzduch ze sklenice, čímž se přitiskne víčko na gumový kroužek, kterým je umístěn mezi sklenicí a víčkem. Víčko tím pádem pevně drží a brání tak proniknutí vnějšího vzduchu do sklenice a obsah je chráněn před nákazou.
Ve sterilačním hrnci položíme sklenice na podložku, zalijeme vodou téměř celé. Hrnec přiklopíme a zasuneme teploměr, ve chvíli, kdy dostoupí teplota výše uvedené v předpisu, odečteme čas.  Po ukončené sterilaci odklopíme víko a necháme asi tři minutky chladnout. Poté sklenice vyjmeme, postavíme na stůl a přehodíme přes ně utěrky, které předtím namočíme v chladné vodě. Tím zabráníme měknutí ovoce a ztráty barvy.
Uchování
Sklenice se zavařeným ovocem skladujeme na suchém a tmavším místě.
Servírování
Kompoty podáváme jako přílohy k masu, vhodnému hlavnímu jídlu, k moučníkům, ale i jako dezert po hlavním jídle. Samotný kompot podávaný s piškoty nebo oplatky je skvělým dezertem. Jablkový kompot můžeme také zalít vanilkovým pudinkem a zdobit třešněmi, nastrouhaným perníkem, skořicí,… Kompoty však nejsou jedinou úpravou zavařování jablek.
Další recepty z jablek na bázi zavařování jablek a kompotů
Strouhaná jablka do sklenice (na štrúdl)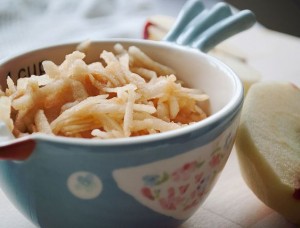 Jablka oloupeme, zbavíme slupek a jádřinců, nastrouháme je a napěchujeme co nejvíc do sklenic a zasypeme cukrem. Při sterilaci se obejdete i bez sterilačního hrnce. Uzavřené sklenice s ovocem poskládáte do vyššího plechu s vodou, dáte do trouby, kterou zapnete na teplotu 200°C a asi půl hodiny necháte v troubě, poté necháte vychladnout a uskladníte. Strouhaná jablka můžete po celý rok používat pro přípravu štrúdlu, jablečných desertů a koláčů.
Jablkový kompot se zázvorem
K přípravě tohoto kompotu budeme potřebovat: 1 kg jablek, 1 čerstvý zázvor, 3 citrony, rozinky a želírovací cukr (cca 1 kg)
Oloupaná jablka, zbavená jádřinců a stopek, rozčtvrtíme a nakrájíme na malé kousky. Zázvor oloupeme a na jemno nasekáme. Vymačkáme citrony a rozinky namočíme do vody. Želírovací cukr, posekaný zázvor, citronovou šťávu a kousky jablek vložíme do kastrolu. Za stálého míchání směs ohřejeme a necháme prudce povařit po dobu 4 minut. Sklenice vypláchneme horkou vodou a naplníme kompotem. Nádoby dobře uzavřeme, obrátíme dnem vzhůru a necháme vychladnout 15 minut. Uchováváme na suchém, chladném a tmavém místě.
Staročeský jablečný kompot
Připravená jablka, nakrájená na čtvrtky, naskládáme do připravených sklenic. Zalijeme je vlažným cukerným roztokem a do každé sklenice přidáme hřebíček, kousek skořice a kolečko citronu (kůra musí být pečlivě omyta). Uzavřeme víčky a sterilujeme 15 až 20 minut při 85°C.
Babiččin jednoduchý zimní jablečný kompot
Můžeme jej vytvořit z jablek čerstvých, klidně v tomto případě i vráščitých a padaných, nebo z jablkového kompotu předem připraveného.
Do hrnce s cukrem přidáme předpřipravený kompot nebo jablka zbavená stopek, jádřinců a nakrájená na osminky. Přidat můžeme i hrušky nebo hruškový kompot, máme-li jej. Přidáme jednu až dvě celé skořice, dva až tři kusy hřebíčku, cukr dle chuti, citron nebo kousek limetky, rozinky a pár loupaných mandlí. Směs zalijeme vodou, povaříme a ještě teplé konzumujeme. Tato pochutina je velice oblíbená dětmi. Pro dospělé však do směsi můžeme přidat i trochu rumu nebo jiného alkoholu. I po ochladnutí zastudena je tento pokrm velice chutný.
Jablkový džem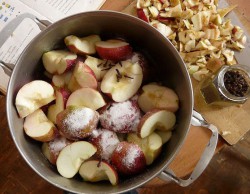 Pro přípravu jablkového džemu můžeme použít méně kvalitní jablka. Na 500 g loupaných jablek spotřebujeme 700 g cukru, kousek vanilky, skořici vcelku a hřebíček. Jablka rozdělíme na dvě skupiny. První polovinu jablek oloupeme, zbavíme stopek a jádřinců a nakrájíme na kostky. Druhou polovinu nakrájíme i se slupkou a můžeme i s jádřinci na kousky, podlijeme trochou vody a rozdusíme pod pokličkou na kaši, tu pak prolisujeme. Jablečný protlak převážíme a společně s větší částí oloupaných jablek dáme i s kořením do hrnce a vaříme do zhoustnutí. Posléze po částech přidáme cukr a zbytek jablek a povaříme dalších 3 - 5 minut. Když džem začne rosolovatět, odstraníme koření a nalijeme ho do připravených sklenic. Sklenice zavíčkujeme, obrátíme dnem vzhůru a necháme chladnout. Skladujeme v chladu na tmavém místě.
Jablkový džem se zázvorem
Při přípravě postupujeme obdobně jako při přípravě jablkového džemu. Ingredience se však liší. Na jeden kilogram oloupaných a upravených jablek potřebujeme jeden zázvor, šťávu z citronu nebo dvou citronů, rozinky a kilogram želírovacího cukru. Jablka i oloupaný zázvor nakrájíme na kousky. Rozinky necháme namočit ve vodě, posléze necháme okapat a společně s želírovacím cukrem a ostatními ingrediencemi dáme do hrnce. Uvedeme do varu za stálého míchání a povaříme cca 4 minuty. Hotový džem plníme do sklenic, které uzavřené obrátíme dnem vzhůru a necháme chladnout. Skladujeme opět v chladu a temnu.
Jablková marmeláda
Marmeláda bývá tužší konzistence než džem a obsahuje více ovocné vlákniny. Vytvoříme jablečný protlak, a to tak, že omytá jablka nakrájíme i se slupkami a jádřinci na kousky, podlijeme trochou vody a v hrnci pod pokličkou dusíme do měkka, tj. cca čtvrt hodiny. Vzniklou hmotu prolisujeme sítkem nebo v mlýnku na ovoce a jablečný protlak dáme do hrnce, kde ho odpařujeme po dobu deseti minut. Přidáme čtvrtinu dávky cukru a vaříme dále, po pěti minutách zbytek cukru dosypeme, přidáme kyselinu citronovou. Jakmile marmeláda začne rosolovatět, nalijeme ji do sklenic, zavíčkujeme, překlopíme dnem vzhůru a necháme chladnout.
Jablečná čokoláda na bázi nutely
Dobře upravená jablka, tedy oloupaná a zbavená jádřinců, pomeleme v mlýnku na ovoce a dáme vařit s cukrem, v poměru 1/3 váhy cukru na plnou váhu použitých jablek. Do horké směsi přimícháváme na kousky nalámanou čokoládu a kakao. Směs dobře promícháme a nalijeme ji do sklenic. Dále sterilujeme 20 minut při 80°C.
Jablečné čatní
Pro přípravu budeme potřebovat 1 lžíci soli, 1 lžíci pálivé papriky, 1/2 lžíce kari, 5 - 6 stroužků česneku, 1/2 lžíce zázvoru, 3 dcl vody, 3 dcl octa a 3 lžíce rozinek na 1 kg oloupaných a jádřinců zbavených jablek.
Jablka nakrájíme na plátky, přidáme koření a rovněž naplátkovaný česnek. V hrnci vše povaříme, přidáme cukr, ocet a rozinky. Vše chvíli povaříme a směsí naplníme sklenice. Sterilujeme při 80°C po dobu 20 minut.
Jablečná přesnídávka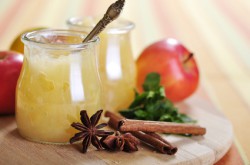 Omytá jablka dusíme s trochou vody do měkka. Jádřinců je můžeme zbavit dopředu, nebo při přepasírování přes jemnější síto. Jablečnou hmotu rozmixujeme s připraveným vanilkovým pudinkem s cukrem a trochou skořice. Směs zakápneme citronem, přejdeme ještě jednou varem, nalijeme do skleniček a sterilujeme. Uchováváme na chladném a tmavém místě. Získáme tak zdravou svačinku, která chutná nejenom dětem.
Máte i vy nějaký osvědčený recept na zavařování jablek? Podělte se s námi v komentáři pod článkem.