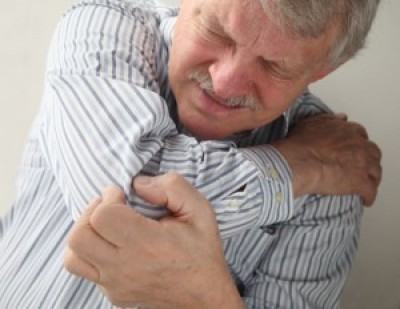 Dna je závažné revmatické onemocnění metabolického původu, postihující dvakrát až třikrát častěji muže, než ženy, při níž se zvyšuje množství kyseliny močové v krvi. Tato zvýšená hladina může být způsobena různými faktory. Přítomnost kyseliny močové v organismu je běžná, avšak u lidí s onemocněním dna je přítomen nedostatek enzymu urikáza, který kyselinu močovou rozpouští. Ta se pak usazuje v těle a způsobuje záchvatovité bolesti kloubů.
Primární a sekundární onemocnění dnou
Primární dna vzniká na základě dědičnosti, kdy je narušeno vylučování kyseliny močové ledvinami. Dalšími působícími faktory, které mohou negativně ovlivňovat nejen vznik, ale rovněž průběh onemocnění dnou, jsou především přílišná konzumace tučného masa a vnitřností a nadměrné pití alkoholu. Rizikovými faktory jsou dále nedostatečný pitný režim, nadváha a nedostatek pohybu. Častěji také trpí onemocněním dnou obézní osoby.
Typickým pacientem s onemocněním dna bývá muž kolem 40ti let (rizikovou skupinou pro vznik onemocnění dnou jsou muži 20-40 let), trpící nadváhou nebo obezitou. U žen nemoc dna obvykle propuká až po 50tém roce věku). Sekundární onemocnění dnou vzniká jako důsledek jiných chorob, např. leukémie.
Nemoci dna se někdy také přezdívá nemoc králů, nemoc bohatých nebo pakostnice. Znali ji lidé již ve starověku a středověku, název "nemoc králů" souvisí s nadměrnou konzumací masitých jídel a alkoholu, které si v minulých dobách mohly dovolit jen některé vrstvy obyvatelstva.
Ostatní názvy jsou odvozeny dle místa ukládání krystalů kyseliny močové a místa vzniku záchvatů, např. zánět kloubů na nohou (zejména palce) se nazývá podagra, zánět se však může projevit i u kloubů na rukou a v rameni.
Krystaly, vznikající z kyseliny močové, mají jehličkovitý tvar, pronikají do málo prokrvených tkání (především kloubů), v těch uvíznou a zabodávají se.
Dna a její příznaky
Zvýšená hladina kyseliny močové v krvi – lékařsky nazývaná asymptomatická hyperurikémie, v této chvíli může být nemocný ještě zcela bez příznaků. Zvýšenou hladinou kyseliny močové v krvi trpí přibližně 10 % populace, jen u desetiny z nich však dochází k propuknutí nemoci dna (jsou to většinou ti, kteří mají k onemocnění dědičné sklony)
Záchvat dny – k záchvatu dochází často nečekaně, obvykle v nočních hodinách a jako první se mnohdy manifestuje bolest v palci u nohy, postižený kloub je velmi citlivý, bolestivý, kůže v místě vzniku zánětu zčervená, napuchne. Počáteční projevy bývají doprovázeny celkovou únavou, horečkou, zimnicí. Obvykle tyto příznaky trvají týden, problémy však mohou postiženého provázet déle, protáhnout se může doba trvání prvotních příznaků až na 6 týdnů.
Interkritické období - klidové období, kdy je pacient zdánlivě vyléčen
Chronická tofózní dna – ukládání tzv. tofů – krystalků kyseliny močové v okolí kloubu, jedná se již o dlouhodobý stav. To vede k poškozování tkání, které se u kloubů projevují jejich deformací a úbytkem hybnosti. Krystaly se mohou ukládat krom kloubů i na ušním boltci, patě a prstech. V některých případech může dojít i k protržení kůže a výtoku husté křídovité hmoty na povrch. Dalšími potížemi, které mohou provázet stav zvýšené kyseliny močové v krvi je výskyt ledvinových kamenů, které mohou vznikat kdekoliv v močovém ústrojí. Jednou z hlavních příčin vzniku je nedostatečný příjem tekutin.
Rizika spojená s onemocněním dnou
Dna a její příznaky, i ty prvotní, nás varují, že se o svůj organismus nestaráme dostatečně. Při zanedbání léčby nebo nedodržování diety, která bývá po propuknutí nemoci dna u pacienta poměrně přísná, může docházet k závažným komplikacím, které toto onemocnění doprovázejí. Jednou z možných komplikací je již zmíněný vznik ledvinových kamenů. Ty mohou vznikat kdekoliv v močovém ústrojí. Když se ledvinový neboli také močový kámen dostane z prostoru ledvin do močových cest, může se někdy projevit prudkou a intenzivní bolestí v boku, jedná se o tzv. koliku, která bývá provázena celkovou nevolností, zvracením, někdy průjmem. Bolest má křečovitý, někdy až řezavý charakter a přichází ve vlnách tak, jak močový kamínek putuje močovými cestami. Základem prevence je dostatečný pitný režim.
Při nemoci dna hrozí postiženému rovněž vznik onemocněním cukrovkou, zvýšená hladina cholesterolu, vysoký tlak, různá onemocnění oběhového systému.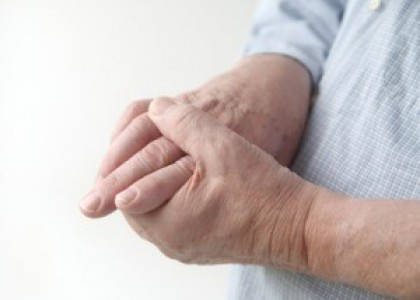 bolesti kloubů
Dieta při dně – nevhodné potraviny
Při onemocnění dnou by se měl omezit příjem potravin, obsahujících puriny, které způsobují vznik kyseliny močové. Jedná se především o maso, vnitřnosti (plíce, slezina, ledvinky…). Nevhodný je příjem živočišných tuků a bílkovin v potravinách, ty se vyskytují v plísňových a tučných sýrech. Nejsou však doporučovány ani luštěniny, ostré koření, čokoláda a kakao. Úplně zakázán je veškerý alkohol, vyhněte se rovněž kouření.
Dieta při dně – doporučené potraviny
Především dodržujte pitný režim, příjem tekutin za den by měl činit cca tři litry. Doporučené nápoje jsou voda, čerstvé neslazené džusy, ovocné čaje. Zvyšte konzumaci mléčných výrobků, především nízkotučných jogurtů a sýrů nebo zakysaných výrobků. Vhodná je při dietě onemocnění dnou čerstvá zelenina: hlávkový salát, mrkev, celer, brambory, rajčata a čerstvé ovoce: banány, avokádo, jablka, meruňky. Z obilovin je to bílé i tmavé pečivo, jáhly, tmavá rýže.
Další rady a doporučení při onemocnění dnou
Stravujte se pravidelně a dodržujte pitný režim
Zařaďte dva až tři dny v týdnu odlehčené zeleninové jídelníčky
Dodržujte dietu bez obsahu purinů ve stravě
Zhubněte nadbytečné kilogramy
Zařaďte do svého týdenního plánu pravidelný pohyb
Technologická úprava jídel, kterou lze při onemocnění dnou doporučit je vaření a dušení
Léky potlačí příznaky, ale dnu nevyléčí
V případě, že máte výše popsané příznaky dny, ihned vyhledejte lékaře. V počáteční fázi léčby lékař předepíše léky, které pomohou zmírnit akutní bolesti. Při akutních problémech se předepisují antirevmatika a analgetika, léky proti zánětu. Lékaře rovněž vyhledejte v případě, že pociťujete bolesti, připomínající stav při odchodu ledvinových kamenů.
Při podezření na dnu vám lékař odebere moč a krev, aby zjistil koncentraci kyseliny močové. Dna se nedá plně vyléčit, avšak její příznaky se dají zmírnit. Jednou z možností léčby nemoci dna je odsátí tekutiny z místa zánětu, léčba se zaměřuje na zmírnění potíží a přináší okamžitou úlevu.
Obvyklým lékem na dnu je kolchicin, který se získává z ocúnu jesenního. Užívá se v malých dávkách, dokud nezačnou obtíže ustupovat. Pokud vám lékař předepsal lék kolchicin, nekombinujte ho s pitím bylinných čajů!
Dále je možno užívat léky na předpis, které snižují tvorbu kyseliny močové v kombinaci s dalšími léky, které podporují její vylučování.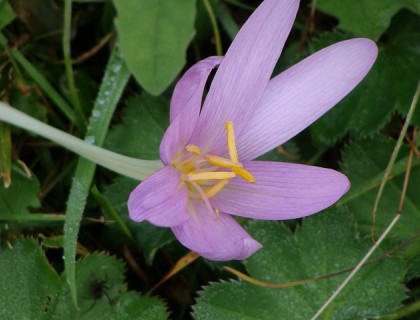 Přírodní a doplňková léčba dny
Vhodná je celková detoxikace a regenerace organismu, na postižené místo přikládat chladivé obklady. Osvědčené jsou obklady z rostliny vrbky úzkolisté přikládané na bolestivé klouby.
Pijte bylinné čaje s obsahem kopřivy, přesličky rolní, tolice vojtěšky nebo březového listu, ne však v kombinaci s lékem kolchicin. Čaje se vaří řídké, tak aby dobře proplachovaly močové cesty a soli se vyplavovaly z těla. Čaj pijte 3x denně, ne horký, spíše příjemně teplý až vlažný.
Odvar z listu vratiče mydlice lékařské a kapradí se hodí k místním i celkovým koupelím. Po koupeli tělo neosušujte, pouze zabalte do ručníku a alespoň na jednu hodinu ulehněte k relaxaci. Odvarem z bylin lze dělat i obklady na postižená místa.
Přebytečné kyseliny močové se můžete zbavit i tak, že budete pít třikrát denně sklenici vody se dvěma lžičkami miříku celeru nebo sadce nachového.
Na noc můžeme bolavé klouby promazat mastí, kterou vyrobíme z vepřového sádla a rostliny dobromysl lékařská. Směs necháme před použitím ležet 24 hodin tekutou na teplém místě a posléze přecedíme a necháme ztuhnout v ledničce.
Lidově se již po celá staletí dna léčí třešněmi. 250 mg třešní, ať již čerstvých nebo kompotovaných udrží dnu v přiměřených mezích. Vhodná je rovněž šťáva z třešní a podobné účinky jako třešně mají i jahody.
Pomoc vám poskytnou laserové hodinky LASPOT
Z mezinárodních studií vyplývá, že 80% všech nemocí, včetně dny, je díky špatnému stavu krve. Pokud budete mít krev v pořádku, v podstatě nemůžete být nemocní. Jak to zajistit? Spolehnout se můžete na laserové hodinky LASPOT, které zlepšují průtokovost krve a zvyšují flexibilitu červených krvinek. Přímo tak napomáhají tomu, abyste zamezili vzniku dny jednou provždy.