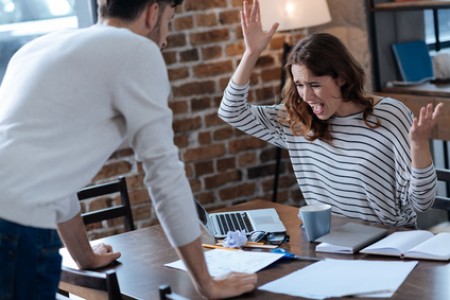 Jak zvládat emoce?
Kolikrát vás v životě zradily emoce? Kolikrát jste si říkali, že jste se přece nemuseli rozbrečet jen proto, že s vámi někdo nesouhlasí. Nebo že jste nemuseli na člověka s odlišným názorem tak křičet. Pro někoho je téměř nemožné své emoce ovládat a vždy reaguje přehnaně. Způsobuje mu to mnohé problémy – nemá své vnímání a vůbec svůj život pevně v rukou, ničí tím i své vztahy s okolím. Jak zvládat emoce a jak začít pozitivně ovlivňovat svůj život? Začněte u svých myšlenek. 
Příčinou bývá nízké sebevědomí
Často se říká, že všechno souvisí se vším. A lidská psychika, chování, prožívání a podobně souvisí hlavně se sebevědomím. Za většinou problémů v těchto oblastech totiž může nezdravě nízké sebevědomí. A platí to i o nezvládání emocí. Pokud je někdo přehnaně lítostivý, vzteklý či hulvátský, pravděpodobně se za jeho vypjatými emočními projevy skrývá problém zvaný nízké sebevědomí. 
Namyšlený a příliš sebevědomý člověk? Nikoliv…
Když se v životě setkáme se vzteklým člověkem, který je zlý, uráží a ponižuje všechny ve svém okolí, obvykle o něm mluvíme jako o sobeckém, namyšleném jedinci s příliš vysokým sebevědomím. "Ten si o sobě myslí bůh ví co," říkáme si nejspíš. Ale věděli jste, že je to možná přesně naopak? Takoví křiklouni, snažící se o dominantní postavení, většinou trpí spíš nedostatkem zdravého sebevědomí. 
Nízké sebevědomí schované za přehnanými emocemi
Mají prostě strach, že bez jejich nadřazeného chování jim ostatní ublíží a nebudou si jich vážit. Svůj strach a obavy, které vyplývají z jejich nízkého sebevědomí, schovávají za masku neohroženého sebevědomého jedince, kterému nemůže nikdo a nic ublížit, protože si bezmezně věří a drží svůj život pevně v rukou. Dělají zkrátka hodně hluku a široká ramena, aby ostatní neměli šanci prokouknout je a poznat jejich zranitelnost. 
Takoví lidé si také myslí, že když se jich ostatní budou bát, budou si jich vážit. Tak to ale není. Zdravé, kvalitní a na vzájemné úctě založené vztahy se svým okolím můžete budovat jen se zdravým sebevědomím. A nesmíte se bát, že když nebudete křičet, nebude váš názor vyslyšen a respektován. Nebo když nebude po vašem, bude to hned znamenat, že si vás ostatní neváží. 
Příliš pláče, příliš křiku – problém je vždy v hlavě
Ne všichni samozřejmě projevují nízké sebevědomí křikem. Někteří jsou naopak lítostiví a plačtiví. Ať už se ale kvůli vlastnímu myšlenkovému nastavení stavíme do pozice chudinek, jsme lítostiví a v podřazené pozici, nebo si naopak vytváříme image hulváta křičícího a povyšujícího se nad ostatní, vždy je to stejné a vždy tím způsobujeme problémy hlavně sami sobě. Lítostivci jsou na tom ale přece jenom trochu lépe – většinou právě oni si uvědomí, že je něco špatně a vyhledají pomoc. Vzteklouni a nadřazenci takové štěstí mnohdy nemají. Jejich silné ego jim nedovolí hledat řešení. Navíc si myslí, že svými útoky a agresivitou si vysněnou silnou a stabilní pozici vybudují. Už ale nevidí, jak je tato role vyčerpává, vysiluje a ztrácí tak pomalu všechny, kdo je měli rádi. 
Co ale stojí za přehnanými emocemi? Do těchto nepřijatelných stavů nás obvykle vedou naše vlastní myšlenky, naše osobní myšlenkové vzorce. Zkrátka a dobře – za většinu svých problémů, které mají co dočinění s psychikou, si můžeme sami. Možná je to nepříjemné zjištění – na druhou stranu ale je v naší moci se těchto problémů zbavit. Záleží jen na nás a na tom, jak se se situací popereme. 
Jedinou cestou, jak zvládat emoce, je ovládnout své myšlenky
Jak zvládat emoce? Pro začátek je důležité si uvědomit sílu vlastních myšlenek. Naše emoce totiž vytváří mozek na základě nastavení, které jsme si díky prožitým zkušenostem uložili do podvědomí. Jsou to tedy naučené myšlenky, které v nás vyvolávají určité chování a emoce. Mohou nám třeba říkat, že "tohle se nedá zvládnout" – a tím v nás vyvolají lítost a pláč, nebo třeba vztek a kopání kolem sebe, obviňování okolí. Nebo nám mohou našeptávat, že "tohle není dobře", "tohle jsme nechtěli" či "na tohle nejsme dost dobří". Často nás také trápí vlastní myšlenky tvrdící "nikdo mě nemá rád". A výsledkem těchto všech myšlenek jsou přehnané emoce – pláč, lítost, bezmoc, strach, nedůležitost nebo také vztek, potřeba ukázat všem, že jsme dostatečně silní a můžeme na ně křičet, nadřazovat se, povyšovat se a ubližovat jim. Aby náhodou někdo nezjistil, že to tak není, vůbec nejsme tak silní a šíleně se bojíme toho, že nás někdo v našich černých myšlenkách utvrdí. 
Ve zkratce – myšlenky ovlivňují naše emoce a prožívání, ty následně ovlivňují kvalitu našeho života. 
Ovládnutí emocí přinese stabilitu do vašeho života
Jakmile tedy svoje myšlenky ovládnete, budete v rukou pevně držet i své emoce a nedovolíte jim s vámi přehnaně cloumat. Ovládnete svoje chování, prožívání, a to, jak se budete v životě cítit. Zároveň tak ovlivníte i to, jak se s vámi budou cítit ostatní, jak vás budou vnímat a jak se k vám budou chovat. Stejně, jako vás mohou vaše myšlenky a emoce srážet dolů, mohou pracovat i ve váš prospěch. A co víc – vy se můžete naučit, jak toho docílit. Mozek, který emoce na základě emočních nastavení vytváří, je totiž náš orgán a my ho můžeme ovlivnit tak, aby pracoval v náš prospěch. 
Nevíte, jak zvládat emoce? Pomůže vám profesionální kouč
Zní to logicky, jasně a vlastně jednoduše. Jenže, jak toho docílit a jak se naučit své myšlenky ovládat? A jak zvládat emoce? Pokud si sami nevíte rady, pomoci vám může osobní kouč. 
Díky koučinku zjistíte, že je to váš naučený způsob myšlení, který je plně odpovědný za následné negativní či přehnané emoce a tíživé psychické stavy. Zároveň pochopíte, že se svými myšlenkami a myšlenkovými vzorci můžete pracovat, můžete je měnit a ty negativní ze svého myšlení dokonce odstranit. Kouč vám pomůže se naučit jak pracovat se svou hlavou a myšlenkami tak, abyste se trvale cítili v životě dobře, stabilně, uměli své nálady ovlivňovat a abyste měli své emoce pod kontrolou. Můžete sami určovat, jak se budete cítit – nebudete závislí na svém okolí a nehrozí, že vás jakákoliv situace naprosto vykolejí. 
Přestaňte být obětí svého vlastního mozku a začněte své myšlenkové a emoční nastavení sami utvářet. Brzy zjistíte, že lze vědomě ovlivnit, jak se budete ve svém životě cítit. Mějte svůj život pevně ve svých rukou a začněte se konečně cítit se svými emocemi dobře. Významně tak zvýšíte kvalitu svého života ve všech oblastech – co se týče vztahů, práce, zdraví i peněz.