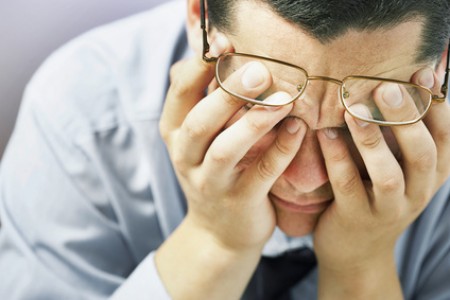 Fotolia_79892602_XSStres se objevuje v každodenním životě většiny lidí. To, že má negativní důsledky na naše zdraví není dnes již žádná novinka. Stres způsobuje svalové napětí, což se po několika hodinách projevuje bolestmi hlavy, zad a ztuhnutím šíje. Naučíme vás první pomoc pro vaše  ztuhlé svalstvo, kterou byste si měli dát hned, jakmile začnete u sebe toto napětí svalů pociťovat.
Pár minut relaxace pomůže
Jedná se o krátkou relaxační metodu, po které se vám ihned uleví. Maximální užitek z této techniky se sice projeví při pravidelném opakování, přesto účinek pocítíte prakticky okamžitě po relaxaci. Tato technika se doporučuje při častých bolestech hlavy, migrénách, bolestech břicha nebo pokud trpíte na zúžení cév. Také pomáhá při úzkostech a snižuje vysoký krevní tlak.
Rychlá  relaxace:
Zhluboka se nadechněte, zadržte dech na 3 - 4 vteřiny, pomalu vydechujte. Toto opakujte 3x.
Řekněte 3x  následující afirmaci: "Jsem v pohodě. Jsem klidný".
Opět se zhluboka nadechněte, zadržte dech a pomalu vydechněte. Toto proveďte 3x.
Měli byste se cítit klidnější již po 2 - 3 minutách. Po cvičení budete mít příjemný pocit radosti a uspokojení. Po dvou měsících pravidelného cvičení budete umět rozpoznat napětí nebo uvolnění v jednotlivých svalových skupinách.
Stres ovlivňuje dech
Pokud často podléháte stresu, je možné, že máte vytvořené špatné dýchací návyky. Je to dáno tím, že stres zrychluje dech, bez ohledu na to, zda vykonáváte nějakou fyzickou aktivitu nebo ne. Způsobují to myšlenkové procesy spuštěné stresovým faktorem.. Na to, abyste si osvojili správné dýchací návyky, stačí, když budete pravidelně provádět pár minut denně následující dechové cvičení.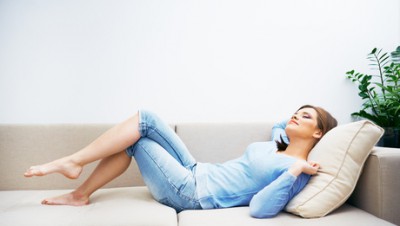 Fotolia_70789486_XS
Dechové cvičení:
Vestoje s mírným rozkročením se zhluboka nadechněte nosem. Zaplňte celé plíce vzduchem. Nádech trvá 4-5 vteřin.
Vydechněte naráz ústy. Současně mírně podřepněte v kolenou.
Svěste hlavu i ruce dolů, uvolněte se. Z této pozice se opět začněte nadechovat a zároveň se vracejte do vzpřímené polohy
Tuto sérii nádechů a výdechů zopakujte 20x. Okysličíte si tím všechny buňky v těle, včetně těch mozkových. Pokud máte možnost, provádějte toto cvičení venku, nebo alespoň při otevřeném okně.