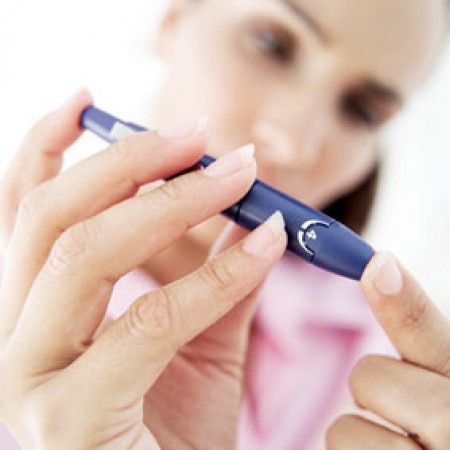 Co se odehrává v těle při onemocnění cukrovkou? Jakým způsobem funguje léčba cukrovky?
Cukrovka neboli Diabetes mellitus je skupina onemocnění chronického charakteru, která se projevuje poruchou metabolismu sacharidů.
Typy cukrovky
Rozlišujeme dva základní typy cukrovky: diabetes I. typu a diabetes II. typu. Oba typy cukrovky vznikají v důsledku úplného nebo částečného nedostatku hormonu inzulinu. Tělo nemocného cukrovkou tedy buď tvoří málo inzulinu nebo jej netvoří vůbec anebo nedokáže inzulin využívat.
Oba typy cukrovky mají podobné příznaky, liší se však příčiny jejich vzniku. U cukrovky I. typu jsou buňky slinivky břišní, produkující inzulin, ničeny vlastním imunitním systémem. Proto se cukrovka I. typu řadí mezi autoimunitní choroby. Je méně častá a postihuje mladší osoby do 35 let.  Cukrovka II. typu je způsobena sníženou citlivostí tkání vlastního těla k inzulinu. Postihuje osoby ve středním a pozdním věku a osoby s nadváhou.
Těhotenská cukrovka
Těhotenská cukrovka neboli Gestační diabetes je typ cukrovky, kterou trpí asi u 4 % žen během těhotenství. Při těhotenské cukrovce kolísá  u těhotné ženy díky hormonům hladina krevního cukru. Její slinivka není schopna vyrovnat se zvýšenými požadavky na inzulin, který má udržet hladinu cukru v rovnováze a glukóza ve zvýšeném množství vstupuje přes placentu do plodu, který tak začne tvořit více vlastního inzulinu. Přemíra glukózy a inzulinu způsobuje tzv. diabetickou fetopatii, která se projevuje také vyšší porodní hmotností novorozence a po narození jeho ohrožení hypoglykemií. Častější je také výskyt novorozenecké žloutenky. Komplikace těhotenské žloutenky jsou dobře zvládnutelné pediatry a obvykle rychle odezní. Těhotenská cukrovka se dá lehce zjistit z krevních testů během návštěv u gynekologa, a to po dvacátém týdnu těhotenství. Ženy, které dostaly těhotenskou cukrovku, nemusejí před těhotenstvím mít žádné potíže a po porodu také těhotenská cukrovka mizí.
Základní pojmy u cukrovky
Hlavní úloha inzulinu spočívá ve snížení hladiny cukru v krvi po jídle. Inzulin napomáhá odvádět krevní cukr z krevního oběhu k buňkám, v nichž se využívá jako zdroj energie. U cukrovky 2. typu má nedostatek indiulinu za následek to, že se k buňkám nedostává dostatek cukru, aby pokryl energetické potřeby organismu.
Glukóza je druh cukru, který získáváme z potravy. Tento cukr putuje krevním oběhem ke všem buňkám v těle, které jej využívají jako zdroj energie. Přesto, že cukr poskytuje potřebnou energii, je nutné držet jej pod kontrolou a jeho hladinu v krvi na odpovídajících hodnotách. Příliš vysoký obsah cukru v krvi se nazývá hyperglykémie, zatímco příliš nízký obsah cukru v krvi se nazývá hypoglykémie.
Jsou to buňky slinivky břišní a jejich úkolem je vyrábět správné množství inzulinu ve správnou dobu proto, aby udržely hladinu krevního cukru v normě. Při cukrovce 2. typu tyto buńky přestávají pracovat a odumírají.
Je to hormon, který při jídle pomáhá kontrolovat hladinu cukru v krvi. U lidí s cukrovkou 2. typu bývá hladina tohoto hormonu snížená. Při zvýšení obsahu krevního cukru signalizuje GLP-1 slinivce, aby vytvářela inzulin, který pomáhá odvádět cukr z krevního oběhu k buňkám. GLP-1 také zpomaluje trávení tak, aby se hodnoty krevního cukru v krvi příliš nezvýšily. To pomáhá udržet pocit sytosti delší dobu. Nevyužitý cukr se ukládá v játrech, odkud se v případě potřeby uvolní pomocí hormonu glukagonu. U lidí s cukrovkou 2. typu však játra uvolňují příliš mnoho cukru ve špatnou dobu. GPL-1 pomáhá snížit úroveň glukagonu a zastavit uvolňování cukru z jater do krve v době, kdy to zrovna není potřeba.
Cukrovka - projevy
Mezi prvotní projevy cukrovky 1. typu patří výrazná žízeň a v důsledku toho pak zvýšená spotřeba tekutin a časté močení. Dostavují se také časté infekce močových cest.  Dále je to únava, nevýkonnost a také hubnutí. Výraznou akutní komplikací může být diabetické koma.
Cukrovka 2. typu se projevuje poruchou vědomí, kterou způsobí vysoká hladina krevního cukru v krvi. Častější je však náhodné zjištění cukrovky při lékařské prohlídce, a to z krevního testu nebo z moči.
Cukrovka a její léčba
Cukrovka se léčí hormonem inzulinem. Je to hormon bílkovinné povahy, který umožňuje glukóze obsažené v krvi, vstup do buněk. V buňkách je glukóza štěpena na jednodušší látky, přičemž se uvolňuje energie. Proto je hlavním projevem diabetu zvýšená koncentrace glukózy v krvi a nedostatek energie (z toho však nevyplývá, že by diabetik měl neustále zvýšenou glykemii). Léčba cukrovky tedy spočívá v dodání inzulinu zvenčí anebo v podpoře jeho vstupu do jednotlivých buněk.
Léčba cukrovky I. typu
Léčba cukrovky 1. typu spočívá v  dodávání inzulinu do těla inzulinovým perem nebo inzulinovou stříkačkou několikrát denně. Pacient si může sám kontrolovat hladinu krevního cukru pomocí glukometru a podle toho si upravovat dávky inzulinu. Nedílnou součástí léčby je dieta, správný výběr potravin a jejich rozložení během dne. Jinou možností léčby je transplantace slinivky břišní nebo transplantace buněk v Langerhansových ostrůvcích.
Léčba cukrovky II. typu
Léčba cukrovky 2. typu  spočívá především ve  změně stravovacích návyků a snížení tělesné hmotnosti. Doporučuje se zvýšit fyzickou aktivitu. Dále se podávají antidiabetika a v případě  potřeby také inzulin.
V poslední době se však objevuje další cesta, jak udržet hladinu inzulinu v krvi v žádoucím rozmezí. Souvisí s hormony, které se nazývají inkretiny.
Nová cesta při léčbě cukrovky 2. typu
Důležitý pro lékaře je z inkretinů především hormon GLP-1 (glukagon-like-peptid 1). Tato látka snižuje glykemii a má z hlediska léčby cukrovky ještě mnoho dalších pozitivních účinků. GLP-1 vydrží  však aktivní jen několik minut, poté se rozpadá. Vědcům se ale podařilo vyrobit její věrnou kopii zvanou GLP-1 analoga. Ta napodobuje vlastnosti hormonu GLP-1, tedy snižuje hladinu cukru v krvi a omezuje uvolňování glukózy z jater. GLP-1 analoga ještě navíc snižuje chuť k jídlu a zpomaluje vyprazdňování žaludku, čímž prodlužuje pocit sytosti. Toto je samozřejmě u diabetiků žádoucí, neboť každý kilogram hmotnosti dole je úspěchem. Pozitivní účinek GLP-1 analogu byl potvrzen také při snižování krevního tlaku, především systolického (horního). Z dlouhodobého hlediska je důležité, že napodobení funkce GLP-1 vede k ochraně beta buněk ve slinivce, tety těch, které vytvářejí inzulin. Léčba prostřednictvím GPL-1 má ještě jednu výhodu – není spojena s vyšším výskytem hypoglykemií.
Léků na cukrovku stále přibývá a v současné době se dá již velmi dobře pacientovi léčba  "ušít na míru". Existuje na tisíce kombinací různých přípravků. O GLP-1 ale lékaři i pacienti budou jistě komunikovat stále častěji.
S cukrovkou vám pomohou laserové hodinky LASPOT
Všichni diabetici mají příliš hustou krev a tím pádem špatné okysličení celého těla. S tím jim mohou pomoci laserové hodinky LASPOT, které zlepšují průtokovost krve a zvyšují flexibilitu červených krvinek. Přímo tak pomáhají zlepšit průběh cukrovky a tlumit její příznaky.