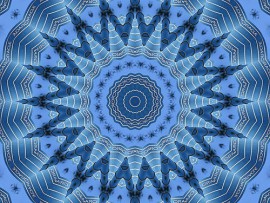 Mandala je slovo, které pochází ze staroindického sanskrtu a znamená kruh nebo kolo. Vyjadřuje však mnohem více než jen pouhý známý motiv. Je symbolem odrážejícím určité duchovní principy, které provází lidstvo od nepaměti. Mandaly můžeme nalézt v prostředí kolem sebe, nebo si je vytvářet. Svými specifickými vibracemi pomáhají s harmonizací čaker, tedy i s léčbou psychických a fyzických obtíží.
Principy mandaly jsou všudypřítomné. Nacházíme je v přírodě (stačí se podívat například na vločky sněhu, letokruhy stromu, květy), jsou součástí pohybu i času. Už samotný význam kruhu, jakožto geometrického tvaru, je podstatou dokonalosti. V jeho centru se nachází pevný bod, kolem něhož je vše organizováno a ze kterého a do kterého směřují ostatní tvary. Zároveň však mandala vyjadřuje nekonečno, kterým je definován vesmír. Mandalu proto lze považovat za formu přesahující historii lidstva i bytí jako takového, protože může představovat nejen strukturu lidského nitra, ale také existence. Není pouze obrazcem nebo souborem obrazců.
Mandala je součástí všech kultur světa
I když je mandala pojem, který vzešel z indického obřadního jazyka sanskrtu, její principy a symboliku nalezneme ve všech kulturách na světě, využívali je například i indiáni, doplňují křesťanskou kulturu. Symbolika kruhovitého nebo obloukovitého tvaru je zřetelná především na stavbách a jejich půdorysech. V rámci Evropy stačí vzpomenout gotické katedrály, kde dlažba soustředěná do kruhu byla metaforicky znázorněnou cestou k Bohu. Mandaly jsou součástí starověkých, středověkých i novověkých kultur, využívali je vědci, filozofové i další badatelé k vyjádření nebo pochopení zákonitostí světa.
Významný lékař a psychoterapeut Carl Gustav Jung, zakladatel analytické psychologie, považoval mandalu za zrcadlo vnitřního světa člověka, ve kterém je možno nalézt pomyslný bod, od něhož se odvíjí složky osobnosti, například to, jak se člověk chová, k čemu inklinuje nebo co je pro něj důležité, a podle kterého je nitro daného člověka uspořádáno. Osobní mandaly jsou tedy podle něj obrazy z nevědomí a dávají příležitost lépe poznat vnitřní svět člověka.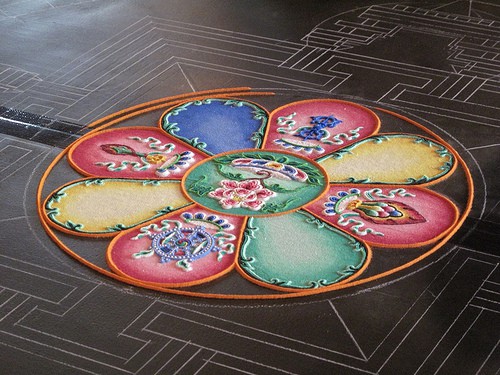 Působení mandaly
Důvod, proč jsou mandaly oblíbené a užívané napříč kulturami, které jim přisuzují tak velký význam v souvislosti s člověkem i podstatou bytí, tkví mimo jiného v možnostech působení na čakry, energetické víry v těle, o kterých se vše podstatné dozvíte ZDE. Jelikož jsou čakry považovány za činitele ovlivňující duševno i fyzično, mohou být mandaly, které je dokážou harmonizovat, součástí alternativní léčby různých obtíží. Pokud se rozhodnete vytvořit si mandalu svépomocí, celý proces vám může pomoci k poznání sebe sama. Navodí pocity vnitřního klidu, harmonie a uspokojení. Přinese možnost pochopit a ovládnout své emoce, v neposlední řadě může být mandala, jak už bylo zmíněno, formou terapie.
Působení hotové mandaly dosahuje obdobných účinků, které přináší její tvorba. Výsledný obrázek zrcadlí vnitřní pochody, touhy, přání a potřeby a uvolňuje energii (vkládanou při jejím vytváření), jisté vibrace, jež lze využít k vlastnímu prospěchu a harmonizaci prostředí, v němž si mandalu vystavíte.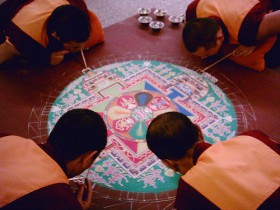 Dynamičnost mandaly je zřetelná již po několika vteřinách zahledění se do ní.
Jak lze mandalu vytvořit?
Mandalu si můžete nakreslit. Není to však jediný známý způsob, jak ji vytvořit. Dle tradičního buddhistického pojetí je především obrazem, který sestává ze zrnek písku, lístků květin či drobných kamínků. V podstatě je proto zcela jedno, jak umění mandaly využijete. To je totiž především poznáním, forma není až tak důležitá. I tak se ovšem malování či kreslení samozřejmě jeví jako nejdostupnější možnost. Na tvorbu i práci s mandalou se zaměřují komerčně dostupné kurzy učených lidí, pokud však toužíte po vámi vytvořené mandale, lze předložit jakýsi obecný "návod", kterým se můžete řídit.
Mandala jako taková nemá nějaká pravidla, měla by přirozeně vyplynout. Je ovšem nutné cítit se uvolněně, odstranit jakékoliv rušivé elementy z místnosti, kde budete mandalu vytvářet a nenechat se ničím rozptylovat. Pak už jen stačí nachystat si čistý papír, tužky a pastelky a nechat ruku, aby vyjádřila vaše pocity (nikoliv rozum), vaše rozpoložení.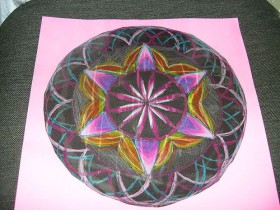 nakreslete kružnici libovolné velikosti
nechte si vyznačený střed, kolem kterého pak soustřeďte další kresby
malujte, co vás napadne, využívejte barvy, co chcete
Výsledná kresba - mandala ukáže nejen vaši momentální náladu, ale tvary a struktury budou představovat pomyslné zrcadlo vašich myšlenek, barvy naopak vyjádří pocity a emoce. O tom, jak mandalu můžete analyzovat a dozvědět se tak o sobě něco více, se dočtete v jednom z dalších článků, které téma mandal rozšíří o další zajímavé informace.
Vytvořili jste si už někdy mandalu? Jak na vás působí? Napište nám o tom do komentářů pod článkem!