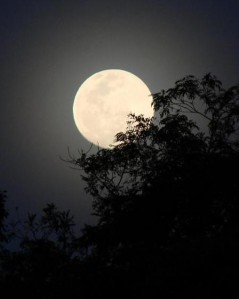 Od dávných věků žili lidé v souladu s přírodními zákony a rytmy, aby si zajistili přežití. Sledovali denní čas, měsíční a roční období, postavení Slunce, Měsíce a ostatních planet a hvězd. Zjistili, že Měsíc ovlivňuje naši planetu a veškerý život na ní a to jak na fyzické (příliv a odliv), tak na energetické úrovni.
Již dávno lidé objevili, že Měsíc má vliv na:
příliv a odliv, rození dětí, změny počasí, menstruační cyklus
zvířata - chovají se jinak v určitých fázích Měsíce
každodenní činnosti - štípání dříví, vaření jídla, stříhání vlasů, práce na zahradě, hnojení, praní, užití léků, operace
podávání léků a operace - jsou-li prováděny v určitých dnech, velmi pomohou a v jiných dnech vůbec ne, nebo dokonce uškodí - nezávisle na dávce a kvalitě léků a umění lékaře
jídlo - v některých dnech pomáhá, v jiných spíše škodí
rostliny - Měsícem je ovlivněno vysazovaní, pěstování a sklizeň plodů
byliny  - jsou-li nasbírané v určitou dobu obsahují více účinných látek
okamžik provedení - závisí na něm úspěch celé činnosti
Obecně můžeme vliv Měsíce chápat asi takto:
Když Měsíc přibývá, dodává energii a sílu a tímto principem působí na všechny věci kolem nás. Například když chceme, aby něčeho přibilo, aby rostlina dobře rostla, zasaďme ji ve fázi přibývajícího Měsíce, protože od něj dostane sílu a energii, ne obráceně. Když víme, že přibývající Měsíc dává a posiluje, jakýpak má asi vliv na naši životosprávu? ..přece posilující a nabývající. Je tedy logické, že tyto dny jsou naprosto nevhodné k hubnutí, naopak v tyto dny můžeme snadno přibrat. Chcete-li, aby hubnutí bylo snazší a efektivnější, započněte ho ve fázi ubývajícího Měsíce. Při ubývajícím Měsíci bude mít vaše hubnutí se stejnou "námahou" lepší výsledky. A tak je to se vším. Když něco chcete nechat přibýt, vyrůst, zvětšit, nabýt, vzniknout atd.. - vždy pracujte s přibývajícím Měsícem.
A naopak, když chcete nechat něco ubýt, vyprázdnit, vyčistit, odstranit, vyoperovat atd., dělejte to vždy, když Měsíc ubývá. Všechny tyto činnosti budou podstatně úspěšnější. Toto je jednoduchý princip, jak snadno v běžném životě využít sílu přibývání nebo ubývání Měsíce.
Vliv znamení
Naši předkové také zjistili, že vhodná doba např. ke sbírání určité rostliny trvá každý měsíc 2 – 3 dny a Měsíc přitom prochází vždy kolem stejných hvězd. Rozlišili typickou povahu každé konstelace, určili jich 12 a dali jim 12 různých jmen. Tak vznikl Zvěrokruh: Beran, Býk, Blíženci, Rak, Lev, Panna, Váhy, Štír, Střelec, Kozoroh, Vodnář, Ryby.