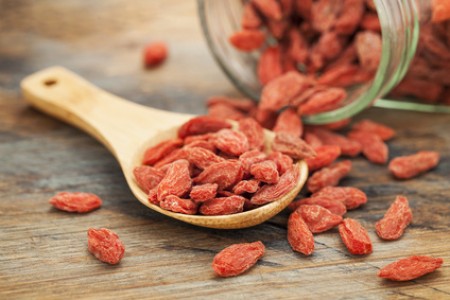 Kustovnice čínská Goji čínská je klenotem čínské medicíny.  Jedná se o velice silný a účinný antioxidant, který pomáhá předcházet předčasnému stárnutí, podporuje vitalitu člověka, sexuální potenci a působí zároveň i jako afrodiziakum. Podporuje celkový imunitní systém, mozkovou činnost a zlepšují paměť, působí úlevně při bolestech hlavy, pomáhá snižovat krevní tlak a podporuje krvetvorbu.
Kustovnice čínská, Goji čínská, nebo také latinsky Lycium chinensis, anglicky Goji berry či Wolfberry, patří k nejvýživnějším plodům na planetě Zemi.

Plody Goji mají červenou barvu, kterou si zachovávají i v usušeném stavu. I sušené plody Goji jsou velmi dobré, chutí připomínají rozinky, třešně, brusinky, šípek. Rostlina patří do čeledi lilkovitých, kam zařazujeme také brambory, papriku, tabák či jedovaté byliny obsahující tropanové alkaloidy.
Obsah plodů kustovnice čínské
Z nutričního hlediska je Goji pravděpodobně nejhodnotnějším ovocem na planetě. Obsahuje osmnáct druhů aminokyselin, což je šestkrát více než včelí pyl. Dále obsahuje 22 stopových prvků, za všechny můžeme jmenovat zinek, železo, měď, vápník, selen, fosfor a především germanium. Germanium se v potravinách nachází jen velice zřídka, působení germania na lidský organismus není ještě dostatečně prozkoumáno, o jeho důležitosti a nezbytnosti však není pochyb.
V japonské a čínské medicíně je kustovnici přisuzována schopnost analgetického působení, pomáhá při okysličování tkání a působí proti rakovinovým buňkám v organismu. Goji čínská je nejbohatším zdrojem karotenoidů (proto právě ta výrazná červená barva jejích plodů). Karotenoidy mají schopnost vychytávat volné kyslíkové radikály, posilují imunitu, ženské i mužské reprodukční orgány, srdce, cévy a oči. Chrání před škodlivými vlivy UV záření a napomáhají zhnědnutí pokožky při opalování. Užívání Goji prý dokonce zmírňuje i projevy lupénky. Obsahuje také 500x více vitaminu C na váhu než pomeranče. Goji má také hepatoprotektivní účinky, to znamená, že ochraňuje játra a napomáhá obnovit poškozené jaterní buňky. Dále se v plodech vyskytují také látky (lutein a zeaxanthin), které zlepšují zrak. V neposlední řadě působí pozitivně pro zlepšení nálady, proti stresu a zlepšují kvalitu spánku.
Pěstování a sběr kustovnice čínské
Domovem kustovnice čínské je Asie, jedná se o opadavý, trnitý keř, který dorůstá do výšky až tří metrů. Tvoří dlouhé a převislé větve, a tak zabírá i dost místa do šířky. Z tohoto důvodu se při pěstování doporučuje keř kvůli plodům řezat tak, aby vytvořil kmínek a korunku. Keř kvete od června do října drobnými fialovými kvítky, plody se objevují druhým až třetím rokem po výsadbě. Plody jsou bobule oranžovo-červené barvy.
V našich podmínkách kustovnice přezimuje poměrně bezproblémově a není nijak zvlášť náročná na půdu ani podmínky. Aby správně rostla, měla by být vystavena slunečním paprskům. Lehké půdy (například kyprá písčitá půda), jsou pro pěstování tohoto keře vhodnější, než ty těžší. PH půdy by mělo být kolem osmi. Kustovnice není ani náročná na zalévání, stačí jí, když ji zalijete jednou za měsíc.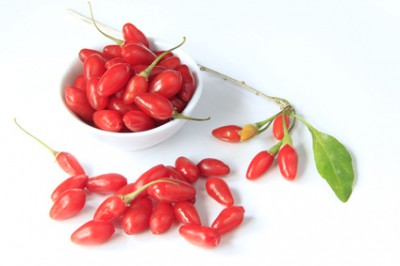 Kustovnice čínská - goji
Sklízet plody je vhodné, když je jich zralých na keři přibližně 90%, sklizené plody vyžadují péči, jejich případné otlačení nebo poškození je poměrně nežádoucí. Není vhodné plody sklízet po dešti. Sušení nasbíraných plodů by mělo být přirozené, sušit byste je měli ideálně v polostínu. Plody rozmístěte cca 2 cm od sebe a nechte je v klidu se sušit bez přenášení. Manipulací před usušením či nějakým umělým způsobem sušení ztrácejí plody vitamíny a dochází také k výrazné ztrátě i po chuťové stránce.
Keř, příbuzný kustovnici čínské, roste i v našich domácích podmínkách. Nazývá se kustovnice cizí, avšak na rozdíl od té čínské tato naše odrůda nemá léčivé účinky.
Užívání Goji
Jak už bylo výše v článku zmíněno, kustovnice čínská je všelék a skvělý doplněk stravy. Co se týká jejího užívání, vždy záleží na tom, jakou formou se ho rozhodnete konzumovat. Plody Goji můžete konzumovat ve stavu čerstvém nebo sušeném, jako šťávu, kapsle či prášek. Co se týká dávkování, záleží i na dalších faktorech, pohlaví, věku i hmotnosti člověka.
Pro děti do dvou a půl let není kustovnice vhodná, Goji mohou začít užívat nejlépe až kolem třetího roku věku a stačí jim jedna hrstka bobulí denně. Děti starší deseti let již mohou začít užívat stejné doporučené množství Goji, jako je tomu u dospělých, tedy asi 30 bobulí – dvě hrsti denně. Konzumace většího množství vede k zažívacím problémům. Také se nedoporučuje Goji konzumovat těsně před spaním, vede to k problémům s nespavostí. Neužívejte Goji, pokud trpíte průjmy. Kontroverzní je otázka užívání Goji v těhotenství, negativní účinky nebyly přímo prokázány, hovoří se však o riziku zvýšení krvácivosti těhotných žen.
Ideální samozřejmě je, konzumovat bobulky Goji v čerstvém stavu. U nás však čerstvé plody kustovnice čínské úplně jednoduše neseženete, protože plody nevydrží čerstvé déle, než několik dní. Řešením je vypěstování si vlastních plodů. Plody kustovnice čínské jsou na trhu někdy dostupné také v mraženém stavu. Po rozmražení si můžete vychutnat plody Goji  tak, jako byste je konzumovali čerstvé. Sušené bobule Goji jsou běžně dostupné. Blahodárné účinky užívání Goji můžete začít pozorovat po několika týdnech.
Užívat Goji můžete dokonce i ve formě šťávy kupované nebo doma připravované. Pití Goji šťávy je výtečné zejména tehdy, když potřebujete svému tělu zajistit zdroj energie a vitality. Šťáva z kustovnice čínské se vyznačuje velmi příjemnou chutí a nezanechává v ústech žádnou pachuť. Lze ji zakoupit i ve formě sirupu.
Recepty z Goji

Nápoje z Goji
Čaje
Plody kustovnice čínské můžete bez obav přidat do svého oblíbeného čaje, s nakrájeným jablkem a špetkou skořice. Goji dodá čaji specifickou chuť a Vám dostatek energie a dávku prospěšných látek.
Odvar z kustovnice čínské – životabudič
Odvar z Goji připravíme jednoduše. Jednu lžíci plodů Goji vaříme přibližně deset minut v ¼ litru vody. Jestliže připravujeme odvar z Goji, užívá se 6 – 18 gramů plodů pro denní dávkování. Typické časování pro průběh terapie je jeden až tři měsíce.
Lihový výluh z Goji
Přibližně 80 gramů plodů Goji vložíme do jednoho litru 40% lihu a necháme vyluhovat po dobu dvou měsíců. Po této době přidáme ještě trochu medu a užíváme tři lžíce, 2x denně i s plody, nejlépe jednou ráno nalačno a podruhé v průběhu dne.
Goji koktejl zdraví
Připravte si 60 gramů sušené Goji a 400 ml čerstvé kozí syrovátky. Pokud syrovátka není úplně čistá, pak ji přeceďte přes sítko, abyste ji pročistili. Všechny připravené plody Goji do ní nasypte a uložte do lednice, kde ji necháte alespoň 2,5 hodiny nabobtnat. Až jsou plody úplně měkké, pak vše promixujte ponorným mixérem. Nechcete-li mít v nápoji zrníčka, opět jej přeceďte přes velmi jemné sítko. Nápoj podávejte chlazený. Je sice chutný již takto sám o sobě, ale chcete-li jej vylepšit, pak ho dochuťte ještě čerstvou pomerančovou šťávou.
Snídaně s Goji plody
Müsli s Goji
Ingredience
Tuto nenáročnou pochoutku můžete konzumovat třeba každý den. Připravte si 250 gramů ovesných vloček, 50 gramů plodů Kustovnice čínské, 100 gramů směsi ořechů, rozinek a mandlí a 75 gramů přírodního třtinového cukru.
Postup přípravy müsli s Goji
Vločky a cukr vložte do většího hrnce a smíchejte, vše pražte do té doby, než se cukr rozpustí a vločky následně zezlátnou. Stále míchejte a přidávejte kustovnici, oříšky a rozinky. Podle chuti přidejte třeba i ovoce, čokoládu, cornflakes a pochutinu dolaďte podle své chuti. Připravenou směs můžete zalít mlékem. Takto připravené müsli s Goji získá mírně karamelovou chuť a skvěle Vás naladí na celý den.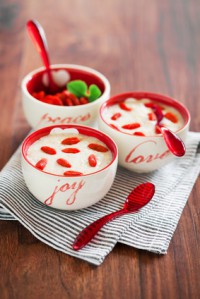 Snídaňová kaše s GojiSnídaňová kaše s Goji
Ingredience
Připravte si 300 gramů obilné kaše, čtyři lžíce kustovnice čínské, 2 lžíce rozinek a 6 vlašských ořechů, med či třtinový cukr.
Příprava snídaňové kaše s Goji
Připravte kaši, kterou promícháte a dosladíte medem nebo třtinovou melasou, případně můžete kromě Goji obohatit dalším sušeným, čerstvým či kompotovaným ovocem. Do kaše dejte také rozinky a nasekané vlašské ořechy dle chuti.
Pochutiny s kustovnicí čínskou
Barevný tvarohový koláč s kustovnicí čínskou
Tvarohové koláče s kustovnicí jsou oblíbenou pochoutkou, která není náročná finančně, časově ani na přípravu.
Ingredience
Těsto: 150 gramů hladké mouky, 150 gramů másla, 80 gramů moučkového cukru, 1 žloutek, 1 vanilkový cukr, ½ lžičky prášku do pečiva
Poleva: 100 gramů moučkového cukru, 500 gramů tvarohu, 2 vejce, kustovnice, rozinky, brusinky
Postup přípravy barevného tvarohového koláče
Z připravených ingrediencí vypracujeme nejprve hladké těsto. To vtlačíme do formy, kterou jsme předtím vymazali máslem nebo vysypali moukou, případně vyložili pečícím papírem. Těsto dáme nejprve předpéct do trouby, rozpálené na 180°C na dobu asi 6 minut. Připravíme si také polevu. Tvaroh umícháme se žloutky a moučkovým cukrem, z bílků si vyšleháme tuhý sníh a ten jemně zamícháme do tvarohu. Těsto vyjmeme z trouby a po vychladnutí na něj rozprostřeme tvarohovou směs. Tu posléze posypeme barevnými plody, tedy kustovnicí čínskou, rozinkami, brusinkami a podobně. Plody můžeme ještě předtím nechat chvíli namočené ve vodě, aby nám krásně změkly. Koláč necháme ještě dopéci po dobu cca 20ti minut při 180°C.
Domácí sušenky s kustovnicí
Ingredience
50 gramů ovesných vloček, 10 gramů sušených meruněk, 10 gramů rozinek, sušené švestky, datle a podobně, 20 gramů kustovnice čínské, dýňová nebo slunečnicová semínka, hrstku oříšků (lískové, vlašské, piniové nebo i mandle), sníh ze tří bílků, med  
Příprava domácích sušenek s kustovnicí
Na pánvi si rozehřejeme máslo a opražíme vločky. Postupně budeme přidávat nasekané ovoce a přimícháme med, vše necháme lehce zkaramelizovat. Tuto směs spojíme se sněhem z ušlehaných bílků. Troubu si rozehřejeme na 150 stupňů. Připravenou směs nabíráme lžící a pečeme pozvolna asi 10 až 15 minut, až jsou sušenky krásně zlatavé a křupavé.
Další recepty z Goji
Kustovnice je pro svoji jemnou chuť a skvělé účinky vhodná do polévkových a zeleninových vývarů, jako doplněk do salátů, koláčů i zákusků. Je také doplňkem hlavních jídel, například si můžete zkusit připravit kuře na Goji, kustovnici s mletým masem a podobně.