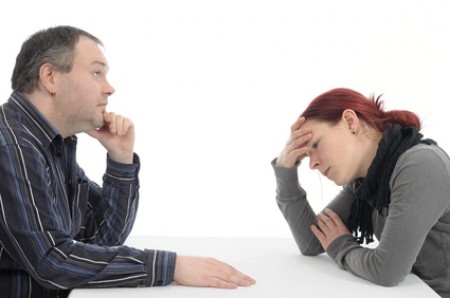 Je dlouhodobá manželská krize řešitelná?Manželská krize se vyhýbá málokterému dlouholetému manželství. Krize ve vztahu jsou přirozenou součástí života, ať se nám to líbí, nebo ne. Jsou nepříjemné, frustrující, vyčerpávající, mnohé z nás zaplaví pocit zoufalství, smutku a beznaděje. S manželskou krizí je spojena celá řada skličujících pocitů, včetně pocitů viny, selhání, vlastní nedostatečnosti, v opačném případě obviňování partnera za veškeré problémy. Každý vztah je originální a jedinečný. Je to živý organismus, který reaguje na oba zúčastněné. Málokdy trpí nebo je na vině jen jeden.
Na krizi ve vztahu se ale můžeme dívat i jinýma očima. Manželská krize, byť velmi nepříjemná, je zároveň šance. Záleží jen na tom, jak se k ní postavíme a jak z této situace dokážeme těžit. Nic není jen negativní. Krize v manželství vás možná donutí k aktivitě nebo pozitivní změně sebe sama. Může vás v životě posunout dál. Důležité ale je nepřehlížet ji příliš dlouho. Čím déle žijeme v problematickém vztahu, potíže se jen hromadí, pozdní řešení pak může být velmi obtížné.
Manželská krize a její časté příčiny
Vztahové problémy lze rozdělit do několika skupin. Pokud vynecháme závažné problémy jako je domácí násilí či alkoholismus, může mít manželská krize tyto příčiny:
Úpadek komunikace a sdílení – je plíživou časovanou bombou. Pomalu a nenápadně se vytrácí zájem o to, co ten druhý cítí a prožívá. Sdílíte s partnerem čím dál více starostí na úkor radostí. Přestáváte spolu mluvit, řešíte už jen děti a jídlo,... a pak najednou zjistíte, že už se ani neznáte.
Boj o moc – nastává poměrně často tam, kde mají oba manželé silné ego a jsou dominantní. Z manželství se tak může stát soutěž o to, kdo je lepší, úspěšnější nebo kdo se lépe a více stará o domácnost. Manželé pak přestávají být partnery a stávají se soupeři.
Problémy v sexuální oblasti – neuspokojivý sexuální život partnerů většinou jen odráží to, že se objevila krize ve vztahu a narušený sexuální život je jen jejím důsledkem.
Narušené rodinné vztahy – je zajímavé, že např. tchýně bývá velice častou příčinou rozvodů manželství. Dominantní tchýně nebo soužití s rodiči manžela/manželky je na předních příčkách příčin krize v manželství. Samozřejmě se nemusí jednat jen o tchýně, ale může jít i o děti a jiné rodinné příslušníky.
Frustrace z nenaplněných očekávání – také se vyskytuje poměrně často. Každý člověk má nějaké ideální představy o tom, jak by mělo manželství fungovat a rozpor mezi původními představami a realitou může snadno vyústit do pocitů nespokojenosti, zklamání a frustrace.
Kombinace více faktorů dohromady – a s tím spojený zmatek a pocit, že takhle už to dál nejde, přičemž zároveň už mnohdy ani nevíte, co děláte špatně a kde se stala chyba.
Ten druhý se musí změnit!
To přirozeně někdy napadne každého a mnoho z nás se taky pokusí svého partnera/partnerku změnit. Podařilo se vám to někdy? Nejspíš nepodařilo a veškeré snahy změnit toho druhého velice pravděpodobně vyústily jen v další zklamání. A krize ve vztahu pokračuje dál. Tak co je špatně?
Změňte nejdřív sami sebe
Někdy už jsou vztahy tak zamotané a komplikované, že už se těžko orientujete i v tom, co vlastně chcete nebo kdo jste. Ve vleku problémů a všedních dní zapomínáte sami na sebe. Vždyť vy jste nedílnou součástí vztahu. Možná je načase začít něco dělat sám se sebou. Ale odkud začít?
Jedna z cest je pohlédnout do své vlastní duše a přestat hledat chyby v partnerovi. Možná ani vy už nejste taková/ý, jakou si vás ten druhý bral. Často je nezbytné nejdřív uzdravit sám sebe, aby se mohl uzdravit i vztah, který prochází krizí.
Změnou myšlení k vyléčení manželské krize
Pokud se vám podaří zjistit, co vlastně chcete a proč právě to nemáte, pak můžete začít měnit svůj svět od základů. Váš partner je velmi cennou bytostí v tom smyslu, že vám nastavuje zrcadlo, ve kterém se můžete nádherně vidět. Tak vám může poskytnout obrovskou šanci udělat něco sami se sebou. To, proč se k vám protějšek chová určitým způsobem, je pro vás určité znamení. Pokud odhalíte příčiny ukryté ve vás a ve vaší psychice, můžete se významně posunout z místa.
Nízké sebevědomí jako příčina krize ve vztahu?
Kdo žije dlouho v manželství, ve kterém není spokojen nebo je přímo nešťastný, cítí se bezradný pomalu klesá na mysli, má čím dál nižší sebevědomí. Cítí se nejistý, neschopný, neví, co chce, co si zaslouží a přetrvávající krize v manželství tento stav jen prohlubuje. Pak si už možná nevěří vůbec. Možná i vy jste ztratili zdravé sebevědomí, tedy vědomí si sebe sama a toho, co chcete, co potřebujete, nebo co naopak už rozhodně nechcete zažívat.
Najdi znovu své já, až pak uzdrav partnerský vztah
Protože obráceně to většinou nefunguje. Každý člověk se může cítit dobře a žít ve spokojeném vztahu, ale aby se to mohlo stát, potřebuje znovu najít a uzdravit své já, začít se sám se sebou cítit dobře a věřit si. Pak teprve nastává čas měnit partnerský život a podniknout kroky k tomu, aby byla úspěšně zažehnána manželská krize.
Pokud jste sami se sebou spokojeni, můžete tuto pozitivní část sebe sama nabídnout vztahu. To je hodnota, na které lze dále stavět. Lépe pak uvidíte, kdo jste, a můžete pomalu pracovat na tom, aby se manželský vztah zlepšil. Nemusíte donekonečna zažívat stálé krize v manželství!
Vidět svět novýma očima, zbavit se starých a nepotřebných modelů chování, začít přetvářet starý vztah zcela novou energií. Je to to, co byste chtěli a po čem toužíte? Zkuste to. Začněte více přemýšlet o sobě sama. Pokud se vám to zdá příliš těžké, pak vás tímto důležitým procesem může provést profesionál, např. osobní koučka, která vztahové problematice rozumí a individuálním přístupem k vám a vašemu vztahu pomůže najít novou cestu k uzdravení manželské krize.
Pokud chcete pomoci zjistit, jaké konkrétní příčiny jsou schované za krizí ve vašem vztahu a tyto příčiny ze svého života odstranit, změnit pohled na sebe a změnit tak i své chování ve vztahu, nebo začít myslet novým, odlišným a konstruktivním způsobem, obraťte se na osobní koučku, která vám pomůže projít s vámi všechny životně důležité kroky na cestě k vlastní spokojenosti a k vyřešení krize v manželství.
Marta Němečková
Osobní koučink Brno