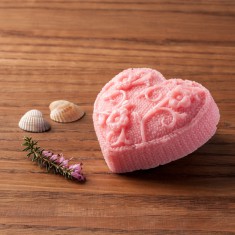 Voňavá domácí mýdlaNáš příběh začal úplně jednoduše – láskou k přírodě. Již naše prateta doma vyráběla ručně dělaná mýdla – na půdě jsme po ní našli staré formy, které bohužel zničil zub času. Ale nápad byl tu a my jsme pouze navázali na tuto rodinnou tradici. Vytvořili jsme si nové formy a začali. Původně jsme mýdla vyrobili jen ze zvědavosti. Výsledek nás však natolik překvapil a byli jsme s ním tak spokojeni, že jsme se rozhodli pro výrobu nových forem. Naše produkce před dvěma lety sloužila na začátku pro okruh přátel a rodiny. Zájem byl opravdu velký a to mě přesvědčilo o tom, abych v této oblasti začala plnohodnotně podnikat.
Vůněmi blíž k sobě
Mám pro Vás připravenou kolekci nejen různých vůní, ale i rozmanitosti tvarů a barev. Tato paleta produktů je tvořena tak, aby si každý vybral přesně to, co má rád. Zboží je pravidelně obměňováno dle aktuálnosti svátků a ročních období. Absolutní novinkou je skladba harmonizujících vůní podle znamení zvěrokruhu. Ke každému znamení mám celou škálu výrobků – ručně dělaná mýdla, koupelové soli, svíčky z palmového vosku:
| | |
| --- | --- |
| Jasmín (kolekce Štastná mysl) | kozoroh, vodnář, beran, štír |
| Levandule (kolekce Kouzelný spánek) | kozoroh, ryby, beran |
| Růže (kolekce Tajemství mládí) | kozoroh, rak, váhy |
| Citrus (kolekce zářivá pleť) | blíženci, panna |
| Pomeranč (kolekce Dětská radost) | panna |
| Máta (kolekce Nebeské aroma) | blíženci |
| Skořice (kolekce Skořicová síla zdraví) | lev |
| Ylang-ylang (kolekce Nekonečná rozkoš) | rak |
| Santalové dřevo (kolekce Dubová síla zdraví) | rak, štír, střelec |
Na našich stránkách se dozvíte více ohledně našich produktů a cen.
Ručně vyráběné mýdlo
Lázeň ve Vaší koupelně
Příznivé účinky mořské soli, bylin a přírodních, rostlinných silic jsou známé odedávna – použití soli jako léčebného a kosmetického prostředku je doloženo v Egyptě, dále u Řeků a Římanů. Mořská sůl je významnou součástí léčebné disciplíny talasoterapie = léčba mořem. Mořská sůl se od běžné kamenné soli liší zejména bohatším obsahem minerálních látek, které jsou pro lidský organismus životně důležité. Chemické složení mořské soli je velmi podobné složení plasmy v lidské krvi. Už při 1% koncentraci mořské soli ve vodě dochází k osmotickému efektu. To znamená, že se z těla začínají vylučovat škodlivé látky a pokožkou jsou přijímány minerální látky obsažené v soli.
Koupelové soli Nature secret jsou vyrobeny dle originálních receptur. Základem našich koupelových solí je 100% podíl mořské soli, další významnou složkou jsou léčivé rostliny a rostlinné silice – tedy pouze přírodní ingredience, které svými naprosto originálními vlastnostmi doplňují účinek mořské soli.
Myslíme i na podnikatele a firmy
V dnešní době jsme schopni tvořit i originální mýdla na přání našich zákazníků. Např. hokejisté z Českých Budějovic si u nás zadali požadavek na výrobu mýdla ve tvaru puku s logem jejich klubu. Jsme schopni vytvořit dárkové balíčky z našich výrobků na přání zákazníka i se speciálním potiskem.