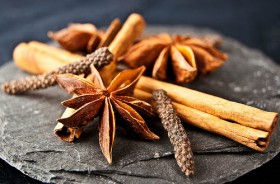 zdravé vánoční kořeníVánoční čas a Štědrý den mají mnozí z nás často spojeny s mnoha vůněmi. Není to však jen vůně jehličí a napečeného cukroví, ale i aroma nejrůznějšího koření. Kromě toho, že je přísadou do jídel a cukroví, slouží k dekoraci a má aromatické účinky, má toto koření i mnoho příznivých účinků na naše zdraví.
Skořice
Skořice, jak ji známe, je vlastně aromatická kůra ze stále zelených tropických stromů - skořicovníku, druhu vavřínu. Již od nepaměti se skořice užívá ke kořenění pokrmů. Mletá se přidává do sladkých jídel i některých nápojů. Skořice v celku se zase používá k různým dekoračním účelům, především s vánoční a adventní tématikou. Co se týká druhů skořice, jsou dostupné dva – jeden je žlutohnědý a druhý tmavohnědý. Tyto dva druhy skutečně pocházejí ze dvou druhů rostlin.
skořice

Světlejší varianta pochází z Ceylonu a nazývá se zeylanicum – cejlonská skořice. Je považována za nejkvalitnější a je silně aromatická.
Tmavě hnědý druh, cessia – čínská skořice, se hojně užívá v čínské a korejské kuchyni. Tato tmavá odrůda se odedávna užívá jako prostředek proti diabetu a trávicím potížím.
Skořice užívaná pravidelně sníží Vaši hladinu cukru v krvi a LDL cholesterol.
Účinky skořice na zdraví jsou rozličné. Skořice zlepšuje trávení, stimuluje zažívací trakt, uklidňuje průjmy a koliky, nevolnosti i nadýmání. Má také dezinfekční a antibiotické účinky, ničí bakterie. Lze ji používat jako osvědčený prostředek proti nachlazení, kašli a chřipce. Těhotné ženy by skořici měly užívat jen zřídka a v malém množství. Také pozor na alergii – někdy se totiž může stát, že skořice způsobí alergickou reakci.
Vanilka
Vanilka je druhým nejdražším kořením na světě. Kromě svého užití do moučníků a pudinků se výtečně hodí i do zmrzliny. Toto koření je původem z Mexika. Příprava přírodní vanilky je velmi náročná na lidskou práci, proto je také její cena poměrně vysoká. Typická je pro vanilku její intenzivní sladká vůně. Vůně vanilky bývá obecně přijímána jako velice příjemná.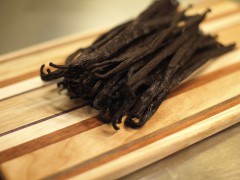 vanilkaTato vůně má rovněž uklidňující účinky, zmírňující úzkost a napětí, usnadňuje usínání a relaxaci. Mezi další účinky vanilky, působící příznivě na naše zdraví patří to, že zklidňuje úzkost, zmírňuje pocity méněcennosti, pomáhá při nespavosti a prokrvuje břicho a spodní část trupu, čímž také podporuje menstruační krvácení u žen. Vanilka probouzí nové touhy a smysly, působí jako afrodisiakum.
Hřebíček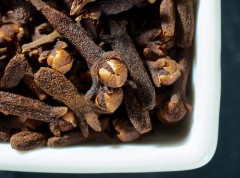 hřebíčekHřebíčky jsou usušená nerozvinutá poupata aromatického stromu hřebíčkovce vonného. Hřebíček se k nám přiváží hlavně z Madagaskaru a Zanzibaru. Kromě toho, že jej máme spojený s typickou vůní Vánoc, má i mnohé účinky na naše zdraví.
Hřebíček pomáhá při nachlazení, ničí choroboplodné zárodky, je protizánětlivý a hřebíčkový čaj pomáhá při nadýmání. Žvýkání hřebíčku je starý lidový recept, jak utlumit bolest zubů a dásní. Hřebíček totiž působí jako místní anestetikum. Jeho silice mají schopnost proniknout do kůže či sliznice bolavého místa a spolehlivě umí tlumit bolest.
Badyán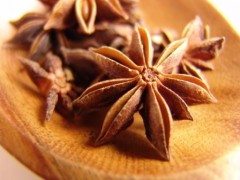 badyánKoření badyán má tvar osmicípé hvězdice a vůní připomíná jiné typicky vánoční koření - anýz. Dodává charakteristickou chuť čínským a vietnamským pokrmům. Jedná se o plod stále zeleného stromu z čeledi magnoliovitých. V tradiční české kuchyni se užívá do sušenek, perníku, švestkových povidel, hruškového kompotu, do perníku a k aromatizaci čajů a grogu. V lidovém lékařství se osvědčil čaj z badyánu užívaný při kolikách a revmatismu. V některých zemích se užívá po jídle jako digestiv. Užívá se také jako dochucovadlo léků proti kašli.
Anýz
Bedrník anýz je jednoletá rostlina z čeledi miříkovitých, jedná se o rostlinu příbuznou kopru. V teplejších oblastech České republiky je možné ho také pěstovat, ale nejčastěji se pěstuje na Balkáně, ve Španělsku, Indii, Turecku, Mexiku a středomořských státech. Jeho využití k léčebným účelům je známé již od středověku. Jakožto koření se využívá jeho plod, jedná se o dvounažku zelenošedé, šedožluté či šedohnědé barvy. Sbírá se v srpnu až září, plody se nechávají dozrát a suší se v tenkých vrstvách.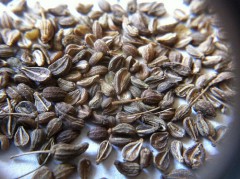 anýz Zralý anýz má nasládlou chuť a velmi aromaticky voní. Vůni mu dodávají silice, ve kterých je hlavní složkou anetol. Anýz podporuje vykašlávání a žvýkání semen anýzu zabraňuje zápachu z úst. Anýz podporuje tvorbu mateřského mléka, zvyšuje tvorbu žluče a usnadňuje trávení. Použití anýzu je mnohostranné – vyrábějí se z něj likéry, je součástí léčivých čajů, odstraňuje nepříjemné pachy z pokrmů a aromatizuje je. Ve středověku byl anýz považován za účinný lék proti mrzutosti a dokonce se o něm tradovalo, že zabraňuje i moru.
Krom semen se v léčitelství užívá i kořen anýzu. Je vhodné jej užívat na jaře a na podzim, kdy hrozí největší nebezpečí nachlazení. Anýz je skvělým pomocníkem při kataru dýchacích cest a hrtanu.
Zázvor
Zázvor je koření získané z oddenků stejnojmenné rostliny zázvoru pravého. Má žlutou, okrovou až tmavě hnědou barvu a výraznou vůni. Jeho chuť je velmi silná, aromatická, slabě ovocná až citrusová, pikantní. Zázvor je klasickou součástí indické a čínské kuchyně. Domovem zázvoru je právě Čína a Indie, Evropanům jsou však jeho pozitivní účinky známy již po staletí.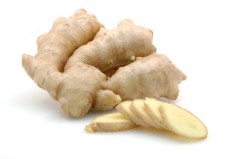 zázvorZázvor byl známý již ve středověku, používal a používá se z něj kořen, ať už v čerstvé nebo sušené a mleté formě, jakožto pochoutka se podává zázvor kandovaný. Sehnat můžete zázvor ve formě neoloupaných oddenků - tzv. zázvor černý a oloupané oddenky - zázvor bílý. V Japonsku se pak používá růžový zázvor, jedná se o marinované plátky zázvoru v nálevu, který slouží k neutralizaci chuti mezi jednotlivými sousty sushi.
Zázvor je skvělým prostředkem pomoci, pokud Vás trápí zažívání. Podporuje tvorbu trávicích šťáv a můžete se díky němu poměrně snadno a jednoduše zbavit nevolnosti, plynatosti, nadýmání i pálení žáhy.
Zázvor také pomůže při cestování letadlem, uleví od nevolnosti těm, které trápívá kinetóza. Zmírňuje menstruační obtíže a pomáhá od nevolnosti těhotným. Zázvorová lízátka jsou oblíbeným prostředkem budoucích maminek, jak si alespoň trochu ulevit od těhotenských nevolností. Zázvor je možné užívat preventivně a posílit tak svoji obranyschopnost a imunitní systém. Zázvor je výtečný při chřipce a to i té střevní. Pravidelná konzumace zázvoru je skvělou prevencí proti civilizačním nemocem. Žvýkání zázvoru pomáhá při migrénách a podle některých výzkumů je dokonce skvělým pomocníkem při boji proti rakovině vaječníků.
Šafrán
Tenká vlákna šafránu jsou příbuznými krokusu a sbírají se ručně. Jedná se o nejdražší koření na světě. Mletý šafrán, který objevíte v obchodě, nemusí být vždy "pravý". Za šafrán se často vydává saflor. Jedná se však o náhražku, která pokrm sice obarví, ale nemá výraznou chuť.
Šafrán je prastará kulturní rostlina, která se pěstuje od Španělska po Indii. Irán a Kašmír jsou obzvláště známé pro svoji produkci šafránu. Jeho chuť je pikantní, hořká, trošku ostrá, podobná medu a poměrně aromatická. Nejčastěji se šafrán používá ve francouzské kuchyni, častým kořením je ale také v Arábii, Indii, Číně a latinské Americe.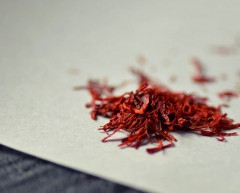 šafránPřed několika lety bylo výzkumy prokázáno, že šafrán má schopnost protinádorového působení. Pozitivně působí na srdce a cévy, příznivě ovlivňuje sexuální život a schopnost erekce, u žen napomáhá lepšímu zvládání PMS. Příznivě působí na paměť, soustředění a mentální výkonnost. Šafrán napomáhá při léčbě astmatu a bronchitidy. Je snadno stravitelný a má harmonizující účinky na metabolismus. Působí příznivě na náladu, má antidepresivní účinky a zvedá hladinu serotoninu.  Pro těhotné ženy však může být větší množství šafránu nebezpečné, ve větších dávkách má narkotizující účinky. Při nadměrné konzumaci se mohou objevit bolesti hlavy, nevolnosti, později i halucinace.
Koriandr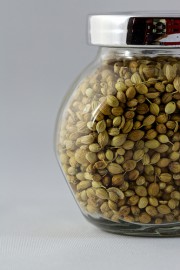 koriandr
Původ koriandru můžeme hledat na Blízkém Východě a v oblasti Středozemního moře. O tomto koření se psalo už ve Starém zákonu. Vyzrálé plody jsou aromatické a mají nasládlou, palčivou chuť, která oživí a ozvláštní chuť pečiva. Mletý koriandr je drcená varianta koriandru celého. Koriandr je příbuzný kmínu, anýzu a kopru. Tvoří jednu ze základních součástí indického koření.
Pěstiteli koriandru jsou Čína, Indie, Pákistán, Sýrie, Rusko, Gruzie, země Střední Evropy, Maroko a Etiopie. Pěstuje se jak pro své voňavé lístečky, tak i pro plody - semena, ta jsou skvělým zdrojem silicí.
Krom aromatických vlastností je zdrojem i mnoha zdraví užitečných látek, antioxidantů, vitamínů a minerálů. Lístky koriandru mají protizánětlivé účinky a mohou působit jako lehké analgetikum. Koriandr bývá doporučován lidem, kteří trpí nechutenstvím nebo dokonce i anorexií, neboť zvyšuje chuť k jídlu a povzbuzuje žaludeční činnost. Silice obsažené v koriandru pomáhají tělu v boji s bakteriemi a viry. Látky obsažené v koriandru jsou součástí léků proti alergiím, ekzémům a různým mykózám. Odpradávna se koriandr užíval při anémii a podával se lidem trpícím nespavostí. Celkově koriandr pomáhá udržovat v pořádku krevní oběh a naše srdce, účinky antioxidantů a vitamínů, které tato rostlina obsahuje, působí preventivně proti rakovině a posilují imunitní systém.
Muškátový oříšek
Muškátový oříšek není ořechem v pravém slova smyslu. Je to jádro pecky muškátového plodu. Do Evropy se dostalo toto koření ve dvanáctém století a bylo považováno za neobyčejně vzácné. V obchodech někdy můžeme narazit na muškátový květ, který je v podstatě usušeným červeným míškem, pokrývajícím tvrdou pecku – rovněž se užívá jako koření a lék. Běžně je k dostání celý nebo strouhaný. Muškátový oříšek se doporučuje při oslabení nervového systému, proti kataru střev, revmatismu, na podporu chuti k jídlu a proti nadýmání.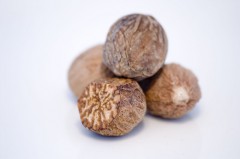 muškátový oříšekV minulosti byl muškátový oříšek používán jako narkotikum a to především v Asii a Egyptě. Jeho narkotický účinek lze sice užít při nespavosti a pro uklidnění při extrémním stresu a nervozitě, při předávkování však může dojít k otravě.
Při podání vyšších dávek muškátového oříšku dochází k malátnosti až upadání do hlubokého spánku, v některých případech doprovázeného i halucinacemi. Lidem se srdeční slabostí nebo srdečními poruchami nelze muškátový oříšek doporučit, není vhodný ani pro těhotné ženy. Je to proto, že působí na hladké svalstvo a při užití muškátového oříšku v těhotenství hrozí riziko potratu či předčasného porodu dítěte. Ani pro malé děti není jakožto lék vhodný.