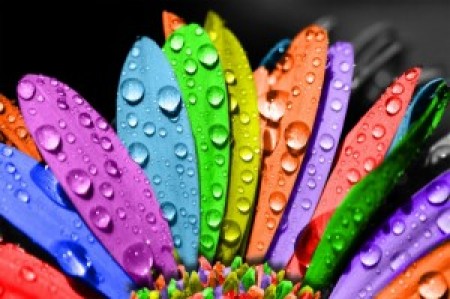 Jsou všude kolem nás, ovlivňují to, jak se cítíme či jakou máme náladu, i když si to přímo neuvědomujeme. Řeč je o barvách, které mají tu moc působit na lidskou psychiku. Některé odstíny zbožňujeme, u jiných se ošíváme, jakmile je zahlédneme jen koutkem oka. Psychologie barev vysvětluje, jakým způsobem se jednotlivé odstíny podílí na našem prožívání.
Rozhlédněte se kolem sebe a zamyslete se nad tím, jaká barva ve vašem okolí právě teď převažuje. Je to žlutá? Či snad červená, nebo zelená? Věřte, že každá z nich má svůj daný význam, který se prolíná i do vašeho aktuálního rozpoložení. Například v přítomnosti červené barvy budete živější, vášnivější a celkově roztěkanější, než když se kolem vás bude rozprostírat modrá, která dokáže člověka spíše zklidňovat.
Každý vnímá barvy jinak
Vnímání barev je subjektivní záležitost, kterou ovlivňuje mnoho faktorů. Od různých poruch receptorů ke vlivům přicházejícím z okolí. Když se například vracíte za šera domů, je najednou i sousedovo žluté auto namodralé, stejně jako střecha domu za denního světla červená. Jinak se nám zdají barvy za přirozeného světla a jinak při umělém osvětlení. S těmito obměnami souvisí i to, proč má někdo rád růžovou a jinému se z ní dělá zle. Hlavní roli hraje podvědomí, jehož činnost nedokážeme ovládat. Nebo snad zvládnete korigovat to, co se vám v mysli vybaví, když slyšíte nějaký zvuk, nebo vidíte například fialovou barvu? Asociace a všechny procesy probíhající v podvědomí jsou nejen unikátní, ale také naprosto nepodchytitelné a neovladatelné.
Typologie barev
Barvy je možné různě kategorizovat. Nejznámějším rozlišením je na chladné a teplé. I malé dítě pozná, že červená, žlutá či oranžová jsou barvy působící velmi příjemně a naopak ty chladnější pocitově "zebou". Obecně se však lze setkat i s dalším rozdělením, a to na primární (červená, modrá, žlutá), sekundární (barvy složené ze dvou primárních), neutrální (bílá, hnědá či béžová), silné (velmi intenzivní – neředěná černá, bílá a komplementární barva) a bledé (méně intenzivní, protože jsou smíchané s bílou).
Jakou barvou si navodíte dobrou náladu a naopak?
Na následujícím obrázku se dozvíte, jak s vámi zatočí přítomnost většího množství některé ze základních barev: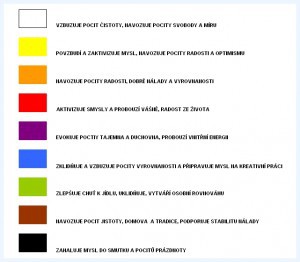 Vzhledem k popisovaným účinkům se psychologie barev hojně využívá v oblastech, kde je třeba působit na lidské vnímání. Proto jsou všechny reklamy na prací prášek plné barevné a prozářené domácnosti. Podprahové vnímání díky barvám vyhodnotí celkový vjem jako pozitivní. Nejen v reklamním odvětví se však účinky barev stávají v jistém smyslu stěžejními.
Zelenou spolknete raději aneb i medicína využívá psychologii barev
Možná jste si i vy všimli toho, že různé tabletky se vyrábějí i v odlišných barevných variantách. Pro nemocné lidi to nemá jen praktický důsledek, že si lépe zapamatují, co si vzít ráno a co večer, ale výrobci pilulek se barvami snaží maskovat mnohdy nepříjemnou chuť, zápach či jen utlumit prosté podvědomí ve společnosti, kdy sterilně bílé léky vzbuzují asociace související s nemocničním prostředím, lékaři a vším, co k onemocnění patří. Barevné prášky nevědomě zpracují myšlenkové procesy natolik, že vám polykání tabletek nebude připadat už tak nepříjemné.
Chromoterapie – když barvy léčí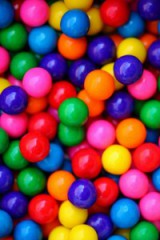 Barvy jsou také vzhledem ke svým vlastnostem alternativní léčebnou metodou. První stavební kameny jí položili již staří Egypťané, kteří na sobě pozorovali změny nálad a psychiky obecně, když byli ve společnosti určité barvy. Začali je proto využívat při léčení nemocí. Zastánci chromoterapie přisuzují barvám schopnost méně či více ovlivňovat i fyzické faktory. Jak? Volí se vhodná kombinace prolínání a intenzity především několika základních barev – červené, žluté, modré a zelené. Tyto barvy mohou být umístěny například ve formě světel, která se postupně rozsvěcují, zhasínají a jinak mění. Dnes je to tedy určitá forma relaxace, která není nikterak náročná, a každý si tak může být sám sobě léčitelem v případě, že si připraví vhodné podmínky.
Preferované barvy o vás mnohé prozradí
Víte o tom, že i to, co máte na sobě, o vás leccos prozradí? Není to jen o oblíbeném stylu, ze kterého lze odhadnout, co máte rádi, jak žijete nebo například v jakém prostředí pracujete, ale právě i o barvách. Podívejte se, jaká barva převládá ve vašem šatníku a ve vaší domácnosti a níže se můžete dozvědět, co vaší volbou prozrazujete o své osobnosti.
žlutá je barva pozitivních lidí, kreativců a vyrovnaných povah, co zvládají zátěžové situace
modrá dominuje u lidí klidných, někdy konzervativních, s rozvážnou povahou, co občasně zabředávají do vod lhostejnosti
oranžovou volí hraví a energičtí lidé, kteří jsou zvídaví a dokážou pořadně vybuchnout a ztratit nervy
červená je barvou vášnivých a živých jedinců, kteří si jdou za svým cílem a jsou velmi impulzivní
zelená učarovává dobrosrdečným lidem, co chtějí ostatním pomáhat, jsou vytrvalí a trpěliví
černá patří lidem zahaleným do roucha tajemství, kteří dobře vycházejí s druhými a jsou citliví
Barvy jsou neměnnou součástí našich životů. Provázejí nás na každém kroku, a tak je jejich význam zcela pochopitelný. Psychologie barev může být skvělým vodítkem při zařizování bydlení, kanceláře či dalších prostor, kde jsou kladeny rozdílné nároky na to, jak se v nich má člověk cítit. Na závěr si můžete udělat malý test používaný k odhalení poruch týkajících se rozpoznávání barev. Tak co? Jak jste na tom? Zvládnete bez váhání vyslovit názvy barev na obrázku?