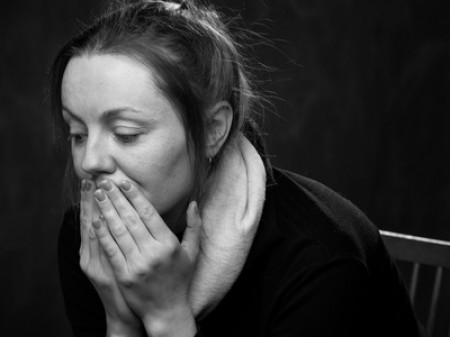 Úzkost zažívá spousta lidí kvůli nahromaděnému stresu.
Stavy úzkosti přicházejí na první pohled zcela nečekaně. Člověk je většinou v klidu a zdánlivě v pohodě. Často se úzkost objeví třeba když leží v posteli a odpočívá. Jakmile ho nevysvětlitelný tíživý pocit úzkosti přepadne, většinou nechápe, co se s ním děje a proč. Úzkosti, které mohou přerůst až v panické ataky, však nepřichází bez příčiny. Jsou v podstatě signálem, že se v těle dlouhodobě hromadí napětí, stres, strach, pocit nebezpečí a další negativní myšlenky. Jak se zbavit úzkosti a jak překonat panické ataky? Je třeba začít právě u svých myšlenek.
Psychické stavy, které zamávají s celým tělem
Jak poznáte, že vás přepadá úzkost a přichází panická ataka? Obojí jsou psychické stavy, při kterých je člověku velmi často až fyzicky zle. Dokonce mají lidé, kteří tyto stavy zažívají, pocit, že se o ně pokouší infarkt. Je jim špatně, cítí velký tlak na hrudi a nemohou popadnout dech. U lékaře poté zjistí, že srdce je v pořádku a jejich potíže mají jiného původce. Je jím úzkost, v některých případech dokonce panická ataka, tedy jakési další stádium úzkosti.
Nejedná se tedy o žádný fyzický problém nebo nemoc, nýbrž o psychický stav. Toto zjištění často lidi velmi překvapí. Do té doby totiž obvykle netuší, jak může psychika zahýbat s tělem a jaké tělesné potíže může vyvolat.
Úzkosti pochází z dětství i nepříjemných zkušeností
Úzkost nebo panická ataka přichází většinou bez varování a v době, kdy je člověk v klidu. Zdá se tak, že se objevují z ničeho nic a bezdůvodně. Avšak není tomu tak. Příčiny úzkosti doopravdy existují, jen jsou dobře skryté uvnitř mysli. Za nepříjemnými stavy úzkosti totiž většinou stojí nahromaděný strach, pocit nebezpečí a dlouhodobý stres. Příčinou mohou být také stálé obavy z budoucnosti, pochybnosti a nejistota. Pokud člověk opakovaně prožívá prohry a zklamání, je frustrovaný, nevěří si a má nízké sebevědomí. To vše může vyústit v úzkost i záchvaty panických atak.
Člověk si často tyto obavy, strachy, pocity nebezpečí a negativní myšlenky nese už z dětství. A to dokonce i tehdy, když má dojem, že v dětství nezažil nic, co by mu takové problémy mělo způsobit. Své dětství lidé trpící úzkostmi obvykle hodnotí jako idylické, avšak pro stav mysli to tak vůbec nemuselo být. Příčiny úzkosti a panických atak ale mohou vycházet také z velmi silných negativních zkušeností a zážitků kdykoliv během života.
Nahromaděné negativní pocity vyústí v úzkost
Veškeré negativní pocity ovlivňují myšlení a chování člověka po celý jeho další život. Postupně se totiž v jeho mysli hromadí nespokojenost, napětí a strach. I když se zdá, že příčiny dávno odezněly a na člověka už nepůsobí, jejich následky jsou zakořeněné v mysli a dále se zde drží. Samy od sebe nezmizí, naopak stále narůstá jejich intenzita. Narůstá tak stres a neschopnost zvládat situace v klidu, s nadhledem, lehkostí a dobrým pocitem. Jednoduše dochází k tomu, že člověk už neumí přemýšlet jinak než ve strachu a negativně. Tím v sobě zároveň vrší další negativní pocity a zkušenosti.
A přesně ve chvíli, kdy je strachu, stresu a negativních myšlenek nahromaděných v mysli už příliš, dostaví se úzkosti, které mohou vyvrcholit panickými atakami. Tyto psychické stavy tedy často přicházejí až dlouho poté, co člověk prožije nepříjemné situace, které stojí na počátku problémů. Ačkoliv se ale udály dávno, v mysli člověka nechaly hluboké šrámy a zahltily ji negacemi, které nyní vyplouvají na povrch ve formě nevysvětlitelné úzkosti a panických atak.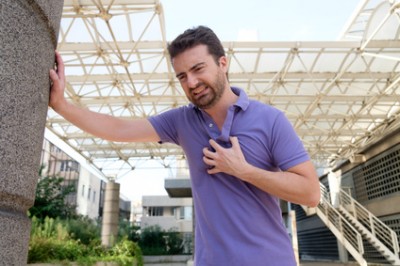 Bolest na hrudi je typickým znakem panické ataky.
Úzkost a panická ataka upozorňuje na skryté problémy
Jakmile tedy člověk zažívá záchvaty panické ataky a úzkostí, i když neví proč, ve skutečnosti jsou příčiny poměrně zřejmé. Kdyby se pak člověk zamyslel nad uplynulými léty, pravděpodobně zjistí, že zdánlivě sice byl spokojený, ve skutečnosti ale prožíval stres, strach a pocity nejistoty. V podstatě až v této chvíli zjistí, jaké negativní pocity a myšlenky v sobě dlouhodobě hromadil.
Jak je možné, že si člověk už dřív neuvědomí, že je něco v nepořádku? Proč to zjistí až ve chvíli, kdy ho přepadnou tak nepříjemné pocity? Je to tím, že lidem stres, strach a nespokojenost připadají normální. Jsou na ně zvyklí a berou je jako přirozenou součást života. Jednoduše jim tak nevěnují pozornost a neřeší je. Spousta lidí se tedy trápí, není šťastná, žije ve stresu, strachu a nedůvěře v sebe i v okolí. Všechny tyto pocity jsou bohužel běžné, ale rozhodně ne normální. A tělo se s nimi nedokáže vypořádat. Jakmile je jich příliš, nastanou problémy.
Jak se zbavit úzkosti?
Když už víme, jaké jsou skutečné příčiny úzkostí, je jasné, proč jsou v boji proti úzkostem nejrůznější léky jako antidepresiva či anxiolytika neúčinná. Zdánlivě sice mohou na krátkou dobu pomoci, protože utlumí emoce, avšak příčiny problémů nevyřeší a nezmění způsob myšlení člověka, prožívání a kvalitu života, ani nevyřeší příčiny jeho problémů.
Jak se tedy zbavit úzkosti a jak překonat panické ataky? Místo léků pomůže jedině to, že se člověk sám rozhodne změnit své myšlení a přestane tak živit svou úzkost. Znamená to ale, že musí změnit pohled na sebe, musí si sebe začít vážit, věřit si a mít se rád takový, jaký je. Je také potřeba změnit své smýšlení o lidech a světě kolem sebe, jednoduše přestat vše vnímat negativně. Uzdravit své sebevědomí a vyčistit myšlení od usazených negací – to je cesta, jak se zbavit úzkosti a panických atak.
Osobní kouč ví, jak překonat panické ataky
Zdá se vám změna myšlení a zapuzení negativních myšlenek nemožné? Nezoufejte. Se vším vám může pomoci odborník, osobní kouč. Pomůže vám a poradí, jak se zbavit úzkosti a jak překonat panické ataky, které vás vyřazují z plnohodnotného života.
Díky profesionálnímu koučinku odhalíte konkrétní důvody svého strachu a úzkostí. Krok za krokem pak s pomocí kouče tyto příčiny odbouráte ze svého myšlení i ze svého života. Přijmete nový úhel pohledu na sebe i na svět okolo a místo obav, strachu a úzkostí se naučíte problémům čelit efektivně, v klidu a ke své spokojenosti. S příchodem nového myšlení z vaší mysli přirozeně a postupně zmizí strach, úzkost a panické ataky. Můžete tak očekávat celkové zlepšení života v mnoha oblastech od zdraví, přes vztahy až po zaměstnání. Vaše spokojenost totiž nebude záviset na lidech a prostředí kolem vás, ale na vašem pozitivním myšlení, které nebude zahlcovat strach a stres.
Nedovolte negativním myšlenkám ovládnout vaši mysl a způsobovat vám stavy, jako je úzkost nebo dokonce panická ataka. Zbavte se jich jednou provždy a naučte se s pomocí osobního kouče prožívat život v klidu a ke své spokojenosti.