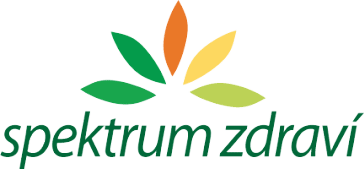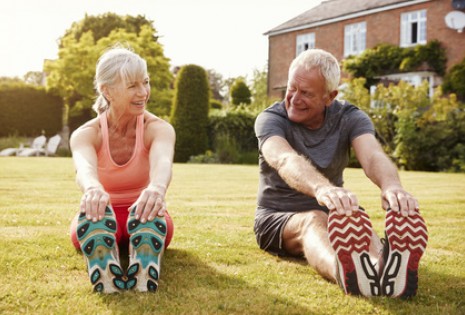 Senioři mezi pravidelný pohyb mohou zařadit například běh.
Cvičení pro seniory: Udržujte se v dobré kondici a zpomalte stárnutí. Vyzkoušejte 3x tipy na cvičení doma
Pravidelný pohyb je důležitý pro naše zdraví. Snažíme se, aby se děti více hýbaly, v dospělosti se také věnujeme nejrůznějším aktivitám, abychom se udrželi v kondici. Málokdo si však uvědomuje, že pro seniory je pohyb důležitý ještě mnohem více. Vhodné cvičení a aktivity pro seniory pozitivně ovlivňují jejich zdravotní stav, posiluje tělo i mysl a zvyšuje kvalitu života. Na cvičení a zdravý životní styl není zkrátka nikdy pozdě.
Jak vybrat vhodné aktivity pro seniory?
Lidé mají někdy pocit, že ve stáří už sport nepotřebují. Je to ale právě naopak, s přibývajícími léty je pohyb čím dál důležitější. Cvičení pro seniory je zkrátka tím nejlepším, co pro své zdraví můžete v pokročilejším věku udělat. Sice tím neomládnete, ale můžete si prodloužit aktivní život. Dokonce můžete být díky cvičení v lepší kondici než člověk o generaci mladší, který se pohybu příliš nevěnuje. Chcete se cítit i ve stáří dobře? Stačí zvolit vhodné aktivity pro seniory a začít.
Díky cvičení pro seniory budete zdraví a šťastní
Nejen, že budete vitální a spokojení, cvičení pro seniory je také účinnou prevencí proti nejrůznějším zdravotním problémům. Správným pohybem můžete předcházet vzniku osteoporózy, která znepříjemňuje život mnoha seniorům. Stejně tak můžete cvičením bojovat proti artritidě, onemocněním srdce, cukrovce a podobně. Pohyb dále omezuje riziko obezity, která stojí za mnoha dalšími zdravotními problémy. Je rovněž dokázáno, že pravidelné aktivity pro seniory jsou způsobem, jak účinně předcházet takovým strašákům, jakými jsou Parkinsonova či Alzheimerova choroba.
Cvičení pro seniory příznivě ovlivňuje také psychiku. Zmírníte negativní rysy stárnutí, budete se psychicky cítit lépe, budete mít dobrou náladu a váš život bude mnohem spokojenější. Cvičení je i skvělým způsobem, jak vyplnit volný čas a potkat nové lidi, kteří mají stejnou zálibu jako vy. I to je pro psychickou pohodu a spokojené stáří důležité.
Vhodné aktivity pro seniory: Kardio rozpumpuje vaše tělo
Pokud chcete do svého života zapojit více sportu, zaměřte se na vhodné aktivity pro seniory. Patří mezi ně:
rychlá chůze nebo jogging

cyklistika

plavání

kardio cvičení pro seniory

severská chůze neboli nordic walking

otužování
Pokud chcete začít s nordic walking, podívejte se na náš článek o severské chůzi pro seniory. 
Vhodné cvičení pro seniory jsou různé protahovací aktivity, pomocí kterých zlepšíte odolnost kloubů a svalů. Můžete tak účinně předcházet zraněním, navíc zvýšíte svou pohyblivost. Takovou aktivitou pro seniory jako stvořenou je jóga. Při ní nejen že protáhnete své tělo, ale také zlepšíte svůj psychický stav, odbouráte stres a budete příjemně relaxovat. Vhodné je také rehabilitační cvičení pilates, které skvěle působí proti bolesti kloubů a zad. Zkusit můžete také tai-chi a jeho pomalé, plynulé pohyby.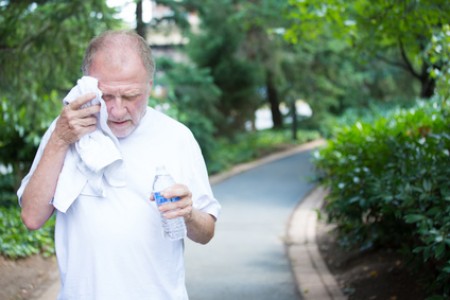 Při běhu pozor na tepovou frekvenci, která by neměla přesáhnout určitou hodnotu.
Tip na cvičení doma č. 1 - Zvedání činek
Nevíte, jak se cvičením začít? Zkuste aktivity pro seniory, které můžete snadno provádět doma. Co třeba posílit a zpevnit svaly na rukách? Stačit vám budou činky vyrobené z půllitrových PET lahví napuštěných vodou. Chytněte je a ohýbejte ruce v loktech dlaněmi vzhůru k ramenům. Cvičení opakujte vždy po sériích.
Tip na cvičení doma č. 2 - Posilování břišních svalů
Doma můžete posilovat i břicho. Lehněte si na záda, nohy pokrčte v kolenou a ruce spojte za hlavou. S výdechem začněte pomalu zvedat páteř a horní část trupu kousek nad zem. Poté se vracejte zpátky ale zcela si nelehejte. Několikrát zopakujte, poté se položte a odpočiňte si. Na zádech můžete ještě zůstat, pokrčit nohy v kolenou a střídavě je překlápět na jednu a na druhou stranu.
Tip na cvičení doma č. 3 - Cvičení na podložce
Lehněte si na záda na podložku a ruce spusťte volně podél těla. S výdechem zatněte spodní část těla a hýždě a snažte se zvednout pánev od těla směrem vzhůru. Cvik vykonávejte pomalu a pokud by na vás byl příliš těžký, pokrčte si nohy v kolenou a položte si je na židli. Cvik opakujte 30x v několika seriích. 
Cvičení konzultujte s lékařem
Staří lidé obvykle od nejrůznějších aktivit kvůli zhoršujícímu se zdraví upouští. Tělo tím ale ještě víc ochabuje a kondice se zhoršuje. Zabraňte tomu a postupně zapojujte pohyb do svého života. Nebojte se ani toho, že byste si pohybem ublížili. Cvičení pro seniory je zcela bezpečné. Navíc posílením svalů a rovnováhy těla snížíte riziko úrazu či pádu. A pokud si nejste pohybem jistí, zkonzultujte jej s vašim lékařem. S aktivitami začínejte pomalu a postupně zvyšujte intenzitu, pokud se na to cítíte. Naslouchejte svému tělu a rozhodně nepřepínejte své síly.