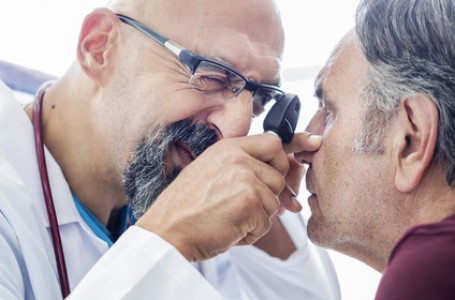 Keratokonus lze diagnostikovat s pomocí lékaře.
Keratokonus je degenerativní onemocnění oka, které se projevuje kuželovitým vyklenováním rohovky a vede k ztenčení oční rohovky. Slovo keratokonus je kombinací řeckého keras (rohovka) a conus (kužel). Toto onemocnění patří k nejčastějšímu typu rohovkové dystrofie.
Oční rohovka je tenoučká průhledná vrstva hned na předním povrchu oční koule. Za normálních okolností je to hladká zaoblená vrstva, téměř ve tvaru části koule. Pokud dojde k biochemickým změnám, může dojít ke strukturálním změnám, které způsobí oslabení vrstvy rohovky. Takto nedostatečně pevná rohovka se začne vyklenovat směrem dopředu a tvar koule se mění v kužel.
Tato porucha většinou postihuje obě oční rohovky, často ale asymetricky, kdy jedno oko bývá postižené více než druhé. Takováto změna pak vede k rozmazanému vidění, dvojitému vidění, krátkozrakosti, astigmatismu nebo citlivosti ke světlu. Pokud jde o závažný typ astigmatismu, lze kuželovitý tvar rohovky vidět z profilu pouhým okem.
Keratokonus statisticky postihuje asi 1 člověka na 2000 osob. Nejčastěji se keratokonus objevuje poprvé v pozdním dětství nebo rané dospělosti, obecně se ale může objevit kdykoliv. U starších osob je většinou keratokonus vyššího stupně. Je známo, že se keratokonus častěji vyskytuje u některých etnických skupin častěji, například u Asiatů. Obecně postihuje keratokonus ženy častěji než muže. Poprvé se veřejnost o keratokonu dozvěděla až v roce 1748 od německého odborníka Bucharda Maucharta. Až v roce 1854 ale britský lékař John Nottingham detailně popsal keratokonus a popsal rozdíly mezi keratokonem a ektázií.
Příčiny vzniku keratokonu
Příčina degenerativní změny rohovky vedoucí ke keratokonu jsou dosud neznámé. Odborníci se domnívají, že za změnami stojí kombinace genetických vlivů (bylo objeveno až 6 genů, které potenciálně mohou vést k této nemoci), vlivy vnějšího prostředí, změny na buněčné úrovni a hormonální poruchy.
Asi 7 % nemocných udává rodinnou anamnézu, to znamená, že některý z příbuzných má také keratokonus. Dědičnost a geneticky podmíněné vlivy byly potvrzeny při testování jednovaječných dvojčat, kdy se prokázal keretokonus u obou dvojčat. Zajímavé je zmínit, že se keratokonus vyskytuje o něco častěji u osob s Downovým syndromem, Alportovým nebo Marfanovým syndromem.
Z možných vlivů se také udává časté protírání si očí, alergie nebo nošení pevných kontaktních čoček. Musíme také zmínit, že určitý stupeň keratokonu lze vytvořit umělým ztenčením rohovky při určitých korektivních operacích (LASIK). Při zákroku se ztenčí vrstva rohovky a tím se upraví korektivní vada, cílem operace je úprava refrakterní vady, aby dotyčná osoba nemusela nosit brýle. Někteří odborníci tuto změnu označují jako ektázii a vyhýbají se označení keratokonus, který ponechávají pouze jako označení pro neuměle vytvořenou změnu rohovky.
Příznaky keratokonu
Nejčastěji toto degenerativní onemocnění začíná jako velmi mírná změna tvaru a jen mírné ztenčení. Onemocnění je progresivní, což znamená, že se postupem času zhoršuje. V začátcích si nemocný všimne zhoršování zraku, stěžuje si na rozmazané vidění, dvojité vidění nebo citlivost ke světlu. Tento počáteční keratokonus lze poměrně jednoduše vyřešit brýlemi nebo měkkými kontaktními čočkami. Většinou se onemocnění zhoršuje, ale během několika let se stabilizuje. Jen u velmi málo případů je degenerace rohovky závažná, může dojít až ke zjizvení rohovky a tím ke ztrátě zraku.
V počátcích onemocnění si ale nemocný nejčastěji stěžuje na změny zraku, kdy například popisují vidění několika stejných obrazů vedle sebe (pokud pozoruje svíčku, vidí několik světel, které přebíhají jedno v druhé). Objekty jsou také mírně rozmazané a to jak blízké, tak vzdálené.
Průběh keratokonu
V počátcích jsou tedy příznaky velmi podobné příznakům jakékoliv refrakterní vadě (krátkozrakost nebo dalekozrakost). Ve srovnání s běžnými vadami se ale zrak rychle zhoršuje. Zrak je chabý jak na blízko, tak do dálky, a ani noční vidění není dobré. Jak již bylo zmíněno, většinou jsou postiženy obě oči, ale velmi často je jedno oko mnohem horší nežli to druhé, to znamená, že je onemocnění asymetrické.
Jen málo osob si stěžuje na svědění očí nebo mírnou bolest. Nemocní ale často mžourají a namáhají oči, takže si mohou stěžovat na únavu očí nebo pálení, řezání či slzení. Světlo o vysoké intenzitě a s velkým kontrastem způsobuje zmnožení obrazů. Klasickým symptomem je vidění "duchů", což se odborně označuje jako monokulární polyopia. Typické je také rozmazané okolí světelných zdrojů.
Degenerativní onemocnění rohovky postihuje pouze rohovku. V nejzávažnějších případech může onemocnění vést až k oboustranné slepotě, ale jinak nemocného neohrožuje na životě. Ve velmi vážných případech může vést vyklenování rohovky k popraskání tzv. Descemetové membrány, což je vnitřní vrstva rohovky. Tím může dojít k proniknutí tekutiny z přední komory oční do rohovky. Pacient si v tomto případě stěžuje na bolest oka a akutní náhlou ztrátu zraku. Pacienti popisují náhlé zakalení. Rohovka pak typicky zneprůhlední a má mléčnou až bílou barvu. Tento stav se označuje jako hydrops rohovky. Situace vypadá velmi vážně, ale většinou dojde během 6-8 týdnů k zprůhlednění rohovky. Někdy se ke zrychlení používá solný roztok.
Diagnostika keratokonu
Pro urychlení diagnózy je vhodné zjistit osobní a rodinnou anamnézu, kdy lékař zjišťuje dané příznaky (změny zraku a jak rychle dochází k progresi) a popřípadě zda některý příbuzný má nějaké závažné oční onemocnění. Vyšetří se kvalita zraku a to Snellenovy optometry. Pokud je keratokonus závažný, lze vidět změnu tvaru-kužel již pouhým okem z profilu. V mírnějších případech lze ztenčení rohovky a případně její zjizvení odhalit vyšetřením štěrbinovou lampou.
Pachymetr je ruční přístroj, který se opatrně přiloží po znecitlivění na povrch rohovky a změří její tloušťku. Další možností vyšetření je použití tzv. topografu, ten přehledně mapuje povrch a zakřivení rohovky. Jednodušeji pak keratometr změří zakřivení rohovky. Až v 50 % případů keratokonu se na povrchu rohovky vyskytuje tzv. Fleischerův kruh, což je kruh žluto hnědé nebo olivově zelené barvy. Jde o ukládající se pigment, který je tvořen oxidem železa-hemosiderinem. Pigment je uložen v epiteliu rohovky. Taktéž až u 50 % nemocných se objevují tzv. Vogtovy pruhy, což jsou vlastně praskliny rohovky vzniklé jejím napínáním a ztenčením. Typicky tyto linie zmizí, pokud jemně zatlačíme na oční kouli.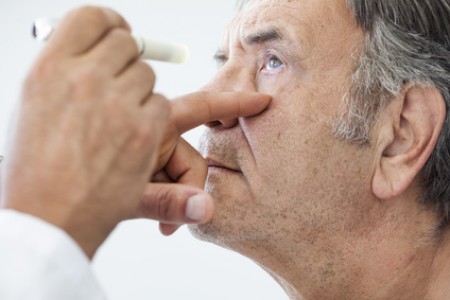 Vážnost onemocnění se dělí na 4 stupně.
Keratokonus má 4 stupně závažnosti
Diagnosticky si také můžeme všimnout vypoukliny ve tvaru písmene V na dolním očním víčku při pohledu jedince směrem k zemi. Toto je známé jako Munsonovo znamení. Tyto výše zmíněné znaky jsou spíše doplňkové, v diagnostice nemají větší význam. Závažnost keratokonu se klasifikuje podle stupně zakřivení (v dioptriích, mírný je do 45 D, závažný pak nad 52 D).
Dále podle tloušťky rohovky (mírný nad 506 mikrometrů a pokročilý pod 446 mikrometrů) a podle tvaru rohovky (ovál, kulovitý nebo bradavkovitý).
Stadia keratokonu se pak čadí do 4 stupňů.
stupeň: Myopia nebo astigmaticmus do 5 dioptrií, rohovkové zakřivení do 48 dioptrií, Vogtovy linie a typická topografie.

stupeň: Myopia nebo astigmatismus 5-8 dioptrií, rohovkové zakřivení do 53 D*
a tloušťka rohovky více jak 400 µm (mikrometrů).

stupeň: Myopia nebo astigmatismus jsou již 8-10 D, zakřivení je více jak 53 D a rohovka je ztenčená 200-400 µm. Nejzávažnější

stupeň: Refrakterní vada je neměřitelná, má více jak 10 D, zakřivení rohovky je více jak 55 D, objevují se centrální zjizvení a tloušťka rohovky je méně než 200 µm.
poznámka * D = dioptrie
Léčba keratokonu
Léčba keratokonu závisí na závažnosti - stupni. Nejjednodušší při mírném keratokonu je používání brýlí nebo kontaktních čoček. Jakmile ale začne onemocnění progredovat, většinou je korekce čočkami nebo brýlemi nedostatečná a dotyčný musí měnit sílu brýlí velmi často. V takové případě se doporučují pevné kontaktní čočky (jsou pevnější než měkké gelové).
Pevné kontaktní čočky - tyto kontaktní čočky propouštějí plyny, takže snižují riziko infekce a osychání oka. Tento typ čoček je schopen korigovat i poměrně vysoký stupeň astigmatismu. Princip funkce těchto čoček je takový, že slzný film vyplní mezeru mezi nepravidelným povrchem rohovky a mezi pevnou hladkou stěnou kontaktní čočky. Tím se vlastně rohovka hezky funkčně vyhladí a nemocný vidí ostřeji. Někdy je nutné pokusem a omylem vybrat tu správnou kontaktní čočku.

Hybridní čočky jsou tzv. měkké hydrofilní, nejčastěji vyrobené ze silikonového hydrogelu. Tyto čočky mají oproti tradičním měkkým čočkám tvrdý střed a měkké okraje. Firmy vyrábějící kontaktní čočky každoročně zlepšují své technologie a tím se čočky stávají velmi pohodlné a velmi zlepšují zrakovou ostrost.

Sklerální kontaktní čočky jsou speciální čočky využívané u velmi pokročilého keratokonu. Tento typ čoček pokrývá větší povrch oka než předchozí dva typy čoček. Jelikož jsou čočky větší, je s nimi lepší manipulace a především starší lidé je nacházejí velmi praktické pro denní používání. Posledním typem kontaktních čoček jsou čočky, které se aplikují přes běžné kontaktní čočky.

Čočky, které se aplikují přes běžné čočky - tyto čočky pokrývají, tvoří tak druhou vrstvu čoček a zvyšují tím stupeň korekce. Výše zmíněné možnosti korekce keratokonu byly neinvazivní s použitím pomůcek - čoček či brýlí. Další možné řešení keratokonu je operace. Pokud čočky ani brýle nemocnému nepomáhají či keratokonus způsobil zjizvení rohovky a dotyčný není spokojený se svým zrakem, možností je transplantace rohovky.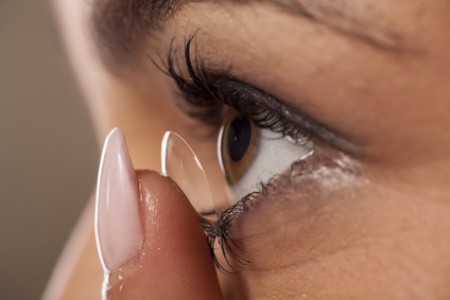 Řešením lehkého keratokonu je nošení očních čoček.
Až 27 % případů keratokonu progreduje natolik, že již korekce není možná a rohovka je natolik tenká a poškozená, že je nutné přiklonit se k tomuto řešení. Rohovka nemá přímé krevní zásobení, což znamená obrovskou výhodu při výběru dárce rohovky. Rohovka bývá použita od mrtvých dárců a krevní skupina dárce a příjemce se nemusí shodovat. Většina transplantovaných rohovek vyžaduje asi 6-8 týdnů k přihojení se a někdy trvá až jeden rok než dojde ke stabilizaci a zlepšení vidění.
Většina transplantovaných rohovek je velmi stabilní a příjemci nevykazují větší potíže. Podle známých statistik je transplantace rohovky nejúspěšnějším transplantovaným orgánem nebo částí lidského těla. Zrak příjemce bývá ve většině případů znatelně zlepšen. Mnoho příjemců ale musí přes novou rohovku nosit kontaktní čočky, které zrak ještě více zlepší. V asi 5-8 % dojde k odmítnutí rohovky příjemce nebo k novotvorbě cév v oblasti rohovky, což vede k zakalení povrchu oka, otoku a někdy zánětu. Úplná ztráta zraku je ale velmi vzácná. Pokud dojde k úplnému odmítnutí rohovky, většinou se přiklání lékař k druhému pokusu od nového dárce. Tvorba keratokonu u trasplantované rohovky je velmi vzácná.
Prevence keratokonu
Přesné příčiny vzniku keratokonu nejsou známé, ale prevence se směřuje alespoň k předpokládaným příčinám. Mezi ovlivnitelné příčiny patří časté mnutí očí a alergie či atopie. Proto se doporučuje při svědění očí aplikovat studené obklady. Pokud při svědění osoba mne oči, způsobí tím jedině zhoršení příznaků. Studené obklady svědění rychle utiší. V případě atopií a alergií existuje řada léků, které slzení a příznaky tlumí. Možné je používat také oční kapky.