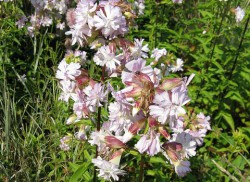 čeleď: hvozdíkovité
Mydlice lékařská – popis
Rostlina vyrůstá z bohatě větveného kořene a dosahuje výšky přibližně 3 m. Kořeny mají citrónově žlutou dužinu, na povrchu jsou hnědočervené, ve vodě pění. Lodyha je přímá, jen částečně větvená, zakončená bílými až narůžovělými květy.
Mydlice lékařská – léčivé účinky
Hlavní obsahovou látkou jsou saponiny. Jejich vlastností je, že při protřepávání s vodou silně pění. V zanícených průduškách zřeďují husté hleny, zvyšují sekreci sliznic, působí proti bakteriím a plísním. Podporují také tvorbu moči a potu. Jedná se o látky mimořádně účinné, jejich větší množství způsobuje rozpad červených krvinek. Dalšími obsahovými látkami jsou sliz, sacharidy a pryskyřice, ale ve srovnání s obsahem saponinů jsou zanedbatelné. I když se mydlice používala od nepaměti jako expektorans, dnes je přidávána do čajových směsí pouze výjimečně, protože dráždí střevní sliznici. Při předávkování se dostavuje pocit nevolnosti a zvracení. K rozpadu červených krvinek by došlo pouze v případě, že bychom mydlici podali do těla injekčně. Mnohem častěji se dnes používá mydlice zevně, při obkladech a čištění zanícené pokožky (např. v léčbě akné), k mytí a regeneraci vlasů, k protirevmatickým obkladům a při kožních obtížích (např. pásovém oparu). Mydlice má také využití v homeopatii.
Použitelné části mydlice lékařské: kořen a oddenek
Období květu: červen až říjen
Použití v kuchyni a pěstování
Mydlice je vlhkomilná rostlina. Dobře se jí daří v písčité půdě. Najdeme ji v pobřežních křovinách rybníků, potoků, řek i na vlhkých loukách. Mydlice lékařská se pěstuje jako okrasná rostlina a to nejen na zahradách, ale také třeba u kostelů či polních křížů. Můžeme se setkat i s plnokvětou formou mydlice. Je to dekorativní rostlina, která navíc příjemně voní. Mydlice lékařská je renesanční rostlina. Se stejným úspěchem může být použita v medicíně, v kosmetice i v domácnosti. Ačkoli její léčivé vlastnosti byly známy již v antickém Řecku a ve středověku, v minulém století se prodávala hlavně jako prostředek na praní jemných tkanin, hedvábí a vlny pod názvem "mýdlový kořínek".
Tip: Vlasová voda
2 PL sušeného kořene zalijeme sklenicí vroucí vody a necháme pod pokličkou dvacet minut louhovat. Poté již stačí přecedit, přidat pár kapek citronové šťávy a používat na poslední opláchnutí vlasů.