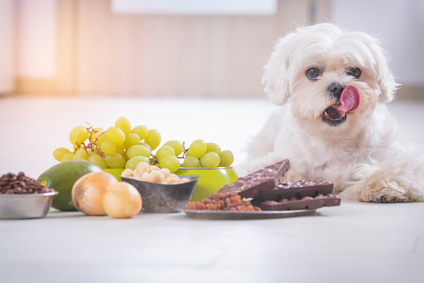 Pomoc, otrava u psa! Jak ji u mazlíčka poznat a vyléčit?
Pes zvrací, má průjem a je apatický. Pak nás asi trápí otrava u psa. Příznaky můžou být bohužel daleko rozmanitější. Stejně jako důsledky. Otravy psů můžou končit i úhynem mazlíčka. Proto musíme jednat velmi rychle. Řekneme, jaké jsou příznaky otravy u psa a co dělat, aby byl pejsek zase v pořádku. A abychom problémům předcházeli, poradíme, co pes nesmí jíst.
Otrava u psa se projeví na zažívání, krvi i ledvinách
Otrava u psa se může projevit pokaždé jinak. Záleží na toxické látce. Příznaky otravy u psa jsou proto různorodé. Pokud nějaké příznaky zpozorujeme, je důležitá každá minuta. Zvláště, pokud pes snědl nějakou velmi nebezpečnou látku. Ihned navštivme veterináře.
1. Nepravidelný srdeční tep: Pokud mazlíčkovo srdce tluče nepravidelně, je otrava u psa nejčastěji způsobená jedovatou rostlinou.
2. Zažívací problémy: Objeví se průjem, zvracení nebo nechutenství. Opět je můžou zapříčinit pro psy toxické rostliny. Jako je třeba břečťan nebo iris. Stejně tak i léky či čokoláda.
3. Ztráta krve: Jestliže má pes hodně modřin, krvácí z nosu, má anémii anebo krev ve stolici, je možné, že se jedná o příznaky otravy u psa. Nejčastěji kvůli požití krysího jedu. Ale stejně tak pes mohl sníst příliš mnoho cibule, česneku nebo jiných jedovatých plodin.
4. Selhání ledvin: Často za selháním ledvin stojí požití nemrznoucí směsi do aut. Psí tělo ztrácí schopnost vyrábět moč. Ale na vině může být i jedovatá rostlina. Selhání ledvin patří mezi obzvlášť nebezpečné příznaky otravy u psa.
5. Poškození jater: Některé druhy rostlin anebo léků poškodí psí játra. Bohužel, někdy má taková otrava u psa doživotní následky.
6. Neurologické obtíže: Mezi neurologické problémy patří třeba záchvaty. Může je mít na svědomí řada jedovatých látek, jako antidepresiva, alkohol, mýdlo, benzín, marihuana, tabák nebo leštěnka na nábytek. Ale i jedovatí živočichové jako jsou žáby nebo hadi.
Na co si dát u otravy psů pozor?
Zvracení a průjem
Záchvaty
Krev ve stolici
Ztráta chuti k jídlu
Modřiny
Krev z nosu
Nemožnost se vymočit
Nepravidelný tep
Otravu u psa řešme co nejrychleji
Čím rychleji zakročíme, tím méně škody toxická látka v psím těle udělá. Zatímco z některých potravin ho bude trápit jen průjem, z látek jako je nemrznoucí kapalina může až umřít. Pro případ otravy psů mějme vždy po ruce číslo na našeho veterináře. Stejně tak i nejbližší veterinární pohotovosti, je v každém větším městě. Může se totiž stát, že se otrava u psa objeví ve večerních hodinách.
Rychle zjistěme, co a kolik toho pes snědl. Veterináře bude zajímat jak látka, která může způsobit otravu psa, tak její množství. Podle toho může stanovit tu nejlepší léčbu.
Psa dostaňme z dosahu nebezpečné látky. Obzvláště pokud se jedovatá látka nachází ve vzduchu.
Odstraňme mu zbytky z tlamy. Pokud je to jedovatá látka i pro lidi, navlečme si ochranné rukavice.
Zavolejme veterináři a řekněme mu všechny informace. Poradí nám, co v případě konkrétní otravy u psa dělat.
Psa nenuťme zvracet. V některých případech se otrava psa zvracením ještě zhorší. Udělejme to pouze v případě, že nám to řekl zvěrolékař.
Nedávejme psovi nic, pokud nám to výslovně neřekl zvěrolékař. Mléko, aspirin a další látky, které se běžně doporučují, můžou naopak při otravě přispět k zhoršení. Psa pozorujme. Příznaky se můžou objevit až po čase.
Co pes nesmí jíst? Čokoládu, česnek i cibuli
Řada potravin a látek, co běžně máme doma, může pro psa znamenat závažné zdravotní následky. Zkusme náš domov co nejvíce zabezpečit, toxické látky před psem uzavírat a jedovaté rostliny dát z domu pryč. Stejně tak si zjistit, co všechno pes nesmí jíst.
Krmme ho chutnými, ale kvalitními granulemi. Snižujeme tím riziko, že by se pes snažil ochutnávat jiné, pro něj nebezpečné, věci. Nekrmme ho lidským jídlem. Koření, cibule, česnek jsou sice pro lidi normálními ingrediencemi jídel, pejskovi do žaludku ale rozhodně nepatří.
Nespoléhejme na to, že psa vždycky uhlídáme. Otrava u psa se nejčastěji stává, když páníčci nejsou doma. V Americe až 9 z 10 případů. Raději domov pořádně zabezpečme.
Mezi potraviny, které pes nesmí jíst, patří: avokádo, čokoláda, kofein, cibule, česnek, koření, alkohol, pažitka, hrozny, rozinky, makadamové oříšky, umělé sladidlo, těsto na chleba a plesnivé jídlo.
Rostliny, se kterými by pes neměl přijít do kontaktu, jsou: břečťan, bolehlav, náprstník, houby, jmelí, oleandr, narcisy, lilie, tulipán anebo tis. Pozor si dejme i na žaludy.
Otrava u psa může být způsobená řadou nejrůznějších látek. Raději se informujme o každé rostlině, kterou máme doma a stejně tak i o chemických přípravcích.
Nejčastější toxiny, co pes nesmí jíst, vdechnout a ani se jich dotknout

Vdechnutí

Spolknutí

Kontakt s kůží

Kouř

Chemikálie na úklid

Dehet

Slzný plyn

Zahradní chemikálie

Benzín

Insekticidy

Ropa a barvy

Ropa

Chemikálie na úklid

Jed na krysy

Chemikálie na úklid

Barvy

Léky

Odstraňovač barev

 

Svítící tyčinky

Barvy

 

Baterie

Kočičí antiparazitika

 

Předávkování antiparazitiky

 
Rozbalit všechny příspěvky
Video týdne
Taky se občas po práci cítíte tak, že si říkáte: ať mi všichni třeba vlezou na záda!? Dnes už prostě nic dělat nebudu...
Příběh zvířátka
Říkají mi Rago, Ragoušku, Ragajdo, Rufajdo, nebo když si vypůjčím třeba botu, tak křičí Ragíííno! (to je povel k držení v zubech, to já už poznám)...