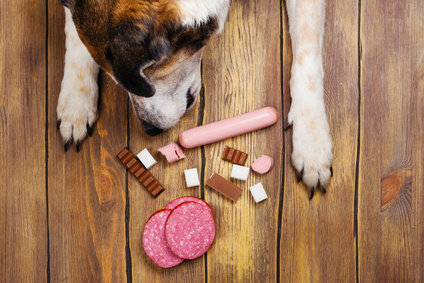 Co pes nesmí jíst? Cibule, šunka a jiné potraviny, o jejichž škodlivosti jste ani nevěděli
Pro čtyřnohého přítele chceme vždy to nejlepší. Někdy je těžké odolat hladovým psím očím, které při večeři sledují každý náš pohyb. Pro dobro němého přítele ale buďme zásadoví. Řada potravin, které nám chutnají a prospívají, může být pro psa naprosto nevhodná. Ve většině případů nejsou důsledky vážné, výjimečně však mohou být i fatální. Vyhněte se problémům dříve, než vůbec nastanou. Víme, co pes jíst nesmí a proč.
Cibule, pažitka, avokádo: v kuchyni užitečné, pro psa nebezpečné
Máte rádi čokoládu? Klidně si ji vychutnejte, rozhodně ji ale nedávejte svým mazlíčkům. Čokoláda je velmi nebezpečná, už 14 gramů na kilogram hmotnosti může uškodit.  Nejnebezpečnější je čokoláda na vaření. Způsobuje záchvaty, bezvědomí a při předávkování i smrt.
Cibuli sice v kuchyni běžně používáme a konzumujeme, ale i ta je pro psa škodlivá. Obsahuje látky, které způsobí anémii nebo dýchací problémy. Podobně účinkuje pažitka a česnek.
Mezi další nevhodné potraviny patří lilek, rajčata nebo aloe vera. Obzvláště nebezpečné je avokádo. Obsahuje látku persin a hodně tuků. Způsobí poškození zažívacího traktu a srdce, může přivodit zánět slinivky nebo způsobit dýchací obtíže. Právě z důvodu zdravotních rizik granule pro psy neobsahují česnek, cibuli ani pažitku. Tyto suroviny neobsahují ani zeleninové granule pro psy. Výrobci totiž ví, co pes nesmí jíst. Pokud si tak s výběrem potravin nevíte rady, investujte do kvalitního krmiva.
Co pes nesmí jíst? U masa a mléka buďte obezřetní
Ani mléčné výrobky psům neprospívají. Hlavním problémem je vysoký obsah tuku. Ten způsobuje průjem nebo zánět slinivky. Nevhodnost smažených a tučných jídel snad ani nemusíme zmiňovat. Mazlíčkům nedávejte ani šunku a slaninu, která kromě tuku obsahuje nadmíru soli. Ta způsobí ledvinové obtíže.
Při častém podávání jater dojde k předávkování vitamínem A. Následně dochází k deformaci kostí a k nechutenství. Dejte si pozor na drobnější kosti. Vařené kosti a kosti z drůbeže se v trávící soustavě mohou roztříštit na menší části a poškodit vnitřnosti. Škodlivé jsou i cigarety nebo kávová sedlina. Velmi nebezpečný je alkohol, který je pro psa jedovatý.
Pozor na ovoce i ořechy
Obloukem se vyhněte také rozinkám a hroznům. Nebezpečná jsou i jádra jablek a hrušek anebo pecky meruněk, třešní nebo švestek – obsahují kyanid a jsou tak pro pejska smrtelně nebezpečné. Stejně tak jej na životě ohrožuje i kofein, ovlivňuje jeho nervovou soustavu a srdce.
Jaké jsou další potraviny, co pes nesmí jíst? Po makadamových oříšcích může dočasně ochrnout. Muškátový oříšek také škodí, způsobuje bolestivé křeče. Vyhněte se i ořechům vlašským. Na skořápkách se nachází toxická plíseň, která způsobí zažívací problémy, letargii a žloutnutí dásní a očí.
Na psí potravě si dejte záležet
Asi všichni dobří majitelé vědí, že pes není odpadkovým košem pro naše zbytky. Nedávejme pejskovi to, co sami už nesníme. Můžeme zapomenout na některé ingredience, které jsme do jídla dali, a našemu nejlepšímu příteli tím uškodíme. Dejme pozor i na to, aby nám ve chvilce nepozornosti pes neukradl nějaký ten kousek jídla přímo ze stolu. Je také potřeba dbát na pejskovu vyváženou a dostatečnou stravu. Pak nebude mít tak velké nutkání hledat potravu jinde než ve své misce.
Pokud pořídíte kvalitní granule pro psy, budete mít jistotu, že se pes dobře nají a doplní veškeré potřebné živiny a vitamíny. Při stravování jen kvalitními krmivy vás otázka co pes nesmí jíst nebude zajímat. Na trhu je k dispozici řada granulí v různých cenových hladinách a kvalitách. Chovatelé hodnotí pozitivně zejména granule Pro Plan Optidigest, které neobsahují pšenici.
Nebezpečí číhá i na zahradě
Některé rostliny jsou pro psy jedovaté, ať už se jedná o pokojové rostlinky v květináčích nebo volně rostoucí na zahradě. Mezi nebezpečné patří třeba azalka, břečťan, blahovičník, semena jabloně, lilie, narcisy, oleandr, petrklíč nebo suché listy a pecky třešně. Seznam nebezpečných rostlin je poměrně dlouhý, je tedy dobré se informovat o konkrétních rostlinách, které pěstujete. Stejně tak psa ohrozí na životě hnojiva nebo přípravky k hubení hmyzu a odstranění plevele. Granule pro psy neumísťuje poblíž chemických přípravků a zmiňovaných hnojiv.
Chemikálie a léky můžou psa zabít
Pokud se pes dostane k chemikáliím, následky jsou často hrozivé. Některé chemické prostředky způsobí jen nepříjemné zažívací potíže, jiné však můžou popálit jazyk, žaludek a celý zažívací trakt a způsobit bolestivou smrt. Chemikálie zabezpečte tak, aby se k nim pes nemohl dostat. Čisticí prostředky zavírejte do skříněk, popřípadě je dejte na vyvýšená místa, kam pes nedosáhne. Granule pro psy umísťujte co nejdál od chemikálií.
Velmi nebezpečné je olovo. Způsobuje zažívací problémy jako zvracení, průjem nebo ztrátu chuti k jídlu, ale i trvalou slepotu. S tím se setkáme například v lacích a barvách,  psa ohrozí i jejich výpary. Pokud budete pracovat s barvou, ujistěte se, že se k vám ani k natřeným plochám čtyřnohý mazlíček nedostane. Také kapaliny do auta (motorový olej nebo nemrznoucí směs) můžou psa zabít.
Další věcí, co pes nesmí jíst, jsou pesticidy. Pokud máte v bytě rozmístěné jedovaté návnady na škůdce – myši, slimáky, mravence nebo šváby – pes je najde a sní.
I některé přípravky proti blechám můžou být nebezpečné. Před jejich použitím se raději poraďte se zvěrolékařem. Také se nepokoušejte vyléčit psa pomocí léků, které nemáte přímo od veterináře. Nejste odborníci a nevíte, jaké mohou mít vedlejší účinky.
Pozor na drobné předměty
Malé předměty povalující se po domě, mince, kosmetické přípravky, vonné oleje nebo bakterie. Obecně platí, že co pes nesmí jíst, to rád ochutná. I když se riziku požití škodlivých drobných předmětů nedá zcela zabránit, můžeme ho alespoň minimalizovat. Veškeré drobnosti i nebezpečné látky umísťujte na bezpečné místo. V případě zažívacích potíží vyhledejte zdroj problému a bezodkladně kontaktujte zvěrolékaře.
Rozbalit všechny příspěvky
Video týdne
Taky se občas po práci cítíte tak, že si říkáte: ať mi všichni třeba vlezou na záda!? Dnes už prostě nic dělat nebudu...
Příběh zvířátka
Říkají mi Rago, Ragoušku, Ragajdo, Rufajdo, nebo když si vypůjčím třeba botu, tak křičí Ragíííno! (to je povel k držení v zubech, to já už poznám)...