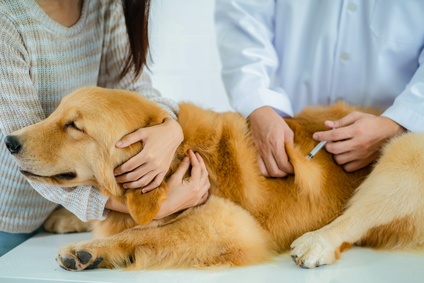 Cukrovka u psa se nesmí podcenit. Jak se o mazlíčka správně postarat?
Cukrovka u psa je noční můrou každého páníčka. Nebezpečné onemocnění ale jde se správnou péčí zvládnout. Hlavní je nemoc zachytit včas, být důkladný a nic nepodcenit. Řekneme, jaké má cukrovka u psa příznaky, jak se léčí a o co všechno se musíme postarat. Pokud náš mazlíček patří mezi psí seniory, musíme být obzvlášť opatrní. Starý pes je totiž k nemoci náchylnější.
Jaké má cukrovka u psa příznaky?
Velká žízeň. Nejčastěji má cukrovka u psa příznaky, které souvisí právě s pitím.
Úbytek na váze. Ačkoli pejsek jí stejně jako vždycky, začíná ubírat na váze. Je to kvůli tomu, že psí tělo nedokáže správně zpracovávat živiny z krmiva.
Zvýšená chuť k jídlu. Protože buňky mají nedostatek glukózy, vysílají tělu signál, že má více jíst.
Častější močení. Kromě častějšího močení venku se může pomočovat i doma. Psí tělo se snaží dostat přebytečný cukr v krvi pryč z těla močí.
Jaké má cukrovka u psa příznaky, které jsou méně časté? Patří k nim ztráta chuti k jídlu, zvracení, ztráta energie a apatie.
K onemocnění je náchylný obézní, oslabený nebo starý pes
Starý pes je k nemoci náchylnější. Ale cukrovka u psa se může objevit bez ohledu na stáří psa.
U fenek je cukrovka dvakrát pravděpodobnější než u psů.
Obezita hraje také významnou roli.
Pokud se u příbuzných psa cukrovka vyskytla, je větší šance, že jí bude mít i náš mazlíček.
Mezi rizikové skupiny patří i psi s Cushingovým syndromem, pankreatitidou anebo s léčbou steroidy.
Cukrovka u psa se léčí inzulinem a úpravou stravy
Cukrovka u psa se řeší podáváním inzulinu, upravenou stravou a přiměřeným pohybem. Hladinu cukru v pejskově těle musíme udržovat co nejblíže normě. Tak se mu mohou vyhnout zdravotní problémy, které jsou s cukrovkou spojené.
Jak se cukrovka u psa řeší?
Strava
Inzulin a léčba
Pohyb
Cukrovka u psa: Strava
Veterináři nejčastěji doporučují krmivo, které je bohaté na vlákninu a naopak neobsahuje příliš mnoho tuků. Vláknina zpomaluje uvolňování glukózy do krevního oběhu a pomáhá, aby se pejsek cítil plný. Důležitý je i dostatečný pitný režim. Vláknina bere z psího těla vodu, a ta by mu pak mohla chybět.
Psům s cukrovkou většinou vyhovují dvě až tři jídla denně. Jak často krmit zrovna našeho pejska stanoví zvěrolékař. Záleží na váze a stáří psa. Základem je omezit krmivo s vysokým obsahem cukru. Mezi takové patří například kapsičky a měkčí krmiva.  Vyhněme se svačinám obsahujícím sirup, fruktózu, melasu, hroznový cukr nebo maltózu.
Cukrovka u psa může mít někdy za následek, že pes nebude chtít jíst. A to je pro úspěšnou léčbu cukrovky problém. Zkusme vyzkoušet jiná vhodná krmiva, a pokud problém přetrvává, navštivme zvěrolékaře. Může jít o komplikace spojené s cukrovkou.
Pokud má pejsek problémy s jedením, můžeme mu zkusit do suchého krmiva zamíchat lžičku krmiva z konzervy, přidat nízkotučně připravené kuře anebo lžičku míchaných vajec.
Cukrovka u psa: Inzulin a léčba
Cukrovka u psa je bohužel nevyléčitelná. Ale se správnou péčí může žít mazlíček spokojeným a dlouhým životem. Nezbytná je návštěva veterináře. Ten pejska vyšetří a stanoví tu nejlepší léčbu. Také nám řekne, kolik kalorií náš mazlíček denně potřebuje. Jeho doporučení se pevně držme. Psovi tím chráníme zdraví.
Obecně platí, že injekce se psovi dávají každých dvanáct hodin.
Nikdy nedávejme psovi inzulin na prázdný žaludek. Bylo by mu opravdu špatně.
Chvíli trvá, než se podaří cukrovku u psa dostat pod kontrolu. Pokud bude hladina cukrů v krvi přes naše veškeré snažení stále nevyvážená, nezoufejme. Může trvat až půl roku, než se dostaví potřebné výsledky.
Úbytek váhy může u pejska způsobit i nižší potřebu inzulinu. Pokud se snažíme, aby zhubnul, kontrolujme hladinu inzulinu častěji.
Cukrovka u psa: Pohyb
Měli bychom dát pozor na to, aby pes nebyl ani obézní ani příliš hubený. Oboje při cukrovce škodí. Nadváha může pejskovi s cukrovkou jen zadělat na další problémy. Pokud se pes dostane na váhu, která je pro jeho plemeno v normě, jeho tělo bude lépe využívat inzulin.
Pejska je vhodné pravidelně brát na procházku. Ideální je vždy ve stejný čas a na stejně dlouho dobu. Nečekaná a dlouhá procházka by mohla způsobit, že cukr v krvi příliš klesne.
I starý pes se může cukrovce vyhnout
U starších pejsků si na cukrovku musíme dát obzvlášť velký pozor. Starý pes patří do rizikové skupiny. Co dělat, aby mu cukrovka neuškodila?
Všímejme si především jeho fyzické i psychické kondice. Cukrovku tak zachytíme včas. Zvýšená pozornost nám ale pomůže odhalit i jiné choroby, které ke stáří psa patří.
Dbejme na pejskovu správnou váhu. Obezita riziko cukrovky zvyšuje. Dávejme mu pouze kvalitní krmivo určené pro starší psy. Stáří psa způsobuje i úbytek jeho sil. Následky špatně léčené cukrovky by pro něj mohly být fatálnější, než pro psa mladšího.
Pokud starší pes cukrovkou trpí, potřebuje úměrný pohyb. Ale kvůli jeho věku buďme obzvlášť opatrní na náročné vycházky a hry. Ostatní pravidla pro léčbu cukrovky má starý pes stejné. Je potřeba dbát na pravidelné krmení, inzulin a návštěvy veterináře.
Jaké má cukrovka zdravotní komplikace?
Oční zákal, který může vést až ke slepotě
Zvětšená játra
Infekce močových cest
Selhání ledvin
Záchvaty
Ketoacidóza: Akutní stav doprovázený zrychleným dýcháním, dehydratací, zvracením a letargií. Může vést až k úmrtí.
Rozbalit všechny příspěvky
Video týdne
Taky se občas po práci cítíte tak, že si říkáte: ať mi všichni třeba vlezou na záda!? Dnes už prostě nic dělat nebudu...
Příběh zvířátka
Říkají mi Rago, Ragoušku, Ragajdo, Rufajdo, nebo když si vypůjčím třeba botu, tak křičí Ragíííno! (to je povel k držení v zubech, to já už poznám)...