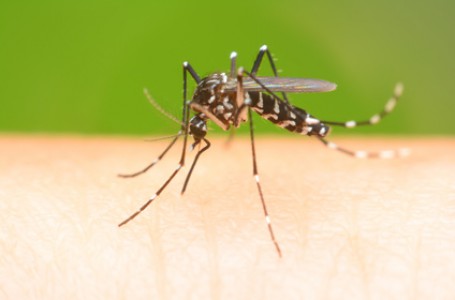 Virus Zika přenášejí komáři.
Zika je onemocnění označované také jako Zika horečka nebo Zika nemoc. Onemocnění je známé teprve několik desetiletí a původně pochází z oblasti rovníkové Afriky a Asie. Zika je nemoc způsobená virem Zika. Virus Zika patří do skupiny tzv. Flaviviridae (flavivirus). Je tak příbuzný virům způsobujícím horečku dangue, žlutou zimnici, východonilskou horečku nebo Japonskou encefalitidu.
Označení Zika znamená v jazyce kmene Luganda "přerostlý". Kmen takto pojmenoval oblast ve východní Africe. V této oblasti (Uganda) pak v 50. letech skupina vědců testovala nemocného makaka, u kterého byl tento virus poprvé objeven. Později v roce 1968 byl virus izolován také u člověka (ve státě Niger) a pojmenován Zika. Do roku 2007 bylo onemocnění člověka jen velmi vzácné. Od roku 2007 se ale onemocnění šíří především v jižní Americe. Důležité je zmínit, že onemocnění je na člověka přenášeno nejčastěji krví. Přenoscem je komár. V dnešní době se onemocnění vyskytuje pedevším v Brazílii, dále pak na Karibských ostrovech, Francouzské polynésii, Velikonočních ostrovech a odhaduje se, že se v příštích letech objeví na všech kontinentech a s dnešními možnostmi cestování pravděpodobně ve většině zemích. 
Příčina vzniku onemocnění Zika 
Jak již bylo zmíněno, příčinou vzniku Zika horečky (nemoci) je nakažení se Zika virem. Pro virus Zika je typické, že je přenášen z člověka na člověka prostředictvím komářího píchnutí (komár je tzv. vektor). Uvažuje se, že je s největší pravděpodobností přenos možný krví obecně (transfúze, injekční stříkačka apod.) nebo nechráněným pohlavních stykem (virus Zika byl prokázán v lidském spermatu). Existují dvě hlavní linie viru, a to tzv. africká linie a asijská linie.
Virus Zika, který se v této době rozšiřuje po jižní a severní Americe, patří spíše k asijské linii (konkrétně hlavně s oblasti Francouzské Polynésie). Zika virus byl dosud prokázán pouze u opic a člověka. Přenášen je komárem z rodu Aedes (A. aegypti, A. africanus a několik dalších, Aedes aegypti je celosvětově hlavním přenašečem). Inkubačí doba je asi 3 - 12 dní. Geograficky jsou oblasti postižené tímto virem někdy poměrně velmi vzdálené, proto je jasné, že příčinou šíření je především cestování obyvatel.
Nakažená osoba nese virus Zika ve svém těle, přicestuje do jiné vzdálené oblasti, kde dojde ke komářímu štípnutí a komár pak virus šíří na další osoby. Tímto šířením tak existuje velké množství zemí, ve kterých se onemocnění virem již vyskytlo (Barbados, Brazílie, Bolivie, Kolumbie, Dominikánská republika, Ekvádor, Salvádor, Barbados, Guatemala, Haiti, Honduras, Martinik, Mexico, Panama, Paraguay, Puerto Rico, Venezuela, Uganda, Niger, Vietnam a mnoho dalších zemí). Nově se virus objevil také v USA či Dánsku.
Příznaky, průběh a příčiny onemocnění Zika
Patogeneticky existují úvahy, že infekce virem začíná nakažením dendritických buněk v místě komářího štípnutí. Infekce se šíří do lymfatických uzlin a krevního řečiště. Obecně se virus Zika rozmnožuje v cytoplazmě buněk, ale antigen viru byl nalezen především v jádrech nakažených buněk. Další průběh Zika nemoci se velmi podobá horečce dengue nebo také běžně známé chřipce. K nejčastějším příznakům patří horečka, mírná bolest hlavy, vyrážka, bolest kloubů a zánět spojivek. Průběh nemoci je ve většině případů velmi mírný a příznaky trvají jen několik dní až týdnů. Velmi malý počet nemocných je nutno hospitalizovat, tyto osoby většinou byly dehydratované nebo trpěly neurologickými poruchami (Guillain Baré syndrom). U mnoha osob se onemocnění nemusí projevit vůbec. U velmi nízkého počtu osob může onemocnění Zika přejít do chronicity. Co ale patří k závažným rizikům tohoto onemocnění, je vznik vrozených vývojových vad u plodů.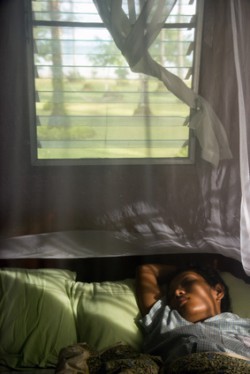 MoskytiéraBylo zjištěno, že virus Zika přechází z krve matky přes placentu do plodové vody. To znamená, že onemocnění je velkým rizikem pro těhotné ženy. Je prokázáno, že onemocnění stojí za vznikem tzv. mikrocefalie, což je nedostatečný vývoj hlavy a mozku. Dítě se tak rodí s velmi malou, často deformovanou hlavou s nedostatečně vyvinutým mozkem. To pak vede k psychomotorické retardaci dítěte nebo je plod potracen v průběhu těhotenství. Přesná příčina vlivu viru Zika ale dostatečně známá není. Jisté je, že největší riziko hrozí ženám v průběhu prvního trimestru.
Pokud se tedy žena nakazí v průběhu prvních 3 měsíců těhotenství, riziko poškození plodu je nejvyšší. Riziko pak klesá s délkou těhotenství, ke konci těhotenství, kdy je již hlava a mozek plodu vyviuta, riziko téměř nehrozí. Co ale není jasné je, jak dlouho virus Zika zůstává v těle nemocného a zda nakažené ženě hrozí riziko postižení plodu při opakovaném těhotenství do budoucna. V Brazílii již bylo narozeno téměř 4000 takto postižených dětí, některé z nich bohužel zemřely. Statisticky již touto vývojou vadou v Brazílii trpí až 1% novorozených dětí, což je výsoký počet a o onemocnění se tak začíná celosvětově hodně mluvit, protože by se mohlo rychle rozšířit a postihnout tak mnohem vyšší počet osob.
Diagnostika Zika nemoci
V oblastech postižených touto nemocí je možné Zika diagnostikovat pouze podle typických příznaků. Pokud je nutné onemocnění Zika diagnostikovat s jistotou, testuje se krev nemocného. Virus Zika patří k RNA flavivirům, proto je možné provést tzv. PCR (polymerázová řetězová reakce) vyšetření krevního séra. Přibližně na konci prvního týdne onemocnění se začínají v těle nemocného objevovat protilátky proti tomuto viru, protilátky je také možné detekovat. U těhotných žen je pak možné provést ultrazvukévé vyšetření plodu, které poměrně rychle a přesně odhalí vývojovou vadu hlavy a mozku plodu. Ultrazvuk neprokáže Zika onemocnění, ale pouze jeho důsledek (důležité je vědět, že mikrocefalie není způsobena pouze Zika virem, příčin vzniku existuje velká řada).
V současné době není možné virus Zika diagnostikovat v České republice. Ani celosvětově nejsou k dostání žádné komerčně dostupné testy k diagnostice. Pokud by bylo vyšetření nutné, vzorek krve by byl pravděpodobně poslán do Spojených států amerických nebo jiné země, která vyšetření nabízí. Výsledky testu jsou k dispozici většinou do 2 - 3 týdnů (v letních měsící je výskyt onemocnění častější, test proto může trvat déle).
Léčba Zika nemoci
Oficiálně k dnešnímu datu neexistuje žádný spolehlivý lék, který by Zika nemoc utlumil. V případě mírných projevů se léčí pouze dané příznaky. Doporučují se nestroidní protizánětlivé léky jako je ibuprofen, paracetamol nebo aspirin. Tyto léky uleví horečce a bolestem kloubů. Tento typ léků by neměl být užíván, pokud se jako příznaky onemocnění objevily krvácivé stavy. Především aspirin by pak neměl být podán dětem do 18 let, protože existuje riziko vzniku tzv. Reye syndromu.
Horečky lze tlumit také studenými zábaly nebo studenou sprchou (ne ledovou, mohlo by dojít k podchlazení). Léčba může postupovat jako u běžné chřipky. Doporučuje se příjimat hodně ovoce a zeleniny nebo doplňky s vysokým obsahem vitamínu C. Byla testována řada antivirotik, ale jejich úspěch nebyl zaznamenán. Testován byl interferon, který byl úspěšný v zneškodnění viru, ale pouze in vitro při testování. Onemocnění Zika dosud nebylo významné, proto nebylo příliš zkoumáno, což znamená, že vývoj léčby je teprve v začátcích. Předpokládá se, že pokud se virus Zika rozšíří a postihne vyšší počet osob, lék by mohl být vyvinut i během několika měsíců.
Prevence Zika nemoci
Co se týká prevence v podobě léků nebo vakcinace, taková prevence bohužel dosud nebyla objevena. Jediný možný způsob je vyhnout se komářímů štípnutí. Většina zemí v dnešní době varuje cestovatele, kteří míří do zemí postižených virem Zika (jižní Amerika a Karibik především) a existuje řada preventivních kroků. Doporučuje se využívat repelenty, moskytiéry a vyhýbat se vlhkým oblastem s vysokým výskytem komárů. Pokud se chystáte cestovat, je dobré si předem zjistit, zda se virus Zika v dané zemi vyskytuje.
V mnoha případech štípnutí komárem předejít nelze, je ale dobré vždy s onemocněním počítat, vědět o této možosti a připravit se na ni. Doporučuje se v postižených oblastech nosit oblečení s dlouhým rukávem a nohavicemi, účinný je repelent s vysokým procentem tzv. DEET, picaridin nebo oleje s citrónem či eukalyptem. Důležité je vždy číst a dodržovat instrukce daného přípravku. Přípravky je většinou nutné aplikovat opakovaně několikrát denně.
Existuje také speciální oblečení, které obsahuje tzv. Permethrin, takové oblečení má ochranu i po několika vypráních. Moskytiéry neboli ochranné sítě v době spánku jsou nutností. Zvýšenou pozoronost prevenci by měly věnovat především ženy, které plánují těhotenství. Nejvyšší riziko ženám hrozí během prvních 3 měsíců těhotenství, proto by ženy měly do rizikových oblastí jezdit pouze při naprosté nezbytnosti. V Brazílii se v dnešní době dokonce doporučuje ženám těhotenství neplánovat v nebližších měsících. Pokud byla žena virem Zika nakažena, neměla by otěhotnět v nejbližších dvou letech. Během této doby se předpokládá posun výzkumu kupředu. Těhotné ženy by měly pravidelně navštěvovat zkušeného lékaře. Žena, která cestovala do postižené oblasti a je těhotná, by měla lékaře informovat, ten by měl ženu důsledně sledovat a vyšetřit několikrát ultrazvukem plod, aby bylo možné diagnostikovat případnou mikrocefalii co možná nejdříve.