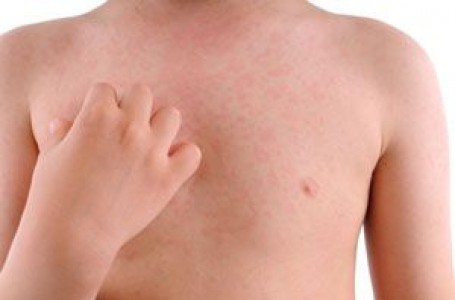 Kopřivka příznaky a léčba
Kopřivka je kožní onemocnění projevující se výsevem svědivých pupenů. Kopřivkové projevy zpravidla vznikají po kontaktu s fyzikálním činitelem či alergenem.  Mizí do 24 hodin, kdy se hojí úplným obnovením kožního povrchu bez vzniku jizev. Kopřivka nejčastěji postihuje dospívající a mladé dospělé. Každý třetí člověk byl nejméně jednou za život postižen alespoň jedním výsevem kopřivky. Opakovaně se objevuje asi 5 % Čechů.
Jak kopřivka vzniká
Při každé kopřivce dochází k aktivaci speciálních bílých krvinek tzv. žírných buněk (mastocytů) nacházející se po celém těle v blízkosti cév. Žírné buňky obsahují granule, jež po aktivaci vyprazdňují do okolí (degranulují) a tím uvolňují v nich obsažené aktivní látky a působky – cytosiny, vazoaktivní látky a štěpící enzymy. Ty se podílejí na vzniku a udržování zánětu rozšířením cév tzv. vazodilatací a zvýšenou propustností cév. Důsledkem je nejprve zarudnutí kůže a následně otok škáry, jež vede k vyvýšení léze nabývající vzhled pupenu. Klíčovou roli hraje bílkovinný působek histamin.
Příčiny vzniku kopřivky
Příčina kopřivky může být neznámá (idiopatická), imunologická či neimunologická. Při imunologické etiologii se po styku s alergenem aktivuje jednotlivé složky imunitního systému. Někdy se této formě říká také alergická kopřivka. Nejčastější alergeny jsou potraviny, léky, latex či kovy. Degranulace pak může být zprostředkována protilátkami typu IgE či nespecifickým imunitním systém. Některé látky působí přímo vyprázdnění granul žírných buněk neimunologickými mechanismy. Jedná se například o fyzikální vlivy, radiokontrastní látky, morfin, opiáty, žlučové kyseliny, z léků nesteroidní analgetika proti bolesti, salicyláty a některá antihypertenziva (ACE inhibitory). Přímým uvolňovatelem histaminu mohou být bílkovinné substance obsažené v kožních nervových vláknech, provokující stimul je tedy čistě nervového původu. To podporuje tvrzení, že na zhoršení kopřivkových projevů se podílí i psychický stres.
Formy kopřivky
Podle doby trvání se rozlišuje kopřivka akutní, akutní přechodná a chronická.
Akutní forma kopřivky se projevuje prakticky denním výsevem pupínků po dobu šesti týdnů. Zpravidla se na ní podílí imunologické mechanismy.
Při akutní přechodné kopřivce se v různých intervalech, obvykle po kontaktu s alergenem jako jsou léky a potravinou složky, opakovaně vysévají pupínky déle než 6 týdnů.
Po dobu delší než 6 týdnů se nepřetržitě nebo přechodně alespoň dvakrát týdne vysévají pupínky u chronické kopřivky. Až polovina případů je idiopatická, nikdy se spouštěcí faktor nezjistí. Při vzniku se většinou uplatňují různé imunologické mechanismy. Průměrné trvání idiopatické kopřivky je 2 – 3 roky. Bývá sdružená s jiným autoimunitním onemocněním jako cukrovka, revmatoidní artritida či autoimunitní porucha funkce štítné žlázy.
Kopřivka příznaky

Kopřivka se projevuje silně svědícími plochými, ostře ohraničenými, oteklými vyvýšenými pupeny tzv. pomfy. Rychle se vysévají a v průběhu několika hodin mizí beze stopy. Nejrychleji (do jedné hodiny) po fyzikálním činiteli, do dvou hodin při kontaktu s alergenem, maximálně však do jednoho dne. Pupeny jsou obvykle růžové, někdy s okolním reflexním zarudnutím. V důsledku stlačení cév otokem mohou být centrálně vybledlé. Velikost pupenů kolísá od drobných pupínků po rozsáhlé plochy. Svědění je nejsilnější při výsevu pupenů, postupně se zmírňuje, výraznější bývá večer. Intenzivní svědění nevede ke škrabání, nýbrž ke tření projevů se vznikem puchýřků s případným krvavým sekretem. Postižení sliznic je vzácné, projevuje se chrapotem, ztíženým dýcháním, průjmem, otoky kloubů, teplotou či nevolností.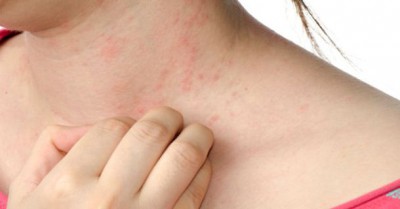 Kopřivka se projevuje silně svědícími pupínky.
Fyzikální kopřivka
Při fyzikální kopřivce se kožní projevy mohou objevit v místě kontaktu fyzikálního zdroje či ve vzdálené lokalizaci. Fyzikální podněty způsobí asi 20% kopřivek. Pupeny obvykle mizí do jedné hodiny.
Chladová kopřivka je vyvolána chladným vzduchem či vodou působícími na odkryté části těla. Při koupání v ledové vodě může být provázena i celkovou reakcí organismu (anafylaktickou reakcí). Po působení UV záření může vzniknoutv místě expozice solární kopřivka. V místě tření či psaní tupým předmětem po kůži vznikají lineární pupeny tzv. dermografismus odeznívající do 15 minut. Pozdní tlaková kopřivka se projevuje bolestivým otokem během 2 – 6 hodin v místě na kůži kolmo působícího tlaku. Přetrvává déle než 24 hodin, ke kožním projevům se připojuje i celková nevolnost, únava, zvýšená teplota, bolesti kloubů a svalů. Až 20% populace postihuje kopřivka způsobená zvýšením tělesné teploty při přehřátí, fyzické námaze či konzumaci horkého jídla tzv. cholinergní kopřivka. Projevuje se symetrickým výsevem četných drobných pupenů velikosti 2 – 3 mm na okrajích se zarudnutím a bledým halo na předloktí, zápěstí, krku a podpaží. Projevy odeznívají zpravidla do 30 minut. Po kontaktu s vodou vzniká akvagenní kopřivka, po místním působení vyšších teplot lokální tepelná kopřivka.
Kontaktní kopřivka
V místě kontaktu s alergenem dojde ke vzniku kontaktní kopřivky. Vzniká po působení biologických nebo chemických činitelů - po štípnutí hmyzu, dotyku kopřivy, styku s latexem nebo některou složkou kosmetického přípravkou. Na vzniku pomfů se podílejí imunologické i neimunologické mechanismy. Pomfy zpravidla mizí do 1 – 2 hodin od kontaktu.
Jiné formy kopřivky
Adrenergní kopřivka je vyprovokována psychickým stresem. Kopřivková vaskulitida (zánět cév) je zvláštním typem kopřivky postihujícína imunologickém podkladě drobné žilky. Řadí se mezi chronické formy, průměrná doba trvání je tří roky. Na rozdíl od běžné kopřivky kožní projevy spíše pálí a bolí, než svědí, přetrvávají 24 hodin, protože dochází k porušení cévní stěny. To se pak projevuje tečkovitým krvácením do kůže tzv. purpurou, zvýšenou pigmentací i celkovými příznaky. Může postihovat i vnitřní orgány.
Komplikace u kopřivky

Až třetina výsevů kopřivky může být provázena akutním ohraničeným nezánětlivým otokem kůže a podkoží tzv. angioedémem, nejčastěji víček, rtů, genitálu a končetin. Při postižení dýchacích cest a jazyka vede k akutnímu ohrožení života udušením. Rovněž život ohrožující je celková reakce organismu po opakovaném kontaktu s alergenem při anafylaktické reakci. Během několika minut může dojít k otoku jazyka, hrdla s dušením, vzniku zarudnutí na celém těle, bušení srdce až kolapsu.
Kopřivka - diagnostika
Určit diagnózu kopřivky na základě pomfů je snadné. O to obtížnější je určení příčiny, často i neúspěšné. K určení provokujícího faktoru lékař provádí podrobnou anamnézu, ptá se na užívané léky, podpůrné přípravky, potraviny i kosmetiku. Může napomoci podrobně vedený diář provozované činnosti, aplikovaných látek i požitých potravin. Při důvodném podezření na reakce na určité potraviny či chemické látky se provádějí kožní testy, při nichž se alergen aplikuje do podkoží, a následně se sledují vzniklé kožní projevy. Fyzikální kopřivku lze podobně ověřit příslušným fyzikálním provokačním testem. Současně se vyšetřuje i imunitní systém, stanovují se protilátky či nespecifické složky imunity. Při podezření na vaskulitidu se provádí odběr vzorku kůže (kožní biopsie) s následným mikroskopickým vyšetřením.
Léčba kopřivky

Příčina kopřivky je většinou neznámá, proto se nejvíce uplatňuje léčba symptomatická spočívající v mírnění projevů kopřivky. Podstatný význam mají režimová opatření, zejména při známé etiologii.
Základním režimovým opatření je odstranění provokující faktorů – složek potravy, léků, kosmetických přípravků či latexu. Režimová opatření zahrnují eliminaci vlivů zhoršující klinické projevy nebo usnadňující jejich vznik jako psychický stres, alkohol, nadměrné teplo a těsné prádlo. Rovněž je vhodné omezit užívání léků jako acylpyrin nebo nesteroidní analgetika zmírňující bolesti, či je zaměnit za jiné preparáty. Dále se vyvarujte užívání opiátů a léků snižujících tlak – ACE inhibitorů (Tritace, Gopten,Prestarium, Piramil), které zvyšují reaktivitu kožních cév. Dietní opatření se využívají pouze i chronické kopřivky s prokázaným provokačním testem určitých potravin.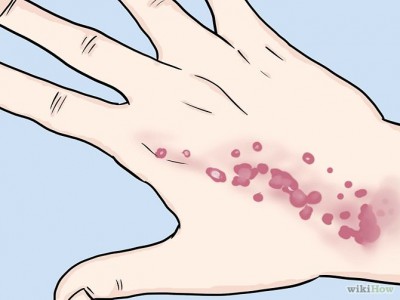 Léčba spočívá především v mírnění projevů kopřivky.
V lokální kožní léčbě se aplikují protisvědivé roztoky a krémy s obsahem mentolu. Při kopřivkové vaskulitidě lokální kortikoidy. K celkové léčbě se používají antihistaminika jako Dithiaden, Zyrtec,Zodac, Analergin, Fenistil, Aerius, které zabraňují působení histaminu a uvolňování látek z granul žírných buněk. Krátkodobě ke zmírnění akutního výsevu a při dechových potíží se podávají kortikoidy, které potlačují imunitní pochody, zmírňují otok sliznice i kůže a výsev dalších kožních projevů. Při anafylaktické reakci se ihned podkožně aplikuje adrenalin, který mají zpravidla postižení u sebe ve formě jednorázového pera. Dále se podávají kortikoidy a antihistaminika. Imunosupresiva, léky potlačující imunitní systém, se podávají u chronické autoimunitní kopřivky a kopřivkové vaskulitidy.
Prevence kopřivky

Nejlepší prevencí kopřivky je výlučné kojení dítěte do jeho 6 měsíců a vyloučení některých alergenů ze stravy matky. Pokud nemůžete kojit, dávejte dítěti speciální mléčné přípravky s nízkým obsahem alergenů. Do jednoho roku dítěti vyřaďte ze stravy vaječný bílek.
Kopřivce můžete předejít životem ve zdravém prostředí, v okolí dítěte nekuřte, odstraňte koberce, klasické peřiny, nemějte doma dlouhosrstá zvířata. Lůžkoviny a závěsy perte minimálně na 60°C. Vyhýbejte se oblastem se silně znečištěným životním prostředím.  
Doporučení při kopřivce

Pokud se u vás opakovaně vyskytnou příznaky kopřivky, nechejte se vyšetřit. Nezoufejte, když se nedaří objasnit provokující faktor, často je pátrání dlouhé.
Pokud trpíte alergickou kopřivkou a znáte činitele, který projevuje výsev kopřivkových pupenů, vyhýbejte se mu. Noste kvalitní či vlněné oblečení, dlouhé koupele nahraďte vlažnou sprchou, vyvarujte se pocení. Používejte kosmetické přípravky, jež neobsahují parfémy a dráždivé konzervační látky, ale speciální nízce alergenní kosmetiku. Ke zmírnění kopřivkových projevů užívejte antihistaminika.