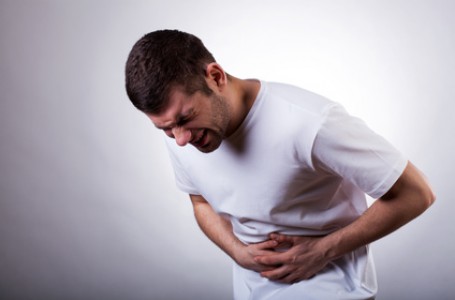 Dráždivý tračník se projevuje bolestmi břicha a střevními potížemi
Chronická porucha vyprazdňování spojená s bolestí břicha nebo břišním dyskomfortem se označuje jako dráždivý tračník. Jedná se o funkční poruchu trávení. To znamená, že dostupnými vyšetřovacími metodami nebyla zjištěna žádná příčina poruchy trávení. Potíže jsou chronické a objevují se v relativně mladém věku – mezi 30. a 40. rokem života. Pro dráždivý tračník je typický vznik bolesti břicha vázaný na změnu konzistence stolice nebo změnu frekvence vyprazdňování. Po vyprázdnění stolice se dostavuje úleva.
Funkční poruchy trávení
Funkční poruchy trávení jsou dlouhodobé obtíže trvalého nebo návratného charakteru, u kterých nebyla objevena organická příčina choroby. Tyto potíže jsou spojené s trávením v žaludku nebo ve střevech a odborně se označují jako žaludeční či střevní dyspepsie.
Funkční potíže jsou vázané na činnost trávicích orgánů, a tudíž i na jídle a trávení. Bývají provázené zjevnými příznaky trávicí poruchy – zvracením, průjmem, zácpou, nadýmáním či říháním.
Dráždivý tračník a jeho výskyt
Příznaky dráždivého tračníku se objevují u pětiny populace. Častěji jsou postiženy ženy, zejména mladší populace. Ve vyšším věku jsou střevní obtíže způsobené organickými chorobami uvnitř i mimo trávicí trakt. Důležitá je délka obtíží, pro diagnózu dráždivého tračníku alespoň 3 dny v měsíci po dobu nejméně třech měsíců.
Dráždivý tračník - příčiny
Na vzniku dráždivého tračníku se podílí celá řada vlivů. U každého nemocného se mohou různou mírou podílet následující faktory. Sklon k funkčním poruchám se často dědí.
Porucha činnosti tlustého střeva souvisí s abnormální koordinací jednotlivých oddílů střeva. Při průjmovité formě je zrychlená střevní peristaltika a naopak při zácpovité formě se peristaltika zpomaluje. Porucha střevní peristaltiky vede ke změnám v distribuci a vypuzování střevního plynu. Poruchy střevní peristaltiky může způsobit i vystupňovaný gastrokolický reflex, při kterém příjem potravy do žaludku vyvolá pohyby tlustého střeva. K poruše střevní činnosti přispívá i snížená nebo zvýšená citlivost rekta.
Střevní dyspepsii u třetiny nemocných předchází prodělaná střevní infekce. Střevní infekce může způsobit zánětlivé změny v nervových zakončením inervujících střevo (myenterický plexus).
Podstatný význam mají i psychologické faktory. Rizikovou skupinou jsou jedinci s déletrvajícím psychickým stresem a psychickým onemocněním, zejména úzkostnou poruchou nebo depresí.
Abnormální vnímání běžných pochodů v trávicí trubici (odborně viscerální hyperalgezie) může vést k funkční poruše střev. U většiny nemocných s funkční střevní poruchou bývá přítomná dysbalance vegetativního nervového systému.
Střevní potíže může způsobit i zvýšená sekrece vody, hlenu a minerálů sliznicí tlustého střeva, nesnášenlivost některých potravin a porucha vstřebávání cukrů, zejména mléčného cukru (laktózy).
Dráždivý tračník - příznaky
Střevní dyspepsie se projevuje pocity dyskomfortu v břiše často vystupňovaných až do nitrobřišních bolestí, průjmu a zácpy. Připojuje se zvýšené nadýmání a plynatost vedoucí k nafouknutí břicha, zejména odpoledne a večer.
Typy dráždivého tračníku
Průjmovitý typ dráždivého tračníku se projevuje křečovitými bolestmi v dolní polovině břicha, které se objevují před vyprázdněním. U někoho se objevuje pouze pocit nejistoty a "obolavění" břicha. Vyprázdnění předchází důrazné nucení na stolici (tenesmy). Stolice jsou málo objemné, je jich několik krátce po sobě a přetrvává pocit nedostatečného vyprázdnění. Obsah stolice je stále řidší, takže poslední porce má vyloženě tekutou konzistenci. Po defekaci dochází k výrazné úlevě. Frekventní stolice se typicky objevuje po ránu, často se u daných jedinců stávají součástí ranního rituálu. Obtíže jsou nezávislé na typu stravy i její úpravě. A navzdory četným stolicím nedochází k hubnutí.
Méně častou formou je zácpovitý typ dráždivého tračníku (spastická zácpa). Stolice je tuhá, tvrdá a bobkovitá, obtížně a nepravidelně se vyprazdňuje. Zvýšená náplň tlustého střeva způsobuje tlaky a bolesti břicha v levé části podbřišku. Nemocní rovněž trpí velkou únavou a nevýkonností, jejich psychické ladění vede k úvaze o možnostech larvované (skryté) deprese.
Při smíšené formě se střídají dny, kdy je stolice řidší a opakovaná, v jiných dnech má zácpovitý charakter. Forma stolice závisí psychickém rozpoložení a míře stresu. Jindy po vyprázdnění tuhé stolice odchází stále řidší a řidší stolice, často s hlenem. Bolesti břicha se objevují hlavně v podžeberní oblasti, kde se v ohybech tlustého střeva hromadí střevní plyn. Napodobují tak bolesti žlučníkového nebo slinivkového původu.
Dráždivý tračník a jeho diagnostika
Jestliže vás trápí trávicí potíže, vyhledejte lékaře zabývajícího se chorobami trávicího ústrojí – gastroenterologa. Nejprve se vás lékař bude ptát na vaše obtíže, onemocnění i rodinnou zátěži.
Funkční poruchy tlustého střeva nedoprovází teploty, hubnutí, krvácení do stolice nebo z konečníku. Potíže trvají delší dobu (měsíce až roky) a objevují se nejčastěji v mladším středním věku. Při běžném fyzikálním vyšetření nebývají zjištěné odchylky. Laboratorní vyšetření krve neodhalí žádné abnormality.
Ke stanovení diagnózy dráždivého tračníku jsou důležité typické příznaky a vyloučení organické příčiny onemocnění trávicího ústrojí.
Obvykle se kromě základního laboratorního vyšetření krve provádí i vyšetření speciálních protilátek (vyloučí se tak celiakie a nespecifické střevní záněty) a štítné žlázy. Následuje ultrazvuk břicha, který může odhalit nejčastější organické břišní potíže (žlučové kameny). Endoskopické vyšetření tlustého střeva, tzv. koloskopie, není u mladých jedinců nezbytná, avšak vzhledem ke chronicitě potíže se k ní dříve či později přistupuje. U osob starších 45 let se musí provést v každém případě. Bolesti břicha a střevní potíže může způsobit i močová infekce nebo gynekologická příčina, proto se nezapomíná ani na tato vyšetření.
Samozřejmě se může současně objevit funkční porucha i organické onemocnění a jen stěží lze odhalit, která choroba střevní potíže způsobuje. Často to bývá u divertikulární choroby, cholecystolitiázy (žlučníkových kamenů) nebo nespecifického střevního zánětu v klidové fázi.
Dráždivý tračník - léčba
Vyloučení organicity potíží je prvním krokem v léčbě, protože obava z organického onemocnění často zvyšuje intenzitu obtíží a po jeho vyloučení dochází k rychlejšímu ústupu potíží.
Terapie dráždivého tračníku je přísně individuální, kombinují se při ní režimová a dietní opatření, medikamentózní léčba a psychologická intervence. Protože není známá jednoznačná příčina, veškeré úsilí směřuje k mírnění nepříjemných projevů choroby.
Dietní a režimová opatření
Nedílnou součástí léčby dráždivého tračníku je úprava stravování, omezení příjmu tučných, kořeněných a dráždivých jídel, kávy, alkoholu a kouření. U většiny nemocných není přítomna závislost potíží na určitém typu potravy. Někteří jedinci dokonce tolerují "nedietní" jídla a obtíže u nich vyvolává konzumace lehké stravy. Přísná dieta tedy není nutná, strava by měla být především pestrá.
U někoho se může objevit individuální nesnášenlivost určitých potravin, například mléka. Těmto potravinám je nutné vyhýbat se.
Důležité je rovněž změnit životní styl a vyvarovat se stresovým situacím.
Psychologická intervence
Nejdůležitější součástí terapie je psychoterapeutická intervence. Jejím základem je navození dobrého vztahu a důvěry mezi lékařem a nemocným. Sám lékař (gastroenterolog, obecný internista nebo praktický lékař) funguje jako psychoterapeut. Dlouhodobě sleduje vývoj chorob a ujišťuje nemocného o benignosti ("malé závažnosti") potíží s poukazem na negativní výsledky provedených vyšetření. Snaží se zjistit vyvolávající faktory potíží a tyto informace využít v následující prevenci.
Medikamentózní léčba
Nejpřirozenějším lékem dráždivého tračníku je nevstřebatelná vláknina obsažená v potravě, především v cereáliích. Vláknina zvětšuje objem a změkčuje střevní obsah a tím napomáhá přirozené aktivita střeva. Její konzumace může u někoho zvyšovat pocity nadýmání, plynatost a celkový břišní dyskomfort. Dobře účinná je i vláknina obsažená v psylliu, pšeničných otrubách a kukuřičných lupínkách. Užívání vlákniny ve formě potravinových doplňků vyžaduje dostatečný příjem tekutin.
Průjmovitá forma se léčí antidiarhotiky. Nejčastěji se používají opioidní antidiarhotika Imodium či Loperamid. Zpomalují činnost střev, snižují sekreci vody a zvyšují napětí svěračů konečníku. Neovlivňují centrální nervový systém, takže nejsou návyková. Velmi dobrý efekt mají i střevní adsorbencia obsahující aktivní uhlí Carbosorb, Carbocit a Carbotox nebo látky zvyšující odolnost slizničního hlenu tlustého střeva jako je Smecta.
Zácpovitá forma se léčí osmotickými nebo objemovými projímadly, která jsou šetrná a vhodná k dlouhodobému používání. Mezi objemová projímadla patří vláknina. K dlouhodobé léčbě je vhodné i osmotické projímadlo Lactulosa. Tento syntetický nevstřebatelný cukr se působením střevních bakterií štěpí na osmoticky aktivní látky zadržující ve střevním obsahu vodu.
Nejúčinnějšími léky u nemocných s funkční poruchou střev jsou psychofarmaka. Antidepresiva ze skupiny SSRI, která brání zpětnému vychytávání serotoninu (působku podílejícího se na komunikaci nervových buněk v mozku). Podávají se v podstatně nižších dávkách než při léčbě psychiatrických onemocnění, dávka se postupně zvyšuje. Nejvíce používaný je Dogmatil, Prosulpin či Sulpirol. Příznivý účinek má i bicyklické antidepresivum Amitriptylin.
Křečovité bolesti břicha mírní spasmolytika. Snižují napětí hladké svaloviny trávicí trubice. Používají se buď v kombinaci s analgetiky (léky snižující bolest) jako Algifen a Analgin nebo s léky proti nadýmání (simeticon) Meteospasmyl. Cíleně spasmolyticky v trávicí trubici působí Duspatalin retard a Spasmomen. Výhodou je jejich rychlý nástup účinku, ale nevýhodou krátkodobý efekt.
Ke zmírnění projevů dráždivého tračníku přispívají i probiotika. Mění složení i metabolickou aktivitu střeva a tím příznivě ovlivňují střevní pohyby i sekreci vody v tlustém střevě.
Medikamentózní léčba má často funkci doplňkovou, někdy dokonce funkci placeba.
Prevence
Nejlepší prevencí dráždivého tračníku je dodržování zásad zdravé životosprávy. Dbejte na optimální skladbu jídelníčku se zastoupením jednotlivých výživových složek. Strava musí být pestrá, pravidelná a zdravá. Konzumujte dostatek vlákniny v cereáliích a luštěninách.
Vyvarujte se stresových situací. Udržujte se v psychické kondici tím, že si najdete čas na sebe, který budete věnovat svým zájmům – sportu, četbě, kultuře či přírodě. Ideální je, když část volného času strávíte sami a část se svou rodinou nebo přáteli.
Doporučení
Svému lékaři se svěřte se všemi vašemi potížemi, i když se vám bude zdát, že s trávicími obtížemi nesouvisí.
Vyhýbejte se konzumaci potravin, které u vás vyvolávají střevní potíže.