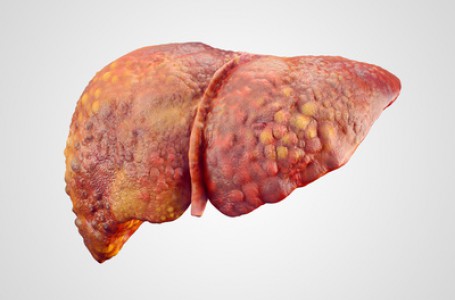 Cirhóza jater
Cirhóza jater je konečnou a nevratnou fází různých chronických jaterních onemocnění. Do stádia cirhózy se játra dostávají postupně po dostatečném rozšíření vazivové tkáně. Cirhóza vede k poruše jaterních funkcí a portální hypertenzi. Může mít řadu příčin, nejčastěji je důsledkem dlouhodobé konzumace alkoholu (chronického alkoholismu), virové hepatitidy C nebo kombinací těchto faktorů.
Výskyt cirhózy jater
Cirhóza jater je nejčastější nenádorová příčina úmrtí osob s onemocněním trávicího ústrojí. Její výskyt se obtížně stanovuje, neboť až ve 40% případů je bezpříznaková. Úmrtnost na jaterní cirhózu je ve vyspělých zemích přímo úměrná spotřebě čistého alkoholu na jednoho obyvatele. V České republice je to 15 úmrtí na 100 000 obyvatel.
Ve fázi kompenzované (téměř bezpříznakové) jaterní cirhózy mohou nemocní přežívat i více než 5 let. Pokud se objeví některá komplikace - ascites nebo krvácení z jícnových varixů, průměrně cirhotik přežívá 1 – 2 roky.
Játra
Játra jsou největší žlázou lidského těla a nejdůležitějším metabolickým orgánem celého organismu. Probíhá v nich zpracování tuků, cukrů i bílkovin, produkují žluč, tvoří se v ní některé hormony, bílkoviny krevní plazmy, ukládá se v nich železo a glykogen (zásobní forma cukru) a zajišťují detoxikaci organismu.
Hlavní součástí jater je žlázový jaterní parenchym tvořený jaterními buňkami (hepatocyty). Jaterní buňky jsou uspořádané do trámců vytvářejících hranolovité lalůčky. Trámce se sbíhají směrem ke středu lalůčku, kde probíhá (centrální) žíla. Do ní ústí drobné jaterní cévky (sinusoidy) omývající jaterní buňky, z nich odebírají potřebné i toxické látky. Odpadní látky jsou odváděny žlučovými kanálky štěrbinami mezi jaterními buňkami v podobě žluči.
Portální oběh
Vrátnicová (portální) žíla přivádí do jater krev z nepárových orgánů břišní dutiny. Její větve se dostávají k jednotlivým jaterním buňkám a směřují do sinusoid mezi jaterními trámci. Od toxických látek očištěná krev se ze sinusoid sbíhá do centrální žíly a směřuje směrem do dolní duté žíly.
Cirhóza jater - příčina
Nejčastější příčinou přestavby jaterní tkáně je dlouhodobá konzumace alkoholu. Cirhózu jater u mužů způsobí pravidelný příjem 80 g alkoholu denně po dobu 20 let, což odpovídá 3 - 4 skleničkám (0,2 dcl) vína, (0,5 l) piva či "panákových skleniček" (0,05 l) destilátu. Pro ženy je škodlivá dávka až o 2/3 nižší. Pokud se k pravidelnému popíjení připojí i infekce virem hepatitidy B a C, podvýživa nebo dědičné faktory (přítomnost jaterní cirhózy u blízkého rodinného příslušníka), nebezpečí je již při poloviční dávce. U nadměrného pití může dojít ke vzniku cirhózy jater již během 18 měsíců.
Téměř stejně často je jaterní cirhóza způsobena virovou infekci – virem hepatitidy B a C. Akutní jaterní zánět předchází do chronicity u 5% u VHB a 90% u VHC. Infekce se přenáší krví a sexuální cestou. Nejohroženější skupinou jsou nitrožilní narkomani.
Podstatně méně častou příčinou je ucpání žlučových cest vyvolávající dlouhodobé městnání žluči v jaterních žlučových cestách při tzv. biliární cirhóze. Při primární biliární cirhóze jsou jaterní žlučové cesty poškozeny autoimunitním procesem. Sekundární biliární cirhózu způsobí dlouhodobá přítomnost žlučových kamínků v jaterním žlučovodu, chronický zánět slinivky břišní nebo její nádor. Žluč může městnat i u některých případů cystické fibrózy.
Podobné změny však mohou vyvolat nejrůznější toxiny – průmyslová rozpouštědla, překročená denní dávka paracetamolu či toxiny muchomůrky hlízovité.
Jaterní cirhóza může být způsobena i nepříliš častými infekcemi (brucelózou nebo echinokokovou infekcí) či vrozeným metabolickým onemocněním (Wilsonovou chorobou nebo hemochromatózou). Mnohdy se příčinu cirhózy jater nepodaří stanovit.
Jak vypadají játra postižená jaterní cirhózou?
Tvorba vazivové tkáně tzv. fibróza a přestavba jater je následkem odumření normálních jaterních buněk. Zbytky jaterní tkáně uzlovitě regenerují a obklopují se zmnoženým vazivem. Tvoří se vazivové uzly a mizí funkční tkáň schopná vykonávat životně důležité jaterní funkce.
Přechod od chronických zánětlivých změn a fibrózy (při chronické hepatitidě) do stádia jaterní cirhózy je postupný a nesnadno se stanovuje hranice mezi těmito dvěma chorobami. Rozhodující je, že játra nedokážou tvořit potřebné produkty a zbavovat organismus toxických látek.
Cirhóza jater - příznaky
Jaterní cirhóza se projevuje nejrůznějšími způsoby. Někteří "cirhotici" nemívají žádné příznaky, jiné trápí neurčité trávicí potíže. U malého procenta se vyvine jaterní selhání.
Trávicí (tzv. dyspeptické) potíže mívají charakter – průjmů, nechutenství a neurčitých bolestí břicha. U alkoholických jaterních cirhóz se objevuje dlouhodobě zvýšená teplota.
Pokud se organismus dokáže se zhoršením jaterních funkcí vyrovnat, hovoří se o kompenzované jaterní cirhóze. "Cirhotik" nemá žlutou kůži ani bělima, netrápí ho krvácivé projevy ani otoky nohou.
Při dekompenzované jaterní cirhóze má nemocný ikterus (žloutenku), projevující se žlutou kůží a očním bělima. Dále trpí krvácivými epizodami, mávavým třesem (flapping tremor), v břiše má přítomnou volnou tekutinu (ascites), otékají mu nohy a mívá poruchou vědomí a chování.
Velkým nebezpečím je vznik jaterního karcinomu, který v terénu jaterní cirhózy vzniká daleko častěji nežli ve zdravé tkáni. Přítomnost nádoru v játrech se může projevit zhoršením celkového stavu i jaterních funkcí.
Portální hypertenze
Při jaterní cirhóze dochází k poškození drobných cév (sinusoid) odvádějících odpadní látky z jaterních buněk, což se projeví zvýšeným tlakem ve vrátnicové (portální) žíle.
Vzestup portálního tlaku vede ke k tomu, že si krev z periferie hledá jinou cestu k srdci a vznikají cévní spojky (tzv. kolaterály). Nejdůležitější jsou spojky v oblasti dolní poloviny jícnu a horní části žaludku, v okolí rekta - hemoroidy a mezi žilním řečištěm sleziny a levé ledviny. Cévní spojky s sebou nesou riziko krvácení při jejich prasknutí, způsobují horší jaterní prokrvení, omezenou regeneraci jaterní tkáně a tím další zhoršení jaterních funkcí.
Krevními kolaterálami teče větší množství krve, krevní cévy se roztahují. Roztažení cév podporuje i řada působků vyplavujících se z jater (glukagon, některé endotoxiny). Dochází ke hromadění krve v útrobní oblasti a nedostatečném prokrvení dalších orgánů. Organismus na to reaguje prostřednictvím vegetativního nervového systému a hormonálního systému hromaděním sodíku a vody v těle. Vznikají otoky, v dutině břišní se hromadí volná tekutina tzv. ascites.
Příznaky z portální hypertenze
Zvýšený krevní průtok a roztažení cév se projevuje celou řadou příznaků. Na obličeji, horních končetinách a horní části trupu se objevují klubíčka roztažených cév, tzv. pavoučkové névy. V břišní stěně se roztahují drobné žíly. Zčervenání kůže ve dlaních tzv. palmární erytém je způsobené zvýšenou cirkulací krve cévním řečištěm.
Častým důsledkem portální hypertenze je krvácení z jícnových varixů. Projeví se zvracením čerstvé krve a mazlavě černou stolicí – melénou, která vznikne natrávením krve. Krvácení bývá masivní, ohrožuje nemocného velkou ztrátou krve a šokovým stavem.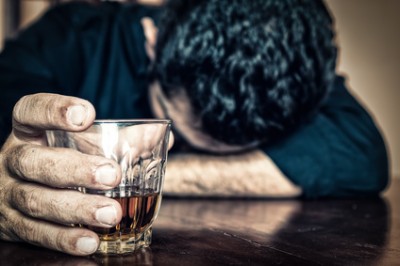 Jaterní cirhóza
Diagnostika cirhózy jater
Jestliže pravidelně konzumujete alkohol, máte trávicí či krvácivé potíže nebo jste náhle "zežloutli", navštivte svého praktického lékaře či odborníka na trávicí ústrojí – gastroenterologa.
Lékař se vás nejprve bude ptát na vaše potíže, délku jejich trvání a možné vyvolávající faktory. Dále provede fyzikální vyšetření, jehož součástí je vyšetření břicha pohmatem (může nahmatat zvětšená uzlovitá játra) či poslechem (zjistí přítomnost volné tekutiny v břiše tzv. ascites). Následuje laboratorní vyšetření krve hodnotící funkci krevního srážení a jaterních enzymů. Při jaterní cirhóze bývá pokles krevních destiček a zpomalení srážecích funkcí krve. Jaterní testy ukazují na vyšší hladiny jaterních enzymů v krvi (ALT, AST, GMT), jsou způsobené zvýšeným rozpadem jaterních buněk. Při žlutém zabarvení kůže a bělima je zvýšená hladina žlutého barviva bilirubinu (vznikající při rozpadu červených krvinek, konkrétně hemoglobinu). Při těžším postižení se v játrech tvoří méně bílkovin krevní plazmy, což je průkazné zejména poklesem albuminu v krvi.
Ke stanovení diagnózy je nezbytný průkaz jaterní přestavby při ultrazvukovém nebo CT vyšetření. Odběr vzorku jaterní tkáně (jaterní biopsie) není podmínkou k určení choroby. Pro léčbu jaterní cirhózy je důležité stanovení příčiny, což může být hodně obtížné.
Klasifikace cirhózy jater
Ke stanovení závažnosti onemocnění, jeho prognóze i adekvátní léčbě se jaterní cirhóza klasifikuje podle Child-Pugh klasifikace vycházející z laboratorních a klinických známek poruchy jaterní tkáně. Hodnotí se přítomnost ascitu, stupeň poruchy mozkových funkcí (jaterní encefalopatie), hladina bilirubinu a albuminu. Tři stupně této klasifikace vyjadřují funkční schopnost jater v jednotlivých stádiích.
Jaterní cirhóza - léčba
Zásadní snahou je odstranění či léčba příčiny jaterní cirhózy. Odstraněním příčiny lze zpomalit nebo i zastavit zánětlivý proces. Jestliže již dojde k přestavbě jaterní tkáně a vzniku vazivových (cirhotických) uzlů, následuje pouze terapie symptomatická, mírnící obtíže nemocného. Součástí terapie je relativní klidový režim a vyhýbání se tělesné námaze. Poslední možností léčby je pak transplantace jater.
Léčba příčiny jaterní cirhózy
U alkoholické jaterní cirhózy je základním opatřením abstinence, která většinou zabrání dalšímu zhoršování choroby. Podávání glukokortikoidů, imunosupresiv, interferonů, antivirotik v případě autoimunitní nebo postvirové jaterní cirhózy se jeví jako bezvýznamná. Jediným řešením je transplantace jater.
Při primární biliární cirhóze zhoršování choroby zpomalí podávání Ursosanu nebo Ursofalku, snižuje totiž koncentraci toxických žlučových kyselin. Imusopresiva (Prednison, Sandimmun, Imuran) mohou být při primární biliární cirhóze efektivní. Řešením je jaterní transplantace, i když k poškození žlučových cest může dojít i v transplantovaných játrech.
Sekundární biliární cirhóza se léčí uvolněním (dekompresí) žlučových cest chirurgicky nebo zavedením drénu.
Medikamentózní léčba cirhózy jater
Při léčbě jaterní cirhózy se plošně kortikoidy (Prednison) zásadně nepoužívají. Význam mohou mít při léčbě autoimunitní hepatitidy s přechodem do jaterní cirhózy, při pokročilé cirhóze je jejich efekt problematický. U podpůrných léků (hepatoprotektiv) jako Silymarin, Flavibion, Lagosa nebyl prokázán žádný významný vliv zlepšení prognózy pacientů s jaterní cirhózou.
Výživa při jaterní cirhóze
Závažné poškození funkce jater má vliv na metabolické pochody v celém organismu. Mezi nejdůležitější zásahy patří snížení tvorby bílkovin v játrech, proto je nezbytný zvýšený příjem bílkovin v kvalitním bílém masu, vejcích, luštěninách a mléčných výrobcích. Tuky jsou omezeny, mastí se poloviční dávkou tuku pouze čerstvým nepřepáleným máslem. Přísun ovoce a zeleniny je téměř neomezený. Nezbytnou součástí výživy je dostatečné hrazení vitamínů rozpustných v tucích A, D, E a K i vitamínů ze skupiny B, vitamínu C a kyseliny listové.
Z léčivých bylin se pije čaj z ostropestřce mariánského, jehož vyluhováním se uvolňuje stejná látka jako z výše uvedených hepatoprotektiv.
Transplantace jater
Transplantace jater se volí u nemocných, kteří jsou ohrožení progresí jaterní cirhózy s následným úmrtím zhruba do jednoho roku. Transplantace jater je zachraňující léčebnou metodou umožňující dlouhodobé přežití s vysokou kvalitou života. Pětileté přežití je u transplantovaných pacientů je okolo 85%. U alkoholické cirhózy je předpokladem transplantace šestiměsíční abstinence. Po transplantaci je nutné doživotní užívání léků potlačujících funkci imunitního systému.
Prevence cirhózy jater
Nejlepší prevencí alkoholické jaterní cirhózy je abstinence. Omezte konzumaci alkoholu na minimum, zvláště pokud se někdo z vašich přímých příbuzných léčil s jaterní cirhózou.
Virus hepatitidy B a C se přenáší krví a sexuální cestou. K nákaze může dojít při společném užívání injekčních stříkaček mezi uživateli drog nebo půjčování předmětů osobní hygieny (zejména holicí strojky). Nenechávejte si dělat tetování nebo nastřelovat piercing tam, kde můžete předpokládat, že se nedodržují principy dostatečné sterilizace nástrojů. Při rizikovém sexuálním chování použijte prezervativ.
Doporučení spojená s problémem cirhózy jater
Pokud se u vás nebo vašeho příbuzného objeví žluté zbarvení kůže, nechejte se co nejdříve vyšetřit. Včasné zahájení léčby může u jaterní cirhózy výrazně prodloužit život i jeho kvalitu.
Cirhotická játra představují vysoké riziko nádorového bujení. Pravděpodobnost vzniku karcinomu jater u osoby s jaterní cirhózou během 5 let dosahuje 20%. Proto nepodceňujte kontroly u svého gastroenterologa.