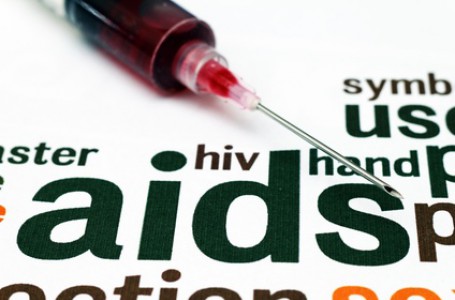 AIDS
AIDS je zkratkou z anglického Acquired Immune Deficiency Syndrome, což neznamená onemocnění jako takové, ale soubor určitých příznaků typických pro onemocnění virem HIV (Human Immunodeficiency Virus). Většinou se jako AIDS označuje plné propuknutí nemoci. AIDS se česky označuje jako syndrom získané imunodeficience, syndrom získaného selhání imunity nebo někdy také jako onemocnění HIV nebo HIV pozitivita, což není úplně správné vyjádření, protože osoba HIV pozitivní nemusí vždy mít příznaky pro AIDS. AIDS spíše vyjadřuje podstatu celého onemocnění. Postupně během měsíců až let dochází ke ztrátě imunity neboli obranyschopnosti organismu. Lidské tělo se tak stává velmi náchylné k infekcím a různým nádorům.
Historicky si větší pozornosti toto onemocnění získalo v 80. letech minulého století. Od té doby celosvětově AIDS podlehly miliony lidí a díky tomu se AIDS považuje za jednu z největších hrozeb současnosti.
Příčiny vzniku AIDS
Příčinou vzniku AIDS je předchozí nakažení se HIV (Human Immunodeficiency Virus). Jde o virus, který postupně způsobí ztrátu obranyschopnosti lidského organismu. Po vstupu do těla se virus množí a napadá určitou skupinu bílých krvinek (T lymfocytů), jejichž cílem je za normálních okolností bránit tělo před různými infekcemi.
Existuje několik možností vstupu viru do lidského těla. Asi nejčastější možností v dnešní době je přenos sexuálním kontaktem, kdy nezáleží na typu pohlaví. Přenos je tak jednoduše možný jak mezi ženou a mužem, taky mezi dvěma ženami či dvěma muži. Druhou, stále poměrně častou možností, je přenos krevní cestou. Typicky se uvádí přenos HIV u injekčních uživatelů drog, kdy si mezi sebou narkomani půjčují jehly a takto dojde k nákaze. Bohužel ale může dojít krevní cestou k nákaze při poranění lékaře a infikování krví pacienta (krvavé operace, odběry krve) nebo z pacienta na pacienta (krevní transfuze, dialýza atd.), dále pak při tetování nebo půjčováním si žiletek. Třetím častým způsobem je přenos infekce z nakažené matky na plod nebo nákaza na novorozence při porodu či při kojení. Uvádí se řada dalších možností přenosu, ale většinou jde jen o raritní případy málo pravděpodobné (sliny, slzy).
Příznaky AIDS
Jakmile HIV vstoupí do těla, většinou se infekce projeví jako lehké nachlazení, příznaky charakteru chřipky (únava, teplota, bolest kloubů) a po té se velmi často odmlčí na poměrně dlouhou dobu. Ani diagnostické testy neukážou pozitivitu přítomnosti viru okamžitě, je potřeba několika týdnů, aby mohly být odhaleny. Bezpříznakové období trvá u některých jedinců týdny, u jiných měsíce až roky. Jde o bezpříznakové nosičství HIV, ale nosič může viry dále přenášet, aniž by o tom kdokoliv z účastněných věděl. Je možné, že nakažený jedinec bude celý život pouze přenašečem, ale onemocnění u něj nikdy nevypukne. U většiny nemocných dochází k projevům onemocnění během 5 - 15 let po nakažení se. Jakmile se virus HIV dostane do těla, změní strukturu napadených zdravých buněk, a to tak, že začlení svůj vlastní kód do genetického materiálu napadené buňky. Tím se stane trvale její součástí.
Průběh AIDS
Jak už bylo řečeno, prvním krokem je primoinfekce neboli kontakt s nakaženým a přenos HIV na dalšího člověka. Jako reakce na první výskyt HIV v těle může dojít ke zvětšení mízních uzlin na krku, v podpaží nebo v tříslech. Typická je zvýšená teplota nebo horečka s nočním pocením. Objevit se může také zarudnutí nosohltanu, rýma, zimnice, bolesti kloubů, bolest hlavy a celková únava. Možná je také přítomnost vyrážky kdekoliv po těle, pocit nevolnosti až zvracení, nechutenství, průjem, afty v ústech.
Tento akutní stav trvá většinou 2 týdny a samovolně odezní. Velmi často nemocný ani nevyhledá lékaře, onemocnění tzv. přechodí. Po primoinfekci následuje asymptomatické období. Toto období je velmi individuální, může trvat týdny, měsíce až roky. Většina nemocných udává, že v tomto období neměla žádné větší obtíže. Pokud se potíže objevily, jednalo se nejčastěji o opětovné zvětšení uzlin, které trvalo i několik měsíců, úbytek tělesné hmotnosti, noční pocení, herpetické infekce, průjmy, přetrvávající horečka. Většinou jde o příznaky, které nejsou specifické jen pro HIV infekci, ale pro celou řadu dalších onemocnění. Po tomto různě dlouhém období následuje klinicky rozvinuté stadium HIV infekce, které je odborně nazýváno AIDS. Toto třetí stadium se bez léčby objevuje asi 10 - 15 let po primoinfekci. Imunitní systém už je značně poškozen a účinnost boje s infekcemi (bakterie, viry, plísně) a ochrana proti nádorům je slabší a slabší. Většina T lymfocytů je napadena HIV virem a cesta k infekci je tak plně otevřena.
Poslední a konečné čtvrté stadium nemoci je plně rozvinutý AIDS. Pro toto období jsou typické infekce oportunními patogeny, což jsou mikroby, které jsou běžně mezi námi, ale zdravý člověk se s nimi rychle vypořádá bez toho, aby si toho vůbec všimnul. Nemocný AIDS naopak boj s nimi může rychle prohrát. Tyto mikroby napadají nejčastěji trávicí trakt (průjmy), kůži (ekzémy a plísňová onemocnění), mozek (neurologické změny) a plíce (opakované dlouhotrvající záněty plic a dýchacích cest). Velmi často se objevují kandidózy, a to jak v oblasti orofaryngu, tak u žen vulvovanitidy. Dále může dojít k výsevu herpes zoster (pásový opar). Další typickou infekcí pro AIDS je pneumocystová pneumonie, toxoplazmová encefalitida, chronický herpes simplex, cytomegalovirové infekce, vracející se salmonelové průjmy a další. Velmi časté jsou také nádory a další typické příznaky. Nádor, který vidíme prakticky pouze u nemocných AIDS je Kaposiho sarkom, jde o kožní změny a tvorba uzlů. Léze postihují kůži, ale také lymfatické uzliny nebo plíce. Lymfomy jsou dalším typem zhoubných nádorů, kdy jsou primárně postiženy lymfatické uzliny. U žen se mohou objevit agresivní formy nádoru děložního hrdla. U nemocných AIDS se objevují také neurologické změny jako další typické příznaky (problémy s rovnováhou, výpadky paměti, psychotické stavy, zmatenost), a pokud není nemocný adekvátně léčen, může se vyskytnout celkové chřadnutí.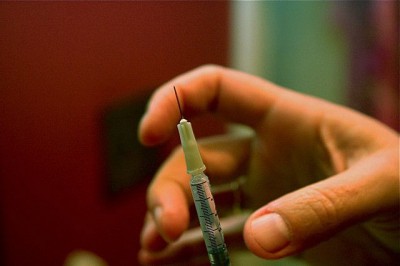 Typicky se uvádí přenos HIV u injekčních uživatelů drog, kdy si mezi sebou narkomani půjčují jehly a takto dojde k nákaze.
Diagnostika onemocnění HIV a AIDS
Onemocnění HIV se projevuje velmi pestrými příznaky, které by především v počátcích onemocnění šly běžně přiřadit k jinému častějšímu onemocnění jako je chřipka, mononukleóza nebo exantém apod. Za 3 - 8 týdnů od nakažení se se objeví příznaky primoinfekce, po té se nemoc může odmlčet až na několik let. Proto je jasné, že pouze z klinických projevů usuzovat na HIV infekci není úplně nejjednodušší. V případě konečných fází AIDS už je to o něco jednodušší, protože nákaza oportunními patogeny nebo některé nádory jsou typické pro AIDS. Pomoci v diagnostice nám tedy mohou laboratorní vyšetření.
Jednou z možností by bylo sledování specificky nakažených CD4 T lymfocytů, kdy se jejich množství postupně snižuje. Jakmile dojde ke snížení pod 500/mm3, asymptomatické období většinou přechází do symptomatického. K diagnostice HIV infekce řadíme průkaz specifických protilátek proti HIV. Je to metoda spolehlivá a velmi citlivá. Nutné je odebrat asi 10 ml krve. Tato metoda se používá rutinně nejen u podezření z nakažení, ale také preventivně u dárců krve, tak aby byla infekce včas zachycena a nedošlo k přenosu HIV na pacienta, který potřebuje krevní transfuzi.
Nutné je u všech testů myslet na to, že někteří nakažení jedinci mohou být testovaní v období, kdy ještě není možné infekci HIV odhalit, proto se krev u dárců testuje ještě jednou po určité době od odběru krve a stejně tak u podezření z nakažení dotyčného vyšetři ještě jednou po určité době od prvního testování. Tato doba byla stanovena na dobu 3 měsíců. Stejně tak je vhodné testovat opakovaně pacienta, u kterého byla zjištěna pozitivita a hrozí riziko falešné pozitivity. Další metodou detekce HIV je přímý průkaz virů nebo průkaz virového genomu, ale tyto metody se používají spíše jako výzkumné a ne v běžné praxi. K obou je potřeba odebrat asi 10 ml krve.
Léčba AIDS
Do roku 1985 nemocní prakticky umírali bez jakékoliv možnosti pomoci. V tomto roce byl představen první lék azydothymidin, často označován jako zidovudin (zkratka AZT). Lék se řadí do skupiny inhibitorů reverzní transkriptázy a díky němu se řadě nemocných podařilo prodloužit život. V té době to byl jediný užívaný lék, používal se ve vysokých dávkách a měl bohužel také řadu nežádoucích účinků. Postupně byly objeveny další a další účinné léky. Všechny tyto léky mají léčivý efekt, ale dosud nebyl objeven žádný, který by onemocnění zcela vyléčil. Zidovudin se ale používá dodnes. Přesto se ale život nemocných jednoznačně zlepšil a délka přežívání se z prognostických původních 15 let prodloužila až o desítky let. Nově objevené léky působí odlišně než zidovudin, který působil na úrovni enzymu viru, který měl za úkol přepsangentické informace viru do lidské buňky. Nové léky fungují na bázi inhibice vstupu viru do buňky. Tím se brání nakažení dalších buněk. Stále ale na léky během dlouhodobé léčby vzniká rezistence, dávky se musí zvyšovat a nakonec lék přestane fungovat úplně.
Prevence AIDS a nákazy HIV
Základem prevence AIDS je to, aby vůbec nedošlo k nákaze virem HIV. Prevence závisí na principech přenosu z člověka na člověka. Pokud tedy zabráníme přenosu infekce, onemocnění se vůbec nerozvine. Podle tří základních způsobů přenosu je možné se infekci účinně bránit. První způsob je stejně jako u ostatních sexuálně přenosných chorob vhodný výběr sexuálních partnerů a používání bariérových ochranných prostředků (prezervativ). Ty mají vysokou účinnost, pokud se používají tak, jak mají. Nutné je připomenout, že hormonální antikoncepce, přerušovaná soulož nebo antispermicidní gely jako účinná ochrana nefungují.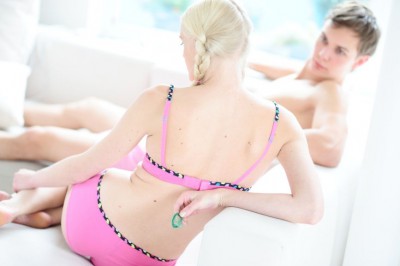 Prevencí proti AIDS je vhodný výběr sexuálních partnerů a používání bariérových ochranných prostředků při sexu.
Při krevním přenosu je situace trošku složitější. Při injekčních aplikací, jak drog, tak léků, je nutné používat jednorázové jehly, důkladně sterilizovat veškeré pomůcky, které přišly do kontaktu s krví a používat další ochranné pomůcky jako jsou rukavice nebo ochranné brýle. Především u velmi krvavých operací je nutno dbát zvýšené opatrnosti tak, aby se lékař nebo další personál nepořezal, nepíchnul apod. Pokud se dostanete k nehodě neznámého člověka, dbejte zvýšené opatrnosti. Použijte rukavic, pokud je nemáte, myslete vždy nejdříve na svoji bezpečnost. U dárcovství krve je nutné krev dárců několikrát testovat.
V případě dialýzy je situace složitější, nutné je opět veškeré nemocné testovat a případně dispenzarizovat nemocné. V případě HIV pozitivity matky je nutno dbát zvýšené opatrnosti tak, aby se přenos na dítě eliminoval co nejvíce. Nemocným ženám se pak nedoporučuje kojit. V budoucnosti se v oblasti prevence uvažuje o možnosti očkování proti HIV. Snahy vynaleznout takovou vakcínu zatím ale nejsou úspěšné. V případě pořezání se nebo píchnutí se jehlou, jejíž uživatel je HIV pozitivní, existuje prevence ve smyslu důkladné ošetření a desinfekce rány a podávání antiretrovirik po dobu jednoho měsíce. Většinou k nákaze pak nedojde. Metoda se dá využít i v případě sexuálního kontakti s nemocnou osobou, ale účinnost je pak nižší.