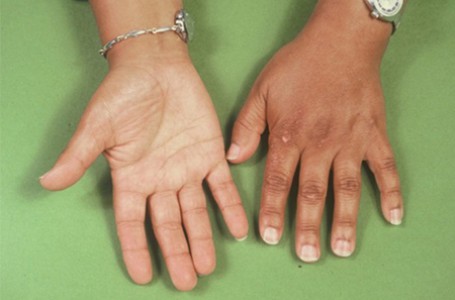 Addisonova choroba příznaky a léčba
Addisonova choroba je onemocnění, které jako první popsal britský lékař Thomas Addison. Jde o chronickou nedostatečnou funkci kůry nadledvin. K označení onemocnění se používá řada výrazů jako hypokortikalismus, Addisonova nemoc, Addisonův syndrom, chronický panhypokortikalismus, nedostatečnost kůry nadledvin, insuficience kůry nadledvin nebo také hypokortizolismus. Podstatou onemocnění je tedy selhání nadledvinek.
Nadledvinky jsou endokrinní žlázy v oblasti horních pólů ledvin a jejich úkolem je vylučování hormonů. Skládají se ze dřeně a kůry. Každá z oblastí má za úkol vylučovat jiný typ hormonů. Kůra neboli kortex produkuje a vylučuje kortikosteroidy kortizol a aldosteron a pohlavní hormony, zatímco dřeň produkuje stresové hormony adrenalin a noradrenalin. Kortizol je glukokortikoidní hormon, který má na starosti připravit tělo na zátěž. Zvyšuje hladinu glukózy v krvi a má protizánětlivé účinky. Aldosteron je mineralokortikoidní hormon, jehož úkolem je zjednodušeně řečeno řízení množství vody v těle. Tvorba obou hormonů kůry nadledvin je zpětnovazebně řízena z hypofýzy.
Addisonova choroba - příčina vzniku
Addisonova choroba je nepříliš časté onemocnění, bez správné diagnostiky a léčby může ale být až smrtelné. Nemoc je spojena s poruchou tvorby hormonů kůry nadledvin - kortizolu a aldosteronu, kdy dochází k nedostatku těchto hormonů. Rozlišují se dvě základní příčiny. Primární nedostatečnost nadledvin, kdy je chyba v samotných nadledvinách a sekundární nedostatečnost, kdy je porucha na straně hypothalamu nebo hypofýzy, které řídí z mozku produkci těchto hormonů v nadledvinách. Pro objevení se příznaků nedostatečnosti nadledvin musí být tvorba hormonů snížena asi o 80 - 90%.
Nejčastější příčinou primární nedostatečnosti je autoimunitní zánět. To znamená, že tělo samo tvoří protilátky proti vlastním buňkám, v tomto případě proti buňkám kůry nadledvin. Příčina tvorby těchto protilátek není zcela známá, roli může hrát stres, dědičnost nebo prodělaná virová infekce. Díky autoimunitnímu procesu dojde k atrofii kůry nadledvin (zmenšení). Méně častou jinou možností poničení kůry nadledvin je nádor v této oblasti, granulom při tuberkulóze nebo zánět nadledvin. Další možností je také užívání léků blokujících tvorbu hormonů (příkladem je ketokonazol užívaný k léčbě plísňových onemocnění).
Pro projevy Addisonovy choroby je nutné, aby bylo postižení oboustranné, to znamená, aby byly postiženy obě nadledviny. Jedna zdravá by totiž byla schopna sama vyprodukovat dostatek hormonů. Co se týká sekundární nebo také centrální formy Addisonovy choroby, jde o poškození hypotalamu nebo hypofýzy, což jsou oblasti v mozku. Nejčastěji k poškození dochází vznikem nádoru nebo úrazem. V těchto případech pak nedochází k produkci řídících hormonů, které dále ovlivňují zpětnovazebně tvorbu hormonů v nadledvinách.
Průběh Addisonovy choroby
Základem onemocnění je nedostatek hormonů produkovaných nadledvinami, a to především mineralokortikoidů kortizolu a aldosteronu. Addisonova choroba může z počátku probíhat jako pouhá únava, ochablost svalů a nechutenství. Může se přidat průjem, tmavnutí pokožky (ukládání pigmentu) a snížení krevního tlaku. S rozvojem onemocnění se objevuje podrážděnost, zvracení, snížená hodnota glukózy v krvi. Se změnou hodnoty glukózy se objevuje snížená hladina sodíku a naopak zvýšená hladina draslíku v krvi. Pokud situace vygraduje až v kritický nedostatek kortikoidů, dochází ke vzniku adrenokortikální krize. Nemocný ztrácí tekutiny, krevní tlak je nízký a hrozí až hypovolemický šok.
Kortikoidy jsou hormony nezbytné ke zvládnutí stresu (jsou součástí stresové osy) a aldosteron pak k řízení množství tekutin v těle. Nedostatek aldosteronu způsobí zvýšené vylučování sodíku a s ním i vody z těla a naopak zvýšené zadržování draslíku. Ztráta sodíku s vodou se projeví dehydratací a nízkým krevním tlakem. Díky tomu nemocný může pociťovat závratě až mdloby, může upadnou až do krátkodobého bezvědomí. Objevuje se zvýšená chuť na slané a žíznivost. V horším případě hrozí až šok. Zvýšená hladina draslíku má pak neblahé účinky na srdeční aktivitu, kdy se mohou objevovat arytmie až srdeční zástava. Nedostatek kortizolu se pak projevuje sníženou hladinou glukózy v krvi. Na sníženou hladinu hormonů nadledvin automaticky zareaguje hypothalamus a hypofýza a začne produkovat zvýšené množství nadřazených hormonů, které by za normálních okolností podpořily tvorbu hormonů nadledvin. K tomu ale nedojde a naopak dochází k nadprodukci nadřazeného hormonu ACTH (adrenokortikotropní hormon) spolu s melanocyty stimulujícím hormonem, který má pak na svědomí zvýšenou tvorbu melaninu a ukládání pigmentů především v oblasti genitálu, řitního otvoru, kolem prsou, na dlaních, obličeji atd. Vznikají tak tzv. grafitové skvrny i na sliznicích úst.
Pokud je příčinou vzniku Addisonovy choroby poškození hypothalamu a snížená tvorba řídících hormonů jako je ACTH, který normálně stimuluje tvorbu glukokortikoidů v nadledvinách, onemocnění se projevuje většinou bez ztrát sodíku a vody, tím bez hypotenze, protože ACTH má na tvorbu aldosteronu menší vliv než na tvorbu kortizolu. Dochází tak především ke snížené hladině glukózy v krvi, projevy onemocnění jsou celkově mírnější. Jako Addisonská krize se označuje život ohrožující stav, kdy tělo zcela postrádá k životu důležité hormony nadledvin. Krize se projevuje jako prudká bolest v oblasti beder, břicha a nohou, zvracení a průjem, dramaticky se sníží krevní tlak a hrozí upadnutí do bezvědomí se šokem.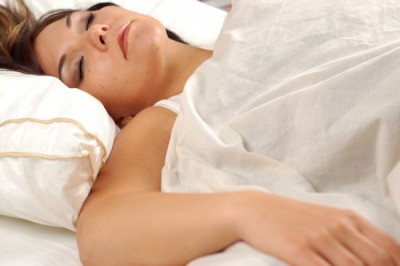 Addisonova choroba může z počátku probíhat jako pouhá únava, ochablost svalů a nechutenství.
Diagnostika Addisonovy choroby
Již zmíněné příznaky především s hypotenzí (sníženým krevním tlakem), zvýšenou pigmentací, sníženou hladinou glukózy a sodíku a zvýšenou hladinou draslíku mohou lékaře postupně navést na toto onemocnění. Hodnoty se dají jednoduše zjistit z odebraného vzorku krve spolu s hladinami hormonů (ACTH, kortizol a aldosteron). Hodnota kortizolu je v případě Addisonovy choroby snížena vždy, ostatní hormony pak podle příčiny Addisonovy choroby (zda jde o periferní nebo centrální formu). ACTH je sníženo pouze při centrální formě, pokud je příčinou poškození nadledvin, ACTH bude zvýšené, protože se snaží dohonit ztráty hormonů nadledvin zvýšením vlastní koncentrace.
Při autoimunitním poškození nadledvin je možné v krvi najít protilátky zaměřené proti buňkám nadledvin. Další formou vyšetření je ultrazvukové vyšetření nadledvin, kdy je možné ozřejmit jejich velikost a tvar. Ultrazvuk ozřejmí také případné krvácení v oblasti nadledvin nebo rostoucí tumor. Při podezření na centrální formu je důležité zobrazit hypothalamus a hypofýzu (podvěsek mozkový), a to nejlépe CT nebo MRI. Tyto metody by měly ukázat, zda nejde o nádor v mozku nebo krvácení po úrazu.
Léčba Addisonovy choroby
Nadledviny jsou životně důležité orgány. Život bez nich není možný. Onemocnění Addisonovou chorobou je proto velmi vážná situace a bez rychlé diagnostiky a léčby hrozí nemocnému smrt. Žlázami s vnitřní sekrecí a hormonální disbalancí se zabývá endokrinolog. V akutní fázi je nutné doplnit ztracené tekutiny, sodík (NaCl) a glukózu. Léčba musí být zahájena okamžitě po stanovení diagnózy. Dlouhodobě je pak léčba založena na podávání uměle připravených chybějících hormonů. Stav se většinou rychle zlepšuje, počáteční dávky hormonů se pomalu snižují k nejnižším možným reagujícím hodnotám.
Pokud je Addisonova choroba způsobena infekcí, nutná je také léčba této infekce nebo jiného onemocnění (tuberkulóza). V případě stálé nedostatečnosti nadledvin je hormonální léčba doživotní. Přirozeně tvořící se kortizon je nahrazován syntetickým hydrokortizonem neoprednisonem. Aldosteron je nahrazován syntetickým fludrokortizonem.
Léky je možné podávat intravenózně (do žíly) nebo jako tablety ústy. Princip léčby spočívá v doplnění chybějících hormonů, ale také napodobení množství, které tělo normálně vytvoří a také denní dobu nebo životní situaci. Nejnutnější bývá náhrada hormonů ráno, jinak pak před stresovými situacemi, před případnou operací nebo při infekci (tělo by přirozeně samo reagovalo zvýšenou tvorbou hormonů v těchto situacích).
Při užívání syntetických glukokortikoidů se může objevit řada nežádoucích účinků jako poškození žaludku s krvácením, vznik strií na kůži, ztráta svalové hmoty především na dolních končetinách, ukládání tuků a zadržování vody s centrální obezitou (hubené tyčkoidní nohy a velké břicho, oteklé tváře), vzniká tak obraz měsíčkovitého obličeje. Pacientům užívajícím dlouhodobě vyšší dávky glukokortikoidů hrozí osteoporóza, vznik cukrovky atd. S dlouhodobou náhradou potřebných hormonů je nemocný schopen normálního plnohodnotného života. Velmi důležité je, aby nemocný náhradu hormonů opravdu pravidelně užíval, protože při vynechání několika dávek hrozí Addisonská krize se vznikem šoku až úmrtí.
Možnosti prevence Addisonovy choroby
Možností prevence tohoto onemocnění není mnoho, pokud je příčinou onemocnění autoimunitní poškození nadledvin. V tomto případě se doporučuje jako u všech nemocí s neznámou příčinou vzniku zdravý životní styl, eliminovat životní stres, dostatek spánku a v případě autoimunitních nemocí také řádná léčba vzniklých infekcí. Příčinou onemocnění může být úraz s poškozením nadledvin nebo mozku, prevence úrazů nebývá jednoduchá, důležité je používat ochranné pomůcky při sportu (helmy), bezpečnostní pásy ve vozidle apod.
Pokud máte jakékoliv podezření na nádor (bolesti břicha, bolesti hlavy), nutné je ihned vyhledat lékaře a situaci řešit. Pokud k onemocnění Addisonovou chorobou už došlo, nutná je prevence vzniku Addisonské krize. Proto je nutné užívat předepsanou medikaci, vhodné je nosit náramek nebo osobní doklad s označením nemoci, aby v případě bezvědomí mohla být zahájena léčba co nejdříve.