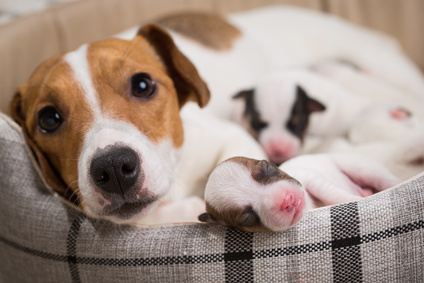 Březí fena potřebuje speciální péči. Postarejte se o mazlíčka správně
Čekání na příchod štěňátek je krásným obdobím, na které se dobře připravujeme. Předtím, než nám břibydou noví mazlíčci do domácnosti, se ale musíme správně postarat o nastávající maminku. Březí fena má totiž větší nároky. Pečujeme nejen o její zdraví, ale i o zdraví štěňátek. Proto poradíme, co březí fena potřebuje, co musí obsahovat granule pro březí a kojící feny a také řekneme, jak dlouho je fena březí.
Jak dlouho je fena březí?
Doba, jak dlouho je fena březí, je poměrně krátká. Štěňata přijdou na svět už dva měsíce po početí.
Čas, po který je fena březí, se může lišit. Záleží nejen na plemeni, ale i na těle naší fenky. Stejně jako u lidí je březost feny individuální. Průměrně trvá 63 dní, ale může být až o šest dnů delší či kratší.
Březost feny nám potvrdí ultrazvukové vyšetření u veterináře. Dělá se v 21. dni těhotenství.
V posledním týdnu těhotenství začne být fenka nervózní a plašší. Bude se schovávat a hledat místo na nadcházející porod. Bude také méně jíst.
Že jsou štěňata na cestě poznáme podle změny teploty fenky. Z normálních 38,5 °C klesá teplota na 37 °C. Poté porod obvykle přichází do 12 až 24 hodin. Je dobré o porodu vědět hned v jeho počátcích. Proto v posledním týdnu březosti měřme fence teplotu dvakrát denně rektálním teploměrem. 
Příznaky, že je fenka březí
Březí fena je

zdráhavější

a

opatrnější

.
Fence se začíná

zvětšovat bříško

.
Můžeme si všimnou

zvětšených mléčných žláz

.
Fence začíná z mléčných žláz vytékat

mléčný sekret

.
Březí fena může mít

vaginální výtok

.
Březí fena potřebuje více krmiva
Březí fena potřebuje jíst větší dávky krmiva, než byla doposud zvyklá. 
Podobně jako ženy, i fenky mohou trpět nevolnostmi. I větší dávky krmiva jí nemusí zpočátku dělat dobře. Nemusíme mít obavy, vše se časem zpraví. Pokud by ovšem březí fena zvracela hodně nebo nepřijímala vůbec žádné krmivo, kontaktujme veterináře.
V pátém týdnu březosti začněme dávku krmiva každý týden zvyšovat. Na konci devátého týdne by březí fena měla jíst o třetinu více granulí, než před začátkem březosti.
 Na jídelníček zařaďte granule pro březí a kojící feny
Březí fena potřebuje jiné stravování, než obvykle. Živiny, které získává z běžného krmiva, už jejím potřebám nestačí. Potřebuje výživu nejen pro sebe, ale i pro štěňata. Proto je pro jejich zdravý vývoj nezbytné zajistit feně kvalitní granule pro březí a kojící feny. V opačném případě hazardujeme se zdravím štěňat i fenky.
Základem je

vyšší příjem bílkovin

a

vyšší kalorická hodnota

krmiva.

Jako

granule pro březí a kojící feny

se většinou používají

granule pro štěňata

. Výživová hodnota takového krmiva stačí jak pro fenku, tak i její potomky. 

Ideálně se březí fena začne krmit novými granulemi

ještě před plánovaným krytím.

Přechod na nové krmivo musí být

pozvolný

. Nejprve se přimíchá trocha nového krmiva do toho stávajícího, postupně se podíl granulí pro březí a kojící feny zvyšuje. Nakonec se klasické krmivo vynechá úplně. Tento proces by měl trvat mezi jedním až dvěma týdny.

S podáváním speciálních granulí pokračujme i během přikrmování štěňat až do jejich odstavení.

Nebojme se

poradit s veterinářem

. Krmení naší fenky může mít speciální nároky kvůli jejímu zdravotnímu stavu.
Březí fena potřebuje kondici, klid a hnízdo
1. Čerstvá voda
Podobně jako je důležité krmivo, je podstatný i dostatečný příjem tekutin. Zajistěme fence neustálý přístup k čerstvé vodě. V opačném případě se může březost zkomplikovat a fence zaděláváme na zdravotní problémy. Ke konci těhotenství bude pohyb pro fenku obtížnější. Proto je vhodné doma rozmístit více misek s vodou.
2. Časté procházky
Březí fena potřebuje být v kondici. O to snazší pro ní bude porod. Na druhou stranu by se neměla příliš vyčerpávat. Berme ji na kratší, ale častější vycházky. Jak se bude porod blížit, bude fenka více unavená. Proto ji na vycházkách nepřetěžujme.
3. Klidový režim
Vynechejme tréninky, výstavy a jiné náročné aktivity. Fenka nesmí být vyčerpaná a vystavená zbytečnému stresu. Neměla by se dostávat do potyček s jinými psy, například v parcích. Ostatní zvířata by ji mohla ublížit.
4. Budování hnízda
S blížícím se porodem vybudujme fence místo, kde porodí a zůstane se štěňaty. Postačí krabice vystlaná čistým prostěradlem a ručníky.  Hodit se bude i deka. Krabice by měla být dostatečně vysoká, aby z ní štěňata nevyskočila, zároveň by se do ní měla matka i se všemi potomky pohodlně vlézt. Krabici dejme na klidné místo, kde fenku a štěňata nebude nic rušit. 
Důležitá je i pokojová teplota. Fenka si ke konci březosti začne sama takové místo hledat. Může se stát, že se rozhodne porodit jinde. Přesto ji zkusme nasměrovat do námi vybraného příbytku.
5. Pravidelné odčervení
Březí fena potřebuje pravidelné odčervování. Nemusíte mít obavy, odčervení neublíží ani fence, ani štěňatům. Naopak zabrání nakažení štěňat parazity. Opačně to ale platí v případě očkování. Březí fena by se neměla nechávat očkovat. Pokud jí vychází termín očkování zrovna na období březosti, vše zkonzultujme s veterinářem.
Rozbalit všechny příspěvky
Video týdne
Taky se občas po práci cítíte tak, že si říkáte: ať mi všichni třeba vlezou na záda!? Dnes už prostě nic dělat nebudu...
Příběh zvířátka
Říkají mi Rago, Ragoušku, Ragajdo, Rufajdo, nebo když si vypůjčím třeba botu, tak křičí Ragíííno! (to je povel k držení v zubech, to já už poznám)...