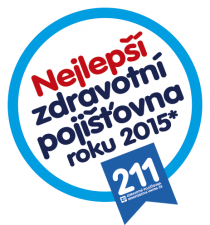 Zdravotní pojišťovna roku 2015Co čekáte od nejlepší zdravotní pojišťovny v zemi? "Něco navíc, co jiní nenabízejí a dobrou reputaci," svěřuje se pětadvacetiletá Andrea a hned dodává: "Moje pojišťovna 211, což je pojišťovna ministerstva vnitra, taková je. Je živější, vstřícnější a teď vyhrála anketu o nejlepší pojišťovnu roku." 
Andrea si pochvaluje webové stránky Zdraví jako vášeň, zaměřené na podporu zdravého životního stylu, a také užitečného pomocníka v podobě Karty života: "Díky Kartě života máme všichni v rodině dokonalý přehled o tom, co s námi lékaři dělali a kolik to stálo. Máme totiž možnost kdykoliv chceme nahlížet do výpisu vykázané péče. A kdo si nemůže Kartu života vynachválit, je naše babča. Vždycky u doktora vytáhne mobil, kde má z Karty života stažený seznam léků, a je za hvězdu, že si všechno tak dobře pamatuje. Prostě, v dvěstějedenáctce pro nás pořád něco vymýšlejí. A to se mi líbí," říká nadšeně Andrea. 
Je tady zlatá
A má pravdu i s tím oceněním. Zdravotní pojišťovna ministerstva vnitra se může od nynějška pyšnit označením Zdravotní pojišťovna roku 2015. Vyhrála totiž v anketě HealthCare Institute mezi řediteli nemocnic, praktickými lékaři a ambulantními specialisty a také mezi samotnými pacienty.
"Klientům platíme i nejmodernější a tudíž nejdražší zdravotní péči. Například za léčbu jedné klientky, trpící vzácnou chorobou, jsme jen loni zaplatili přes 17 milionů korun. Za ozařování protony našich klientů jsme zatím vydali 15 milionů korun. Ročně zaplatíme za léčení klientů více než 26 miliard korun," říká tisková mluvčí ZP 211 Hana Kadečková.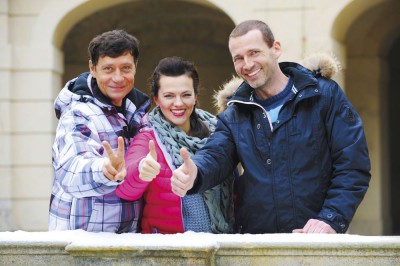 Pojišťovna ministerstva vnitra
Sto deset milionů na prevenci
Nejde však jen o částky na léčení, ZP 211 svým klientům dopřává prostřednictvím fondu prevence i řadu bonusů a výhod. "Chceme, aby naši klienti patřili k lidem žijícím zdravý, aktivní a plnohodnotný život až do pozdního věku a děláme pro to hodně," vysvětluje Kadečková. Na prevenci pojišťovna ročně vydává přes 110 milionů korun. Bonusový program zahrnuje příspěvky na očkování, nejrůznější vyšetření, sportovní aktivity a řadu dalších.
Součástí  projektu Zdraví jako vášeň je například i program Změním se. K zdravějšímu způsobu života zde klienty ZP 211 vede známý specialista na výživu Petr Havlíček.
A zdá se, že soustavné úsilí zdravotní pojišťovny 211 oceňují nejen její klienti, kteří jí v absolutní většině zůstávají věrní, ale začínají i ti, kteří zatím byli pojištěni jinde. V lednu 2016 k ZP 211 totiž přišlo z konkurenčních pojišťoven téměř 35 000 nových klientů. 
Přihlásit se můžete už v prvním čtvrtletí
Chcete se k těm nejlepším připojit i vy? Chcete být součástí 1,26 milionového týmu?  Můžete se přihlásit hned v průběhu ledna až března. Od druhého pololetí roku 2016 pak už budete u své nové ZP 211.