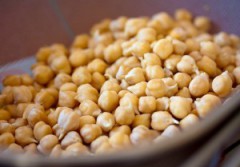 Jedním z pilířů dobré kondice, prevence civilizačních chorob a celkově zdravého životního stylu je bezpochyby i odpovídající strava. V té by mimo jiného neměly chybět ani luštěniny, často v jídelníčku tuzemských domácností opomíjené. Cizrna patří mezi nejhodnotnější druhy, které dodají tělu látky podporující zdraví i boj proti případným škodlivinám. A navíc skvěle chutná a dá se připravovat mnoha způsoby. Co je cizrna a jak ji lze zakomponovat do běžného vaření?
Zdravá strava, to je pojem, kterého se mnozí bojí. Představují si totiž, že jakmile je něco zdravé, je to zaručeně bez jakékoliv chuti. Tento ustálený nesprávný názor je však možné lehce vyvrátit. Pokud se zdravé potraviny příhodně upraví, pak jsou nejen prospěšné, ale opravdu chutné. To stejné platí pro cizrnu, která je oblíbena především v kuchyních středomořských a blízkovýchodních států. Pro své jedinečné vlastnosti se však rozšířila po celém světě a své místo si vydobývá i u nás. Říká se o ní, že je možné jí nahradit maso, a tak je rostlinou, bez níž se neobejdou vegetariáni. O vhodnosti jejího používání byly přesvědčeny i dávné civilizace, protože cizrna je známa už několik tisíc let.
Co je cizrna?
Jak už bylo výše zmíněno, cizrna je luštěnina, která se svým vzhledem podobá hrášku. Oproti němu má však trochu větší velikost a žlutou barvu. Občas se lze díky tomu setkat i s názvem "římský hrách". Chutí může vzdáleně připomínat lískový oříšek, a z tohoto hlediska je proto mnohými před hrachem upřednostňována. Existuje na 40 druhů této rostliny, nicméně domestikace se dočkala především cizrna beraní. V obchodech je cizrna k dostání v suchém stavu, ale také v konzervě, což umožňuje využívat ji při přípravě rozličných pokrmů. Hodí se jako hlavní chod (díky vyváženému obsahu všech důležitých živin), dále do polévek, salátů, pomazánek, ale také jako samostatná příloha nebo doplněk brambor či těstovin.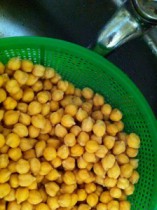 Cizrnou lze po úpravě nahradit i pochutiny, které si lidé rádi dopřávají při sledování televize, což jsou populární brambůrky, slané tyčinky nebo pražené oříšky. Hledáte-li tip na zdravé mlsání, pak může být cizrna jednou z velmi dobrých a výživovými poradci doporučovaných voleb.
Cizrna – nejkvalitnější luštěnina
Pro významný obsah polysacharidů, bílkovin a vlákniny a dalších zdraví prospěšných látek je cizrna často označována jako nejkvalitnější luštěnina. Je zdrojem nejdůležitějších živin, v jejichž výčtu chybí pouze vitamin B, ten však nenajdete u žádné rostlinné potraviny. Lidskému tělu dodá také spoustu energie, ve 100 gramech přibližně 360 kcal. V cizrně se tedy nachází:
Jak lidskému tělu prospěje pravidelná konzumace?
Pokud se ve vašem jídelníčku bude cizrna objevovat často, uděláte pro své zdraví opravdu mnoho dobrého. Díky svému jedinečnému složení podporuje cizrna vzdor vůči stárnutí. Pomáhá totiž s obnovou buněk i regenerací obecně. Také posiluje imunitní systém, který zvláště v dnešní uspěchané době bývá ohrožován mnohými negativními vlivy. Cizrna napomáhá v boji proti vysokému cholesterolu (díky kvalitním tukům a vláknině), čímž pomůže předcházet arterioskleróze a infarktu myokardu, a v neposlední řadě zvýší obranu nervové soustavy před působením stresu (díky vitaminu B), který sužuje téměř každého z nás. Vzhledem k tomu, že cizrna obsahuje velké množství vlákniny, je výrazným činitelem při podpoře správné činnosti trávicího traktu. Opomenout se nesmí ani vhodnost pro těhotné ženy, a to díky kyselině listové, která uchrání plod před případnými vrozenými vadami nervové soustavy.
Cizrna - recepty
Cizrnu je možné vařit, péct i smažit, a to v závislosti na tom, v jakém stavu si ji za účelem konzumace pořídíte. Sterilovaná v plechovce je jednodušší z hlediska dalšího zpracování, v suché formě se jí však připisují větší výživové hodnoty. Je však nutné ji před zpracováním nejlépe na 24 hodin namočit, aby nebylo její vstřebání v trávicí soustavě tak těžké. Vůbec nejlepší je nechat cizrnu odstát ve vodě zhruba 48 hodin, aby naklíčila. Vodu je nutné vyměňovat, aby se nezkazila. Odměnou za trpělivost je pak cizrna ještě o něco zdravější, vstřebatelnější a chutnější. Aby cizrna nenadýmala, je dobré ji připravovat s bazalkou, oregánem nebo například majoránkou.
Základem užití cizrny je její vaření. To je třeba provádět v odkryté nádobě, do měkkého stavu ji přivedete mírným varem po dobu 1 až 2 hodin (záleží na osobních preferencích, jak chcete cizrnu měkkou). K osolení vody je dobré přistoupit až ke konci vaření, poté se voda scedí a cizrna je připravena. Pokud chcete zjemnit její chuť nebo se potýkáte se špatným trávením, je vhodné odstranit z jednotlivých bobulí slupku, což by bylo jednotlivě velmi náročné, a tak je nejlepší čerstvě uvařenou cizrnu zalít studenou vodou a počkat, až se slupky začnou oddělovat. Poté se cizrna promne v rukách, obdobně jako když se propírá rýže. Následně slupky vyplavou na hladinu vody a tím je celý proces u konce.
Cizrna a recepty z ní jsou výborným obohacením chutí, které si běžně ve svých stravovacích návycích dopřáváme. Přinášíme vám proto vybrané cizrna recepty, které jsou snadno zvládnutelné a přináší do jídelníčku změnu, která je navíc velmi prospěšná.
Ingredience:
200 až 300 g cizrny
1 až 2 středně velké cibule
2 stroužky česneku
pažitka
sůl, pepř
Jak se pomazánka z cizrny připraví?
Uvařená cizrna se rozmixuje na pastu, která se následně osolí a lehce opepří. Nakonec se zapracuje jemně nastrouhaná cibule a vymačkaný česnek. Nejlépe se hodí k celozrnnému pečivu, kdy se po natření dozdobí pažitkou.
Cizrnová polévka
Ingredience:
350 až 400 g sterilované cizrny
2 velké cibule
3 mrkve
lžička nastrouhaného zázvoru
2 až 3 stroužky česneku
1 l zeleninového vývaru
olej
sůl, pepř a garam masala
Jak se cizrnová polévka připraví?
Na oleji je třeba osmahnout jemně nakrájenou cibuli, česnek a zázvor. Do směsi se přidá koření garam masala a zhruba po 2 minutách míchání se následně přilije vývar a nakrájená mrkev. Po mírném vaření v délce trvání 15 minut se přidá scezená a propláchnutá cizrna. Po smíchání odeberte přibližně polovinu obsahu, který rozmixujete a opět přidáte zpět. Na závěr polévku osolte a opepřete dle chuti.
Karbanátky z cizrny
Ingredience:
350 až 400 g sterilované cizrny
1 až 2 středně velké cibule
3 stroužky česneku
1 až 2 vejce (dle velikosti)
3 lžíce hladké mouky
lžička mletého kmínu
lžička mleté sladké papriky
lžička mletého koriandru
olej
sůl, pepř
Jak se karbanátky z cizrny připraví?
Propláchnutou cizrnu rozmačkejte vidličkou a smíchejte s utřeným česnekem, jemně nakrájenou cibulí, vejci, moukou a kořením. Nakonec osolte podle chuti. Vzniklou směs, která nesmí být řídká, ani příliš hutná, nechte zhruba 45 minut v chladu odležet. Poté vytvářejte placičky a smažte na oleji dozlatova.
Cizrna je jedinečnou rostlinou, která by neměla chybět na talíři nikoho, kdo chce sobě a svým blízkým dopřávat zdravou a kvalitní stravu, s níž bude tělo lépe odolávat všem nežádoucím vlivům, které na něho každodenně útočí. Recepty z cizrny umožňují připravit tuto rostlinu nápaditými a lahodnými způsoby, aby obohacování těla důležitými látkami bylo co nejpříjemnější.