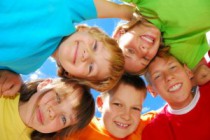 Společenské hry mají odjakživa příznivce mezi malými i dospělými, protože umožňují příjemné strávení chvil okořeněných špetkou napětí, soutěživosti a hlavně pořádnou dávkou zábavy. V nabídce internetového hračkářství Hračkárna je možné vybírat mezi oblíbenými (nejen) stolními hrami, bez kterých se neobejde téměř žádná rodina.
Jen těžko si lze představit dětství, ve kterém nejsou hry nejčastější náplní volného času. Je úplně jedno, zda se u nich sejdou jen sourozenci či se zapojí i táta s mámou, hlavní je, že se nad nimi každý určitě hodně pobaví. A nejen to. Společenské hry utužují vztahy a pomáhají zlepšovat práci s vlastní fantazií. Hry jsou zkrátka důležitým faktorem ovlivňující přirozený vývoj všech dovedností a znalostí.
Hry rozvíjí logické myšlení i smysl pro fair play
Hračky se u dítěte podílejí na tom, jak vnímá svět a jak se v něm dokáže chovat. Mají tedy své nezastupitelné místo v jeho životě. Vhodně vybrané hry podpoří smysl pro logiku i fair play. Dítě se učí uvažovat strategicky a korigovat své kroky. V neposlední řadě se u stolních her učí trpělivosti a zdravému soutěžení bez podvádění a lží. Stanovená pravidla ukazují ratolesti, že je třeba držet se daných informací, aby se svým úsilím dostalo do kýženého cíle. Vědomě i nevědomě pak děti své zkušeností z hraní promítají do vlastního života.
Nuda už nebude mít šanci
Největším nepřítelem dobré nálady je jednoznačně nuda, která otráví děti i dospělé a dokáže silně demotivovat. Smysluplnou obranou proti ní mohou být právě společenské hry, které si můžete jednoduše zakoupit v internetovém hračkářství Hračkárna, které svou širokou nabídkou uspokojí i ty nejnáročnější. Zapomeňte na nudu, která vás sužuje při dlouhých cestách. S cestovními verzemi známých her jí nedáte žádnou šanci. Hromadnou zábavu v kombinaci s pohybem zažijete při sportovních variantách, stálicí pro dlouhé zimní večery je i legendární pexeso, u kterého si vy i vaše děti ověříte, jak jste na tom s pamětí. Stolní hry jsou univerzálním společníkem, se kterým se nudit rozhodně nebudete!
Operace nanečisto – originální hra pro malé doktory
Aktuálním hitem mezi společenskými hrami je Operace, při které si dítě může vyzkoušet, jaké to je být doktorem. Úkolem je zachránit pacienta Sama. A to není vůbec snadné, protože úspěšná léčba závisí především na trpělivosti, postřehu a rychlých reakcích! Zvukové efekty ukazují, zda zvolený postup operace Samovi pomáhá nebo nikoliv. Dítě se u této hry nejen pobaví, ale také se dozví základní informace o lidském těle a jeho fungování. Úspěšné provedené zákroky pomohou pacientovi Samovi, aby byl opět zdravý jako rybička.
Společenské hry by proto neměly chybět v žádném dětském pokojíčku. Nechte se inspirovat naším tipem a pořiďte své ratolesti nápaditou a žádanou hru Operace, u které zažije spoustu legrace, ale také se dozví plno zajímavých informací. Zahrajte si spolu s ním a vyžeňte nudu z vašeho domova. Stolní hry vás opravdu nadchnou!