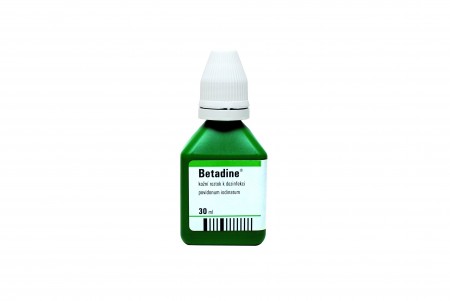 Betadine je účinná desinfekce, která je vhodná nejen pro děti.Konečně je tady jaro, a s ním i radost z pohybu a více času stráveného na čerstvém vzduchu. Nerozhýbané tělo ale může brzy potkat úraz. Odřeniny z pádů z kolečkových bruslí, škrábance z kola, uklouznutí při běhu nebo fotbalu, to vše na jaře hrozí o něco víc než po zbytek roku. Vybavený sportovec s sebou nosí vše, co se mu může v případě nouze hodit – včetně účinné a šetrné dezinfekce.
Vybavený sportovec
Kolo může po jarním deštíku snadno podklouznout, u kolečkových bruslí stačí najet na větvičku, běžec zakopne raz dva, a turista se může odřít při výstupu na skalní vyhlídku. Účinná dezinfekce v batohu, ledvince nebo cyklobrašně se tak hodí vždy. Roztok nebo mast Betadine® pomůže i v případě štípnutí nebo kousnutí hmyzem.
Betadine® v domácí lékárničce
Obzvláště děti jsou s jarním sluncem jako z divokých vajec. Když přijdou domů s odřenými koleny a lokty, štěstí přeje připraveným. Ani v domácí lékárničce by neměl chybět Betadine®. S ním zranění ošetříte účinně a bezbolestně – vždyť to nejmenší, co každá maminka chce, je způsobit svému dítěti další bolest štípající dezinfekcí.
Betadine® nepálí!
Přestože se říkalo, že čím více dezinfekce v ráně pálí, tím je čištění důkladnější, s přípravkem Betadine® to neplatí. Lihové dezinfekční prostředky při aplikaci pálí a štípou. Přípravek Betadine® je na bázi vodního roztoku, obsahuje aktivní dezinfekční prvek povidovaný jód, a díky tomu jeho aplikace nepálí. Rána je důkladně vyčištěná, neboť přípravek Betadine® má rychlý baktericidní účinek.
Desinfekce Betadine nepálí. Nejen proto je tolik oblíbená u rodičů dětí.
Betadine® – dezinfekční léčivý prostředek pro první pomoc používaný lékaři a zdravotníky ve více než 70 zemích světa obsahuje povidonum iodinatum. Před užitím přípravku si pozorně přečtěte příbalový leták.
Mast: kód SÚKL 0062320 (balení 20 g), a roztok: kód SÚKL 0062315 (balení 30 ml). Více informací na https://www.facebook.com/betadine.cz