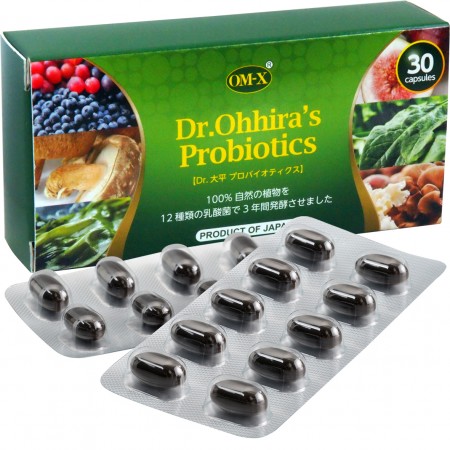 Probiotika s množstvím živých bakterií a laktobacilů.Na co užívat probiotika? Na střeva, imunitu, při Crohnově chorobě, ulcerózní kolitidě nebo zánětu močových cest? Ano. A nejen v těchto případech. A kdy užívat prebiotika? Při konzumaci nezdravé stravy, při, anebo po, užívání antibiotik? Ano. A nejen v těchto případech.
Jak se ale vyznat v tom, co a kdy? Odpověď je snadná. Když chcete pro své tělo to nejlepší, zvolte kombinaci obojího. Probiotika s množstvím živých bakterií, laktobacilů, upravují zažívání a naladí střevní mikroflóru na zdravou strunu. Prebiotika jsou zjednodušeně řečeno vláknina a cukry, pomáhající probiotikům s očistou střev. A obojí, spolu ruku v ruce, bojují za naše zdraví.
Nechce se vám polykat dva druhy doplňků stravy? Nemusíte. Vsaďte na OMX probiotika.
OMX, víc než jen probiotika
Až z dalekého Japonska přichází jedinečná OMX probiotika. Na rozdíl od běžně dostupných probiotik jsou OMX zpracovávána čistě přírodním způsobem. Tříletá fermentace rostlinných složek dává vznik probiotické směsi s obsahem vlastních prebiotik, vlákniny, oligosacharidů, polyfenolů a enzymů.
V čele 12 druhů bakterií mléčného kvašení stojí jedinečný bakteriální kmen TH 10. Tato, doktorem Ohrirou patentovaná skupina bakterií, má až 6x silnější účinnost v boji za zdravá střeva, než ostatní, doposud známé kmeny. Přesto mohou OMX probiotika užívat i osoby s nejcitlivějším zažíváním (střevní záněty, bakteriální přerůstání, atd). Unikátní způsob výroby OMX probiotik má velikou výhodu v tom, že nevychází z mléčného základu. Tato probiotika tedy neobsahují laktózu, mléčné bílkoviny, lepek ani další alergeny, které bývají u lidí s citlivým trávicím traktem velmi problematické a často znemožňují jakékoli použití běžně dostupných probiotik.
Unikátní kombinace zdraví prospěšných látek je přesně to, po čem vaše střeva volají, pokud nejste schopni dodávat tělu užitečné bakterie běžnou stravou, užíváte ATB nebo trpíte jakoukoliv chorobou. Zdravá střevní mikroflóra je první krok k cestě za uzdravením celého organismu.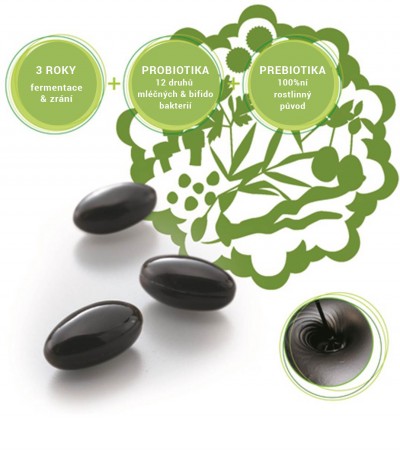 Imunitní systém člověka je až ze 70% ve střevech.
Probiotika pro děti nebo v těhotenství?
Ano. OMX probiotika díky přírodnímu způsobu zpracování neobsahují zmíněné problematické složky a potenciální alergeny. Jsou proto vhodná pro děti, těhotné ženy (u těhotných žen a děti je ale samozřejmě vhodné se poradit s lékařem před použitím jakéhokoli potravního doplňku), lidi trpící Crohnovou chorobou, ulcerózní kolitidou, syndromem dráždivého střeva nebo oslabenou imunitou. A že doopravdy napomáhají k lepšímu zdravotnímu stavu, nejlépe dokazují skutečné příběhy skutečných lidí.
Vstříc brzkému uzdravení
I když váš život nesužuje žádné chronické onemocnění, je nejvyšší čas vykročit vstříc brzkému uzdravení. Dnešní doba plná stresu, rychlého stravování a sedavého způsobu života, zanechává v našem těle stopy. Naštěstí pro nás, existuje způsob jak tyto šrámy způsobené našim životní stylem, zacelovat. Chytrými probiotiky OMX. Tak proč s jejich užívání ještě otálet?
Posílení imunitního systému
Říká se, že imunitní systém člověka je až ze 70% ve střevech. Právě proto je důležité o svá střeva pečovat. Ve zdravém prostředí střev se imunitním buňkám daří dobře prospívat a pečovat o celkovou pohodu organismu. Jste-li náchylní k častým nemocem, doplňte svůj jídelníček nejen o vitamíny, ale i o probiotika. Jejich účinnost poznáte hned v okamžiku, kdy projdete okolo člověka s rýmou a sami zůstanete zcela v kondici. Jaký to rozdíl, oproti období před probiotiky. Posilování imunitního systému není žádná věda. Stačí jen spolknout jednu tobolku OMX denně a můžete vyrazit vstříc aktivnímu životu.