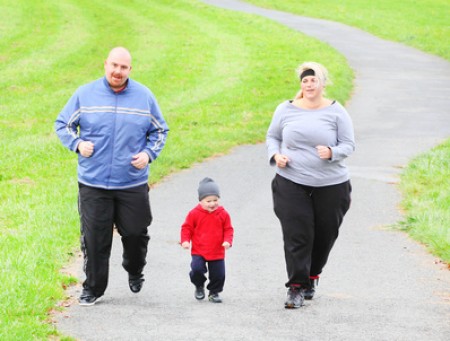 Hubnutí po porodu
Nabraná kila po porodu nejdou dolů, a i když se snažíme sebevíc, číslo na váze zůstává stále stejné. Hubnutí po porodu může být opravdu oříšek, jsme totiž v jednom kole a veškerý náš čas zaměstnává péče o miminko. My vám ale poradíme, jak účinně a zdravě nadbytečnou váhu shodit. Nejenom, že opět získáme sebevědomí, budeme i zdravější a energičtější.
Čemu se při hubnutí po porodu vyhnout?
Poporodní kila nepodceňujme

. Mohly by s námi zůstat na pěkně

dlouhou dobu. Raději hned začněme s novou životosprávou.

Nebuďme na sebe příliš tvrdé.

Chce to čas. Navíc je porod pro tělo

velmi náročný, musí se po něm zotavit. Přílišnými nároky si můžeme ublížit.

Stres nám jen přitíží.

Pokud bychom si zvolily náročnou dietu, bude to společně s mateřskými starostmi silná dávka stresu. A díky stresu může být hubnutí po porodu nejenom těžší, ale můžeme ještě více přibírat.

Špatný způsob hubnutí může mít vliv na kojení

. Co jíme, jí potom i naše miminko. Když budeme jíst špatně anebo málo, miminku to nemusí prospívat.
Jak zhubnout po porodu: 5 účinných kroků
Hubnutí po porodu má jedno základní pravidlo: rychlé hubnutí není zdravé hubnutí. Aby nová životospráva našemu organismu opravdu prospěla, nespěchejme. Jinak váhu nabereme stejně tak rychle, jako jsme ji shodily. Buďme vytrvalé alespoň několik měsíců, vyplatí se to. Naše tělo se měnilo po celých devět měsíců. Nemůžeme od něj chtít, aby se opět změnilo za pár týdnů.
Zdravá strava je základ
Jezme zdravě. Netýrejme se hlady ani nevyhledávejme kalorické bomby anebo příliš tučná jídla. Zdravá a pestrá strava je základem k úspěchu. Dejme si pozor na svačinky, prospějí nám třeba jablka, mrkve anebo pšeničné krekry. Měly bychom mít příjem mezi až 8400 kJ denně. Méně pro nás, a kvůli kojení ani pro miminko, není zdravé.
Jezme pravidelně a nepřejídejme se
Známé pravidlo pěti jídel denně platí i pro maminky. Správně bychom měly jíst každé tři hodiny. Nezapomínejme na snídani a dopřávejme si ke každému jídlu zeleninu anebo ovoce. S ovocem to ale nepřehánějme, to stačí třikrát denně. Dejme si pozor na velikost porcí, nepřejídejme se.
Vybírejme kvalitní potraviny
Složení našeho jídla nám také může dopomoct k úspěšnému hubnutí. Maminky obzvlášť potřebují dostatek kvalitních živin nejen pro sebe, ale i pro své miminko. A co mezi takové potraviny patří?
Ryby, které jsou bohatým zdrojem omega 3 mastných kyselin, mají skvělý vliv na vývoj dětského mozku a nervové soustavy. Zejména pak tuňák anebo losos.
Mléčné výrobky

, které mají dostatek vápníku, prospějí nám i miminku.

Potraviny s dostatkem bílkovin, jako je

maso, vejce nebo luštěniny

.

Skvělé jsou

luštěniny, ovesné vločky

a

semínka.

Potraviny se sacharidy, jako je

celozrnný chleba, rýže

anebo

těstoviny

.

Ovoce a zelenina

jsou plné zdravých látek.
Hodně pijme
Dostatečný pitný režim má hned několik výhod. Urychluje náš metabolismus, a tím nastartujeme hubnutí po porodu. Kromě toho nebudeme mít tak často hlad, zaplníme si žaludek teplou vodou. Ideální jsou alespoň dva litry denně.
Hýbejme se
S péčí o naše novorozeně opravdu příliš času nazbyt nemáme. Přesto bychom se měly snažit o dostatečný pohyb. Můžeme spojit vycházku s kočárkem s rychlou chůzí anebo si večer vyhradit půl hodinky na cvičení doma. Existuje dokonce speciální cvičení pro maminky i s dětmi. Pokud stojíme o intenzivnější pohyb, výborný je aerobik anebo posilování. Pomůže nám to nejen s váhou, ale také jako ventil stresu. Jak zhubnout po porodu pomocí pohybu ale řešme až po šestinedělí. A pokud za sebou máme porod císařským řezem, zkusme se raději poradit s naším lékařem.
Nedaří se nám? Obraťme se na odborníka
Pokud stále s váhou bojujeme, zaručenou cestou k úspěchu je obrátit se na zkušeného odborníka. Protože maminky nemají tak velké časové možnosti, ideální jsou online kurzy. Ověřenými a účinnými jsou online kurzy MUDr. Petry Uríkové, které nabízí to nejlepší ze západní a východní medicíny. Díky nim si lépe upravíme jídelníček, dozvíme se, jak správně vyvážit příjem a výdej energie anebo jaké potraviny si vybírat. Pomůžou nám ale nejen s hubnutím. Zaměřují se na tělo jako celek a zlepší nám tak celkově zdraví.