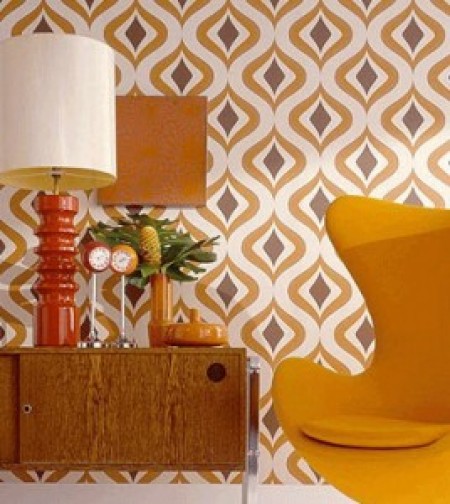 Nebaví vás už jednobarevné stěny ve vašem interiéru a chtěli byste změnu? Zkuste tapety! Nemusíte se bát, s kvalitními tapetami jde tapetování jako po másle.
Jaký vzor a barvu tapet?
Můžete si vybrat z nepřeberných vzorů, materiálů a struktur, některé jsou extravagantní, jiné s ornamenty nebo květinovými dezény, další jsou s různými geometrickými obrazci nebo s dětskými motivy. Z barev dominují syté tóny, zejména červená, oranžová, růžová, zelená a žlutá. Dále je moderní tyrkysově modrá barva, azurová modř, fialová, tmavá zelená a olivově zelená.
Vybírejte tapety podle účelu místnosti
Správný výběr tapet vás může ušetřit zklamání, mějte na paměti, že tenké tapety se snadno trhají, tapety s kovovým efektem se obtížně lepí, tapety se vzorem, který na sebe musí ve spojích navazovat vyžadují mimořádnou pečlivost. Dbejte také na to, abyste nedávali papírové tapety do vlhkých místností apod. Pro problematické stěny se hodí vliesové tapety, které mají plastický dekor a zakryjí mnohé nerovnosti.
Co budete k tapetování potřebovat
Z materiálů budete potřebovat samozřejmě tapety. Ty vybírejte nejlépe se stejným sériovým číslem, vyhnete se tak případným odchylkám mezi jednotlivými rolemi. Tapety se prodávají většinou ve dvou délkách, Eurorole jsou široké 0,53 m a dlouhé 10,05 m. Jedna roli tedy vystačí na cca 5m2 stěny. Množství eurorolí, které budete potřebovat, si vypočítáte následujícím způsobem: obvod místnosti x výška místnosti :  = počet eurorolí. Dále jsou v nabídce zdrsněné tapety, které měří také 0,53 m a dlouhé jsou 33 m. Jedna role by měla vystačit asi na 17 m2. Celkovou spotřebu těchto rolí vypočítáte takto: obvod místnosti x výška místnosti : 17 = počet rolí. Otvory na okna a dveře se také započítávají, díky nim budete mít alespoň náhradní materiál v případě potřeby.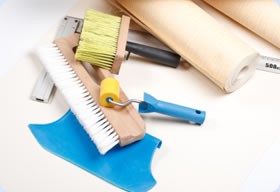 Dále si připravte prostředek na uvolnění starých tapet nebo teplou vodu, mýdlový roztok na omytí staré malby, tmel nebo sádru na vyhlazení nerovností stěn, lepidlo na tapety, izolační základní nátěrovou barvu (na prosakující skvrny na zdi), popř.nátěr pro výměnu tapet, pokud budete chtít tapety v budoucnu snadno odstranit.
Z nářadí si nachystejte: tapetovací stůl, skládací metr, dlouhé pravítko nebo malířský příložník, olovnici, tužku, nůž, nůžky, plastovou stěrku, kovová špachtle, štětec na lepidlo, plastový kbelík na lepidlo, kartáč na tapety, váleček na spoje, odlamovaní nůž, žebřík, čistý smeták, párátka.
Na tapety používejte pouze lepidla určená výrobcem a dodržujte pokyny pro jejich použití. Čím těžší a savější je tapeta, tím silnější vrstva lepidla bude potřeba. 
Přípravné práce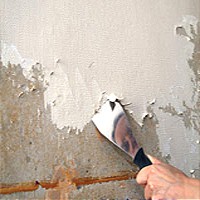 Pokud máte na zdi staré tapety a jsou v dobrém stavu, můžete je jen přelepit novými. Plastické nebo omyvatelné tapety ale musíte ze zdi beze zbytku odstranit. Navlhčete je teplou vodou nebo použijte prostředek na uvolnění tapet. Poté je oškrabejte kovovou špachtlí. Zeď musí být před tapetováním čistá, hladká a neporušená. Zatmelte díry a praskliny, odmontujte kryty zásuvek a vypněte elektrický proud, lepidlo je vodivé. Povrch s malbou omyjte mýdlovým roztokem. Nerovnosti a lesklé plochy na zdi obruste brusným papírem. Vytáhněte hřebíky a skoby. Abyste pod tapetou znovu otvory ve zdi našli, zastrčte do nich párátko a špičku nechte pár milimetrů vyčnívat. Špička tapetu probodne a vy pak snadno otvor najdete. Skvrny od rzi a od vody přetřete izolačním nátěrem, aby neprosakovaly novou tapetou. Zeď natřete nátěrem pro výměnu tapet, abyste mohli v budoucnu tapety snadno odstranit. Jestliže nebudete tapetovat strop, ale budete ho chtít vymalovat, učiňte tak ještě před tapetováním, abyste nové tapety nepocákali. V místnostech příliš netopte ani nedělejte průvan, tapeta nesmí schnout příliš rychle, aby se neuvolnily spoje.
Příprava tapet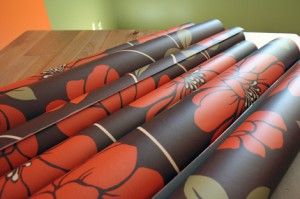 Změřte si vzdálenost od stropu k podlaze. Pruhy tapety nastříhejte s přesahem 5 cm na každé straně na překrytí rohů a okrajů kolem stěn. Lepší je nastříhat si je všechny předem, dokud máte čistý tapetovací stůl. Čáru, kde budete stříhat, si narýsujte na zadní stranu tapety a na horní stranu napište písmeno H. Takto označte všechny horní strany odstřižených tapet. Můžete je také očíslovat. Budete mít pak jistotu, že budou všechny tapety nalepeny stejným směrem a ve správném pořadí. Připravte si také tapety s výřezy na okna, dveře apod. U těch nechte přesahy kolem otvorů 3 cm. Tapety bez vzoru můžete stříhat všechny pruhy stejně dlouhé. Pozor však na tapety se vzorem!
Tapety se vzorem
Na zadní straně tapety najdete symbol, který vám řekne, jaké má vzor napojení. Pokud je vzor bez napojení, bývá na tapetě tato značka →│0. Znamená, že pruhy tapet můžete stříhat všechny stejně dlouhé. Tapety se vzorem, který má přímé napojení →│← položte vedle sebe vzor na vzor a pruhy stříhejte stejně (viz.obrázek vpravo) Pokud je napojení vzoru s přesahem, každý druhý pruh se stříhá delší o polovinu pravidelného vzoru (viz.obrázek vpravo).
Natírání lepidlem
Nyní tapety natřete lepidlem, které jste mezitím připravili podle návodu výrobce. Tapety položte podélně na tapetovací stůl tak, abyste jej celý pokryli. Natřete nejdříve jednu třetinu pásu a přeložte jej natřenou stranou k sobě, poté natřete zbývající 2 třetiny a opět přeložte. Lepidlo nanášejte od středu ke stranám. Natřete jen tolik pruhů, kolik jste schopni nalepit za 10 - 15 minut, zpočátku tedy 1 -  2 pruhy.Tapeta se za pár minut nasákne lepidlem a pěkně zvláční. Nové moderní tapety na netkaném podkladu - Vliesové tapety - jsou sice dražší, než obyčejné, ale práce s nimi je méně náročná, stačí natřít lepidlem zeď a přilepit.
Tapetování stropu
Strop tapetujeme jako první ze stěn. Je to nejobtížnější stěna a proto raději požádejte někoho, aby vám s tím pomohl. Naplánujte si lepení pruhů tapet směrem od zdroje světla světla, tj. od největšího okna k protilehlé stěně, aby spoje nevytvářeli stíny. Na stropě si vyznačte čáru, kterou budete při lepení sledovat. Po příslušné době namáčení se začne s prvním pruhem. Poskládanou tapetu přiložte k rohu stropu (počítejte s 5 cm přesahem dolů), vyrovnejte podle vyznačené čáry a přitlačte do rohu. Pak tapetu postupně rozbalujte a hned ji také pěkně od středu ke krajům, kartáčem uhlazujte.  Váš pomocník jej přidrží tak dlouho, až je zcela přilepený. K přidržení můžete použít také smeták. Přehyby v rozích přejeďte oblou hranou nůžek, čímž zvýrazníte rýhu a po opatrném poodlepení tapety od stropu a stěny, podle ní přesahující část odstřihněte. V rozích, kde se stýká strop a dvě stěny, tapetu nejdříve opatrně šikmo nastříhněte a přesahy přilepte přesně podle tvaru rohu. Okraje dohlaďte kartáčem a dočistěte vlhkou houbou. Spoje tapet přejeďte válečkem.
Tapetování stěn
Při tapetování je důležité začít rovně. Milimetrový rozdíl na začátku se na konci může proměnit v katastrofu! Nakreslete si na zeď značku a použijte olovnici k vyznačení svislé čáry, podle které budete lepit první díl. Stejně vám poslouží i vodováha, přiložená k laťce jako k pravítku. Natřete stěnu lepidlem, usnadní vám to klouzání tapety po stěně a hledání přesné polohy. Horní okraj tapety přiložte ke stropu tak, aby o 5 cm přesahoval a pak ji při rozkládání postupně uhlazujte kartáčem od středu k okrajům a shora dolů. Na okrajích občas lepidla není dost, proto mějte při ruce sklenici s lepidlem a malý štětec. Přehyb ve vnitřním rohu přejeďte kulatou hranou nůžek, čímž zvýrazníte rýhu a po opatrném poodlepení tapety od stropu a stěny, přesahující část podle ní odstřihněte. Okraj dohlaďte kartáčem a dočistěte vlhkou houbou. Tapeta se zkracuje pokud je lepidlo mokré. U vnějších rohů zahněte tapety asi 2,5 cm za roh a tento přesah překryjte dalším dílem. Spoje mezi jednotlivými díly tapety přejeďte suchým válečkem, kterým vytlačíte zbytky lepidla. Strop i podlahovou lištu čistěte bez meškání vlhkou houbou. Vyduté bubliny na již nalepené tapetě propíchněte špičkou odlamovacího nože, vpíchněte dovnitř lepidlo injekční stříkačkou nebo je naneste plochým štětečkem. Vyhlaďte kartáčem a válečkem a přebytek lepidla otřete. Takto postupujte i se vzniklými varhánky. Záhyb nožem odřízněte, přidejte lepidlo a válečkem vyhlaďte.
Zvláštní výřezy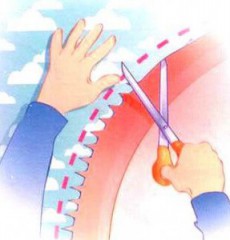 Při nalepování tapety na zásuvku a postupném vyhlazování kartáčem, získáte její obrys. V tomto místě do kříže nařízněte tapetu a odstřihnutím přebytečných kousků přizpůsobte otvor tvaru zásuvky. Vše kolem dohlaďte kartáčem a po vysušení a očištění zásuvky, můžete opět zapnout elektrický proud. Dalšími povrchovými překážkami jsou okenní rámy a dveřní zárubně.  Po nalepení na stěnu, vyznačte hranu mezi stěnou a rámem (oblou stranou nůžek) a podle ní roh přesně zastřihněte. Pak opět dolaďte kartáčem, vždy směrem od středu k rámu nebo jinému otvoru. Potřebujte-li tapetu zakulatit, vystřihněte ji vroubkovaně, jak je naznačeno na obrázku vpravo. Takto  se vám bude pěkně ohýbat a bude kopírovat tvar zdi.