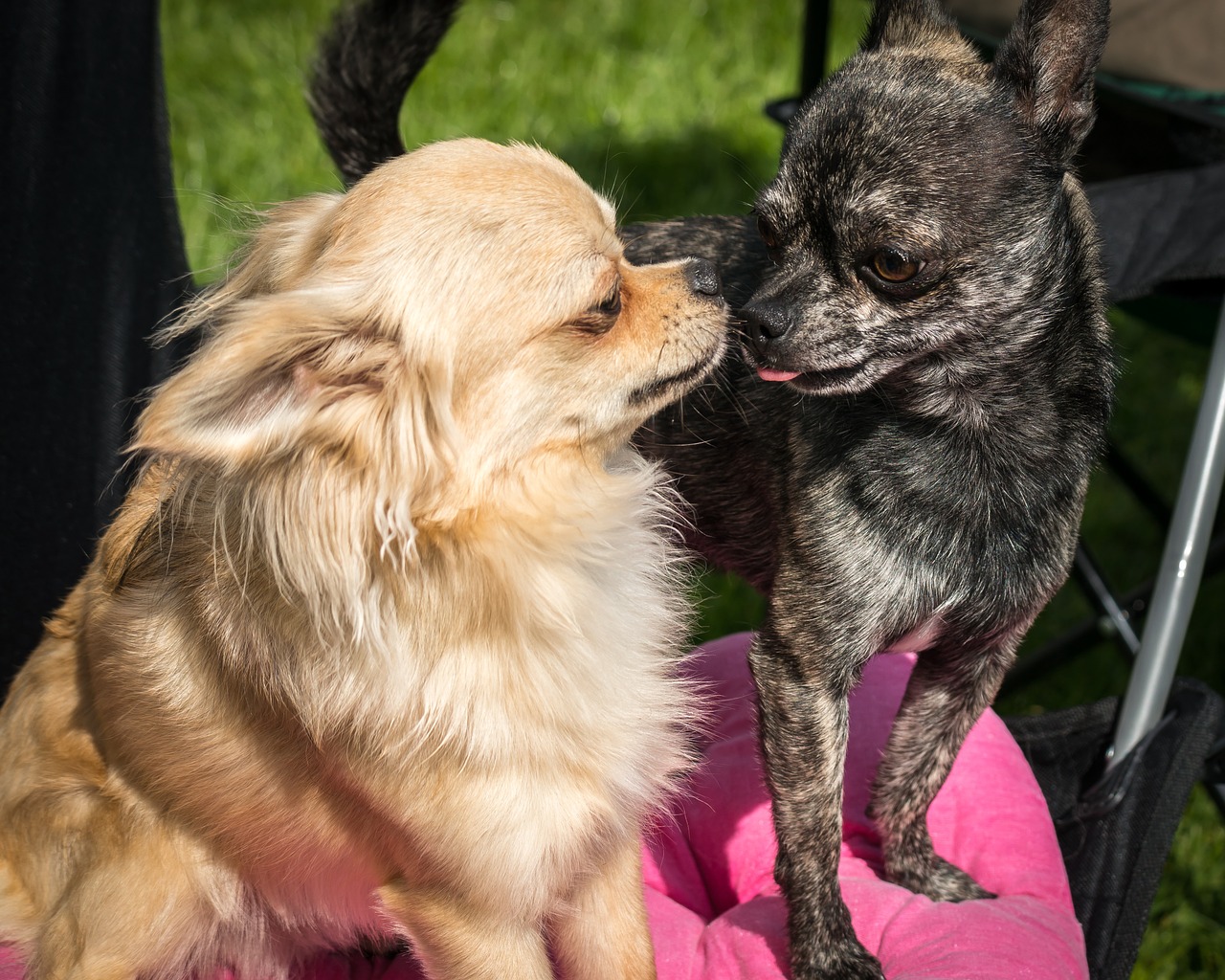 Zvládněte hárání feny s přehledem. Dobrá příprava ušetří starosti
Hárání feny je náročné období jak pro mazlíčka, tak pro nás. Proto se na něj vyplatí dobře připravit. Dobrou péčí můžeme fence ulehčit. Řekneme vše, co o hárání feny potřebujete vědět. Dozvíte se, kdy přichází první hárání feny, jaká je délka hárání feny a jaký je průběh hárání u fen. Také poradíme, jak se o mazlíčka správně postarat a na co si dát pozor.
Připravte se na hárání feny
Naší fenkou lomcují hormony a její chování se mění. Kromě toho musíme zvládat její krvácení a možnou falešnou březost. Nemluvě o odhánění nápadníků. Jak se na hárání fenky připravit?
Pořiďme hárací kalhotky. Krvácení fenky je normální a přirozené. Přesto, zejména u fenek žijících v bytě, není zrovna praktické. Proto po dobu krvácení pořiďme fence hárací kalhotky, které zabrání, aby se od krve něco ušpinilo. Vypadají jako lehčí pleny na jedno použití. Je dost možné, že je fenka nebude chtít nosit a sama jich pár roztrhne. Buďme trpěliví. Ale pozor, před dotěrnými psy fenku neochrání.
Postarejme se o dobrou výživu. Fenka prochází náročným obdobím a její tělo je pod náporem. Krmivo by jí mělo dodat dostatek živin, aby se její organismus mohl se změnami vypořádat. Sáhněme po kvalitních granulích, například Purina Pro Plan Optipower.
Na spreje na odhánění psů můžeme zapomenout. Na trhu existují spreje, které mají psí ctitele od fenky odpuzovat. Vůně, kterou fenka po dobu hárání vydává, je pro ostatní psy signálem, že je připravená mít štěňata. Spreje mají tuto vůni přebít a psy odpuzovat. Bohužel nefungují. Jediným efektem je, že naše fenka bude páchnout jako bychom jí hodně dlouho nemyli.
Fenku venčeme zásadně na vodítku. Zabráníme nechtěné březosti a vyhneme se komplikacím.
Fenku nenechávejme nikdy venku samotnou. Nekastrovaní psi jsou velmi vytrvalí a rádi překonají nejednu překážku. Někdy v nich pudy mohou vzbudit i agresivní chování.
Fenka potřebuje větší pozornost. Více si jí všímejme, mazleme se s ní, a pokud bude chtít, hrajme si.
Lékařské ukončení těhotenství může zapříčinit závažné zdravotní problémy. Pokud fenka zabřezne, nechejme jí štěňátka odrodit.
Pokud neplánujeme štěňata, popřemýšlejme o kastraci. Kromě toho, že fence ušetříme trápení, snižujeme riziko výskytu nádorových onemocnění mléčné žlázy. Nejvhodnější čas je ještě před prvním háráním. S přibývajícím věkem fenky se pak účinnost kastrace jako prevence proti nádorům snižuje. Bohužel nevýhodou kastrace je, že v pozdějším věku může docházet k úniku moči. Zejména u velkých plemen. Mýtus, že fenka by měla mít alespoň jednou za život štěňata, rozhodně neplatí.
První hárání feny může přijít už před prvním rokem
První hárání feny přichází, když se mazlíček dostává do puberty. Přesný čas, kdy přijde první hárání feny, se liší zvíře od zvířete. Ale u menších psů přichází dříve, než u psů větších. Zatímco první hárání u fenky menšího a středního plemene nastává mezi sedmým a desátým měsícem, u větších plemen až mezi rokem a rokem a půl. Jsou ale i případy, kdy se hárání menšího plemene objeví už před půl rokem života. Když skončí první hárání feny, je cyklus ještě nepravidelný. Až kolem druhého roku začne být pravidelnější.
Pozor: První hárání feny by určitě nemělo skončit zabřeznutím. Její tělo není ještě na roli matky připravené a mohly by nastat zdravotní komplikace.
Délka hárání feny
Hárání feny se průměrně objevuje dvakrát do roka. U menších fenek to může být třikrát za rok, u větších plemen pak jednou ročně. Celý proces trvá necelý měsíc, délka hárání feny je většinou 23 dní. Ale někdy je délka hárání u fenky i pouhé dva týdny. Po toto období se objevuje nejprve krev a pak výtok. Záleží na fázi, ve které se fenka zrovna nachází.
Průběh hárání u fen
Podobně jako u lidí, i průběh hárání u fenky má svůj přesný cyklus. Nejprve se objevuje krvácení a až poté ovulace. Pokud neplánujeme štěňata, po celý průběh hárání u fen mazlíčka hlídejme. Sperma psa může totiž v těle fenky přežít celý týden.
1. fáze: Krvácení
Trvá od prvního do desátého dne. Sliznice dělohy se začíná zduřovat a připravuje se na možnou březost. Vnější pohlavní orgány fenky jsou oteklé a fenka začíná krvácet. Průběh hárání u fen je takový, že psy začíná fenka táhnout, ale ona o páření prozatím zájem nemá. Fenka si může začít pohlavní orgány olizovat.
Průběh hárání u fen od 1. až do 3. dne: Objevuje se nejprve průsvitný, posléze bílý výtok. Když začne měnit barvu do hnědé, víme, že fenka začne brzy krvácet.
Průběh hárání u fen kolem 3. dne: Fenka začíná krvácet.
2. fáze: Ovulace
V tomto období fenka ovuluje a může zabřeznout. Fáze trvá od desátého do dvacátého třetího dne. Vnější pohlavní orgány fenky jsou hodně zduřelé. Výtok je nejprve zabarvený, postupně ale slábne. Psi o ní v této fázi projevují velký zájem. A ona sama se oplodnit nechá. Proto buďme obzvlášť opatrní. Ke konci hárání začíná její snaha o březost slábnout. I její chování se zklidňuje.
Průběh hárání u fen od 10. až do 13. dne: Fenka může zabřeznout. Přesně nám to pomohou určit testy od veterináře.
Rozbalit všechny příspěvky
Video týdne
Taky se občas po práci cítíte tak, že si říkáte: ať mi všichni třeba vlezou na záda!? Dnes už prostě nic dělat nebudu...
Příběh zvířátka
Říkají mi Rago, Ragoušku, Ragajdo, Rufajdo, nebo když si vypůjčím třeba botu, tak křičí Ragíííno! (to je povel k držení v zubech, to já už poznám)...