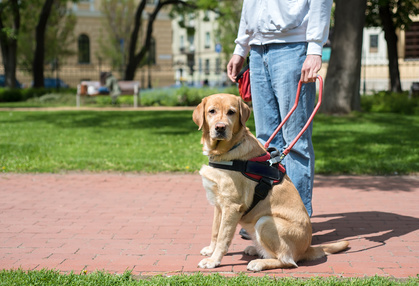 Vodící pes je ochránce i přítel. Jak na výcvik vodících psů?
Pomocník, společník i kamarád. Správný vodící pes musí zastat vše. Protože má zvíře důležitou úlohu, je správný výcvik vodících psů opravdu důležitý. Jak na něj? Řekneme vše, co o tomto cvičení psů potřebujete vědět: jaký pejsek se na vodícího psa hodí, co se musí naučit a jak výcvik vodících psů probíhá.
Vodící pes: Rozhoduje psí povaha a zájem
Vodící pes se vybírá obzvlášť pečlivě. Rozhoduje jeho povaha, schopnosti a zájem o péči o handicapovaného. Správný vodící pes není zvíře, které jen poslouchá pokyny. Svou práci by měl dělat rád a ochotně, k ničemu se nenutí.
Jedním z nejdůležitějších předpokladů vodících psů je jejich povaha. Pejsek musí být klidný, vyrovnaný a přizpůsobivý. Měl by mít dobrou pozornost a koncentraci. Naopak by neměl být hyperaktivní. Důležité je i jeho chování ve společnosti jiných psů anebo lidí. Povaha dělá celou polovinu úspěchu cvičení psů.
Velkou roli hraje i zájem samotného pejska. Pokud by ho práce vodícího psa nebavila, nemůže jí dělat. Hrozilo by, že jí nebude dělat dobře a bude tak ohrožovat zdraví svého páníčka.
Vodící pes musí umět zachovat klid. Hlasité zvuky, ruch ulice, náhodné dotyky a jiné nečekané události ho nesmí ani polekat, ani rozhodit.
Důležitý je ale i zdravotní stav. Měl by být silný a v co nejlepší zdravotní kondici.
Jakou rasu by měl vodící pes mít?

Labradorský retriever

Je klidný, oddaný a inteligentní. Jako vodící pes je skvělý.

Bílý švýcarský ovčák

Je aktivní a živý. Má dostatek sebevědomí a je velmi oddaný.

Flat Coated Retriever

Je nadaný téměř na cokoli. Je veselý, společenský a oddaný. Jako vodící pes se snadno učí.

Německý ovčák

Tento vodící pes je inteligentní, bystrý, aktivní a vytrvalý. Také je odvážný a učenlivý. Páníčkovi je zcela oddaný.

Goldendoodle

Je velmi přátelský, inteligentní a plný energie. Při cvičení psů se lehce učí novým povelům.

Labradoodle

Je aktivní, hravý a velmi hodný. Dobře se snáší s ostatními zvířaty i lidmi. Má i vyšší intelekt a dokáže reagovat i na povely ve znakovém jazyce.

Královský pudl

Pudl je jako vodící pes věrný, poslušný a ochotný. Má velmi dobrou paměť a dobře se cvičí.

Zlatý retriever

Je inteligentní, rozumný a aktivní vodící pes. Rád si hraje a stejně tak se rád učí. Ke svým páníčkům je velmi láskyplný.
Cvičení psů začíná už od štěněte
Výcvik vodících psů může každému pejskovi trvat různě dlouho. Záleží na povaze zvířete a postupech výcviku. Cvičení psů se dělí do několika fází.
1. Fáze: Předvýchova
Výcvik začíná už od štěněte ve věku 8 až 10 týdnů a trvá až do stáří 16 až 18 měsíců. V této fázi štěně bydlí v pečovatelské rodině. Má je na starosti jeden cvičitel. S tím štěňátko žije doma a doprovází jej všude, kam cvičitel jde. Zažívá běžné situace jako je cesta městskou hromadnou dopravou, návštěva obchodů nebo pobyt doma. Štěně se tak socializuje a učí se běžným dovednostem. Zároveň se už dostávají do situací, do kterých se budou později běžně dostávat i se svým handicapovaným páníčkem. Cvičitel posuzuje, jestli má štěně dobré předpoklady k povolání vodícího psa a může s ním navštěvovat výcvikové centrum, kde se cvičení psů konzultuje.
2. Fáze: Výcvik vodících psů
Když se pejsek dostane do druhé fáze výcviku, čeká ho intenzivní několika měsíční trénink. Dostane svého individuálního trenéra, jehož role se dá popsat jako "vůdce smečky." Mladší psi totiž právě takového vůdce vyhledávají, nechají se od něj vést a důvěřují mu. V této fázi výcviku je důležitý pozitivní přístup, stejně jako pevná ruka.
3. Fáze: Sžití s handicapovaným
Vodící pes si po výcviku najde svého nového páníčka. Musí se umět přizpůsobit jeho životnímu stylu, být mu ve všem nápomocný a dobře ho zastávat všude tam, kde páníčkovi už síly nestačí.
Vodící pes se učí aportovat, cestovat i neštěkat
Výcvik vodících psů je pro cvičitele celkem náročný. Ale radost z toho, že vodící pes dělá pokroky, naučil se novou dovednost a bude pomáhat potřebným, je k nezaplacení.
Pokaždé když se pejskovi něco podaří, musí být pochválený. Taková pochvala je pro něj hlavní motivací a kvůli ní dělá vše, co si vůdce smečky přeje. Vodící pes se naučí chovat tak, jak člověk zrovna potřebuje. To je při pomoci handicapované osobě klíčové.
Vodící pes musí mít dobrou péči. Vodící pes zastává náročnou a důležitou práci. Potřebuje dodat dostatek sil a co nejlepší zdraví. Velmi vhodné krmivo jsou například granule pro psy Pro Plan Optibalance.
Pes musí být neustále v kontaktu s lidmi, osamocený může být maximálně na tři hodiny denně. Nemůže žít ani v kotci, ani v boudě.
Cvičení psů musí probíhat alespoň 1 až 2 hodiny denně.
Pes nesmí získat žádný zlozvyk, jako je třeba lezení do postele, jedení lidského jídla ze stolu anebo skákání na lidi. Proto musí být výchova přísná.
Musíme psa naučit, že pudy, jako například ten lovecký, má ovládnout. Když by se vodící pes s nevidomým páníčkem rozběhl za okolo běžící veverkou, mohl by mu vážně ublížit.
Co se vodící pes musí naučit?
Rovná chůze bez pobíhání a čenichání.
Chůze na levé straně před handicapovanou osobou.
Zastavit se na všech obrubnících.
Přecházení silnic pouze na pokyn handicapované osoby.
Zastavit se na začátku a na konci schodiště.
Vyhýbat se překážkám ve výšce hlavy handicapované osoby a vyhýbat se úzkým a špatně průchodným místům.
Cestovat v nejrůznějších dopravních prostředcích.
Přivést svěřenou osobu k výtahu.
Být delší dobu potichu, například v práci anebo v restauracích.
Odmítnout příkaz, který by mohly vést ke zranění páníčka. Například, když vodící pes dostane příkaz jít na místo, ve kterém je příkop, může odmítnout.
Přinášet a odnášet předměty.
Vodící pes nebo kanisterapeut?
Co když se při cvičení psů ukáže, že zvíře není jako vodící pes vhodné? Když má nízké sebevědomí anebo zdravotní problémy, může zastat i jiné role. Například při kanisterapii. Na tom, že by pro pejska role vodícího psa nebyla vhodná, není nic špatného. Každý pes má odlišnou povahu, a zatímco jsou někteří jako vodící psi šťastní a oddaní, jiní by se mohli trápit a nepomáhat handicapovanému páníčkovi tak, jak by potřeboval.
Rozbalit všechny příspěvky
Video týdne
Taky se občas po práci cítíte tak, že si říkáte: ať mi všichni třeba vlezou na záda!? Dnes už prostě nic dělat nebudu...
Příběh zvířátka
Říkají mi Rago, Ragoušku, Ragajdo, Rufajdo, nebo když si vypůjčím třeba botu, tak křičí Ragíííno! (to je povel k držení v zubech, to já už poznám)...