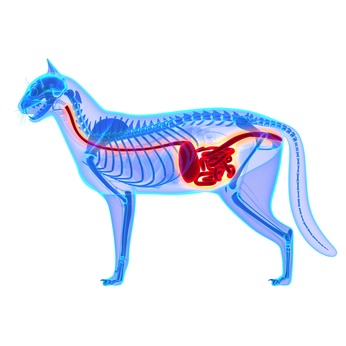 Víte, jaká je anatomie kočky? Pomůže vám k ještě lepší péči
Anatomie kočky má řadu zvláštností, které bychom měli dobře znát. Když zjistíme, jak kočičí tělo funguje, zajistíme kočce tu správnou péči, která zohlední všechny její potřeby. Nejdůležitější procesy se odehrávají v jejím trávení. Všechny živiny a minerály, které kočku rozvíjí, získává právě z potravy. Zároveň je to právě kočičí strava, kterou v péči můžeme ovlivnit nejvíce. Proto vám ukážeme, jak kočičí trávení pracuje, na co si dát pozor a jak vybrat granule pro kočky, které ji opravdu pomůžou.
Kočka je přirozeným lovcem, který při honu za kořistí dokáže vyvinout velkou rychlost a vyskočit do vysokých výšek. Má silně vyvinuté smysly, slyší až 60 kHz, tedy o celých 40 kHz více než člověk. A nesmíme zapomenout na dobře známou zvláštnost – schopnost vytahovat a zatahovat drápky. Kočka se zkrátka řadí mezi jedno z nejzajímavějších zvířat. Má hodně potřeb, o které bychom se měli umět dobře postarat. Pro zdravý život a správné fungování těla potřebuje bílkoviny, tuky, cukry, vitamíny a minerály. Ty musí získat z potravy, nekvalitní granule pro kočky ji uškodí. Trávící soustava se tak pro naši péči stává nejdůležitější částí anatomie kočky.
Anatomie kočky: Jak funguje kočičí trávicí soustava?
Kočičí tlama
Kočičí tlama může kousat nahoru a dolů, nikoli však už do boku jako lidská. Tomu není anatomie kočky uzpůsobená. Stejně jako my, má i kočka nejdříve mléčný chrup. Ten začíná koťátkům vypadávat kolem třetího měsíce. V dospělosti má kočka celkem třicet zubů. Zajímavé je, že v horní čelisti má o dva zuby více, než v čelisti dolní. Jazyk kočky je velmi drsný. Pomáhá jí to v získávání potravy, z kořisti může posbírat každý kousek. Zároveň slouží jazyk jako kartáč, díky jeho stavbě si kočka důkladně umyje celé tělo a zbaví jej vypadaných chlupů. Kočka svou potravu nejdříve důkladně pokouše a až poté spolkne.Nemá však žvýkací zuby a do žaludku se jí nedostává příliš rozmělněná.
Žaludek
Rozkousaná potrava putuje jícnem až do žaludku. Pokud ale kočka omylem sní nějaký větší kousek, nic se neděje. Žaludeční šťávy dokážou strávit i drobné kostičky. Zároveň anatomie kočky zajišťuje, že žaludeční kyseliny ničí škodlivé bakterie, které mohla kočka sníst společně s potravou. Už v žaludku začíná rozklad potravy, konkrétně na bílkoviny. Žaludek kočky je tvarovaný do písmene U. Když se kočka nají, je velký asi jako lidská pěst.
Střeva
Anatomie kočky má střeva, oproti těm lidským, poměrně krátká. Tenké střevo má většinou něco přes metr. Je to proto, že kočka je čistý masožravec. Látky z masa se obecně tráví snadněji a rychleji než látky rostlinného původu. V tenkém střevě se odehrávají důležité procesy, jako vstřebávání živin a prospěšných látek. Proto bychom měli vybírat kvalitní granule pro kočky, které jí tyto živiny opravdu dodají. Z tenkého střeva putuje potrava do střeva tlustého. Zde se vstřebává voda. Nestrávené zbytky se zahustí a kočka je přirozeným způsobem vyloučí.
Řitní otvor
Doba, která uplyne mezi tím, kdy kočka potravu sní a kdy ji z těla vyloučí, je zhruba 20 až 24 hodin. Nemusí to tak vypadat, protože jsme zvyklí, že náš mazlíček chodí na kočičí záchod krátce poté, co se nakrmí. Je to proto, že přijímáním potravy dostává tlusté střevo signál, že je potřeba nestrávené zbytky posunout dále.
Jak moc je trávící soustava koček lidí odlišná
Ačkoli jsou kočka a člověk oba savci a trávení jim funguje podobně, jsou zde důležité rozdíly. Třeba to, že kočce prospívá mléko stejně jako nám, je mýtus. Anatomie kočky není na pojídání mléčných výrobků uzpůsobená.
Nezapomínejme na rozdíly
Kočka je čistý masožravec, člověk všežravec. Zatímco pes občas nějakou tu zeleninu rád spořádá, kočka by si na ní nepochutnala.
Anatomie kočky potřebuje jiný podíl minerálů a vitamínů než člověk.
Spousta potravin, co je pro nás prospěšná, je pro kočku škodlivá.
Navzdory obecnému přesvědčení, kočce mléčné výrobky neprospívají.
Bakterie ze syrového masa, jako je třeba salmonela, kočce nemusí uškodit. Její trávení takové bakterie ničí. Navíc, potrava v trávení nezůstává dlouho.
Jak se postarat o kočičí trávící soustavu?
Vyberme kvalitní granule pro kočky
Výběrem kvalitní potravy kočce zajistíme dostatečný přísun živin, vitamínů a minerálů. V opačném případě bude kočičí tělo strádat a zaděláváme ji na zdravotní problémy. Kočku nepřekrmujme, ani jí nedávejme jídla s vysokou kalorickou hodnotou. Anatomie kočky způsobuje, že je náš mazlíček náchylný k obezitě. A ta je jedním z hlavních zabijáků koček. Velmi vhodné jsou například granule pro kočky Feline Perfection.
Pokud domácí strava, tak s rozmyslem
Kočku můžeme krmit čistě domácí stravou. Jsou zde ale velká rizika. Anatomie kočky je sice uzpůsobená jedení masa, ale i tak musíme vědět, co a kolik toho musí sníst, aby dostala všechny potřebné živiny. Domácí strava je finančně i časově náročná. Zkrátka musíme si být stoprocentně jistí, že víme, co děláme. V opačném případě hazardujeme s kočičím zdravím.
Doplňujme potravu vlhkým krmivem
Kočka, na rozdíl od psa, nepije tak často. Tekutiny získává převážně z potravy. Pokud bychom jí krmili jenom suchou stravou, zaděláváme jí na urologické potíže.
Vybírejme kvalitní maso
Pokud kočku krmíme masem anebo vnitřnostmi, raději volme spolehlivého dodavatele. Ačkoli je anatomie kočky uzpůsobená tak, že trávící systém bakterie ničí, zkažené maso kočce neprospěje.
Miska s vodou je nezbytností
Kočka potřebuje misku s vodou. Ačkoli nepije tak často přesto je pro ni voda jednou ze základních potřeb. V tomto se anatomie kočky neliší od jiných savců. Aby se kočka zabavila, můžeme jí pořídit i speciální kočičí fontánku.
Pořiďme speciální kočičí trávu
Každá kočka se čas od času pustí do jedení trávy. Není to kvůli tomu, že by anatomie kočky potřebovala látky z rostlin. Tráva jí jednoduše pomáhá čistit trávící soustavu. Čištěním srsti do sebe dostává hodně chlupů, tráva jí pomáhá chomáčky chlupů vydávit.
Chcete se k zeptat na cokoliv k tématu? Obraťte se na naše poradce.
Rozbalit všechny příspěvky
Video týdne
Taky se občas po práci cítíte tak, že si říkáte: ať mi všichni třeba vlezou na záda!? Dnes už prostě nic dělat nebudu...
Příběh zvířátka
Říkají mi Rago, Ragoušku, Ragajdo, Rufajdo, nebo když si vypůjčím třeba botu, tak křičí Ragíííno! (to je povel k držení v zubech, to já už poznám)...