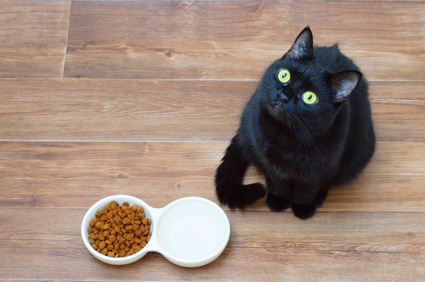 Veterinární diety pro kočky jsou potřeba hlavně při potížích s ledvinami nebo po rekonvalescenci
I kočka může držet dietu. Ovšem nikoliv proto, aby zhubla do plavek a mohla se pyšnit hezkou postavou. Veterinární diety pro kočky jsou určeny hlavně těm mazlíčkům, kteří mají nějaké zdravotní problémy. Nejčastěji je to ledvinová dieta pro kočky. Dietu ale kočka musí dodržovat i při dalších komplikacích, jako je třeba průjem nebo různé potravinové alergie. V článku vám rádi poradíme, jak by taková dieta měla vypadat, aby byla kočka brzo zase fit.
Veterinární diety pro kočky jsou důležité při onemocněních
Veterinární dieta pro kočky je potřeba především ve chvílích, kdy má kočka nějaké závažné zdravotní potíže. Kočce dietu nasazovat nemusíte, pokud je zdravá a má se čile k světu. Tím byste jí naopak mohli jen ublížit.
Nejčastějšími důvody veterinární diety pro kočky jsou:
zažívací potíže jako je průjem
obnova výživného stavu
rekonvalescence
diabetes
léčba onemocnění jater
potravinové alergie
podpora funkce ledvin
Důležité však je se vždy poradit s veterinářem ještě před tím, než začnete kočce měnit krmivo na dietní. Jen veterinář dokáže určit, co kočku trápí a jaké veterinární krmivo pro kočky bude nejvhodnější.
Ledvinová dieta pro kočky
Pokud kočku trápí problémy s ledvinami a veterinář zjistil, že jí selhávají, pak je na řadě důkladná péče. Mezi tu patří ledvinová veterinární dieta pro kočky. Taková dieta slouží k léčbě akutních i chronických onemocnění nejen dospělých koček, ale i koťat.
Kočce můžete dietní krmivo připravovat sami doma a navíc ještě zakoupit u veterináře či na internetu u ověřených značek dietní veterinární krmivo pro kočky. To obsahuje veškeré vitamíny a minerály, které kočka při takovém onemocnění ledvin potřebuje.
Ledvinová dieta pro kočky dále vyžaduje:
žádné zbytky jídel od stolu
kočka musí mít vždy k dispozici dostatek čerstvé vody
krmíme po malých dávkách a častěji
krmivo vždy ohřejeme nebo krmíme kočku z ruky, abychom jí zvýšili chuť k jídlu
Dieta při potravinové alergii
I kočku může potrápit alergie na potraviny. Potravinová alergie u koček je nepřiměřená reakce imunitního systému na některou ze složek obsaženou v její potravě. Alergie se může projevit už u kotěte anebo klidně i v pozdějším věku kočky.
Kočky mohou být alergické na:
kuřecí maso
hovězí maso
jehněčí maso
laktózu
Důležité je zjistit, na jaký alergen je kočka alergická. S tím pomůže veterinář a poté poradí i vhodné veterinární krmivo pro kočky. Kočka může žít klidný a zdravý život i třeba s alergií na jehněčí nebo kuřecí maso.
Veterinární dieta pro kočky při rekonvalescenci
Dieta je nutná i v případech, kdy se kočka potřebuje zotavit po nějakém chirurgickém zákroku. Její organismus je oslabený a kočka potřebuje pořádnou dávku živin. Speciální veterinární diety podporují chuť k jídlu a hlavně dodávají kočičímu vyčerpanému organismu živiny, vitamíny a minerály, díky nimž se zotaví raz dva.
Jaterní veterinární dieta pro kočky
K častým onemocněním koček patří kromě problémů s ledvinami i problémy s játry. Onemocnění jater je doprovázeno především nechutenstvím, úbytkem hmotnosti průjmem i zvracením. Kočka tedy potřebuje chutné a kvalitní krmivo, které reaguje na její problémy a pomáhá je řešit.
Se správnou diagnózou a dietou může kočka žít spokojeně i několik let. Speciální krmiva pomáhají v boji s jaterním onemocněním, jelikož krmiva jsou:
lehce stravitelná
obsahují minimum tuků
mají zvýšené množství vitamínu B, bílkovin a lecitinu
To vše pomáhá k regeneraci jater, čímž je kočkám umožněno rychlejší uzdravení a mnohem kvalitnější život.
Veterinární krmiva pro kočky nepředstavují jen granule
I když má kočka dietu a musí se hlídat její jídelníček striktněji než u zdravé kočky, neznamená to, že její strava bude jednotvárná. I nemocné kočce můžete dopřát správným výběrem krmiva dlouhý, pohodový a hezký život plný chutného a zdravého jídla. K dispozici je na trhu celá řada speciálních dietních krmiv:
dietní granule
šťavnaté kapsičky
paštiky
pamlsky
Rozbalit všechny příspěvky
Video týdne
Taky se občas po práci cítíte tak, že si říkáte: ať mi všichni třeba vlezou na záda!? Dnes už prostě nic dělat nebudu...
Příběh zvířátka
Říkají mi Rago, Ragoušku, Ragajdo, Rufajdo, nebo když si vypůjčím třeba botu, tak křičí Ragíííno! (to je povel k držení v zubech, to já už poznám)...