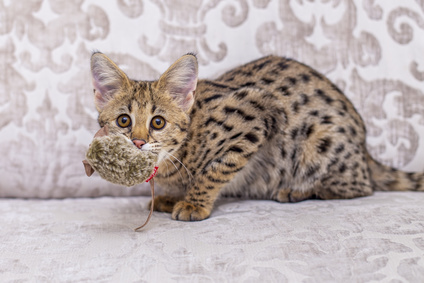 Savanová kočka: mazlíček pro děti nebo divoká šelma? Kočka Savannah má mnoho tváří
Je to jedno z nejnovějších kočičích plemen, které vzniklo křížením afrického servala a kočky domácí. Savanová kočka vás upoutá nejen svým exotickým vzhledem a krásnýma očima, ale také povahou. Kočka v sobě nese velký kus z divoké šelmy. Je akční, ale přitom také mazlivá, hravá a přítulná. I když by se mohlo zdát, že se do bytu ani k dětem nehodí, opak je pravdou. Savannah kočka si získá každého.
Savannah kočka je divoká, ale přítulná
Savannah kočka je velmi inteligentní, pružná a po africkém servalovi jí v krvi koluje divokost. Tělo i nohy jsou poměrně dlouhé, na hlavě jsou výrazné velké oči a uši, které jsou vztyčené. Má velmi dlouhý krk a krátký hustý ocas. Nejčastější barvy srsti jsou hnědá s černými skvrnami nebo černá.
I když je velmi aktivní, patří mezi přítulné mazlíčky. Mnohdy se fixuje na jednoho člena rodiny, kterého všude ráda doprovází. Určitě se hodí k dětem i do bytu. Díky jejímu vzhledu i přátelské povaze si ji určitě zamilujete.
Savanová kočka se dělí do pěti kategorií. Cena šplhá do desítky tisíců
Savanová kočka je oproti jiným kočkám poměrně drahá. Důvodem je náročné šlechtění, neobvyklý vzhled i její inteligence. Kočku dělíme do pěti kategorií, které se liší podle toho, kolik procent afrického servala koluje v jejich žilách:
F1: 50-75% šelmy
F2: 25 AŽ 35 % šelmy
F3: 12-16 % šelmy
F4: 6-10 % šelmy
F5: 3-5 % šelmy
Za kočku v kategorii F1 můžete zaplatit i 100 tisíc korun. Pokud však po tomto mazlíkovi toužíte a nechcete se nechat zruinovat, kočka v kategorii F5 vás vyjde "jen" na 20 tisíc.
Savannah kočka se naučí i snadno aportovat
Pokud si kočku pořídíte, užijete si s ní mnoho zábavy. Dokáže se naučit bez problémů chodit na vodítku a také aportovat. Zajímavostí také je, že se kočka ráda koupe, což je u koček neobvyklé. Co však milují ze všeho nejvíce, je pohyb. Rozhodně si bude užívat dlouhé procházky po venku i hrátky se svým páníčkem.
I když je kočka aktivní a hravá, dokáže se k vám přitulit na dlouhé hodiny. Ráda si pohoví ve vašem klíně a nechá se drbat. Je to prostě kočka mnoha tváří.
Akční savanová kočka bude z prolézačky pro kočky nadšená
Kočku Savannah by si neměl pořizovat žádný pecivál. Bude vyžadovat hodně pohybu a aktivit, jelikož chvilku neposedí na jednom místě. I když se hodí do bytu a nevyžaduje speciální péči, mnohem lépe se bude mít v rodinném domku se zahradou, kam ji můžete občas na vodítku vypustit.
Do domu ji rozhodně pořiďte nějaké prolézačky pro kočky, po kterých bude s radostí skotačit. Může se jednat o různé dřevěné konstrukce nebo látkové tunely. Když na kočku nebudete mít čas, prolézačky pro kočky ji zaručeně zabaví.
Granule pro kočky Savannah vybírejte pečlivě
Savanovou kočku byste rozhodně neměli odbývat levným krmivem. Kupujte jí jen to nejkvalitnější a prvotřídní krmivo. Granule pro kočky Savannah musejí být vyvážené a musejí obsahovat všechny potřebné látky, živiny a minerály, které potřebuje ke zdravému růstu a spokojenému aktivnímu životu.
Savanová kočka by v jídelníčku neměla postrádat pestrou stravu. Suché krmivo určitě kombinujte s konzervami nebo taktéž se syrovým masem pro kočky. Kočka si pochutná na kuřecím i vepřovém mase, ale i na vnitřnostech. Dodržujte však zásady barfování, abyste kočce nepřivodili zdravotní potíže.
Savanová kočka vychází i s jinými mazlíčky
Pokud máte doma již jiné mazlíčky, další kočky nebo psa, nemusíte se obávat, že by s nimi tato kočka nevycházela. Bez problému se snese i s jinými členy vaší domácnosti a není k nim agresivní.
A pokud se s mazlíčkem budete chtít pochlubit také svému okolí, můžete navštěvovat různé výstavy, na kterých určitě sklidíte obdiv.
Rozbalit všechny příspěvky
Video týdne
Taky se občas po práci cítíte tak, že si říkáte: ať mi všichni třeba vlezou na záda!? Dnes už prostě nic dělat nebudu...
Příběh zvířátka
Říkají mi Rago, Ragoušku, Ragajdo, Rufajdo, nebo když si vypůjčím třeba botu, tak křičí Ragíííno! (to je povel k držení v zubech, to já už poznám)...