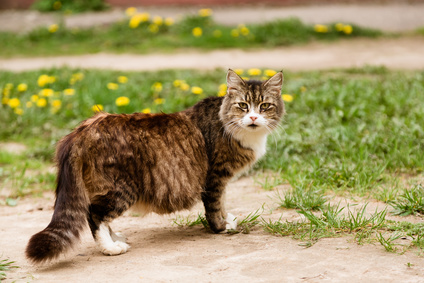 Pozor, koťata na cestě! Jak dlouho je kočka březí a jak se o ni postarat?
Příchod koťátek do domácnosti je vždy vzrušující událostí. Předtím se ale musíme dobře postarat o nastávající maminku. Březí kočka totiž potřebuje speciální péči, aby byla zdravá ona, i koťátka. Poradíme, jak na to. Také řekneme, jak dlouho je kočka březí a jakým vývojem prochází březí kočka týden po týdnu.
Jak dlouho je kočka březí?
Kočka je březí od 56 do 68 dní. Snadněji si budeme pamatovat, že březí kočka rodí za 9 týdnů, podobně jako ženy rodí za 9 měsíců. Jak dlouho je kočka březí ale někdy není jednoduché určit. Ne vždy totiž známe přesné datum oplodnění. Navíc se na délce březosti podílí i kvalita a pestrost stravy. Proto je dobré vědět, jak přesně kočičí tělo funguje.
Březí kočka může rodit až dvakrát ročně
Kočka pohlavně dospívá zhruba v jenom roce. Ale vždy záleží na konkrétním plemeni. Obecně platí, že čím větší kočka, tím je doba dospívání delší.
Březí kočka může být i dříve, to se ale nedoporučuje. Pohlavní orgány kočce dospívají dřív, než je její tělo na roli matky plně připravené. Březost, porod i následná péče o malá koťátka je velmi náročnou a stresující událostí. Mladší kočka by takové období nemusela zvládnout ve zdraví.
Pokud uvažujeme o krytí kočky, počkejme, až jí bude alespoň jeden rok.
Kočka se může rozmnožovat často. Rodit může dvakrát ročně, a to až deset koťat. Tak častá březost by se jí ale mohla podepsat na zdraví.
Kočičí říje neboli mrouskání koček trvá asi jeden týden. Kromě zimních měsíců se objevuje kdykoli. Jak takovou kočičí říji poznat? Kočka je přítulnější, otírá se o nás a méně jí. V neposlední řadě má kočka toulavou náladu a ráda by se vypravila hledat budoucího otce svých dětí.
Ovulace, tedy připravenost vajíček k oplodnění, je u koček zvláštností. Ačkoli říje přichází co tři týdny, ovulace nastává až při samotném styku. Proto může nastat situace, že má kočka v říji styk s více kocoury, kteří oplodní více vajíček. Březí kočka pak porodí koťata od několika otců.
Co dělat, aby bylo krytí koček úspěšné?
Pokud bychom měli rádi koťátka, krytí dobře naplánujme. Najděme kočce toho správného partnera. Například z inzerátu.
S majitelem kocoura se dohodněme na všech podrobnostech, jako je třeba cena a podmínky krytí.
Krytí je nejúspěšnější, když se děje v domově kocoura. Ten si pak je jistější. Samozřejmostí je říje kočky.
Kočku přivezme do domova kocoura alespoň na tři dny. Zvířata se stihnou poznat a mají dostatek času na pářící rituály.
Ke styku by mělo dojít alespoň třikrát. Pak je úspěšnost březosti skoro zaručená.
Březí kočka týden po týdnu
1. Týden: V prvních pár týdnech březost kočky téměř nerozpoznáme. Ačkoli se v těle kočky už vyvíjí koťata, na první pohled to na kočce není znát. V prvním týdnu kocourovo sperma najde kočičí vajíčka, oplodní je a ty si najdou cestu do dělohy, kde se po zbytek těhotenství vyvíjí.
2. Týden: Ve druhém týdnu se toho stále moc neděje. Plody pokračují ve vývoji a na kočce toho moc poznat není.
3. a 4. Týden: Ve třetím týdnu se embryím vyvíjí orgány, což u kočky způsobuje hormonální změny. Můžeme si už všimnout, že kočičí bradavky jsou zarudlé a zvětšené. Kočka může trpět ranními nevolnostmi. Méně jí a dokonce i zvrací. Podobně jako u lidí, tyto nevolnosti můžou přicházet v jakoukoli část dne. Je to sice normální jev, ale pokud se objevuje opravdu často, pro jistotu kontaktujme našeho veterináře. Po 18 dnech od početí veterinář může potvrdit kočičí březost ultrazvukem. Na koni čtvrtého týdne buďme na kočku opravdu opatrní. Nezvedejme ji ze země ani jí příliš nemačkejme břicho.
5. Týden: V pátém týdnu už veterinář může určit, kolik koťátek naše kočka čeká. I tak se ale může stát, že jich ve skutečnosti bude méně anebo více.
6. Týden: V tomto týdnu si u kočky můžeme všimnout větší chuti k jídlu. Začíná si totiž budovat zásoby živin ke krmení koťat. Dopřejme ji teď zvýšenou dávku kvalitního krmiva. Dokonce už můžeme na břiše kočky opatrně nahmatat pohyby koťátek.
7. Týden: Kočka se nám začne viditelně zakulacovat.
8. Týden: Pohyby koťat už můžeme nahmatat zcela zřetelně. Bradavky kočky jsou ještě větší. Kočka se důkladně a opakovaně čistí. Dokonce si může začít na břichu vytrhávat srst. Nemusíme mít obavy, po porodu jí zase doroste. Chuť k jídlu může o něco klesnout. Kočka si hlavně začne hledat místo, kde by mohla koťata porodit a pak se o ně i starat. Proto se jí o takový pelíšek postarejme.
9. Týden: Týden před porodem už můžeme na kočičích bradavkách zpozorovat mléko. Když si všimneme, že je kočka nesvá, nervózní a nedůtklivá, víme, že je porod už opravdu blízko.
10. Týden: Někdy si kočičí porod dává na čas. Pokud březí kočka stále nerodí, nemusíme mít obavy. Týden navíc je normální. Některá plemena, jako například Siamské kočky, rodí až skoro v desátém týdnu. Ale pokud je konec desátého týdne a porod stále nenastal, kontaktujme veterináře.
Březí kočka potřebuje speciální péči
Březí kočka potřebuje naši nejlepší péči. Dostatek odpočinku, pohodlí a komfortu. Tak se budou koťátka správně vyvíjet a naše kočka zůstane zdravá.
Březí kočka potřebuje hlavně správné krmivo, které jí i budoucím přírůstkům zajistí všechny potřebné živiny. Ideální jsou například granule pro kočky Feline Perfection.
Postarejme se jí i o místo, kde bude moct porodit a následně se o koťátka i starat.
Chcete se k zeptat na cokoliv k tématu? Obraťte se na naše poradce.
Rozbalit všechny příspěvky
Video týdne
Taky se občas po práci cítíte tak, že si říkáte: ať mi všichni třeba vlezou na záda!? Dnes už prostě nic dělat nebudu...
Příběh zvířátka
Říkají mi Rago, Ragoušku, Ragajdo, Rufajdo, nebo když si vypůjčím třeba botu, tak křičí Ragíííno! (to je povel k držení v zubech, to já už poznám)...