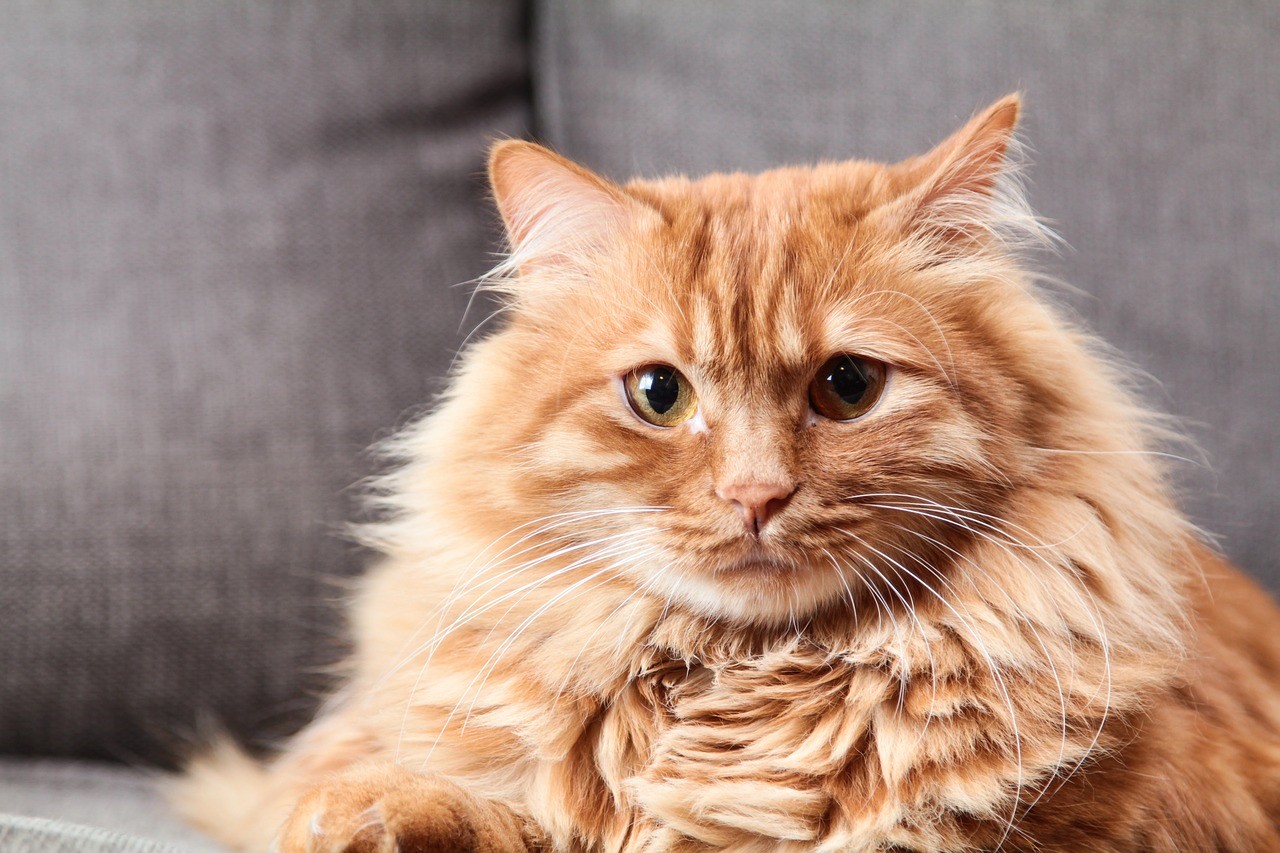 Padání srsti a podrážděná kůže. Jak řešit dermatofytózu a nemoci srsti u koček?
Řídnutí srsti anebo holá místa na kůži vyděsí snad každého majitele koček. Příčin vypadávání srsti u koček může být celá řada. Patří k nim onemocnění, kočičí paraziti, alergie nebo špatné krmivo. Mezi nejzávažnější patří dermatofytóza. Řekneme, jak se v onemocněních kočičí srsti vyznat, jak je vyléčit a co dělat, aby se u nás už neobjevily.
Jak zabránit nemoci srsti u koček?
Nemoci srsti u koček vypozorujeme poměrně snadno. Kočka se čistí častěji, než je obvyklé, škrábe se anebo jí srst vypadává. Na vině můžou být infekce, paraziti či alergie. Nebo také velký strašák všech majitelů koček, dermatofytóza. Ačkoli kočku nemůžeme před onemocněním srsti ubránit úplně, správná péče může kočce řadu trápení ušetřit.
Pravidelné česání: Má hned několik výhod. Nejenom, že zbavujeme kočku odumřelé srsti, ale stimulujeme správnou cirkulaci krve. Navíc se kočce v žaludku bude tvořit méně chumáčů chlupů. A hlavně si srst důkladně prohlédneme. Díky tomu můžeme nemoci srsti u koček podchytit v úplných začátcích.
Na trhu existuje speciální krmivo pro zdravou kočičí pokožku a srst. Pokud náš mazlíček mívá s kožními onemocněními problém nebo pokud se z nich právě zotavuje, krmivo mu kupme. Kočce poskytne všechny nezbytné živiny.
Čistota okolí: Je nezbytné, aby kočka žila v čistém prostředí. Domov pravidelně uklízejme, čistěme jí všechny pelíšky, hračky a škrabadla.
Kontakt se zdravými zvířaty: Pokud víme, že jiná kočka trpí onemocněním srsti či pokožky, naše kočka by s ní neměla přijít do kontaktu.
Dermatofytóza je zákeřná, ale léčitelná
Dermatofytóza patří mezi nemoci srsti u koček, které způsobuje plíseň. Živí se kočičí pokožkou, ale i chlupy a drápky. Taková výživa umožňuje plísni růst a dermatofytóza se stále více zhoršuje. Nutný je proto včasný zásah.
Existuje na 40 různých druhů plísní, které dermatofytózu způsobují. Nejčastěji je to Microsporum canis.
Nežije výhradně na kočičím těle, je přenosná i na psa nebo dokonce člověka.
Je to infekční onemocnění, které se do okolí dostává skrz nakažené částečky pokožky či chlupů. A samozřejmě k nakažení dochází i při přímém kontaktu.
Výtrusy mohou v okolním prostředí přežívat až dva roky.
Nejčastěji se nakazí koťata a dlouhosrstá plemena.
Jak se demafytóza pozná?
Příznaky se mohu dost lišit. Některá kočka má výrazné kožní problémy, zatímco jiná může vypadat zcela normálně.
Zpozorujeme vypadávání srsti u koček, které vytváří kruhovitá holá místa. Zejména na hlavě, uších a končetinách.
V okolí vypadaných míst jsou chlupy polámané.
Kůže je šupinatá a zanícená.
Dermafytóza má podobné příznaky jako alergická dermatitida nebo kočičí akné. Přesnou diagnózu proto může stanovit jen veterinář. Použije k tomu ultrafialové světlo, mikroskopické vyšetření chlupů a laboratorní rozbor přítomnosti plísní.
Bohužel, pokud máme v domácnosti koček více, s největší pravděpodobností jsou nakažené všechny. Navštivme s nimi veterináře.
Pokud nám přišla do domácnosti nová kočka, nechme ji pro jistotu na dermafytózu vyšetřit předtím, než ji představíme dalším kočkám.
Dermafytóza a léčba: Léky, krémy a úklid
Naše kočka dostane od zvěrolékaře speciální léky. Většinou se užívají po 6 týdnů. Proti dermafytóze můžeme dostat i krémy nebo šampóny. Dobrou zprávou je, že léčba je zpravidla velmi účinná. Je nutné nechat vyšetřit i další zvířata v domácnosti. Další nezbytností je důkladný úklid. Je potřeba zničit všechny organismy, které by mohly v okolí přežívat. Kočka by se lehce mohla nakazit znovu.
Všechny místnosti, do kterých má kočka volně přístup, důkladně vysajme.
Vysajme i všechny chlupy z obojků, košů, pelíšků, dek, hraček a kartáčů. Poté sáčky do vysavače vyhoďme mimo dům nebo je spalme.
Vše omyjme speciálními čisticími prostředky a poté vodou, účinné jsou zejména ty na bázi chlornanu sodného. O výběru prostředku se poraďme s veterinářem.
Nemoci srsti u koček způsobují i kočičí paraziti
Cheyletielóza
Cheyletielóza, jiným názvem dravčíkovitost. Má ji na svědomí dravčík kočičí, který se na povrchu kůže živí tkáňovým mokem. Dráždí pokožku, která je zarudlá. Na kůži se tvoří šupiny, které připomínají lupy. Parazité jsou v kožichu viditelní, vypadají jako lupy, které se pohybují. Dravčíkovitisti si ale v kočičím kožichu nemusíme vůbec všimnout, kočka je často jen přenašečem.
Blechy a klíšťata
Nemoci srsti u koček způsobují i všem dobře známí parazité, klíšťata a blechy. Kromě podráždění pokožky a oslabování kočičího organismu můžou způsobit celou řadu jiných vážných onemocnění. S prevencí nám pomůžou antiparazitika a očkování.
Další nemoci srsti u koček

Alergická dermatitida

Alergická reakce se může objevit na celou řadu produktů, jako je krmivo anebo šampóny. Stejně tak i v důsledku kousanců od blech. Řeší se léky. Hlavně se musíme postarat, aby kočka s takovým produktem do kontaktu už nepřišla.

Bakteriální infekce

Může se rozvinout zároveň s jiným kožním onemocněním. Léčí se antibiotiky.

Kočičí akné

I kočky mohou dostat akné. Pupínků si nejčastěji můžeme všimnout na bradě. Příčiny vzniku můžou být stres, nedostatečné čištění a reakce na podávané léky. Veterinář nám doporučí vhodnou kosmetiku, která pomůže kočičí pokožku lépe čistit.
Tři důvody vypadávání srsti u koček
Vypadávání srsti u koček znepokojí každého majitele. Srst může buďto prořídnout nebo se na kočičím těle objevují lysá místa.
Důvodem je nadměrné svědění, kočka se škrábe a přichází tak o srst. Za svěděním může stát celá řada onemocnění či parazitů. Proto je důležité hledat další příznaky a s kočkou neprodleně navštívit veterináře. Pomůže nám se správnou diagnózou a účinnou léčbou.
Druhým důvodem můžou být také hormonální poruchy. Mezi takové patří Cushingův syndrom, hypertyreóza či endokrinní alopacie. Na rozdíl od předchozích onemocnění, kůže kočky zůstává nepoškozená. Stejně tak nenajdeme ani polámané chlupy. Návštěva veterináře je nezbytností.
Třetím důvodem je špatné krmivo. Nedostatek živin může způsobit, že kočičí srst i pokožka ztrácí na síle a chlupy začnou vypadávat. Kočka musí mít kvalitní krmivo, které ji dodá všechny potřebné živiny.
Rozbalit všechny příspěvky
Video týdne
Taky se občas po práci cítíte tak, že si říkáte: ať mi všichni třeba vlezou na záda!? Dnes už prostě nic dělat nebudu...
Příběh zvířátka
Říkají mi Rago, Ragoušku, Ragajdo, Rufajdo, nebo když si vypůjčím třeba botu, tak křičí Ragíííno! (to je povel k držení v zubech, to já už poznám)...