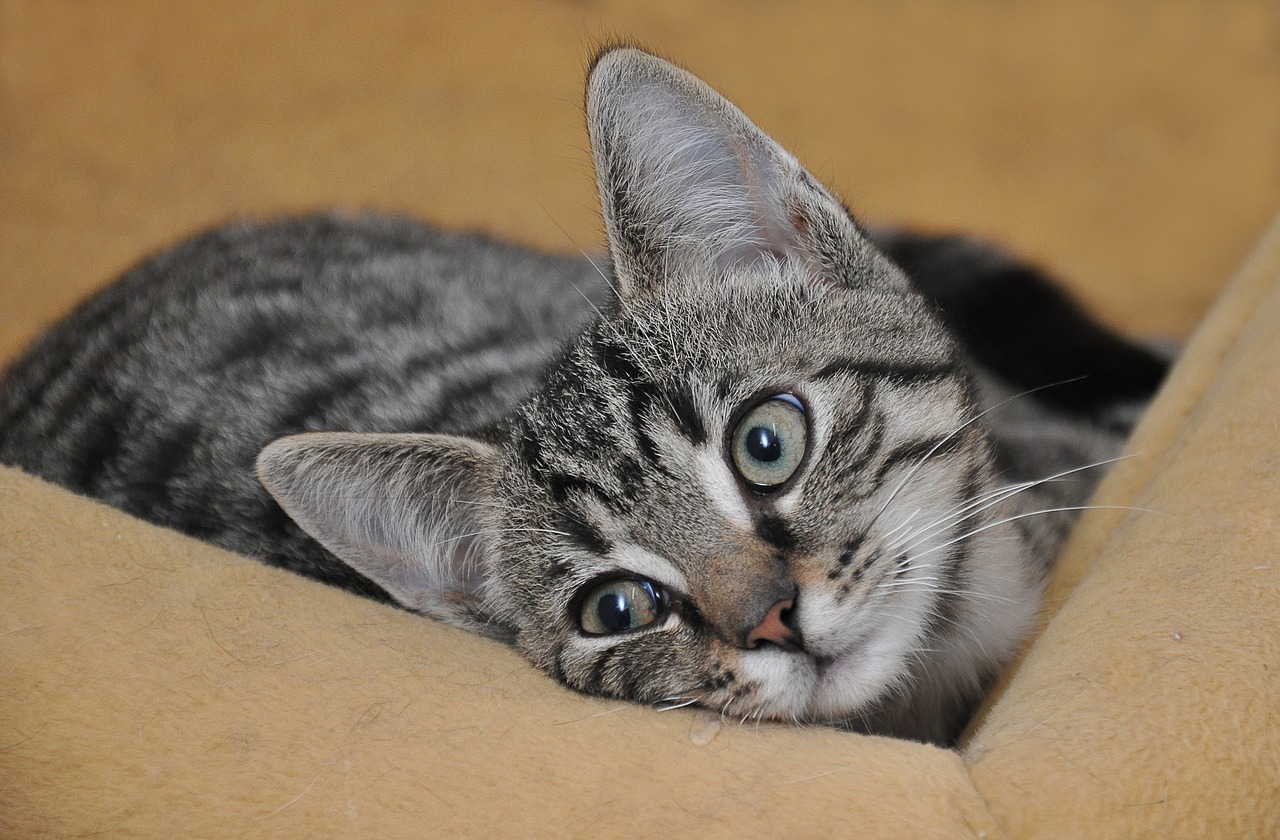 Nebojme se pořídit si kočky z útulku. Jaká je péče o kočku bez domova?
Kočka z útulku je mazlíček jako každý jiný. Projeví nám lásku a přinese mnoho radosti. V současné době kočičí útulky praskají ve švech. Proto je pečování o kočky z útulku obzvlášť záslužné. Ale mají trochu jiné potřeby. Kvalitní krmivo pro kočku, která u nás našla nový domov, je základ. Poradíme, co pro ni musíme připravit, jak se k ní chovat a jaká je další péče o kočku z útulku. Také řekneme, co je to stres u koček a jak se s ním vypořádat.
Péče o kočku z útulku? Dostatek lásky a kvalitní krmivo pro kočku
Starost o kočičku z útulku vyžaduje hlavně dostatek trpělivosti, času a lásky. Připravme se na to, že bude dlouho trvat, než nám kočka začne důvěřovat a bude se u nás cítit jako doma. Kočky z útulku mohly zažít trauma, předchozí majitelé jim možná ubližovali anebo kočky vyrostly na ulici a nejsou na lidský kontakt zvyklé. Co kočce před jejím příchodem připravit?
Kvalitní krmivo pro kočku: Náš nový mazlíček si pravděpodobně prošel nejrůznějšími nemocemi, strádáním a možná byl i nakažený parazity. Proto potřebuje kvalitní krmivo pro kočku, které mu dá všechny potřebné živiny. Jen tak bude sílit a zůstane zdravý.
Úkryt: Je normální, že po příchodu domů kočku prvních pár dní vůbec neuvidíme. Potřebuje si na nové prostředí zvyknout a zjistit, že jí nic nehrozí. Ocení místo, kam by se mohla ukrýt a nikdo ji nebude vyrušovat. Ideální je například krabice s otvorem anebo židle s přehozenou dekou.
Kočičí toaleta: Kočka je čistotné zvíře a potřebuje svou toaletu hned od začátku. Platí, že na každou kočku připadá jedna toaleta.
Chovatelské potřeby: Kočka bude potřebovat kleštičky na drápky, kartáč na srst a další nezbytnosti.
Návštěva veterináře: V útulku by nám měli sdělit podrobnosti o kočičím stavu, na co je očkovaná a zda je kastrovaná. Domluvme si se zvěrolékařem pravidelné prohlídky. Kočku vyšetří a řekne, jaká veterinární péče o kočku je nejlepší.
Sítě do oken: Kočka se u nás zpočátku nemusí cítit v bezpečí a může se pokusit o útěk. Skokem z okna by si mohla ublížit, sítě jsou proto nezbytností.
Bezpečný domov: Všechny věci, které kočka může shodit anebo převrhnout, ji mohou zranit. Pozor dejme na věci na poličkách. Také některé pokojové rostliny můžou být pro kočku smrtelně jedovaté.
Lásku a trpělivost: Kočka nás nezná a bojí se nás. Většinou má špatné zkušenosti. Obrňme se trpělivostí a dejme kočce dostatek času. Nevnucujme se jí, dokud sama nebude chtít. Až v nás získá důvěru, láska a péče o kočku musí být prioritou.
Kočky z útulku potřebují čas a laskavé zacházení
Kočky z útulku nejsou hned z počátku mazlivé a přítulné. Právě naopak. Mohou se nám zdát odmítavé, bojácné a dokonce i nepřátelské. Zkusme si vše představit z kočičího pohledu. Zažila trápení, k lidem nemá důvěru a ocitá se v neznámém prostředí s neznámými lidmi. Cítí se ohrožená a bojí se. Proto péče o kočku z útulku zpočátku znamená, že si ji nebudeme příliš nevšímat. Až si zvykne a zjistí, že je v bezpečí, můžeme začít budovat společný vztah.
Péče o kočku z útulku krok za krokem
V prvních dnech po příchodu domů buďme připravení na to, že kočce bude nejlépe bez nás. Potřebuje čas, aby získala opravdový pocit bezpečí. Okolí bude prozkoumávat hlavně v noci, kdy bude tma, v domácnosti klid a my budeme spát. Pokud ji v prvním týdnu uvidíme zcela minimálně, neděsme se. Je to přirozený proces a chce to čas.
Zvláštní bude i kočičí stravování a navštěvování toalety. Může se stát, že prvních pár dnů nesní vůbec nic a stejně tak nebude využívat toaletu. Ujistěme se, že má všechno v bezprostředním dosahu a vyčkejme. Od třetího dne by měla alespoň pít a chodit se vymočit na toaletu. Kvalitní kočičí granule nemusí být jedinou položkou jídelníčku, zkusme jí dat tuňáka, kapsičky a další věci, co by apetit mohly podpořit. Hladovku by ale neměla držet déle, jak týden.
Běžné jsou i kočičí pokusy o útěk a mňoukání. Neberme si je osobně, kočka neví, že pro ni chceme to nejlepší. Buďme vytrvalí.
Kočka může mít zpočátku nehody a nechodit na toaletu. Za pár dní by problém měl odeznít.
Stres u koček a změna potravy můžou způsobit několikadenní průjem. Pokud ale přetrvává déle, navštivme veterináře.
Nový mazlíček může špatně snášet přítomnost jiné kočky, stejně jako přítomnost naší. Ke kontaktu ji nenuťme a mějme na paměti, že za jejím chováním stojí strach. Po čase se to změní.
Od útulku zjistěme co nejvíce informací o jejím zdravotním stavu, návycích a prodělaných zákrocích. Stejně tak se zkusme zeptat, co kočka má a naopak nemá ráda. Naše péči o kočku tomu tak přizpůsobme.
Stres u koček nepodceňujme, způsobuje nemoci
Změna prostředí je pro kočku velmi náročná. Cítí se ohrožená, nejistá a má strach. Kočku dokáže znervóznit i změna krmiva, podestýlky, nový člen rodiny anebo stěhování. A s naší adopcí to prožívá všechno naráz. Stres u koček se nevyplatí podcenit. Psychická zátěž se může promítnout do mazlíčkova zdraví. Způsobuje například zánět močového měchýře.
Až je mazlíček naučený chodit na toaletu, dejme ji do klidného prostředí, kde kočku nebude nic vyrušovat. Nepoužívejme parfémovanou podestýlku a snažme se najít tu, která kočce vyhovuje. Pak jí neměňme.
Hlídejme, že kočka dobře jí a pije. Stres u koček může způsobit, že na jídlo začnou zapomínat.
Ujistěme se, že má kočka dostatek vyvýšených míst, kde může odpočívat. Například vysoká škrabadla s plošinami.
Kočce zajistěme škrabadlo, ke kterému bude mít stále přístup.
Když na kočku bude moc rušno, měla by se mít kam schovat. Její domeček anebo pelíšek dejme na místo, které je relativně klidné.
Na trhu existují zklidňující doplňky stravy pro kočky. Poraďme se s veterinářem, který přípravek by vyhovoval zrovna naší kočce.
Rozbalit všechny příspěvky
Video týdne
Taky se občas po práci cítíte tak, že si říkáte: ať mi všichni třeba vlezou na záda!? Dnes už prostě nic dělat nebudu...
Příběh zvířátka
Říkají mi Rago, Ragoušku, Ragajdo, Rufajdo, nebo když si vypůjčím třeba botu, tak křičí Ragíííno! (to je povel k držení v zubech, to já už poznám)...