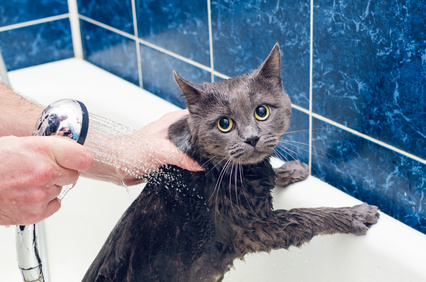 Koupání kočky krok za krokem: Jak ho zvládnout bez stresu pro kočku, i pro nás
Koupání kočky je zkouškou našich nervů. Většina koček vodu nesnáší, z umývání je ve stresu a klidné koupání je skoro nemožné. A tak se z umývání stává noční můra pro nás, i pro mazlíčka. Naštěstí existují způsoby, jakými koupání usnadnit. Poradíme, jak vykoupat kočku co nejjednodušeji. Také řekneme, kdy ji koupat a kdy naopak ne, jak často a jak na to. Zjistěte, jak správně umýt kočku!
Jak se připravit na koupání kočky?
Na koupání kočky si pořiďme ten správný šampón. Určitě nejsou vhodné šampony pro lidi, kočičí srst vysušují a látky z něj můžou být pro kočku toxické. Na trhu existuje řada speciálních přípravků právě pro kočky. S výběrem toho správného nám může pomoct náš veterinář. Vyhněme se šampónům se sulfáty a ftaláty. Pokud to šampon vyžaduje, nařeďme ho vodou. Na koupání kočky se nám bude hodit také žínka. Ale postačí nám i vlastní ruce.
Kočce zastřihněme drápky. Dlouhé drápky nám mohou způsobit zranění a prodloužit tak dobu koupele. A to je stresové jak pro kočku, tak pro nás. Drápky zkraťme několik hodin před samotnou koupelí, ať se má kočka čas zklidnit. Ani stříhání drápků totiž nepatří mezi oblíbené kočičí aktivity. Po stříhání ji odměňme oblíbeným krmivem nebo třeba domácím zdravým pamlskem.
Nevíte si rady? Přečtěte si náš návod, jak na stříhání drápků u koček.
Kočku učešme. Tento krok je obzvlášť důležitý. Ze suché srsti tak odstraníme různé nečistoty a chuchvalce, které by se z mokré srsti odstraňovaly daleko hůře. Kočkám většinou česání nevadí a mají ho dokonce rády. Proto při samotném koupání kočky můžeme zkusit srst jemně pročesávat. Mazlíčka to zklidní.
Kočku před koupáním co nejvíce unavme. Pokud bude plná energie, bude nám při koupeli odporovat s plných sil. Vyhneme se kousancům, škrábancům i zběsilým útěkům. Na koupání kočky si vyberme čas, kdy je mazlíček nejvíce utlumený. Nejčastěji to bývá potom, co se nají. Zkusme si s ní co nejvíce hrát. A až se nám bude zdát, že si vybila dostatek energie, můžeme jí zkusit vykoupat.
Udělejme kočce koupání co nejpříjemnější. Donesme její oblíbené hračky, které dáme do prázdné vany. Pak za nimi dejme kočku a nechme ji, aby si s hračkami chvíli hrála. Poté napusťme trochu vody. Kočka si díky tomu přivykne jak na vanu samotnou, tak na vodu. Mazlíček si koupání bude spojovat s něčím příjemným a ne z ohrožující situací. Příště bude koupel o to snazší. Pokud kočku běžně do koupelny nepouštíme, udělejme před koupáním výjimku. Měla by se seznámit s prostředím, aby věděla, že ji zde nic nehrozí.
Některé kočky může napouštění vody děsit. Pokud to tak má i náš mazlíček, přiveďme kočku do místnosti, až když bude vana napuštěná. Voda by měla sahat zhruba do 20 centimetrů ode dna. Měla by být teplá, ale ne horká. Vedle vany si připravme kbelík s teplou vodou, abychom měli kočku čím oplachovat. Nepoužívejme sprchu. Silný proud vody by mohl kočku vystrašit.
Zavřeme dveře od koupele. Pokud se nám bude snažit kočka utéct, nebudeme ji muset honit po celém domě. Navíc v koupelně budeme jen my a mazlíček. Zabraňme, aby do koupelny chodily jiné kočky. Jejich mňoukání by mohlo mazlíčka ve vaně vyděsit.
Na dno vany dejme protiskluzovou podložku nebo ručník. Kočce nebudou klouzat packy a nebude se děsit. Po ruce mějme suché ručníky, abychom po koupání kočku mohli snadno usušit. Na sebe si vezměme oblečení s dlouhým rukávem. Nebudeme pak pokrytí škrábanci. Stejně tak volme oblečení, které si můžeme při koupání kočky zašpinit a zamokřit.
Jak vykoupat kočku: Je pravidelné koupání kočky potřeba?
Naštěstí otázku, jak vykoupat kočku, nemusíme řešit skoro nikdy. Zdravá kočka bez extrémních nánosů špíny koupel nepotřebuje. Postará se o svou čistotu sama. Koupáním ji zbytečně vystavujeme stresu.
Jsou ale výjimky, kdy je koupání kočky nezbytné. Například při intenzivním zablešení, kdy jí nejprve musíme zbavit živých škůdců šamponem proti blechám.
Dalším příkladem nutné koupele je silný nános špíny. Ať už je to bahno anebo zaschlé zbytky jídla, měli bychom kočce s očistou pomoct. K tomu, jak vykoupat kočku, je často potřeba nechat špínu odmočit.
Některá bezsrstá plemena pravidelné koupání potřebují. U takových ras je problém, jak vykoupat kočku, na týdenním pořádku.
Kočka, kterou jsme právě zachránili z ulice, také potřebuje vykoupat.
Starší kočky už nemusí o svou srst pečovat tak, jako zamlada. Pak bychom jim měli pomoct.
Obézní kočky někdy můžou mít obtíže se důkladně vyčistit na všech částech těla.
Jak umýt kočku?
1. Důležitý je náš přístup. Pokud budeme spěchat nebo budeme nervózní, kočka to vycítí. Klíčem k tomu, jak umýt kočku, je klidný a přátelský přístup. Nad kočkou udržujme kontrolu. Koupejme ji opatrně a nebuďme hrubí. Citlivá je zejména oblast hlavy a bříška.
2. Kočka by měla zůstat po celou dobu koupání ve vaně. Pokud chce zůstat ve vaně pouze na dvou zadních nohách a přední si opírat o okraj vany, nechme ji. Cítí se tak bezpečněji. Přidržujme ji ve vaně, ale ne násilím.
3. Koupání kočky proveďme tak rychle, jak to jen půjde. K tomu, jak umýt kočku si můžeme přivést pomoc. Jeden z nás bude kočku přidržovat a druhý ji umývat.
4. Zkusme s kočkou příliš nebojovat. Vystrašená kočka dokáže napáchat hodně škody. Když se kočka snaží za každou cenu vysmeknout, zkusme koupání za chvíli.
5. Kočka musí mít hlavu nad vodou. Namokřeme ji od krku dolů, včetně ocásku. Použijme šampon a kočku umývejme od krku až k ocasu. Vždy po směru růstu srsti. Jemně šampon vmasírujme. Napodobujme podobné pohyby, jako když kočku hladíme.
6. Snažme se, aby se šampon nedostal na hlavu. Zejména do kočičích očí, tlamičky a uší.
7. Šampon opláchněme. Použijme k tomu vodu z vany a připravenou vodu z kyblíku. Opláchnout bychom ji měli alespoň dvakrát. Na srsti by totiž neměly zůstat žádné zbytky šampónu. Čím delší má kočka srst, tím déle oplachování zabere.
8. Hlavu kočky umyjme vodou a žínkou. Žínku navlhčeme a kočičí tvář jemně očistěme.
9. Poté kočku jemně usušme ručníkem. Pokud se kočka neděsí fénu, můžeme jí zkusit vyfénovat. Ale pouze teplým, nikoli horkým vzduchem. Kočku také můžeme učesat, aby se v  srsti po koupání kočky nevytvořili chuchvalce.
10. Kočku po koupání odměňme. Buďto oblíbeným krmivem, pamlskem anebo šantou kočičí. Zároveň kočku chvalme a hlaďme. Díky tomu si kočka spojí koupání s něčím příjemným.
Rozbalit všechny příspěvky
Video týdne
Taky se občas po práci cítíte tak, že si říkáte: ať mi všichni třeba vlezou na záda!? Dnes už prostě nic dělat nebudu...
Příběh zvířátka
Říkají mi Rago, Ragoušku, Ragajdo, Rufajdo, nebo když si vypůjčím třeba botu, tak křičí Ragíííno! (to je povel k držení v zubech, to já už poznám)...