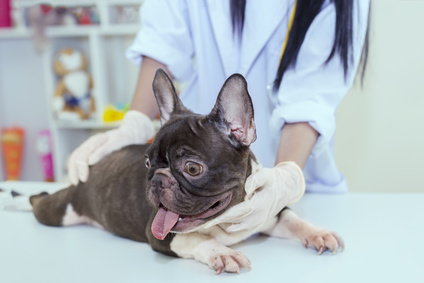 Kastrace feny: Vše, co o ní potřebujete vědět
Kastrace feny má celou řadu pozitiv. Snižuje riziko nejrůznějších chorob, fenka nehárá a žije spokojenějším životem. Přesto se na kastraci feny musíme dobře připravit. Představíme vám všechny výhody a nevýhody operace. Taky poradíme, kdy je vhodné kastrovat fenu a jakou musí mít fena po kastraci péči.
Kastrace feny je pro mazlíčka pomocí
Kastrace feny je dnes už běžným zákrokem. Pokud si najdeme veterináře, kterému věříme, není se čeho bát. Při operaci se fence odstraní všechny pohlavní orgány. Děloha, vaječníky i vejcovody.
 

Kastrace feny: Výhody a nevýhody

+

Zabráníme várce neočekávaných štěňátek.

-

U starších fenek může později docházet k inkontinenci.

+

Kastrace feny je nejúčinnější prevencí rakoviny, konkrétně nádorů mléčné žlázy. Šance, že se po kastraci rakovina objeví, je skoro nulová.

-

Každá operace má svá rizika. Může nastat krvácení do břicha, špatné dávkování anestezie anebo záněty. Proto je velmi důležité vybrat si dobrého veterináře.

+

Kastrace je nejlepší prevence zánětu dělohy.

-

Fena po kastraci má sklony k obezitě.

+

Snižuje se riziko vzniku cukrovky.

 

 

+

Kastrace feny zabrání hárání a falešné březosti.

 

 
Kdy kastrovat fenu?
Aby byl náš mazlíček zdravý, musíme se držet doporučeného věku, ve kterém by měla fenka na operaci jít. Na otázku, kdy kastrovat fenu, není jednoznačná odpověď. Kastrace feny se provádí už od 3. až 4. měsíce, starší fenka na operaci může jít v jakémkoli věku. Ale nejlepší pro kastraci je podle veterinářů věk po dosažení pohlavní dospělosti, tedy po prvním hárání. Většinou je to u fenek v 6. až 12. měsíci, u velkých plemen pak v roce a půl. Dříve by hrozilo riziko, že se fenka nestihne zcela psychicky a fyzicky dovyvinout. Pak by mohla mít po celý život povahu štěněte.
Vhodný čas, kdy kastrovat fenu záleží na fyzické kondici
Co platí v každém případě je, že by měla jít na operaci minimálně měsíc po hárání. Ideálně ale 6 až 12 týdnů po hárání. Při operaci nebude tolik krvácet a navíc ji bude uzdravování méně bolet.
Fenka by měla být před operací především v plné fyzické kondici.
Kastrace feny: Jak se připravit na operaci?
Fenka musí být před operací zdravá.
Před operací by fenka nějakou dobu neměla nic jíst. Většinou je to 12 hodin, u fenek nad 30 kilogramů pak raději 16 hodin. Jinak by po podání anestezie mohla zvracet.
Kastrace feny většinou trvá něco přes dvě hodiny, včetně uspávání a probouzení. Samotná operace asi hodinu.
Až se fenka po operaci probudí, můžeme si ji odvézt domů.
V následujících dnech pojedeme s fenkou na pooperační kontrolu.
Asi za 10 dnů fence veterinář vyndá stehy. Některé kliniky nabízí stehy, které se vstřebají samy. V tom případě na kliniku pak jezdit nemusíme.
Fena po kastraci potřebuje klidový režim
Až si mazlíčka přivezeme od zvěrolékaře domů, musí odpočívat. Týden nesmí dovádět a ani se fyzicky namáhat. Zabraňme tomu, aby skákala nebo běhala.
My se většinou o rány příliš starat nemusíme. Ale fena po kastraci si nesmí rány lízat. Vyřeší to ochranný límec.
Veterinář fence předepíše léky na tlumení bolesti.
Až dorazíme domů, můžeme fence dát menší porci dobře stravitelného krmiva. Zároveň by jí také mělo chutnat. Je totiž důležité, aby se alespoň trochu najedla a její tělo získalo nějakou energii. Nejlépe měkčí jídlo, například kvalitní konzervy. Dejme jí asi čtvrtinu porce, co jí dáváme normálně. Takto ji krmme každé dvě hodiny.
Pokud mazlíček nemá chuť k jídlu, nemusíme se bát. Některé fenky odmítají jíst po celý následující den. Ale 24 hodin po operaci už by něco měla sníst.
Je normální, pokud se fena po kastraci jednou vyzvrací. Její tělo v sobě ještě má anestetika.
Fenka by měla být v teple. Pokud je zimní období a fenka běžně žije v kotci venku, na nějakou dobu jí ubytujme doma. Pokud je naopak parné léto, postarejme se, aby nebyla ve vedru.
Hlídejme, aby se do rány nedostávala špína. Dvakrát denně ránu zkontrolujme.
Fenka po kastraci nebude hned ve své kůži. Některé fenky více spí, zatímco jiné mají veselejší náladu. Záleží na našem konkrétním mazlíčkovi.
Jakmile se fenka z operace zotaví, musíme mít připravené kvalitní speciální krmivo pro kastrované feny, kterým jí začneme krmit. Fena po kastraci má sklon přibírat. Obezita je velmi nebezpečná, způsobuje nejednu závažnou chorobu. Proto výběr nepodceňujme. Vhodné jsou třeba Purina Pro Plan Sterilised Optiweight. Dají jí všechny živiny a nebude po nich nabývat na váze.
Jak poznat, že fena po kastraci není v pořádku?
Okolí rány je zarudlé a zhnisané, hnis může z rány přímo vytékat.
Po 24 hodinách po operaci stále odmítá jíst.
Rány nebo břicho jsou velmi oteklé.
Fena po kastraci dvakrát či dokonce vícekrát zvracela.
Po 24 hodinách po operaci je fenka stále apatická a unavená.
Po 24 hodinách od operace se fenka stále nevymočila.
Rozbalit všechny příspěvky
Video týdne
Taky se občas po práci cítíte tak, že si říkáte: ať mi všichni třeba vlezou na záda!? Dnes už prostě nic dělat nebudu...
Příběh zvířátka
Říkají mi Rago, Ragoušku, Ragajdo, Rufajdo, nebo když si vypůjčím třeba botu, tak křičí Ragíííno! (to je povel k držení v zubech, to já už poznám)...