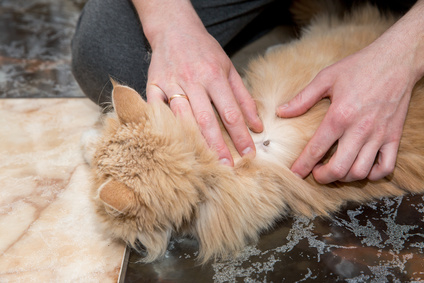 Jaké nemoci koček přenášejí klíšťata a proč si na ně dávat pozor?
Klíšťata jsou nebezpečná nejen pro nás lidi, ale taktéž pro naše kočičí mazlíčky. Mohou totiž přenášet různé kočičí nemoci, které jsou pro kočku velmi nebezpečné a nepříjemné. I když je klíště pouze malý roztoč, dokáže napáchat velké škody. Mezi nejčastější nemoci koček přenášené klíšťaty patří babezióza, ehrlichióza nebo anaplazmóza. Přinášíme přehledný článek o tom, jak nemoci rozpoznat a jak se s nimi vypořádat, aby byla kočka stále zdravá.
Za nemoci koček mohou často klíšťata, tak pozor na ně!
I když je klíště malé, je pro kočky velmi nebezpečné. Klíšťata přenáší mnohdy nebezpečné nemoci, které potrápí nejen kočku, ale i majitele. Proto je potřeba si na klíšťata dávat pozor a rozhodně nepodceňovat, když na kočce nějaké klíště najdete.
Správná diagnóza se mnohdy velice těžko určuje. Navíc nemoci koček způsobené klíšťaty se nemusí projevit hned, ale až po čase. Nejvíce jsou samozřejmě ohroženy kočky, které žijí venku, ovšem nakazit se snadno mohou i ty, které máme doma. Stačí, že mají přístup na balkon nebo zahradu.
Kočičí nemoci způsobené klíšťaty: babezióza nebo ehrlichióza
Víte, jak rozpoznat nemoc, kterou může klíště na vaši kočku přenést? Máme pro vás tři nejčastější nemoci, které se mohou u kočky napadené klíštětem objevit. Včasné rozpoznání zdravotních potíží a diagnostika nemoci koček je skutečně důležitá.
Babezióza
Mezi kočičí nemoci, které přenášejí klíšťata, se řadí babezióza. Původcem je prvok, který přenáší právě klíšťata. Dostává se do krevního oběhu a napadá červené krvinky, ve kterých se nadále množí.
Nemocí trpí častěji psi, ovšem i pro kočky je nebezpečná. Kočky dokonce mohou dále tuto nemoc přenášet na lidi.
Mezi příznaky kočičí nemoci patří:
únava
slabost
nechuť
horečka
Jaká je léčba této nemoci koček?
Léčba není snadná a ani levná. U nás nejsou registrovány léky, které infekci potlačí a musí se shánět ze zahraničí. Často se používají antibiotika v kombinaci s dalšími léky, které předepíše veterinář.
Ehrlichióza
Jedná se o infekční nemoc, která napadne hned několik různých kočičích orgánů. Údajně je přenašečem této nemoci koček každé páté klíště. Vir se dostane do krve a odtud pak napadá další orgány v těle.
příznaky jsou často neurčité a podobné těm, které se pojí s babziózou, tedy horečka, nechuť nebo také apatie. Taktéž se může vyskytovat bolest kloubů, a proto kočka raději odpočívá v pelíšku.
Lymská borelióza
Infekční onemocnění, které není běžné jen u lidí, ale i u koček. Předpokládá se, že nemoc přenáší každé třetí klíště. K infekci nového hostitele dochází poměrně rychle, a to hned po 18 – 24 hodinách od přisátí.
Mezi příznaky kočičí nemoci patří:
oteklé klouby
kulhání
horečka
zvětšení mízních uzlin
Kočka s klíštětem může být pak přenašečem této nemoci. Proto je potřeba, abychom při vytahování klíštěte byli nanejvýš opatrní.
Jak bezpečně vytáhnout klíště? 10 kroků, jak zabránit kočičí nemoci od klíštěte
Vytahování klíštěte je poměrně náročná procedura. Je potřeba ji správně provést, abyste se nenakazili od klíštěte stejně jako vaše kočka.
Vždy používejte latexové rukavice a speciální pinzetu na klíšťata
Kočku pevně držte a vytahujte klíště na dobrém osvětlení
Klíště může být různě velké a kdekoliv - nejčastěji se přisaje v oblasti kolem očí, uší, v okolí třísel a na nohách
Klíště uchopte pinzetou za hlavu co nejblíže u kůže kočky. Pomocí stabilního tlaku vytáhněte klíště ven.
Nikdy nemačkejte tělo klíštěte, jelikož patogeny z něj se tak mohou snadno dostat do těla kočky.
Kůži po odstranění klíštěte otřete vodou s mýdlem. Místo ošetřete dezinfekcí vhodnou pro zvířata.
Nezapomeňte si sami umýt ruce mýdlem! Vydezinfikujte také použité předměty při vytahování klíštěte.
Jako odměnu dejte kočce dobrý a kvalitní pamlsek
Takový pamlsek snadno připravíte i doma. Inspirujte se naším článkem s recepty na pamlsky pro kočky.
Jak nemoci koček od klíšťat zabránit?
Především byste měli kočce pořídit antiparazitní přípravky, které jsou skvělou prevencí proti klíšťatům. Prodávají se v podobě antiparazitních obojků nebo ampulek, které vetřete kočce do srsti. Výhodou obojku však je to, že postupně do srsti kočky uvolňuje antiparazitní látky a jeho účinnost je až 8 měsíců.
Kočku pravidelně kontrolujte a všímejte si, zda nemá po těle klíšťata. Pokud nějaké najdete, ihned jej vytáhněte podle našeho návodu.
Rozbalit všechny příspěvky
Video týdne
Taky se občas po práci cítíte tak, že si říkáte: ať mi všichni třeba vlezou na záda!? Dnes už prostě nic dělat nebudu...
Příběh zvířátka
Říkají mi Rago, Ragoušku, Ragajdo, Rufajdo, nebo když si vypůjčím třeba botu, tak křičí Ragíííno! (to je povel k držení v zubech, to já už poznám)...